105 Views
Best Pet Subscription Boxes
August 20th, 2022 4:44 PM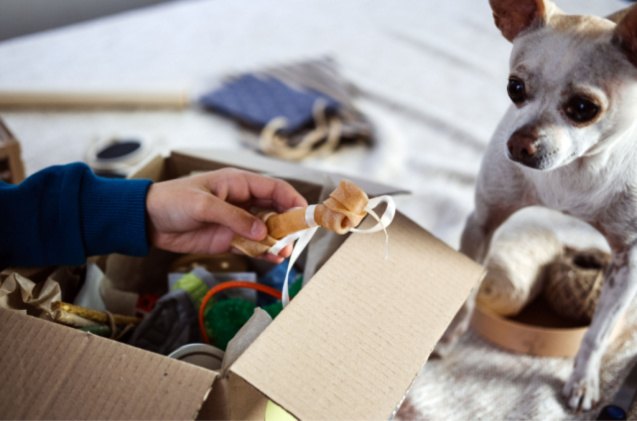 We all love to pamper our four-legged best friends, and pet subscription boxes give us the opportunity to do just that – and enjoy the element of surprise at the same time. You can subscribe to get monthly goodie boxes, seasonal goodie boxes, or bi-monthly, according to your preferences and budget, and your pooch or kitty gets to enjoy new toys, treats, and other fun gifts someone carefully curated for them.
There are plenty of pet subscription boxes out there, but we've rounded up the best that the market has to offer: whether you want a variety of treats, fun toys, or a combo of the two delivered like clockwork on your doorstep, read on to find a perfect match.
Editor's Choice: BarkBox Monthly Subscription Box
Advertised as "dog box delivery of pure canine bliss", this pet subscription box is certainly going to make your pooch's tail wag! Delivered on a monthly basis, BarkBox includes 2 fun toys, 2 delicious treats, and a tasty chew in each box, so your pet will get something fun to play with and a yummy reward afterward! The toys included are designed with care, using high-quality materials, with shapes and textures that will be engaging and entertaining to any doggo – they also offer variety, with options for dogs who like to chew, tug, chase, or toys that provide a good challenge for the brain. Of course, treats are also exceptional, made with all-natural ingredients, without wheat, corn, or soy in the formula.
Pros
Variety to suit any dog's preference
Treats are all-natural
3 box options according to your pet's size (small, medium, or large)
Allergy-friendly options can be arranged
Runner Up: BoxDog Seasonal Pet Subscription Boxes
Want to really pamper your four-legged bestie? How about a luxury goodie box for dogs that will spoil them rotten? This seasonal giant pet subscription box will be delivered to your address four times a year, chock full of all kinds of gifts for your dog – each box comes with two toys, and seasonally inspired treats, accessories, or gadgets, as well as vegan skincare for dogs. All of the yummies are handmade by BoxDog chefs and use natural, clean ingredients that are used to make human food. The toys and gadget goodies are always of top-notch quality and something that comes useful for the season (e.g. dog water bottle in the summer), and the BoxDog's vegan skincare includes items such as nose balm, paw salve, shampoos, CBD oil, or doggie sunscreen – to name a few!
Pros
Giant box full of goodies
Treats are human-grade and handmade
Each box includes two toys
Seasonal accessories and gadgets
Includes seasonal vegan skincare products for dogs
4 options to customize according to size or chewing strength
Customer's Choice: KitNipBox Monthly Cat Subscription Boxes
Treat your kitty like the royal she feels she is with this cat goodie box! Due every month, this pet subscription box is designed for felines and contains everything a cat needs to be happy. Happy Cat Box comes with a variety of 5 custom-designed toys, treats, and other goodies – e.g. catnip toys, wand toys, and treats to sweeten the deal. Best of all, each box has a fun theme, such as Space-Themed KitNipBox or Walk in the Woods-Themed KitNipBox! And if your pet has a sensitive stomach, you can opt for the "dietary" version of the box which replaces treats with other goodies.
Pros
Includes 5 custom-designed toys, treats, and goodies
Boxes without treats available for sensitive cats
Multi-cat boxes for families with more than one cat
Themed monthly boxes
Best Pet Subscription Box for Dogs: PupJoy's Goodie Box
A goodie box for your good girl or boy – it's only fair you reward your four-legged angel for all the love they bring into their life. And you can do so on a monthly, bi-monthly, or quarterly basis with PupJoy's Goodie Box – the choice is yours! These eco-friendly pet subscription boxes include 4 American-made treats, 2 high-quality toys, and 2 extra thick grass-fed bully sticks for chewing entertainment and good dental health. All of the items in the box are made by independent makers, and the treats are wholesome, natural, and sourced locally. Best of all, you can choose between boxes for small, medium, or large breed dogs to make sure your pet gets tailored goodies!
Pros
Option to choose between monthly, bi-monthly, and quarterly subscription
3 versions according to your pet's size
Includes toys, treats, and bully sticks
Made locally, with healthy, wholesome ingredients and safe materials
Eco-friendly products
Cons
Toys are not suited to aggressive chewers
Best Pet Subscription Box for Cats: Meowbox
For those of you that share your life with a kitty companion, fret not – there are cat subscription boxes out there to make any finicky feline happy. Whether you have one cat or more felines in your family, Meowbox is bound to get them purring: this pet subscription box is delivered monthly, and each box includes 5 carefully selected toys and treats. Treats that are included are not just yummy but made in Canada or USA from trusted suppliers, and the toys offer more than enough variety to keep any cat entertained. There are 4 toys and one pack of treats in each box, but you can opt for a treat-free box if your pet is sensitive and get an extra toy instead.
Pros
Generous amount of toys
Option for a box with or without treats
Each monthly box is themed
At least one toy in each box is handmade by a small business or local artisan
Donation to a shelter for each box purchased
Cons
Contents of the box might repeat
Best Pet Subscription Box for Small Animals: GPigBox.com - Guinea Pig Subscription Box
Why would cats and dogs have all of the fun? If you have a guinea pig you want to pamper and spoil, this pet subscription box is a fun way to do so each month. There are two options to choose from to adapt to your budget, one with 6-8 items and one with 8-10 items, and each includes a mix of goodies for your pet guinea pig – 1 bag of treats, 2 enrichment toys, 4 printed weekly feeding and cleaning schedules, 1 seasonal guinea pig-themed printed item, plus extras. This means that the box is generous enough to split between two guinea pigs, or more if you opt for the bigger box.
Pros
A variety mix of guinea pig goodies
Tailored to the unique needs of guinea pigs
Enrichment toys
Fun extras that owners can appreciate
Cons
Expensive for what you get
Best Pet Subscription Box with Treats: Gnaw Box
In case your pet is an aggressive chewer and you don't want to risk it with mystery toys or they just don't like playing with most toys, a pet subscription box with treats is a good compromise. This particular one is good both for overly enthusiastic chewers and those that are not, as it contains 15 to 20 Nature Gnaws' most popular chew treats and is delivered on a monthly basis. That's plenty of chewing to do until the next one comes! These single-ingredient chews are a rawhide alternative, free of additives and artificial ingredients, cleaned with water, and oven baked to perfection. You can pick between a box designed for small breed dogs and large breed dogs.
Pros
Rawhide alternative chews
Single-ingredient, free of artificial ingredients
Promote better oral health
Great for chewers
Options for small or large breed dogs
Best Pet Subscription Box for Chewers: Super Chewer by BarkBox Monthly Subscription Box
While a chew treat subscription box we've mentioned above is a solid choice for chewers, some dogs still love playing with toys – but unfortunately, most toys in pet subscription boxes are not designed to withstand a power chewer's chomp. That is if you don't count the Super Chewer, which was made especially for dogs that need heavy-duty toys to play with! The box is delivered monthly and includes 2 rubber or nylon toys, 2 fresh and healthy bags of treats, and 2 meaty chews, all picked to fit the particular month's theme, so the goodies don't repeat themselves. The treats are made in the USA and Canada with your pet's wellbeing in mind, and the toys are sturdy enough to be chewed for hours on end – and never have any fluff filling.
Pros
Options for dogs of all sizes
Each month's box is themed
Healthy treats and meaty chews
Toys are heavy-duty and suitable for chewers
Cons
Toys can be a hit or miss
Best Pet Subscription Box for Dog Owners: Pup Mom Crate
Why not treat yourself while you're treating your pet to some much-needed goodies? A perfect gift for a special dog mom in your life or a way to pamper yourself and your pooch, this pet subscription box contains items both for the dog and their owner. Each monthly box contains 5 to 8 full-sized and premium items for your pet and yourself, including a plush toy and a tough chewer or a treat dispenser and treats for your pooch, and dog mom-themed gifts such as skincare and beauty products, kitchen accessories, jewelry, mugs, tumblers, and more. You can further customize the contents by picking the sex and the size of your pet – so everything is tailored to them!
Pros
Contains gifts for pets and the owner
Premium, full-size items
Customize according to the sex and size of your pet
Comes with a postcard with exclusive discounts
Money-back guarantee
Cons
Gifts are not everyone's cup of tea
How Do Pet Subscription Boxes Work?
The process is fairly simple – you sign up for regular delivery of boxes filled with a variety of pet items that are delivered in certain periods for a fixed fee. Most pet subscription boxes are delivered on a monthly basis, but there are bi-monthly and quarterly pet subscription boxes as well. Most, if not all, pet subscription boxes offer you the option to pick the type of subscription box according to your pet's size (so the items will be appropriate for them), and some go a step further and allow you to tweak the contents to your pet's liking (e.g. boxes with or without treats included).
As for the contents of pet subscription boxes, most are centered around the two things that cats and dogs love the most – treats and toys. But that's where all the similarities end! Some are more modest, with a bag of treats and 2 or 3 toys included, and others are more lavish, with the number of items per box nearing 10 or more, so you can adjust according to your budget and needs, too. Of course, the themes and the selection of goodies will also vary greatly – some pet subscription boxes are centered around dogs that like to chew their toys, others are more suited for puppies, and some take into account cats with food sensitivities when assembling their goodie boxes. Needless to say, there's a perfect option for any pet!
It's important to note that, while you won't know the exact contents of the pet subscription box when you sign up, you can still figure out if the goodies will be a match for your pet's needs. Most sellers include a picture and description of the contents of their past boxes so you can gauge if it's good value for money, or if it's something you'd end up tossing away. But, in the end, the factor of surprise is definitely part of the charm, and one of the reasons so many people (and pets) love subscription boxes!
We are committed to finding, researching, and recommending the best products. We earn commissions from purchases you make using the retail links in our product reviews. Learn more about how this works.

Angela Vuckovic
A proud mama to seven dogs and ten cats, Angela spends her days writing for her fellow pet parents and pampering her furballs, all of whom are rescues. When she's not gushing over her adorable cats or playing with her dogs, she can be found curled up with a good fantasy book.
More by Angela Vuckovic
Published July 28th, 2022 12:50 PM