1.1K Views
Best Dog Multivitamin for Seniors
November 29th, 2022 9:46 AM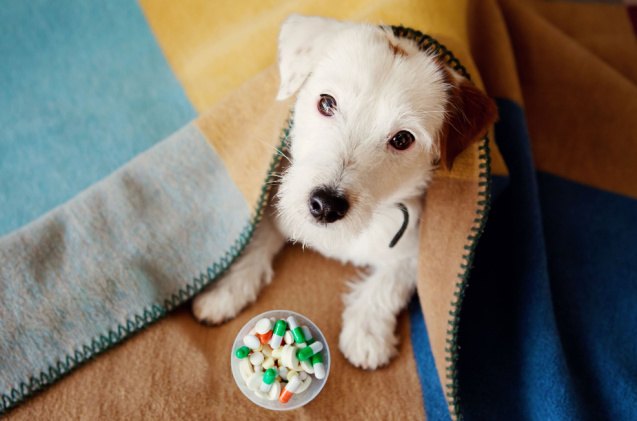 As dogs age, they go through many internal and external changes. Some changes, like weight gain, graying hair, and slowing down, are easier to spot than decreased immune function and a slower metabolism. By the time your pooch becomes a senior, they'll have a set of new nutritional needs. Transitioning your dog to a senior dog food and including multivitamin supplements in their regime is a great way to minimize the effects of aging and ensure your four-legged bestie gets the nutrients they need to stay healthy.
Multivitamins for senior dogs are essential for healthy aging and are formulated to enhance the quality of your dog's life. Designed to be taken daily, a dog multivitamin for seniors contains different essential nutrients to support all areas of a dog's health, from antioxidants, vitamins, minerals, and fatty acids, to glucosamine and other beneficial nutrients. But with so many different multivitamins for senior dogs to choose from, picking the best one for your pup can feel like an impossible feat! To help you buy the best dog multivitamin for seniors, we've researched and considered a variety of different formulas. From soft chews and chewable tablets to liquid and those in powder form, we've selected the best multivitamins for seniors of all breeds and sizes.
Editor's Choice: Pet Honestly 10 in 1 Senior Dog Multivitamin with Glucosamine
When dogs become seniors, they need extra help in maintaining joint health, digestion, immune system, and energy levels, and that's where this multivitamin can come in handy. Formulated to support 10 different health areas for senior dogs, this multivitamin supplement contains essential vitamins, minerals, and nutrients your pooch needs to stay healthy. It includes glucosamine and chondroitin to improve joint health and mobility, an organic mushroom blend to support a strong immune system, omega-3 fatty acids to promote joint, brain, and skin health, and probiotics to support healthy digestion. Best of all, these beneficial nutrients are packed in duck-flavored chewables your pooch will love to eat.
Pros
Made with natural ingredients
Provides 10 health benefits to senior dogs
Soft chewables that dogs with dental problems can eat
Made in the USA
Cons
Not for dogs with sensitive stomachs
Runner Up: VetriScience Canine Plus Multivitamin for Senior Dogs
Formulated by veterinarians, VetriScience Canine Plus Senior Multivitamin is suitable for geriatric dogs and supports heart, eye, liver, brain, and immune health. This formula contains vitamin A to support healthy eyes, skin, and coat, vitamin D3 to help regulate the retention of phosphorus and calcium, and vitamin E to provide defense against oxidative stress. Besides vitamins, this tasty chewable multivitamin also contains essential minerals and omega-3 fatty acids with DHA to improve cognitive function in senior dogs dealing with doggy dementia.
Pros
Contains essential nutrients for overall health
Supports brain health in senior dogs
Made in the USA
Tasty duck flavor most dogs love
Cons
Chews can crumble during transport
Customer's Choice: Zesty Paws Senior Advanced 11-in-1 Bites
This 11-in-1 multifunctional supplement supports hip and joint, urinary tract, skin and coat, heart, immune system, eye, liver, gut, and brain health of senior dogs. It contains Qmin and curcumin from turmeric, OptiMSM, glucosamine, and chondroitin to ease joint pain and stiffness and support mobility in older pooches. Each chicken-flavored chewable has psyllium and niacin to support digestive health and gut function, vitamins A and C to support immune function, and B complex vitamins to support the normal function of the urinary tract. Zesty Paws Senior Bites are made using natural ingredients and don't contain artificial flavors, preservatives, or colors.
Pros
Supports 11 areas of health
Soft chews are suitable for older dogs with dental problems
Made in the USA
NASC quality seal
Cons
Can cause diarrhea in some dogs
Best Liquid Dog Multivitamin for Seniors: Golden Paw 10-in-1 Multivitamin for Dogs
Whether your senior dog has dental problems and can't munch chewable tablets or is a picky eater, a liquid supplement is the best way to go. A daily serving of this multivitamin contains vitamins C, D, B, B2, B3, B6, B9, and B12 to support skin and coat, brain, eye, immune and respiratory system health. To boot, this multivitamin contains glucosamine to help stimulate cartilage growth and thicken synovial fluid, improving mobility and reducing pain in senior dogs with arthritis. Made using only natural ingredients, this formula contains organic cranberry that helps with adaptation of organs. Boost your pup's overall health by adding this multivitamin to their food or water, or apply a few drops directly in your dog's mouth.
Pros
Easy to swallow for dogs with dental problems
Made with natural ingredients
Supports overall health and mobility
Can be mixed with food and water
Best Soft Chew Dog Multivitamin for Seniors: PetLab Co Senior Vitality Multivitamin for Dogs
This multivitamin supplement is formulated to provide your furry companion with the vitamins and minerals they need to age comfortably. It contains vitamin B12 to support a healthy nervous system, vitamin D3 to regulate phosphorus and calcium, vitamin A to promote vision and eye health, and vitamin E to support strong immunity and skin and coat health. These liver-flavored chews are very soft and easy to munch on, even if your oldie is missing a few teeth. Made using natural ingredients, this tasty multivitamin is safe for daily feeding and will ensure your pooch is aging gracefully.
Pros
Offers cognitive support and helps with aging
Full of essential vitamins and minerals
Tasty liver flavor most dogs love
Made in the USA using natural ingredients
Best Powdered Dog Multivitamin for Seniors: Only Natural Pet Senior Ultimate Daily Vitamin Powder
This all-in-one multivitamin powder is formulated to provide daily health support to senior dogs. It's formulated using natural ingredients and essential nutrients that promote health and vitality throughout senior years. This powdered multivitamin contains green-lipped mussels that are high in omega-3 and other fatty acids, vitamins, minerals, and other naturally occurring compounds that improve mobility by reducing inflammation, stiffness, and joint pain that often affect senior pooches. To boot, this multivitamin also contains chondroitin, glucosamine, and MSM to promote joint health and mobility and all essential vitamins and minerals that promote overall health and wellness. Mix this turkey-flavored powder with your dog's food or use it as a tasty topper.
Pros
Made with human-grade ingredients
Provide complete health support to senior dogs
Easy to administer
Made in the USA
Best Dog Multivitamin with Glucosamine for Seniors: NaturVet Vita Pet Senior Daily Vitamins
Whether your pooch has already slowed down or is just reaching senior years, they can benefit from taking a dog multivitamin for seniors with added glucosamine. Formulated for older dogs, Vita Pet Daily Multivitamin provides a full spectrum of vitamins and minerals your pooch needs but might be missing from their daily diet. It contains vitamins A, D3, E, B1, B2, B6, B12, and K, and all essential minerals, like calcium, potassium, phosphorus, magnesium, copper, and zinc. The added glucosamine and omega fatty acids support joint health and reduce the aches and pains associated with old age. To boot, these soft chews are formulated with a breath aid that can get rid of your pup's nasty halitosis once and for all.
Pros
Soft enough for dogs with dental problems
Support overall health and increase mobility
Made in the USA and cGMP compliant
100% wheat-free and suitable for dogs with wheat sensitivities
Best Dog Natural Multivitamin for Seniors: Paramount Pet Health 100% Natural Liquid Multivitamin for
If your pooch has a habit of spitting out tablets and turning up their nose at chewables, a liquid multivitamin offers a hassle-free way of administering supplements. This all-natural multivitamin is made with human-grade ingredients and is formulated to support skin and coat, vision, thyroid, digestive, joint, and immune system health. This all-natural multivitamin is made with human-grade ingredients. It contains omega-3, -6, and -9 fatty acids, with EPA and DHA to support heart, brain, skin, and coat health. Glucosamine and chondroitin support joint health and relieve aches and pains associated with old age, while digestive enzymes and probiotics support overall digestive health and prevent diarrhea, constipation, and vomiting. Mix this bacon-flavored multivitamin in your dog's food daily.
Pros
Recommended by veterinarians
Easy to administer even to picky eaters
Made without sugar, gluten, artificial flavors, and colors
Yummy bacon flavor most dogs love
Cons
Can cause vomiting in some dogs
Best Dog Multivitamin with Probiotics for Seniors: Strawfield Pets Senior Multivitamin for Dogs
This all-in-one soft chew multivitamin is formulated to support the increased nutritional needs of senior dogs eight years of age or older. Grain-free and made from natural and organic ingredients, this multivitamin is safe for dogs with grain sensitivities and comes in a natural peanut butter flavor most pooches find hard to resist. This senior dog multivitamin contains glucosamine, chondroitin, MSM, and hyaluronic acid to provide joint support older dogs need, multi-mineral and vitamin blend to support a strong immune system and overall health. Each tasty chew is packed with probiotics and prebiotic fiber that support gut health and promote good digestion.
Pros
Specially formulated for seniors age eight and older
Grain-free and suitable for dogs with allergies
Supports joint health and mobility
Made in the USA using natural ingredients
Cons
Strong smell is off-putting to some dogs
Best Dog Multivitamin with Joint Support for Seniors: GNC Pets Ultra Multivitamin for Senior Dogs
Specially formulated for older dogs, this multivitamin for seniors helps maintain healthy immune function and supports joint health and mobility. It includes all essential vitamins, minerals, and nutrients senior dogs need to enjoy their golden years. Omega fatty acids are added to the blend to support joint, skin, and coat health, glucosamine to improve mobility and joint health, and biotin to soothe dry and itchy skin and add a healthy shine to the coat. These chicken-flavored soft chews are easy to eat and suitable for seniors with dental problems.
Pros
Offer a complete nutrient balance to older dogs
Reduce joint pain and inflammation
Bite-sized and easy to eat
Made in the USA
Cons
Some dogs don't like the taste
What to Look for in Dog Multivitamins for Seniors
Dog multivitamins for seniors are formulated to contain nutrients that help minimize the effect of aging on a dog. A proper diet and multivitamin supplements for senior dogs are essential for healthy aging and will reduce the signs of getting older and enhance your pup's quality of life. There are many different dog multivitamins for seniors – some contain more of the good stuff your dog needs, while some aren't so great. But, every multivitamin for senior dogs should have a blend of all essential vitamins and minerals, omega fatty acids, and glucosamine. Some formulas also contain chondroitin to support mobility and help protect cartilage in the joints. Others might contain digestive enzymes and probiotics to support gut health and healthy digestion. Choose a multivitamin according to your dog's individual requirements. When shopping for multivitamins for your senior pooch, consider how you'll administer them. Most dog multivitamins for seniors come in the form of chewable tablets, liquid, powder, or soft chews. Some multivitamins might be easier to administer to an older dog than others – if your pooch has dental issues or is missing teeth, a liquid or powder multivitamin might be your best bet. Multivitamins in powder form can be mixed in your dog's food or be used as a topper and are also suitable for picky eaters. On the other hand, liquid multivitamins can be added to food and water or given directly to a dog's mouth.
Multivitamins benefit older dogs, but it's important to consult with your veterinarian before adding any multivitamin supplements to your furry friend's diet. This is particularly true if your pooch is treated for a specific health problem. Your veterinarian knows your dog and their medical history the best and can tell you whether your pup will benefit from a particular multivitamin formula. If you have any doubts or concerns about including multivitamins in your dog's regime, be sure to consult with your veterinarian.
We are committed to finding, researching, and recommending the best products. We earn commissions from purchases you make using the retail links in our product reviews. Learn more about how this works.

Angela Vuckovic
A proud mama to seven dogs and ten cats, Angela spends her days writing for her fellow pet parents and pampering her furballs, all of whom are rescues. When she's not gushing over her adorable cats or playing with her dogs, she can be found curled up with a good fantasy book.
More by Angela Vuckovic
Published November 28th, 2022 6:59 AM