153 Views
10 Best Puppy Potty Training Supplies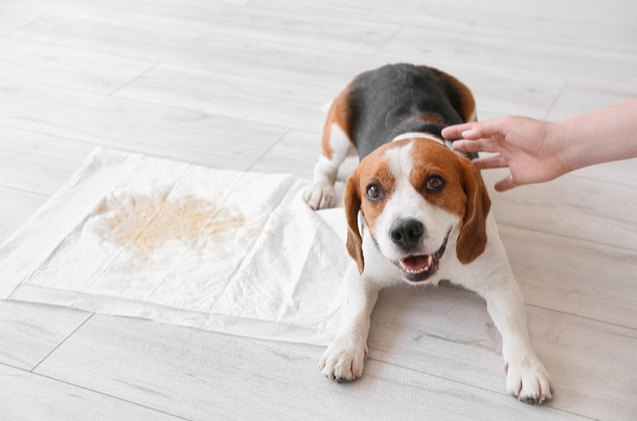 The potty training phase is undoubtedly a big obstacle for some owners to overcome, especially if they haven't trained a puppy before. Left on their own, puppies won't hesitate to pee wherever and whenever. And that's no good. Pee stains and smells are notoriously hard to get rid of, and you will have to go to great lengths to remove them. But if you are equipped with the right products, you can begin potty training with confidence and enthusiasm. Because if you rely on these puppy potty training supplies, you are guaranteed to succeed. And best of all, the process will be quick and successful. Check out our list of the best puppy potty training supplies to find exactly what you'll need.
Editor's Choice: PETMAKER Artificial Grass Puppy Pad for Dogs and Small Pets
During the potty training process, you will undoubtedly notice some natural tendencies in your dog. After all, instincts always prevail! But you can utilize those instincts with this artificial grass puppy pad that will feel more inviting to your pet than a regular one. Great for balconies, patios, outdoor areas, but also indoors, this puppy pad is a sanitary and easy-to-use spot for your pooch to do their business. With its three-layer system, the pad allows for easy clean-up and no-hassle use. If you want to let your puppy know that potty should be done outside and on grass, this mat will do wonders to make that message understood.
Pros
Easy cleaning
Sanitary three-layer system
Great for a variety of spaces
Cons
Could pick up smells over time
Runner Up: Wellness Soft Puppy Bites Natural Grain Free Puppy Training Treats
An unavoidable part of every potty training journey is that well-earned reward for a job well done. If your puppy is beginning to understand how the "potty" thing works, you should be quick to reward their efforts. And no better way to do that than with a soft puppy bite. These grain-free tasty snacks are ideal for puppies and small dogs and have that "just right" bite-size. Their lamb and salmon taste will be irresistible for any doggo. Besides, the snacks are totally corn, grain, or soy free, and a great source of DHA, proteins, and other important nutrients for proper puppy development. Treat your puppy in the best way possible!
Pros
Rich in important nutrients
Tasty lamb and salmon flavor
No harmful ingredients
Perfect bite size
Cons
Might upset a sensitive tummy
Customer's Choice: CATHYLIFE Dog Doorbells for Potty Training
These unique little bells are a novelty in the world of potty training. But even though they are new, they work like a charm! The idea is to hang one of these bell-adorned straps onto your door handle and to train your puppy to ring the bells when they want to go potty. This prevents dogs from scratching the doors when they want out and keeps everything simple and easy. The little bells are all made from quality copper, and their sound is crisp and clear. The stylish leather strap won't stand out in your home either. All in all, it is a simple but invaluable tool to enhance the potty training process.
Pros
Loud and easy to hear wherever you are inside the home
Simple but efficient design
Saves your door from scratching
Cons
It will also ring whenever someone else opens the door
Best Puppy Potty Training Spray: Bodhi Dog Potty Training Spray
Every dog owner knows that the early stages of potty training are rife with accidents. After all, it is something we need to deal with until success starts rolling. But thanks to this special potty training spray, you can now limit accidents and make the whole process so much faster. Great for both indoor and outdoor potty training, this special formula will attract your pet to the specific spot that you choose. It has a special blend of attractants that puppies will find irresistible and will be drawn only to the spots that you prefer! Great to limit accidents and to make potty training a breeze!
Pros
Very efficient
Super simple to use
Makes training faster
Comes in 8oz, 32oz, and 1-gallon sizes
Cons
Might not attract every puppy
Best Disposable Puppy Pads: Glad for Pets Black Charcoal Puppy Pads
During the potty training stage, you can rely on success from the get-go! Some accidents are bound to happen in those early days. But no worries – these special puppy pads are designed to instantly absorb the urine and attract the puppy thanks to a special pheromone infusion. That way you can place them in a special place in the home and prevent your pet from peeing elsewhere. These pads are infused with black charcoal and have 5 strong layers that are super absorbing. You can find a variety of uses for them, in the dog crate, as a liner, or on their own.
Pros
Very absorbent
5 layers
Infused with pheromones
Comes in 3 sizes
Cons
Some dogs might need taking used to the new pad color
Best Washable Puppy Pee Pads for Potty Training: Caldwell's Potty Pads Reusable Dog Pee Pads
Whether you are looking for a more eco-friendly alternative to disposable pee pads, or want to go for the more affordable version that can last you all through the potty training stage, these washable pee pads are the way to go. The pads feature a 5-layer design for maximum absorbency: a layer of cotton fiber pad, a layer of poly/rayon soaker pad, a waterproof TPU lamination layer, and a brushed tricot fabric with non-slip grip dots on the very bottom. The pads are quite durable, and can last up to 400 washes! You also get to choose between multiple sizes and the number of pads in the set.
Pros
Absorbent and doesn't leak
Can be washed up to 400 times
5-layer design
Affordable and eco-friendly
Cons
Needs to be washed on cold or cool
Best Training Bells for Puppy Potty Training: Comsmart Dog Training Bell
Training bells are a great way to improve the potty training process. Although moderately hard to understand by dogs, they are still a very efficient alarm once they get the hang of it. Instruct the puppy to sound the bell when it's potty time, and you get ample time to react and take them outside. The bells are made from metal, so they are quite durable, and they have a rubber non-skid bottom to prevent them from slipping and flying all over the floor. Position them in that special spot, and begin the training! In contrast to the door-mounted bells, these ones will ring only when your dog steps on them.
Pros
Durable metal build
Non-skid rubber bottom
Crisp and clear sound
Efficient training method
Cons
Moderately difficult for dogs to master
Best Outdoor Puppy Potty Training Supplies: Simple Solution Pee Post Outdoor Potty Training Aid
Nothing beats the natural approach – if you want your puppy to do their business only outside, this special pee post will work like a charm! Thanks to the special pheromone infusion, this stake will never fail to attract your pet to the spot of your choosing. Just stick it into the ground in the yard, and watch as your puppy goes to that spot without fail. It's a secret weapon that only you will be aware of. And, best of all, it contains no toxic or harmful ingredients – it is all-natural. Can't get simpler than this!
Pros
Super easy to use
Very efficient
Great for outdoor potty training
Cons
A strong smell of the pheromones
Best Ultra Absorbent Puppy Pee Pads: Octhems Dog and Puppy Pads
It is important to have disposable and easy-to-use pee pads when you are training your puppy. It helps you to easily deal with all accidents and spills. These Ochtems puppy pads are extra absorbent thanks to the 6-layer design and are equipped with a special plastic lining that prevents drain off and leakage. And not only are these pads absorbent, but they also have a pheromone attractant built in. This will attract your puppy to these pads and help make the potty training all the easier. It is also great if you have a senior pooch that suffers from urinary incontinence!
Pros
Very absorbent
Plastic lining
Various uses
Affordable
Best Puppy Potty Training Odor Eliminator: Rocco & Roxie Stain & Odor Eliminator
With potty training, there is one thing that is unavoidable – bad smells. With those very early accidents where pee gets on the carpets or furniture, it is essential to quickly clean everything up and prevent bad urine odors from remaining. This unique odor eliminator from Rocco & Roxie completely removes pet urine and any smells that come with it. With its natural bio-enzymatic formula, it penetrates deep into any material and breaks up those pesky odors and bacteria. It has a nifty spray nozzle so it's super easy to use. Great to have at hand when you are potty training your doggo!
Pros
Very efficient
Penetrates deep into any surface
Quickly removes odors
Versatile
What are the Best Puppy Potty Training Accessories?
It's no secret that you need to be armed to the teeth with supplies once you embark on the puppy potty training journey. It's a process of trial and error, and patience and perseverance are key. But nothing can make this process easier than some reliable training accessories. They will serve not only you but your puppy as well!
Pheromone posts
These pheromone posts can be such unique and helpful accessories that will make potty training a real breeze. They are simple plastic stakes that are covered with special pheromones that will attract doggos and let them know that "this is the place" to pee. This is especially handy if you want your pet to pee outside: just place the stake in the remote corner of the yard, and they won't fail to pick up the scent. In time, they will "connect the dots", and soon enough, the outdoor pheromone stake will be their number one place to "do the business"!
Pee Pads
Experienced dog owners will understand the importance of pee pads. In the early puppy stages, they are an invaluable accessory to have. Puppies will pee whenever and wherever in those early days, and you need to be ready and prepared. Special pee pads are infused with pheromones and can help limit the number of accidents. Place them in a special corner, and save your carpets and furniture from urine stains and bad smells. Pee pads are super absorbent and won't leak - that makes them a great helping hand throughout the potty training period. Limit accidents, and enjoy the versatile design!
Stain removers
Still, accidents happen during potty training – there's no avoiding that. But when they do, you will have to be ready. Arm yourself with a special stain and odor remover, and you won't have a thing to worry about. These special sprays are designed to quickly remove the pesky yellow stains and penetrate deep into the affected area in order to break up the bacteria and remove the bad smells. If your carpets and furniture suffered from your puppy's "business", now is the time to rejuvenate them. In the arsenal of every new puppy owner, stain and odor removers are a must-have.
Door handle bells
This is such a simple accessory that most become doubtful when they see it. A simple leash with tiny bells that you hang on your door handle? How will that work? Funnily enough, it works like a charm. Just hang it on the door and train your pup to ring it whenever it's time for peeing. It creates a routine and discipline too! What is more, it saves your door from getting scratched to bits. Doorbells are such a simple but super-efficient accessory that all owners should have. With a bit of patience, indoor potty time will be a thing of the past!
We are committed to finding, researching, and recommending the best products. We earn commissions from purchases you make using the retail links in our product reviews. Learn more about how this works.

Angela Vuckovic
A proud mama to seven dogs and ten cats, Angela spends her days writing for her fellow pet parents and pampering her furballs, all of whom are rescues. When she's not gushing over her adorable cats or playing with her dogs, she can be found curled up with a good fantasy book.
More by Angela Vuckovic
Published September 24th, 2023 7:29 AM