104 Views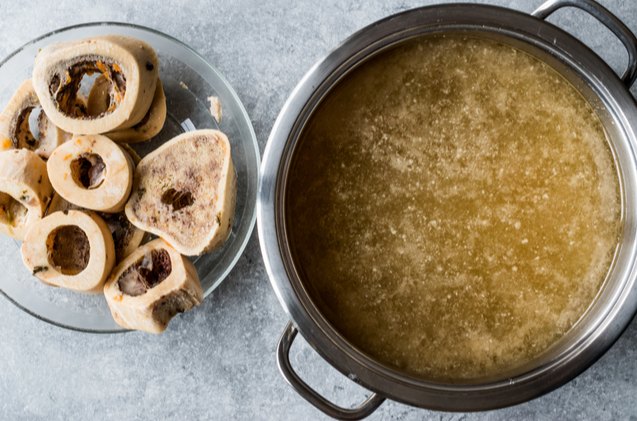 It's no secret that bone broth is a bonafide superfood, but what you might not have known is that it is as beneficial for dogs as it is for us humans. Slowly simmered bones, especially with the addition of veggies, herbs, and spices, create a savory liquid that is yummy to dogs and contains essential nutrients they need for healthy skin, coat, joints, and overall immune health. However, making bone broth from scratch can be cumbersome – it takes 12 to 48 hours to prepare and not many people have that much time to spend in the kitchen. Luckily, there are premade bone broths for dogs that are just as good as the homemade stuff only without any hassle for the owner. Powdered or liquid, bone broths for dogs can be a healthy kibble topper alternative or a natural supplement for aging dogs – and to help you pick the right one for your pet, we've rounded up the best bone broths on the market right now.
Editor's Choice: Brutus Bone Broth for Dogs
Natural, non-GMO, easy to digest, and immune-boosting – this bone broth is made with all-natural human-grade ingredients and is packed with beneficial nutrients for your pooch. The combination of wholesome ingredients such as beef and veggie broths and enriched with glucosamine and chondroitin for healthier joints and improved mobility, this bone broth for dogs contains no artificial colors, flavors, or preservatives and it's also gluten-free, soy-free, dairy-free, and wheat-free. Made and packed in human-grade facilities in the US, this healthy bone broth for dogs contains just 0.1% sodium content despite its rich flavor.
Pros
Made with human-grade ingredients in a human-grade facility in the USA
Only natural, wholesome ingredients
Enriched with glucosamine and chondroitin
Flavorful and tasty
Cons
Might not be tasty to some picky eaters
Runner Up: Native Pet Bone Broth for Dogs
Made with natural, organic ingredients, this dehydrated bone broth for dogs is a great choice if you want an easy way to boost your pet's nutrient intake without them being any wiser about it. Just sprinkle some of the powder over their kibble or mix in their food and they'll reap all the benefits without really noticing a major change in their meals. There are two options available, beef or chicken broth, and both contain under 5 ingredients, all-natural and healthy. Another great thing about the bone broth powder is that it is versatile, so you can mix it with a bit of water to make a gravy topper, or add it to your pet's water bowl to encourage hydration.
Pros
Two protein sources available
Under 5 natural ingredients in the formula
Can be sprinkled over food or mixed with water
Organic and nutritious ingredients
Cons
Can be too rich for dogs with sensitive stomachs
Customer's Choice: The Honest Kitchen Daily Boosts: Instant Beef Bone Broth Liquid Treat
This instant bone broth allows you to provide the best nutrients to your pet without having to slave away in the kitchen – just scoop up the powder, mix with warm water, and there you have it, warm, nourishing bone broth for your four-legged bestie. Made with human-grade ingredients and produced in a human food facility, this bone broth is made only from the highest quality ingredients – beef broth, beef, pumpkin, turmeric, and parsley in one formula, and the other just swaps out beef and beef broth for turkey broth and turkey, for canines that prefer poultry flavor. This bone broth contains no preservatives, by-products, fillers, GMO ingredients, corn, wheat, or soy.
Pros
Human-grade ingredients and manufacturing facility
Two flavors available
Contains natural superfoods
Made in the USA
Best Bone Broth Powder: Bone Broth for Dogs with Powdered Elk Antler and Bone
If you have a senior dog with aching joints or want to prevent mobility issues on time, this nutrient-rich bone broth powder will be just the thing Made from two ingredients only – free-range elk bone and premium grade, naturally shed wild elk antlers – which are ground to a fine powder, this bone broth for dogs is chock full of essential nutrients, such as amino acids thiamine, potassium, zinc, calcium, glucosamine, chondroitin, and magnesium, to name a few. It is not a water additive and it doesn't mix with water, all you have to do is mix it with your pet's food and you'll quickly see an improvement.
Pros
Only two natural ingredients
Packed with nutrients
Perfect for hip and joint health
Easy to serve
Best Bone Broth Liquid: Solid Gold Bone Broth for Dogs
Want to make your own bone broth for your pet but don't have the time (or the possibility) to actually do it? This is the next best thing to cooking your own – just unscrew the cap and pour out this liquid nutritional gold! Made from healthy, natural ingredients, this bone broth liquid comes in 3 options – chicken, beef, or turkey bone broth. These slow-simmered broths are chock full of nutrients, such as naturally occurring collagen and amino acids that support digestive and joint health. In addition to broth, the formula also contains superfoods such as turmeric or ginger.
Pros
Choose between 3 flavors and formulas
Naturally rich in collagen and amino acids
Supports gut health and immunity health
Contains superfoods
Best Organic Bone Broth: Primalvore Grass-Fed Beef Bone Broth for Dogs
If you are concerned about the way livestock is raised and don't want to include meat treated with antibiotics and steroids into your pet's diet in any way or form, don't worry – there are organic bone broths for dogs that contain only the best quality ingredients. One of those is this mobility bone broth formula that's made with certified organic, grass-fed beef, chicken, or duck, in small batches in the USA. The ingredients are all human grade and natural and include only bone broth of your choice, turmeric, and collagen peptides for healthier skin, coat, and joints.
Pros
Certified organic, grass-feed protein source
Minimal ingredients for a clean human-grade formula
Enriched with collagen for skin, coat, and joint health
3 flavors to choose from
Made in small batches in the USA
Cons
Some dogs dislike the flavor of turmeric
Best Bone Broth Topper: Herbsmith Bone Broth Kibble Seasoning
Whether your pet is a picky eater or just lacking appetite in their senior years or after recovering from a surgery or an illness, a bone broth topper is certain to get them to finish their meals. You can serve it dry, sprinkled over food, or mixed in with water for a gravy-like topper for your dog's kibble – either way, they'll love the flavor. This is thanks to the fact that it is made from grocery-grade freeze-dried beef and beef bone broth, both packing a rich aroma and a ton of nutrients to boot. And, yes, that's it – just the two ingredients, without any unnecessary fillers or harmful ingredients lurking from the back label!
Pros
Improves appetite and makes bland meals tastier
Can be used dry or mixed with water
Only two natural ingredients
Made in the USA (Wisconsin) from US-sourced meats
Developed by a holistic veterinarian and nutritionist
Cons
Can upset a sensitive tummy
Best Bone Broth with Chicken: Nulo Freestyle Bone Broth for Dogs
If your pooch is a fan of poultry taste and flavor, opting for chicken bone broth instead of beef broth is a sure-fire way to sneak in those important nutrients without them protesting. Made from slowly simmered chicken bones with the addition of apple cider vinegar, celery, carrots, parsley, thyme, lemon juice, and turmeric for a boost of flavor and nutrients, this liquid bone broth for dogs boasts a savory aroma and plenty of health benefits to boot. It is made with human-grade ingredients in a human facility, so you can rest assured your precious pet is getting only the best.
Pros
Multiple flavors to choose from
Made with natural, human-grade ingredients in a human facility
Savory, rich flavor dogs love
Supports pet's coat, skin, and joint health
Best Bone Broth with Beef: Castor & Pollux Pristine Grain Free Grass-Fed Beef Bone Broth
Protein-packed and full of flavor, beef is one of the most loved protein sources for dogs with good reason. This beef broth is made with grass-fed beef, responsibly raised without antibiotics or hormones, and that's it! Beef broth, beef fat, a little bit of salt (sodium content is only 0.298%) and you have yourself a liquid natural supplement to support healthier skin, coat, joints, and overall immune health. There are no corn, soy, wheat, or artificial flavors and preservatives in the formula – only the good stuff! You can offer it on its own as a hydrating drink or use it as a food topper to make kibble more appetizing and nutritious.
Pros
Made with grass-fed beef
No artificial ingredients, corn, wheat, or soy
Easy to serve as a topper or on its own
Packed with protein and essential nutrients
Best Bone Broth with Turkey: Only Natural Pet Free Range Turkey Bone Broth
Turkey bone broth is a great choice for a leaner yet equally nutritious bone broth for your picky pet. Made with the highest quality, free-range turkey bones and a combination of fruits and veggies, including pumpkin, apples, carrots, and mushrooms, this bone broth is also enriched with sage, parsley, and turmeric to create a savory, flavor-rich topper for your pet's dry food. Gentle on the stomach and filled with ingredients that support joint health, this can be a marvelous addition to a senior dog's diet. Made in the USA with human-grade ingredients, this turkey bone broth will have your pet's tail wagging after the first lick.
Pros
Natural, healthy ingredients
Supports joint health
Rich savory flavor
Good for sensitive tummies
Made in the USA with human-grade ingredients
Cons
The amount could be bigger for the price
Benefits of Bone Broth for Dogs
Bone broth isn't just a yummy addition to your pet's meals – this nutritious liquid is packed with important nutrients that support your pet's overall health. Bone broth is made by simmering bones (beef or poultry bones) with a mix of herbs, spices, veggies, and even fruits, to get a concentrated liquid full of vitamins and minerals, but also important compounds such as glucosamine, chondroitin, and collagen, all of which are essential for joint health. As a result, consuming bone broth can have a meaningful impact on your pet's overall health.
Not only that the nutrients in the bone broth are great for digestion, but gelatin (or collagen) which is naturally found in bone broth, has a unique texture that helps prevent a condition called leaky gut. Nourishing your pet's digestive health with bone broth will also support their immune health, as the two are closely connected.
Promotes healthier joints and better mobility
There are a few compounds that are known to be crucial for joint health, such as collagen (glycosaminoglycans, to be more precise), glucosamine, and chondroitin. After all, it's no coincidence that all hip and joint supplements contain these compounds! But did you know that all of these compounds can be found in bone broth? Simmering bones creates a concentration of these beneficial compounds, so introducing bone broth to your aging pet's diet can improve their mobility and protect their joints from rapid deterioration.
Encourages healthier skin and coat
Thanks to the rich amounts of collagen in bone broth, this potent liquid can help bring back your pet's healthy skin and shiny coat. Collagen makes the skin younger and hydrates it at the same time, and it also promotes a fuller, healthier coat. This makes bone broth a great option for dogs with allergies or sensitive skin, as the nutrients in it can support the recovery of their skin and fur.
We are committed to finding, researching, and recommending the best products. We earn commissions from purchases you make using the retail links in our product reviews. Learn more about how this works.

Angela Vuckovic
A proud mama to seven dogs and ten cats, Angela spends her days writing for her fellow pet parents and pampering her furballs, all of whom are rescues. When she's not gushing over her adorable cats or playing with her dogs, she can be found curled up with a good fantasy book.
More by Angela Vuckovic
Published September 27th, 2023 12:19 PM