347 Views
Best Dog Food for Diabetic Dogs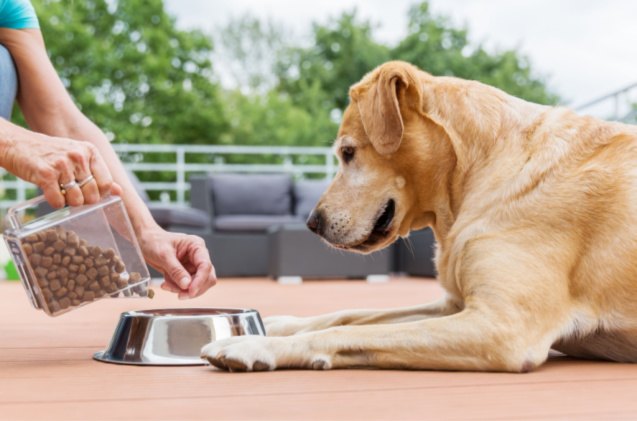 If your pet has diabetes, they have to get medication (insulin) to keep their blood glucose in check, but it's not all they need to keep this health issue under control. Physical activity and diet play a big role in diabetes management, and can greatly contribute to the success of medical treatment and help your dog thrive under your care. To help you find the right dog food for diabetic dogs, we've selected some of the formulas that are often recommended for stabilizing glucose – however, each dog is different, so before making any final decision, please consult with your veterinarian.
Editor's Choice: Hill's Prescription Diet w/d Multi-Benefit
Recommended and formulated by veterinarians and nutritionists, this prescription formula is optimized to support multiple conditions, including blood glucose management. The key is in the carefully chosen and clinically tested ingredients that work to stabilize blood sugar, as well as support urinary health, digestive health, and a healthy weight in dogs. If your diabetic dog is struggling with obesity, this dog food is a great choice, as it contains therapeutic L-carnitine levels to help burn off fat and maintain a leaner figure. In addition to lower caloric content, a generous amount of both soluble and insoluble fiber can help with diabetes management in canines – it has by far the biggest percentage of crude fiber at 16% which is more than impressive.
Pros
One of the highest fiber content in dog food
Formulated to support healthy glucose levels
Recommended and formulated by veterinarians
Helps maintain a healthy weight
Runner Up: Ketona Adult Dry Dog Food
With its high protein, low carb formula, this dog food caters to the needs of diabetic dogs – more than 46% of the food is protein, whereas there are less than 5% carbs. The food is made with real meat as the first ingredient – in this case, salmon – and contains no wheat, rice, corn, barley, soy, sweet potatoes, or regular potatoes. As it is formulated to mimic the food of canine ancestors by eliminating carbs and focusing more on meat and fat, which resembles the original diet of dogs, this formula has a minimal blood sugar impact, helps burn fat, and maintains lean muscle mass.
Pros
Made with natural ingredients
Has a lower blood sugar impact
Packed with meat but cuts out carbs
Good for dogs that need to lose weight or to maintain a healthy weight
Cons
Can upset a sensitive stomach
Customer's Choice: Lucy Pet Formulas for Life Salmon, Pumpkin, & Quinoa Dry Dog Food
While a lot about canine diabetes management depends on the lifestyle and habits, choosing the right food can go a long way – and the first step to take is to look for foods with rich fiber content. This complete and balanced formula helps establish a thriving gut flora and healthier digestion, and to do that, they need fiber – quinoa, which has twice the fiber of most grains, pumpkin, and carrot are just some of the great ingredients. In turn, this formula can help your pet with glucose stabilization, thanks to its healthy fiber and protein content, and natural superfoods that can boost their overall health.
Pros
Suited for dogs with a sensitive stomach and digestive issues
Healthy, natural sources of fiber and protein
Formula adapted for all life stages
Fortified with taurine, antioxidants, and essential fatty acids
Cons
Kibble pieces too big for small breeds
Best Dog Food for Diabetic Small Breed Dogs: Solid Gold Wee Bit
If your petite four-legged companion has diabetes, you'll need to find a formula that's made to fit their unique needs and works towards managing glucose levels – and it's not always easy finding a dog food that ticks all of your specific boxes. Luckily, this holistic formula caters to the needs of small and toy breed dogs while touting healthy, wholesome ingredients that won't spike your pet's glucose levels. It contains real, lean meat (bison) as the first ingredient, followed by healthy whole grains, pumpkin, tomato, carrots, blueberries, and cranberries, which all contribute to the formula's rich fiber content. Of course, it also has other benefits such as omega fatty acids for healthier skin and coat, probiotics for better digestion, and superfoods to boost the immune system.
Pros
Bite-size kibble perfect for small dogs
Made from natural, wholesome ingredients in the USA
Contains probiotics and superfoods
Healthy fiber levels from fruits and veggies
Cons
Might not be the best choice for picky eaters
Best Dog Food for Diabetic Large Breed Dogs: Purina Pro Plan Large Breed & Giant Breed Adult Dry Dog
Different dogs have different dietary needs that are directly influenced by their size, activity levels, and age, so when you add on specific issues, such as diabetes, to the mix, it's clear that you'll have to look far and wide to find a perfect formula tailored to their needs. However, if you have a large breed dog with diabetes, you might not have to search too long, as this formula might just be what they need. Made to support the overall health and meet the nutritional needs of large and giant breed dogs, this dog food also happens to have a high protein and fiber content which is a good option for dogs with diabetes.
Pros
Protein and fiber-rich chicken and rice formula
Options for large and giant dog breeds
Glucosamine and EPA for joint health and mobility
No artificial colors or flavors
Contains natural prebiotic fiber
Cons
Not the "cleanest formula" out there
Best Wet Dog Food for Diabetic Dogs: Weruva Dogs in The Kitchen Grain-Free Natural Canned Wet Dog Fo
Whether you're looking for an occasional healthy treat meal for your diabetic dog or a topper you can use to entice them to eat their new prescription food, this canned dog food is a solid option. It is made from healthy, natural ingredients, produced in Human Food Facilities under the Strictest B.R.C. Global Standards for Food, and contains no grain, gluten, soy, or carrageenan. To boot, there are 6 recipes available to suit even the finickiest of eaters (as well as a variety pack), including those made with shredded chicken and pumpkin, beef and wild salmon, and lamb and pumpkin – to name a few.
Pros
Made with real, natural ingredients
Meat is the primary ingredient
High moisture content and moderate fat content
Sustainably sourced meat
Cons
Not to be fed exclusively
Best Low Carb Dog Food for Diabetic Dogs: Visionary Pet Foods Low Carb Keto Beef Recipe
Some research indicates that a low carb, low starch diet can have a positive impact on your pet's blood sugar levels, but it's not often you find a dog formula that manages to stay complete and balanced while cutting back on carbs. Well, this keto recipe for canines does just that! With only 1g net carbohydrate per serving, it barely has any carbs in the ingredient list, but it more than "makes up" for it with 43% crude protein and a generous 7% of crude fiber, which is great for dogs struggling to maintain healthy glucose levels. It contains no grains, gluten, antibiotics, added hormones, fruit, added sugars or fructose, corn, tapioca, potatoes, sweet potatoes, soy, carrots, or peas.
Pros
A clean high protein, low-carb formula
No added sugars or starches
Made with real beef meat as the first ingredient
Rich flavor that dogs love
Cons
A high-fat content which is not recommended for dogs with pancreatitis
Best Dog Food for Senior Diabetic Dogs: IAMS PROACTIVE HEALTH Mature Dry Dog Food
If your pet got diagnosed with diabetes in their golden years, you might be worried about how to make the switch to a diet that nurtures their body so late in life. While the timing of the meals and physical exercise remain important, you can still contribute to a healthier diet without having to make drastic changes in nutrition for your aging pet. This complete and balanced formula is meant to support the overall health of senior dogs, with DHA and natural sources of glucosamine to support cognitive and joint function, but it also has a crude fiber content of 5% which will be good for their tummy and glucose levels.
Pros
Easy to digest formula
Made with wholesome ingredients to meet the needs of senior dogs
Blend of fiber and prebiotics to support digestion
Supports cognitive function and healthy joints
Best Grain-free Food for Diabetic Dogs: Taste Of The Wild Pine Forest Grain-Free Recipe
If your pet is allergic to grains, this formula swaps them out for legumes and pairs with a novel protein source – venison – for a nutrient-dense dog food your pet will enjoy. With real meat as the first ingredient, this is a high protein formula (28%) so it will support healthy weight and lean muscles, and fiber content of 5.5% will promote healthy stools and digestion. Made in the USA, this formula contains no grain, corn, wheat, artificial flavors, or colors. Enriched with probiotics and essential fatty acids, this food is formulated to make your pet's skin and coat healthy and shiny, and keep their tummy calm and happy.
Pros
Real venison is the first ingredient
Supports healthy weight
Enriched with prebiotic fiber for better digestion
No grains, corn, wheat, or artificial flavors and colors
Cons
Might take some getting used to
Best Hypoallergenic Dog Food for Diabetic Dogs: Jiminy's Good Grub Insect Protein Oven-Baked Dog Foo
When your dog has both food allergies and diabetes, it can be quite difficult to find a quality diet to meet your pet's needs – but if you're willing to keep an open mind, there's actually a way to avoid common allergens while getting a protein-rich, fiber-rich formula. The secret? Insects! Yup, you might scrunch up your nose at the very thought of snacking on a critter, but your dog doesn't have an issue with it – so they get to reap the rewards of this nutrient-dense food. Made with easily digestible insect protein which meets AAFCO canine standards for B-Vitamins, Choline (brain health), and fatty acids, this food is easy to digest, hypoallergenic, and has great nutritional value.
Pros
Easy to digest insect protein
Hypoallergenic formula
Suited for sensitive stomachs
Limited ingredients
Sustainable and made in the USA
Cons
Not all dogs like the flavor
What's the Best Type of Dog Food for Diabetic Dogs?
There's no one-size-fits-all solution for dogs with diabetes, at least not when it comes to nutrition. While your veterinarian will prescribe medication to keep their glucose levels stable, you should also make sure that you time their meals properly and feed them a diet that won't spike their blood sugars. This means opting out of formulas with cheap fillers, added sugars, and anything else that could interfere with diabetes management.
If you have an underweight dog with diabetes, you'd want to avoid foods with higher fiber content, while obese diabetic dogs benefit from plenty of fiber in their diet. Some dogs with diabetes do well on a high protein diet, whereas those that have pancreatitis need to avoid high-fat formulas at all costs. As you can see, a lot will depend on your pet's specific situation and the health issues that accompany it. In terms of diet, it's as important to time the meals properly and balance them with medication as much as it is to worry about the ingredients in the formula – so it's not something to be taken lightly.
To be sure that you're making the right choice for your pet's health, always consult a veterinarian. Not only are they medical experts, but they have insight into your pet's medical history and can give you tailored advice based on their specific needs.

We are committed to finding, researching, and recommending the best products. We earn commissions from purchases you make using the retail links in our product reviews. Learn more about how this works.

Angela Vuckovic
A proud mama to seven dogs and ten cats, Angela spends her days writing for her fellow pet parents and pampering her furballs, all of whom are rescues. When she's not gushing over her adorable cats or playing with her dogs, she can be found curled up with a good fantasy book.
More by Angela Vuckovic
Published September 25th, 2023 4:40 PM