524 Views
Best Dog Treats for Large Dogs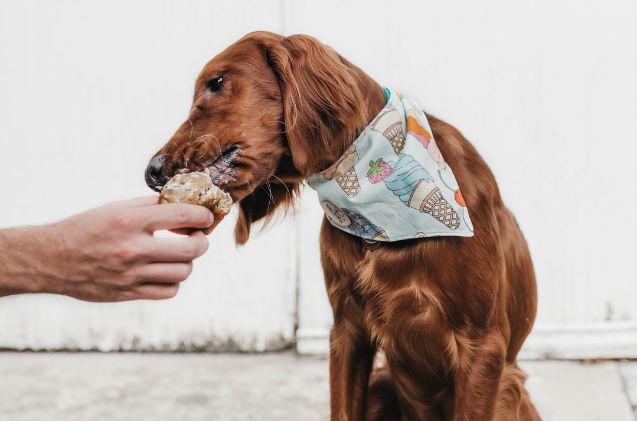 While many treats boast that they are suitable for dogs of all sizes, large dog parents know that their pups have a few specific needs. One of the biggest struggles is finding a large enough treat that our dogs will taste their reward when given.
Luckily, many great dog treats on the market were specifically made with larger dogs (and extra-large dogs) in mind. These treats are not only sized right for our dogs, but their nutritional benefits can help improve their health and well-being. It's the perfect combination for dog owners that want to give their pups the world (and then some). But where do you find the right treats to meet all your needs?
Before you spend a few hours scouring through online stores or walking the aisles of your local pet store, we want to help. In this guide, we're going to share our choices for the best dog treats for large dogs and some tips and tricks to consider while shopping. Let's get started!
Editor's Choice: Icelandic+ Cod Skin Mixed Pieces Dog Treat
If your dog suffers from allergies, a single-ingredient treat is essential. These cod skin treats are just what they advertise, 100% air-dried cod skins for dogs. They are highly nutritious, boosting skin and coat health and supporting your dog's joints. The dried treats also help to reduce plaque and tartar build-up by cleaning your pup's teeth as they chew. All cod used in these treats are caught fresh daily in the waters of Iceland.
Pros
Pure, sustainably sourced fish
Source of protein and Omega-3 fatty acids
Air-dried, free from preservatives
Cons
Some customers warn the skins are all stuck together, making it difficult to separate
Give off a distinct fishy odor
Runner-Up: Fruitables Biggies Dog Biscuits Pumpkin & Blueberry
For dog owners that are concerned about protein-based allergies, these treats from Fruitables are a great solution. They are made with high-quality ingredients, including pumpkin, blueberries, and more. While these treats are larger than most Fruitables treats, they can be broken into smaller pieces for training. Unlike many dog treats, these treats have little smell.
Pros
Available in 4 flavors to suit your dog's tastes
Free from wheat, corn, soy protein, and artificial flavors or colors
High in fiber for optimal digestive health
Cons
Some customers report the treat is too hard for smaller or senior dogs
Higher calorie count
Best Single Ingredient Treats for Large Dogs: The Honest Kitchen Ocean Chews Crispy Cod Fish Skins
Dogs that love fish-based treats are sure to love these cod fish skins from The Honest Kitchen. Larger than standard dog treats, they aren't ideal for training treats, although they can be broken into smaller pieces. For dogs that enjoy chewing, these are a tasty and safe alternative to rawhide chews. If your pup isn't interested in cod fish, the company also offers Wolffish skins.
Pros
100% human-grade ingredients
Wild-caught and sustainably sourced
Moderate chew time makes it a healthy rawhide alternative
Cons
Fish smell is unpleasant for some dog owners
Treats may pose a choking hazard for some dogs after they get soft
Best High-Value Treats for Large Dogs: Stewart Freeze-Dried Beef Liver Dog Treats
High-value dog treats play an essential role in the training process, motivating dogs to tackle some more challenging tasks. These freeze-dried beef liver traits are perfect for the job. Made from 100% US freeze-dried beef liver, they offer a scent and flavor that will tempt even the pickiest of pooches. The treats can be broken into smaller pieces if needed, making them suitable for dogs of all sizes. The resealable tub does a great job of keeping them fresh between uses.
Pros
Single-ingredient, pure beef liver
Treats easily break into smaller pieces for training
Freeze-dried to lock in the enticing flavor of raw treats
Cons
Some customers report that treat sizes and quality are inconsistent from package to package
Strong scent may be too much for dog owners with sensitive stomachs
Best Training Treats for Large Dogs: Charlee Bear Grain Free Crunch Bacon & Blueberry Flavor
When selecting a training treat, you want something tasty, enticing, pocket-friendly and low in calories. These treats from Charlee Bear fit all those requirements with ease. At less than 3 calories per treat, you can easily incorporate them into your daily training without sacrificing your pup's health. The crunchy treats don't crumble, and they won't leave stains in your pocket or treat pouch. Available in an assortment of fun flavors, there is sure to be an option to motivate any dog.
Pros
Available in both original and grain-free
Won't leave stains or smells in your pocket or treat pouch
Less than 3 calories per treat
Cons
Larger crunchy design may take longer for dogs to eat than a standard quick training treat
Low-odor formula isn't enticing for some dogs
Best Budget Treats for Large Dogs: Buddy Biscuits with Natural Bacon & Cheese
These adorable gingerbread man-shaped biscuits are proof that you don't have to break the bank to spoil your dog. Baked in the United States with only 5 ingredients, they are a healthy choice. The treats are available in 3 flavors including bacon & cheese, chicken, and peanut butter. They are made larger in size which makes them ideal for big dogs, but can be broken into smaller bite-sized pieces to use as training treats.
Pros
Budget-friendly price point
Limited ingredient recipe includes only 5 ingredients
Large-size biscuit is ideal for bigger dogs
Cons
Some customers warn they may be too hard for senior dogs or those with dental problems
Higher calorie count at 46 calories per treat
Best Dental Treats for Large Dogs: Bocce's Bakery Dailies Brushy Sticks
If you are going to give your large dog a little something to chew on, why not choose a treat that will also help to improve their health and well-being? These dental chews from Bocce's Bakery feature a bristle-shaped design that helps to clear the plaque and tartar from your dog's teeth with each bite. The biscuits are proudly baked in the USA with ingredients like mint, apple, and coconut, leaving your pup with fresh breath.
Pros
Work to clean your dog's teeth while they chew
Includes mint for fresh breath and more pleasant puppy kisses
Free from artificial flavors and fillers
Cons
Mint & coconut flavor may not be as interesting to some dogs as a meat flavored treat
Softer than most dental treats, allowing some dogs to eat them too quickly
Best Treats for Large Breed Puppies: Wellness Soft Puppy Bites Natural Grain-Free Treats
Growing puppies have unique health needs as their little bodies develop. These treats are packed with valuable nutrition to support brain development, boost the immune system, and improve skin and coat health. The treats are slightly larger than a standard training treat, but at just 6 calories per treat, they are a great low-calorie option when broken into smaller pieces. Made in the US from all natural ingredients, they are free from corn, wheat, soy, artificial colors, and preservatives.
Pros
Soft, bite-sized treats are perfect for puppies
Only 6 calories per treat
Natural source of DHA to support brain development
Cons
Treats are too large for training or food puzzle toys
Some customers caution the treats crumble when breaking them into smaller pieces
Things to Consider When Searching for the Best Dog Treats for Large Dogs
There is no one treat that is ideal for all larger dogs. Each pup has their own unique needs and personal preferences. But there are some factors to consider that can help you narrow down the options to choose a great treat for YOUR dog specifically.
Size
The most obvious consideration, as we already touched on earlier, is the size of your dog's treats. Small treats are easily swallowed by our larger dogs, which not only means they don't enjoy their treat but can also create a choking risk.
Potential Allergies
Does your dog suffer from food allergies? Many dog owners know that their dog is struggling with some sort of allergy or irritation but aren't sure what could be causing it. If so, you are not alone. Not knowing what your dog is allergic to can make it challenging to eliminate the allergen and prevent discomfort. But there are steps that you can take to help reduce the risk.
Consider purchasing a limited-ingredient or single-ingredient treat. The fewer ingredients included, the easier it is to identify the culprit if something goes wrong. The most common food allergens in dogs are common proteins (chicken, beef, lamb, chicken eggs), soy, and gluten.
Firmness
Dog treats can be made in various textures, including soft and chewy, crunchy cookie-like treats, and harder dog chews. If your dog is a puppy or senior dog, they may be unable to chew through a harder treat. Not only does it prevent your dog from really enjoying their treats, but there is also the risk of breaking a tooth trying to chew it. Dental injuries are painful for your dog and expensive for you as the owner.
Calorie Content
Your dog's treats should only make up approximately 10% of their total daily calories. If you are currently training your dog, this means that you will need to find a treat that is very low in calories to allow you to feed them in higher quantities. Larger treats can often be broken down into smaller pieces for this purpose, depending on the texture of the treat.
Nutritional Needs of Large Dogs
While some nutritional guidelines can be applied to dogs of all sizes, your large dog has a few specific needs related to their size and development. This mainly applies to your dog's food, but their treats are also an opportunity to prioritize their health and well-being.
A growing large breed or extra-large breed puppy needs a diet that is built on at least 30% high-quality protein. For this reason, many large dog treats are protein-based. Avoid treats that are made with added calcium. While calcium is a necessary part of a healthy diet, too much calcium can lead to skeletal problems. Other healthy options include treats that are based on dog-safe fruits and vegetables.
Large and extra-large dogs are at a higher risk of suffering from joint pain and arthritis as they age. Treats made with seafood, like salmon or fish oil, contain valuable omega-3 fatty acids. They have anti-inflammatory properties that help relieve your dog's aches and pains, allowing them to be happy and active.

Britt
Britt Kascjak is a proud pet mom, sharing her heart (and her home) with her "pack" which includes her husband John, their 3 dogs – Daviana, Indiana, and Lucifer – and their 2 cats – Pippen and Jinx. She has been active in the animal rescue community for over 15 years, volunteering, fostering and advocating for organizations across Canada and the US. In her free time, she enjoys traveling around the country camping, hiking, and canoeing with her pets.
More by Britt
Published March 7th, 2023 12:00 AM