184 Views
Best Dog Food for Golden Retrievers
We're committed to finding, researching, and recommending the best products. We earn commissions from purchases you make using links in our articles. Learn more here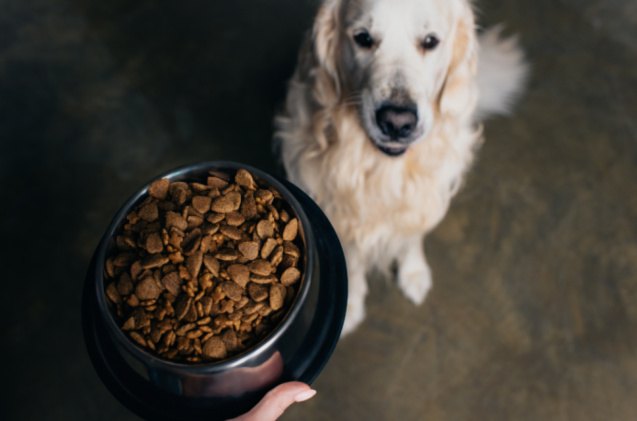 According to the AKC, Golden Retrievers are the 4th most popular breed in the United States. And it's not surprising, considering that these lovable dogs are described by the same organization as "outgoing, trustworthy, and eager-to-please family dogs, (that are) relatively easy to train". If you are lucky enough to share your life with a Golden Retriever, you should know that nutrition is an important aspect of care and that you should do your homework when it comes to their diet. You can't rely on generic brand kibble to sustain and nourish your pet through their life, as they have specific dietary needs that need to be met if you want them to thrive. To help you find the right type of food for your pet, we've rounded up the best dog food for Golden Retrievers – read on to learn more!
Editor's Choice: Solid Gold Hund N Flocken Dry Dog Food
Formulated to support your pet's immune system, digestive health, and promote healthier skin and coat while providing complete and balanced nutrition, this dry food is an excellent choice for Golden Retrievers. With pasture-raised lamb as the first ingredient, this kibble is packed with protein, but also doesn't skimp on other important nutrients: complex carbohydrates and a proprietary blend of superfoods provide fiber, essential fatty acids, and various vitamins and minerals your pet needs to thrive. To boot, thanks to the 90 million living probiotics per pound of this food, it will balance your pet's gut microbiome and support their overall health.
Pros
Quality, healthy natural ingredients
Real meat is the first ingredient
90 million living probiotics per pound
No artificial colors, flavors, corn, wheat, or soy
Made in the USA
Cons
Some picky eaters might not like the taste of lamb
Runner Up: Taste of the Wild Ancient Prairie Canine Recipe
When in doubt, go back to the roots. This dry dog food is formulated to fit the standards of the modern diet for dogs but doesn't disregard their ancestral nutritional needs that are still carried through their DNA. The first ingredient in this formula is real meat – water buffalo –, followed by a blend of superfoods and ancient grains such as sorghum, cracked pearled barley, millet, and others. What's more, each serving is enriched with species-specific k9 proprietary probiotic and prebiotic strain to improve your pet's gut flora and support their immune health. Made in the USA with premium ingredients, this exotic protein kibble will provide your pet with the nutrients they need to thrive.
Pros
Real meat is the first ingredient
Exotic protein source
High in protein
Enriched with species-specific probiotics and prebiotics
Made in the USA
Cons
Not for dogs with a sensitive stomach
Customer's Choice: Blue Buffalo Life Protection Formula Natural Adult Dry Dog Food
With real meat as the first ingredient and a variety of protein sources to choose from, this food will satisfy even the pickiest of Goldies. There are 6 formulas available: beef and brown rice, chicken and brown rice, healthy weight chicken and brown rice for Golden Retrievers on a weight management regime, lamb and brown rice, fish and brown rice, and a special "small bite" variation of chicken and brown rice formula for dogs that prefer a smaller kibble. In addition to the real meat, the formula(s) include wholesome whole grains, garden veggies, and fruit, as well as a "precise blend of antioxidants, vitamins, and minerals carefully selected by holistic veterinarians and animal nutritionists" to support your pet's overall health.
Pros
Variety of flavors/protein sources to meet any dog's preference
Wholesome, balanced formula
Formulated by holistic veterinarians and animal nutritionists
Real meat is the first ingredient
Cons
Quality control could be better
Best Food for Golden Retriever Puppies: Open Farm Ancient Grains Puppy Dry Dog Food
If you've adopted a Golden Retriever puppy, it's important to set good foundations for a healthy diet early on. Setting a routine and opting for a healthy, balanced dog food that meets the specific needs of Golden Retriever puppies will ensure your pet thrives under your care. This premium kibble is an excellent choice, as it is formulated to support the healthy development of puppies, with humanely-raised chicken and wild-caught salmon as the first ingredients, for plenty of protein and essential fatty acids. The addition of ancient grains such as steel-cut oat, quinoa, brown rice, and sorghum will give your puppy fuel for their adventures, and probiotics and vitamins support their overall health.
Pros
Humanely sourced meat as the first ingredient
Only natural and quality ingredients
Real, non-GMO ingredients sourced locally
Nourishing and complete diet for puppies
Each ingredient is traceable for complete transparency
Best Food for Senior Golden Retrievers: NUTRO NATURAL CHOICE Large Breed Senior Dry Dog Food
When your Golden Retriever reaches their golden years, some issues might start popping up – most commonly, it's joint pain and mobility issues that are common for the breed. This special formula for senior large breed dogs is formulated to help with this, as it contains natural sources of glucosamine and chondroitin, compounds known to encourage joint lubrication and production of cartilage. Of course, this formula also boasts real chicken meat as the first ingredient, followed by nourishing natural, non-GMO ingredients such as brown rice, chia seed, and pumpkin. The formula doesn't contain chicken by-product meal, corn, wheat, or soy, so you know you'll be feeding only the best to your senior furball.
Pros
Contains natural sources of glucosamine and chondroitin
Supports healthy joints and hips
Formulated for specific dietary needs of senior dogs
Prepared in the USA
Best Wet Food for Golden Retriever: CESAR WHOLESOME BOWLS Adult Soft Wet Dog Food
Some Golden Retrievers simply prefer wet food to dry – whether you're feeding them dry food exclusively (e.g. to seniors with dental issues) or serving it as an occasional treat or a topper for their kibble, these "wholesome bowls" are bound to get their tail wagging. Made with real meat as the first ingredient, along with wholesome, fresh vegetables, this wet food contains no artificial colors, flavors, fillers, or preservatives and is considered a complete and balanced meal. There are 4 recipes to choose from – beef and chicken, chicken, chicken and carrots, and chicken and sweet potatoes – to make sure even pickier pets can find a flavor they enjoy.
Pros
Real meat is the first ingredient
Made with natural, recognizable ingredients
Clean, complete, and balanced formula
Excellent for picky eaters or dogs with sensitive teeth and gums
A variety of recipes to choose from
Cons
Small portions for the price
Best Dry Food for Golden Retriever: Royal Canin Golden Retriever Adult Dry Dog Food
Kibble is a staple in canine nutrition – readily available, easy to serve, dogs love it, and it comes in a variety of formulas and flavors tailored to suit different preferences and dietary needs. This formula, however, is customized to cater to Golden Retrievers specifically, taking into account everything from their muzzle shape and bite to their unique nutritional needs. It is enriched with taurine, EPA, and DHA to promote healthy cardiac function, contains essential fatty acids to promote healthier skin and coat, and has a precise calorie and fat content to help manage your pet's weight and prevent obesity. All your Golden Retriever needs to stay healthy and happy!
Pros
The only formula made specifically for Golden Retrievers
A complete and balanced diet
Supports healthy skin and coat
Promotes cardiac health
Formulated for weight management and maintenance
Cons
Lack of real meat and natural ingredients in the formula
Best Organic Food for Golden Retriever: Castor and Pollux ORGANIX Organic Dog Food
If you are concerned about the origin of the ingredients in dog food and mindful of your pet's diet to the very last detail, you are probably looking for an organic kibble formula to feed to your Golden Retriever – only the best and cleanest for your pampered pet! This dry food for dogs is certified USDA organic, which means that all of the ingredients in the formula are organic, starting with organic free-range chicken as the first ingredient on the list. As the ingredients are all certified organic, this also guarantees no contamination by chemical pesticides, synthetic fertilizers, antibiotics, or added growth hormones through meat or vegetables. Also, the formula doesn't contain GMOs, artificial preservatives, flavors, or colors and is made without corn, wheat, soy, chickpeas, or lentils.
Pros
USDA-certified organic ingredients
Clean formula without any dubious ingredients
Packed with natural superfoods
Real organic meat as the first ingredient
Supports healthy digestion
Cons
Some picky eaters might find it bland
Best Natural Food for Golden Retriever: JustFoodForDogs Pantry Fresh Dog Food
Whether you're feeding only natural, cooked food to your pet or you're looking for healthy, savory toppers to "spice up" their regular kibble meals, these fresh, human-grade complete meals for dogs are an excellent choice. With whole food ingredients and a vet-developed nutrient blend, these cooked meals are not only tasty to canines but also support their overall health – you can choose between beef and russet potato, chicken and white rice, lamb and brown rice, turkey and whole wheat macaroni, or the two specialized formulas, joint and skin support, and balanced remedy (for an upset tummy).
Pros
Human-grade ingredients
Clean formula with no artificial ingredients
Savory, tasty recipes great for picky eaters
Can be given as a complete meal or portioned to add as a topper
Variety of recipes to choose from
Cons
Can be expensive if fed exclusively
Best Food for Golden Retriever with Allergies: Natural Balance Limited Ingredient Diet Lamb & Brown
Food allergies are common among Golden Retrievers, and one of the most common allergens for canines are protein sources such as chicken or beef, or corn, wheat, and soy. This is why limited ingredient diets work so well for dogs with food sensitivities, including this dry food dog formula that has a single protein source – lamb – and uses fewer ingredients, all-natural, to minimize the risk of triggering allergies. It contains no potatoes, legumes, corn, wheat, or soy, and no sneaked in beef or chicken byproducts that could irritate your pet. It is a complete and balanced formula with plenty of protein and fiber and enriched with vitamins and minerals your pet needs to feel their best.
Pros
Limited ingredients – no potatoes, legumes, corn, wheat, or soy
Lamb is the single protein source in the formula
Suits dogs with sensitive stomachs and food allergies
Complete and balanced formula
Cons
Some picky dogs won't be thrilled about the flavor
What Food Should Golden Retrievers Eat?
Golden Retrievers are medium to large breed dogs that usually have an active lifestyle (they are a working breed, after all) and should eat food formulated to suit their size and activity levels. Furthermore, their food should be adapted to their age, as puppies, adult dogs, and seniors have different dietary needs and their food should reflect that – e.g. puppies need DHA for cognitive development and seniors require glucosamine and chondroitin to support their joint health.
Golden Retrievers are prone to obesity and can gain weight quickly if fed inadequately, which can cause a myriad of health issues in the long run, from putting unnecessary strain on their already issue-prone hips and joints to serious illnesses such as canine diabetes. Be sure that the food you pick for your pet is not high in fats and calories, as this majorly contributes to obesity. Protein-packed foods with healthy fibers and complex carbs are a much better option that will nourish your pet and support their health. If your Goldie has already gained a few extra pounds, consider a specialized weight management formula that could help them get back to their optimal weight, alongside regular exercise.
We are committed to finding, researching, and recommending the best products. We earn commissions from purchases you make using the retail links in our product reviews. Learn more about how this works.

Angela Vuckovic
A proud mama to seven dogs and ten cats, Angela spends her days writing for her fellow pet parents and pampering her furballs, all of whom are rescues. When she's not gushing over her adorable cats or playing with her dogs, she can be found curled up with a good fantasy book.
More by Angela Vuckovic
Published December 7th, 2023 6:05 AM