1.1K Views
September 13th, 2022 9:11 AM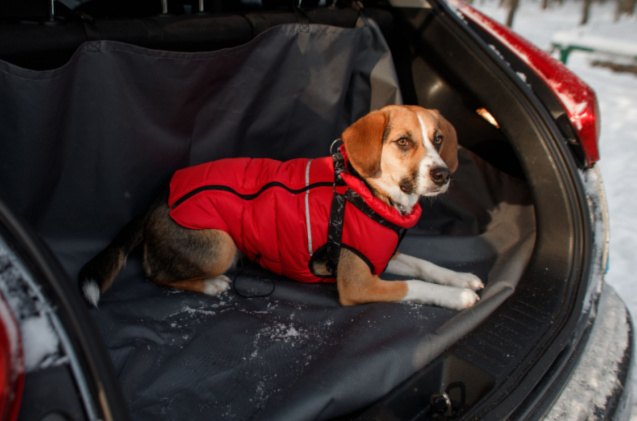 There is nothing more thrilling than your four-legged friend tagging along on your journey. An ideal way to transport them is in the cargo bay (boot) of your SUV or family car. There is plenty of space there and your pet won't feel claustrophobic. However, while your pet will enjoy the ride, you won't enjoy the look of your cargo bay after they're out: paw prints, mud, drool, hair, scratches – they can all ruin a potentially pristine car. These unique cargo liner designs will prevent all that, as they are designed to protect the cargo area, offer your pet comfort, and keep your car looking pristine. Take a look at our selection of the 10 best cargo liners your money can buy!
Editor's Choice: Jumbl Pet Cargo Liner
When you're traveling with your pet, things can certainly get messy! This nifty cargo liner for the trunk of your car or SUV is a fantastic solution that will keep your pets comfy and your car clean and protected. The liner is fully waterproof and made from durable, textured polyurethane material. It extends to the sides and to the rear, ensuring that no parts of the cargo bay are exposed. With its quick-release seat anchors and headrest straps, it is easy to set up and will keep in place throughout the ride. Added is an adjustable strap with buckle, which latches onto the front seats for an even better fit. This cargo liner is fully machine washable, which makes it easy to keep clean even when the weather is muddy and wet.
Pros
Easy to install
Well-made and durable
Machine washable
No slipping
Cons
Might not be suitable for smaller cars
Runner Up: KURGO Waterproof Cargo Liner
It is no secret that most dogs love to stomp in mud and get all messy. But what happens on the trip back home? Your car's cargo bay can end up looking like a puddle itself. This KURGO Waterproof cargo liner is the perfect fix for this problem. Waterproof and stain resistant, it is perfectly designed to protect every corner of your cargo bay and to keep the dirt away from the upholstery. It is made from very durable and rugged material and comes with an extended Rufftex™ bumper flap for extra protection. Also included are piped edges and special mesh net pockets, which allow you to store some handy tidbits for the road, and a central zipper that allows you to fold one of the seats if needs be. Of course, the cargo liner can be fitted perfectly with its buckles and straps, so no slipping will occur.
Pros
Tough and durable
Extended bumper flap
Easy to attach
Mesh pockets
Cons
Could be improved with raised sides
Customer's Choice: HelloTree Dog Trunk Cargo Liner
This simple but efficient cargo liner from HelloTree does everything by the book and makes sure that your cargo liner is thoroughly covered and protected from mud, drool, and hair. Made from waterproof and highly durable 600D fabric, it features a rubber bottom that prevents slipping, draining, or soaking. It also features a stylish paw print that will enhance the look of your car trunk and prevent those mud stains from being seen easily. Two adjustable lock straps with buckles will make installation simple and quick. A great feature of this liner is the raised edges: both at the sides and in the front, so nothing gets past it and ends up as a stain on your car's interior.
Pros
Durable material
Rubberized bottom
Cute paw print
Affordable price
Best Cargo Liner for a Small SUV: WE LOVE ANIMALS Dog Cargo Liner
Even if you own a small SUV, you can still find a suitable solution to keep it protected from mud and dirt – and to keep your four-legged friend alongside you on the journey! Made from durable and quilted, waterproof polyester material, this cargo liner can really take the punch and still keep the cargo area dry. It features an extra long bumper flap, as well as a raised back for protecting the rear seats. It features an anti-slip bottom for a secure fit, as well as snap buckles for a sturdy attachment. Another great feature is an integrated storage pocket, allowing you to store all your doggo-related goodies. When not in use, this cargo liner can be stored in a special carry bag that comes in the package!
Pros
Great quality and durability
Integrated storage pocket
Carry bag
Extra long bumper flap
Cons
Side protection could be better
Best Cargo Liner for a Large SUV: iBuddy SUV Cargo Liner
All dogs share the love of riding in a car! But if you own an extra large or extra long SUV, protecting all that cargo space can be a challenge. But not with this superb cargo liner. It is extra long, ideal for those extra spaces in your car. It is made from highly durable and waterproof material and features a non-slip EVA bottom for a tight grip. Seat anchors and quick-release buckles make installation simple and secure, while the enhanced orange edges will boost visibility. To the front, a special thick mesh window allows you to keep an eye on the cargo bay and your dogs, but still stay protected. Also added are integrated storage pockets, for all your pet's goodies.
Pros
Great for long and large cars
Sturdy and quality design
Slip-proof EVA bottom
Orange edges enhance visibility
Best Cargo Liner for Fold Down Seats: 4 Knines SUV Cargo Liner
The big advantage of modern SUVs is the fact you can fold down your rear seats separately. It gives you a lot more room and adaptability. But if you are using a cargo liner, it also has to adapt as well. This unique design is great for fold-down seats. Super spacious and made from extra durable 600d polyester, it can endure a lot of wear and tear and protect a large portion of your trunk. Its unique design allows you to fold down your seats whichever way you want, while still keeping them protected. This liner also includes a large 22" bumper flap, adding even more protection. It also features a non-slip layer, which, combined with the fastening straps, keeps everything securely in place. The design comes in several classic colors, allowing you to match it to the interior of your car.
Pros
Efficient solution for fold-down seats
Great durability
Choice of several colors
Easy to install
Best Cargo Liner With Storage: BRONZEMAN Pet Cargo Cover
All dog owners know the importance of bonus storage. You will need all the space you can get for those tasty treats, leashes, toys, and whatever else. This unique cargo liner comes with some extra large storage pockets, ensuring that you can pack everything you might need. And all that without crowding your SUV! The cargo liner is made from highly durable and rugged material and will withstand all the wear and tear, without letting through any water, mud, or dirt. Adjustable buckles and straps will allow you to attach the liner to your front seats with ease and speed, without any worry of the cover sliding off. This liner boasts 4 stitched waterproof layers, which are a certain guarantee that no water will damage your car. Extra stitching and leather reinforcement ensure added durability, which means that this cargo liner will have an extra long service life - despite the dirt you throw at it!
Pros
Extra durable
Handy additional storage space
Sturdy and stable
Cons
Side panel protection isn't all that good
Best Cargo Liner With Side Flaps: F-Color SUV Cargo Liner
For a cargo liner to truly perform its protective task to the fullest, it needs to have front, rear, and side flaps. That way, your SUV's cargo bay is fully protected. This superb design from F-Color is one of the most complete on the market: it is super large and guaranteed to protect the entity of the cargo bay. This is ideal for owners of extra large dogs who are restless and tend to get dirty. Perfectly designed for a variety of car types, this liner is made from durable 600d material, which also features a textured anti-slip rubber backing. This means that the liner stays in place no matter what. Enhanced stitching adds to the durability, while the classic adjustment straps will ensure a secure fit to the front seats.
Pros
Super spacious and large
Very durable
Extended side and rear flaps
Cons
Not ideal for smaller cars
Best Cargo Liner With Bumper Protector: WEEKSUN Cargo Liner for SUV
For a cargo liner to fully perform its task, it needs to have adequate protection for the rear bumper. When your doggos jump in and out from the cargo bay, they will use their paws as help. This can leave scratch marks on the bumper – and those can't be erased. Thankfully, designs such as this one have an integrated bumper protection flap. It is extra long and will cover the entire bumper: when your dogs climb in, no harm will be done! Of course, the liner is made from extra durable quilted waterproof material, which is ideal for keeping the hair, drool, mud, and dirt away from your car. Ideal for SUVs and large family cars, the large dimensions of this liner make it a true interior protector. However, smaller car owners will likely have to find a different solution.
Pros
Extra long rear flaps
Solid side protection
Durable material
Perfect for SUVs
Cons
Might be a bit too large for smaller cars
Best Cargo Liner With Mesh Window: Vailge Dog Cargo Liner
Giving your doggo room to stretch is important, but good visibility is important as well! They have to see either outside or keep their eyes on you, in order to feel safe and not confined. This cargo liner sports a nifty mesh window that will keep your nosy doggo separated, but at the same time offer a view. The mesh window is located between the two front seats, offering a glimpse of you and your side passenger – a sight that is sure to reassure your pet. Leaving little to be desired, this cargo liner is extra tough, being made from durable layered material, and offers plenty of protection for the cargo bay. A super long bumper flap enhances protection, while the adjustable belt buckles ensure a secure fit. A rubberized bottom will keep the whole liner secure in one place, without any loose fits.
Pros
Extra long bumper flap
Integrated mesh window
A reliable design
Do I Need a Cargo Liner?
You should always get a cargo liner if you are planning a long trip with your pet. Especially if you are making it into a classic road trip – the open road, wind in your hair, and your own trusted four wheels taking you and your four-legged bestie straight into another adventure.
If you have a large breed dog or prefer to keep your pet securely away from the driver's seat during the ride, transporting them in the cargo area is the smartest call, and that's when a cargo liner proves to be an invaluable asset. It protects the sides, the bumper, and the rear seats from the mess that is inevitably going to come with your dogs. This includes drool, mud, dirt, pet hair, scratches, and even poo and pee if an "accident" happens. No one wants that all over their car. With a good cargo liner, these things will never reach the interior of your car. You won't need to spend hours cleaning up after your pet has been in the car or worry about permanent damage to the interior – and all that with a simple accessory that's easy to install and doesn't break the bank.
We are committed to finding, researching, and recommending the best products. We earn commissions from purchases you make using the retail links in our product reviews. Learn more about how this works.

Angela Vuckovic
A proud mama to seven dogs and ten cats, Angela spends her days writing for her fellow pet parents and pampering her furballs, all of whom are rescues. When she's not gushing over her adorable cats or playing with her dogs, she can be found curled up with a good fantasy book.
More by Angela Vuckovic
Published August 8th, 2022 2:46 PM