173 Views
Best Invisible Fences for Dogs
October 4th, 2022 10:00 AM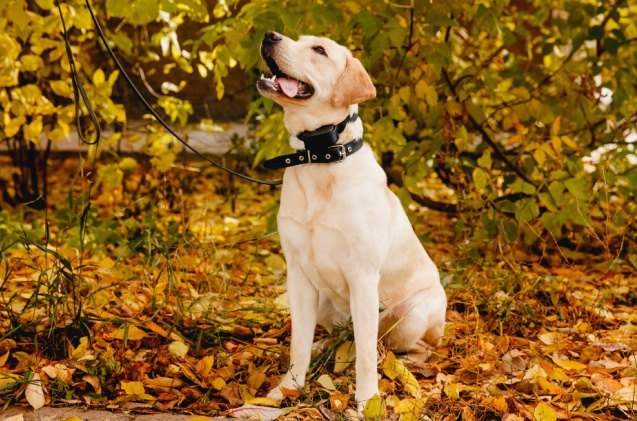 If you have a dog who is a flight risk and you're worried they'd jump at the opportunity to wiggle out of your backyard when left unattended, an invisible fence for dogs will help you ensure your pet stays safely contained on your property. Easy to set up and highly effective, invisible fences for dogs can be installed either in-ground or above ground, and work with a receiver collar your pet needs to wear – once they near the border you've set up with the wiring or transmitters, the collar will beep, vibrate, or produce a static shock to train your pet to stay clear of certain areas of your property.
To help you find the right type of invisible fence for your property and your pet's level of training, we've rounded up the best invisible fences for dogs on the market right now – read on to find the perfect match!
Editor's Choice: PetSafe Stay & Play Compact Wireless Pet Fence
Easy to set up, highly effective, and fully portable, this invisible fence can be used anywhere you go – perfect if you move around a lot and want to ensure your four-legged baby is safe at all times. This invisible fence is wireless, so it doesn't need to be buried underneath the ground and it takes just a few hours to set everything up, without any tools or special skills needed. With it, you'll get up to a 3/4-acre circular boundary that keeps your pooch contained no matter how much of an escape master they usually are: the waterproof, rechargeable receiver collar features 5 adjustable correction levels, including a tone-only option.
Pros
Fast setup without tools needed
Covers ¾ of an acre
Collar that fits neck diameters ranging from 6" to 28"
5 adjustable correction levels + tone-only mode
No digging and portable – perfect for renters or people who move around frequently
Runner Up: SportDOG Brand Rechargeable In-Ground Fence Systems
If you want something flexible and easily expandable without breaking the bank, this is the fence system for you. This easy-to-install containment kit covers 1 ⅓ acre out of the box, but you can purchase additional wires and flags to increase coverage to up to 100 acres, which is perfect if you plan on expanding your property or moving in the future. There are three types of warnings the collar can produce – tone, vibration, and static – and various stimulation levels, so you can completely adjust everything to your pet's training level. And, since this invisible fence system was designed for sporting dogs, the collar is also waterproof (it can be submerged up to 25 ft) and the battery is rechargeable, with one charge lasting for 1 to 2 months.
Pros
Expandable coverage
Three types of warnings and multiple stimulation levels
Can purchase additional collars for multiple dogs
Rechargeable collar
Waterproof
2-year manufacturer's warranty
Cons
The installation can be messy and a hassle
Customer's Choice: PetSafe Basic In-Ground Pet Fence
You can still safely contain your pet on your property even if you're on a strict budget! This basic invisible fence system costs less than $200 and yet, it can create a safe ⅓ of an acre for your pet to play and explore. It comes with one collar and 500 yards of wire that needs to be buried 1" to 3" into the ground (additional collars and wiring can be purchased if needed). The included collar is waterproof and fits dogs with neck sizes 6" to 26" and features tone-only mode plus 4 levels of adjustable static correction so you can adapt its effects to your pet's training level.
Pros
Affordable price
Can be expanded with additional wire or collars
Collar is waterproof and highly adjustable
Tone-only mode or static correction
Easy to install without previous experience
Cons
The battery in the collar needs to be replaced fairly often
Best Wireless Invisible Fence for Dogs: PetSafe Wireless Pet Fence Pet Containment System
With no digging required and no wire that needs to be buried, wireless invisible fences are a mess-free way to install a safe containment system for your pet that's as effective as in-ground ones. All you need is a power source to plug in the base unit inside the home, and it will create a wireless circular boundary. The adjustable circular range can cover up to ½ acres of land but the coverage can be increased with the purchase of an additional transmitter. The collar that comes with it is waterproof, suits neck widths of 6" to 28", and lasts up to 2 months before the battery needs to be replaced. As for the correctional levels, there are 5 to choose from and a tone-only option.
Pros
Perfect for renters or traveling – no digging needed
All you need is a power source
The circular boundary can be expanded with an additional transmitter
Waterproof collar with a long battery life
Additional collars can be purchased
Static-free re-entry
Cons
Gaps and inconsistency in the coverage area
Best Underground Invisible Fence for Dogs: PetSafe Stubborn Dog Ultimate In-Ground Fence Kit
If you have a really stubborn dog that's a huge flight risk, this is the invisible fence to go for. The in-ground system contains 4 flexible contact points, 100 feet of pre-twisted boundary wire, and 1000 feet of 16-gauge heavy-duty wire encased in a 45 mm jacket, as well as a receiver collar. The coverage of this containment system is 1 acre, but you can purchase more wiring separately to cover a maximum of 25 acres. Waterproof and submersible up to 3 feet, the receiver collar adjusts to fit neck girths of 6" to 28" and has 5 levels of electrical static correction as well as a tone plus vibration mode.
Pros
Perfect for stubborn, flight-risk dogs
Heavy-duty, durable system
Waterproof and submersible collar
Highly customizable correction levels
Covers 1 to 25 acres of land
Cons
Installation can be a challenge
Best Invisible Fence for Travel: SpotOn GPS Dog Fence™
Yup, you can take your invisible fence on the go with you and ensure your pet's safety on your travels, all thanks to this inventive design. It works by pairing True Location™ tech with the best-available GPS data with sensors in the collar that maintain fence boundaries – anything that's at least half an acre will do, and the boundary can be set up to thousands of acres, wherever you go with your pet. The boundaries can be created through a smartphone app, and you don't need to dig or install anything for them to work, making the whole process as hassle-free as it gets! Not to mention that it also ensures that it is fully portable, as wherever your dog goes, the system in the collar goes with them, whether you're visiting the in-laws, hiking in the forest, or camping outdoors. To boot, there are three types of corrections this invisible dog fence can produce – tone, vibration, and static shock – so you can adjust the training process to your dog's individual needs.
Pros
Fully portable and travel-friendly
No fence installation needed
Multiple fences can be created through the phone app – at the same time
GPS collar gives instant insight into your dog's location
3 correction levels
Customizable to your exact needs
Best Invisible Fence for Dogs with 2 Collars: TTPet Electric Dog Fence
Have two pooches and want to keep them safely contained to your property, without having to worry about them running off to a busy street or getting lost? An invisible fence system with two collars will keep both of your doggos safe and sound. The wiring for the fence can be set up either above ground or in-ground, whichever you prefer – 650 feet of boundary wire that are included in the set will cover up to ¾ of an acre, in any shape you want. The two collars included are not only durable, rechargeable, and IP66 waterproof, but they are also fully adjustable and will fit almost any dog breed that weighs 12 pounds or more, with a neck circumference of 8" to 27".
Pros
A set of two collars is included with the kit
In-ground or above-ground installation
Adjustable boundary width from 1 to 100 level
Wire break warning on the transmitter
Fully adjustable collar size
Best Indoor Invisible Fence for Dogs: PetSafe Pawz Away Pet Barrier
Not all dog owners need containment for outdoors – some just want to keep certain parts of their home off limits for their pets. Whether you might want to prevent your pooch from accessing the kitchen when you're not there and sniffing around for food they shouldn't be eating or keep them off the bed that's too high for them to jump to and from – or anything else – this indoor invisible barrier will help you set boundaries inside your home. The transmitter barrier can be placed virtually anywhere and it will contain up to 6 feet radius or 12 feet in diameter from your pet, thanks to the collar which will produce a series of beeps before static correction if your pet is found in the contained area.
Pros
Adjustable barrier range
No hassle setup
Protect multiple areas in the home
Collar fits pets with neck width from 6" to 28"
Designed specifically for indoor use
Best Invisible Fence for Dogs with Remote: Pet Control HQ Wireless Pet Containment System
With combined options of invisible fence containment and customized collar training, this system will allow you to train up to 3 separate dogs to stop barking, behave off-leash, and stay away from the off-limits area(s) of the property, be it running away outside the border of it or reaching parts of the yard they are not supposed to (e.g. chicken coop). The fence can be laid above or under the ground, and you'll get 492 feet of 20-gauge solid core wire that will ensure coverage of up to 10 acres. The wireless remote that's included with the system can control up to 3 individual collars (that need to be purchased separately as you'll only get one) with a beep and vibration mode levels from 1 to 10 for a tailored training experience. The collar is waterproof and suits dogs with necks from 8" to 27".
Pros
Can be installed in-ground or above it
Wireless remote for advanced training options
Covers up to 10 acres of space
Additional collars can be bought separately
Rapid recharging battery
Easy to install
Cons
Batteries could last longer
Best Invisible Fence for Dogs for Big Properties: eXtreme Dog Fence PRO GRADE KIT
Whether you live on a rural farm, a large plot of land, or just have a big backyard you want to make sure your pet doesn't run out of, this professional-grade invisible fence kit will have you covered – literally. The included wiring will securely contain up to 10 acres, but you can purchase additional wire if you need to create an invisible fence for a larger plot of land. The set includes heavy-duty boundary wire, 16-gauge twisted wire, digital transmitter, training flags, splice kits, and 10 staples. Of course, all kits come with a collar receiver with a battery, and you can opt for 1, 2, or 3 collars in the set depending on how many pets you have. The collar has 7 correctional modes and one beep-only mode.
Pros
Heavy-duty built, made in the USA
Ideal for big properties and stubborn dogs
Ability to fine-tune the intensity of corrections
Multiple options for different coverages and numbers of pets
In-ground fence with a consistent and stable signal
Cons
Special collar batteries can be a hassle to replace
How Do Invisible Fences for Dogs Work?
The principle behind invisible fences for dogs is fairly simple. The fence transmits a signal to a receiver collar, worn by your pet, which causes a correctional signal to be released to it if your dog nears the fence. There are different types of corrections at different levels, ranging only from a beeping sound to static shock – if your pet is stubborn and a flight risk, you might need to opt for a static shock to get the message across. This type of correction is mild, humane, and doesn't cause pain to pets – just a slight discomfort meant to help train them to stay away from the fence.
There are two types of invisible fences for dogs: wireless and wired. Wireless invisible fences operate by wirelessly setting up a perimeter based on the position of the transmitter, which means that they require no installation, they are portable and can be taken with you wherever you go – and there are even designs meant for indoor use. On the other hand, wired invisible fences for dogs need to be installed, either above or inside the ground, which does require a bit more work, but the signal is much more consistent and reliable with this type of fence.
We are committed to finding, researching, and recommending the best products. We earn commissions from purchases you make using the retail links in our product reviews. Learn more about how this works.

Angela Vuckovic
A proud mama to seven dogs and ten cats, Angela spends her days writing for her fellow pet parents and pampering her furballs, all of whom are rescues. When she's not gushing over her adorable cats or playing with her dogs, she can be found curled up with a good fantasy book.
More by Angela Vuckovic
Published September 29th, 2022 7:35 AM