322 Views
Best Weighted Blankets for Dogs
August 13th, 2022 4:27 PM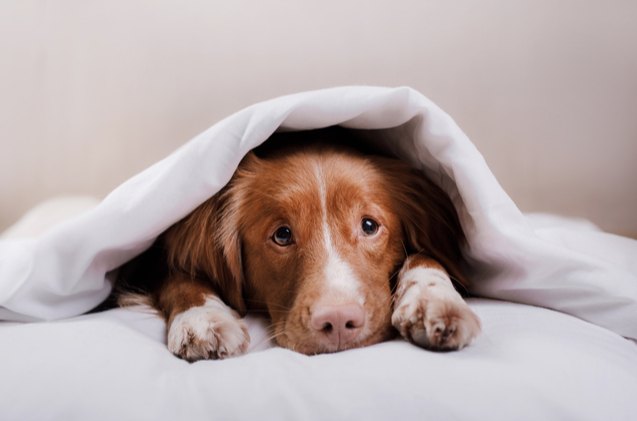 Weighted blankets for dogs tout many benefits, particularly for dogs that suffer from anxiety, have trouble sleeping or develop destructive behaviors due to environmental stress. A perfect tool to help your pet calm down, relax, and unwind without the use of medication, a weighted blanket will simulate deep pressure therapy by evenly distributing weight all over your pet's body to induce a sense of calmness and safety. We've handpicked the 10 best weighted blankets for dogs on the market to make sure you can soothe your dog when they need it the most – read on to find the perfect match for your pet's needs.
Editor's Choice: Pawfect Blanket
Just as its name says, this weighted dog blanket is simply pawfect! Made from the finest materials and tailored to suit the needs of all dog breeds, this weighted dog blanket provides deep touch pressure, simulating a comforting, snug embrace that will soothe your pet. The outer is durable and soft minky, a plush and thick fabric that feels luxurious against the skin, and the blanket itself is filled with glass beads for more even weight distribution. There are 3 sizes to choose from according to your pet's breed: the small weighs 2 lbs (for dogs under 30 lbs), the medium weighs 4 lbs (for dogs under 70 lbs), and the large weighs 6 lbs (for dogs over 70 lbs). You can choose from yellow, aqua, brown, or gray color to match your interior.
Pros
Finest minky fabric
Filled with glass beads
Sizes tailored to the needs of different breeds
Machine-washable on cold
Multiple colors available
Cons
The smallest can still be too heavy for toy breeds and really small dogs
Runner Up: Canine Coddler The Original Weighted Dog Blanket
Designed to apply gentle, constant pressure all across your pet's body, this weighted blanket will calm down an anxious pooch, whether they are under stress because of a change in the environment or due to thunderstorms, fireworks, etc. There are 2 sizes available, one that suits medium-size and small breed dogs and weighs circa 5 lbs, and a larger one to suit the needs of large breed dogs that weigh around 7 lbs. However, if you have a scared puppy or a dog under 15 lbs, keep in mind that both of these options might be too heavy for them. The outer cover is removable and washable, while the inside of the blanket, which is filled with non-toxic PVC pellets, shouldn't be washed.
Pros
Made with safe, non-toxic materials
Removable cover for easier maintenance
Comes in two sizes
Neutral dark gray color
Cons
Doesn't suit dogs under 15 lbs very well
Customer's Choice: Little Chubby One Weighted Blanket
Versatile, affordable, and machine washable, this small weighted blanket for dogs is all about convenience and comfort. It comes in one size but with different weights, so have that in mind when purchasing, as it measures 19" by 22" which might not be big enough to cover larger dogs. As for the weight, the lightest is 3 lbs which suits small breed dogs, followed by 5 lbs for medium size dogs, and 7 lbs which would be heavy enough for a large breed dog if they manage to fit under this blanket. Filled with non-toxic PVC pellets with a plush minky outer, this weighted blanket is machine washable on a delicate/cold cycle.
Pros
Budget-friendly price
Machine washable for ease of care
3 different weights to choose from
Suits smaller and medium dog breeds perfectly
Cons
Only one size which might not fit bigger dogs
Best for Large Dogs: LaSyL Weighted Dog Blanket
Big dogs can get stressed too, and can greatly benefit from gentle pressure that calms and soothes their anxiety. This weighted blanket for dogs comes in 3 sizes, including a large which measures 40" by 47" and weighs 6 lbs, making it ideal for dogs that weigh between 50 and 80 lbs. But the variety of sizes (and colors!) isn't the only special thing about this weighted blanket: it features a special 7-layer technology to evenly distribute weight across your pet's body for an instantly calming effect. It is also double-sided, one side being soft minky and other plush patterned fabric, so you can pick something fun to wrap your pooch in.
Pros
7-layer design for even weight distribution
3 sizes available, including one for big dogs
Made with plush minky and glass beads
Machine washable
Cons
Not effective for dogs over 80 lbs of weight
Best for Small Dogs: FX Treasures Weighted Lap Pad
For those petite pooches that struggle with environmental stress and anxiety, this weighted lap pad will be a perfect soothing blankie that brings comfort and relaxation when they need them the most. Weighing only 3 lbs and measuring 19.6" by 19.6", it is the perfect size and weight for puppies, toy breeds, and dogs under 15 lbs of weight. It comes in 4 vibrant colors and is made with the plushest, softest minky fabric with evenly distributed glass beads inside. It can be washed on a gentle or delicate setting (or by hand, if you want to be sure), and hang dried.
Pros
Small size and light weight ideal for small breeds and puppies
4 colors available
Soft minky fabric with non-toxic glass beads
Easy to clean
Cons
Might be too small for some dogs depending on their build
Best Multi-Color: BARMY Weighted Lap Pad
Just because it's an anxiety aid, it doesn't mean it has to be boring or plain! With 7 vibrant, modern colors to choose from, you can easily match this weighted dog blanket to the color of your pet's bed, your living room theme, or simply pick something that you think complements your pet's personality (e.g. lively yellow for those happy-go-lucky pooches or pale pink for gentle souls). With a removable, washable cover made from heavenly soft minky on one side and cooling bamboo viscose on the other side, this weighted blanket is super easy to care for, and a great choice for all seasons of the year. It weighs 5 pounds, and it's best suited for small and medium dog breeds.
Pros
Double-sided for all-year comfort
Glass microbead filling
Removable and washable cover
7 colors to choose from
Optimal weight for most dogs
Cons
Glass beads can shift inside the blanket
Best Cotton: ROKDUK Weighted Lap Blanket
Whether you live in an area where the weather is warm and you need something that will work throughout the year, or if you prefer natural materials for your pet's bedding, a weighted dog blanket with a cotton shell is the right choice for you. With an organic Egyptian cotton 1200TC outer and glass microbeads as the filling, this weighted blanket won't trap heat and is easy to care for as it is machine washable on the cold cycle. There are also multiple sizes and weights to choose from, starting with 2 lbs for the tiniest pups to 7 lbs to relax a large breed dog, as well as multiple fun patterns of the outer.
Pros
A variety of sizes and patterns to choose from
Suits dogs of all breeds
Organic cotton cover
Machine washable
Cons
It can be difficult to figure out the right size and weight
Best with Removable Cover: Sivio Kids Weighted Blanket & Removable Duvet Cover Set
Ease of maintenance is a big factor when choosing weighted blankets for dogs – you want something that's easy to clean from the pet hair, dirt, odors, and general grime that comes with frequent use. Well, thanks to its two-sides, removable, and machine washable cover, this weighted blanket fits the bill perfectly! With one side being breathable cotton and the other plush textured minky, it will be a good choice throughout the year, and when it's time to freshen it up, simply remove the cover and toss it into a washing machine on a cold cycle. The blanket is filled with glass beads and weighs 3 or 5 lbs, depending on the size, making it a good choice for small and medium dog breeds.
Pros
Machine washable cover
Two-sided fabric for year-round use
Two weight options available
5 fun patterns to pick from
Cons
Not heavy enough for large dog breeds
Best Cooling: Joyching Cooling Weighted Blanket
The last thing that would feel calming and relaxing in the summer is a heavy, warm blanket – that's why it's best to steer clear of fuzzy, cozy weighted blankets if you don't have AC or have hot summers in your area. This cooling weighted blanket is an ideal compromise between weight and coolness and breathability needed for comfort in scorching heat – the combination of hypoallergenic cooling microfiber and cooling glass beads provides both. It comes in different weights and sizes, as well as colors, so there's a match for any pooch.
Pros
Hypoallergenic and cooling cover
Evenly distributed weight
Multiple sizes and weight choices with a match for any breed
Comfort in every season of the year
Best Machine Washable: BuddyRest Soothe Weighted Dog Blanket
Even though your priority when getting a weighted blanket for your dog is their comfort, it doesn't hurt for the blanket you pick to be easy to clean – for the sake of your own comfort, too. This specially designed weighted blanket for dogs is not only a fantastic aid for dogs with anxiety, but it is also a breeze to keep clean as it is fully machine washable, no hassle, no trouble to go through to keep it odor and dirt-free. The outer is double-sided, with super-soft fleece on one side and durable K9 suede which is water-resistant and tough to dirty up. It comes in small (3 lbs), large (5 lbs), and extra-large (8 lbs) sizes to suit dogs of all breeds.
Pros
Innovative, durable materials that stand up well to frequent use
Machine washable for ease of maintenance
3 sizes to suit any dog's needs
Double-sided outer
Made in the USA
Benefits of Weighted Blankets for Dogs
There have been many studies on the benefits of weighted blankets for humans, or more precisely, deep pressure stimulation which is believed to stimulate the production of serotonin and melatonin, as well as reduce the levels of cortisol. As a result, sleeping under a weighted blanket promotes better sleep, reduces stress and anxiety, and relieves some symptoms of depression. Well, as it turns out, our dogs can enjoy some of those benefits too!
If your pet gets stressed in certain situations (e.g fireworks, thunderstorms), then a weighted blanket might be a natural, simple way to help them relax and unwind in these moments. Covering them with a weighted blanket will induce a feeling of a comforting hug, signaling to the brain to feel safe and calm – they might even relax so much that they take a nap in the middle of the noise that used to stress them out into full-blown panic mode.
Reduces restless behavior
When under stress, some dogs start barking their heads off, pacing around the house, or even get destructive, chewing your shoes or scratching the floors. A weighted blanket can help stop these behaviors by generating a sense of calmness through deep pressure therapy of sorts, weighing down your pet's stress and the negative behaviors that come with it.
Some dogs, particularly those in their senior years, have trouble sleeping through the night. Before you try supplementing melatonin, why not try to encourage the natural production of melatonin in your pet's body with a weighted blanket? The deep pressure stimulation is believed to boost melatonin production, and in turn, improve sleep quality, so your pet just might get their first night of quality sleep in months when tucked in under a weighted blanket.
We are committed to finding, researching, and recommending the best products. We earn commissions from purchases you make using the retail links in our product reviews. Learn more about how this works.

Angela Vuckovic
A proud mama to seven dogs and ten cats, Angela spends her days writing for her fellow pet parents and pampering her furballs, all of whom are rescues. When she's not gushing over her adorable cats or playing with her dogs, she can be found curled up with a good fantasy book.
More by Angela Vuckovic
Published September 23rd, 2023 12:23 AM