3.9K Views
Best Laundry Detergent for Pet Hair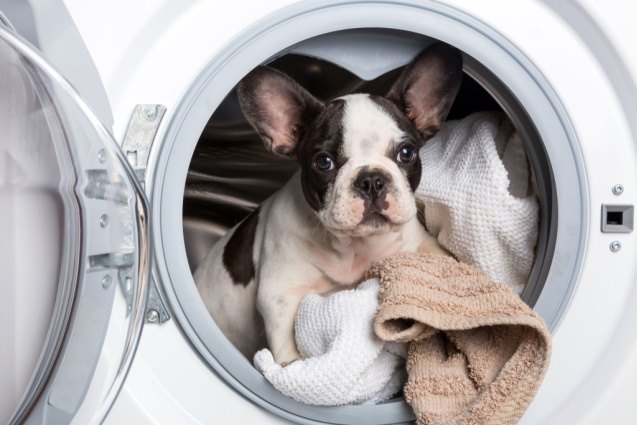 We all know that pets can be as messy as they are cute. They leave all sorts of stains around the house, as well as stubborn smells. But most often, they leave loose hair all over the place: on the furniture, on the pillows, the carpets – and, of course, all over your clothes. Getting rid of stubborn pet hair is not always easy. Conventional detergents won't work, and the lint rollers can't scoop it all up. However, these convenient laundry detergents for pet hair, stains, and odors are a potent weapon in the arsenal of every pet owner. Keep your eyes glued to this page and find the ideal laundry detergent for pet hair to keep your clothes pristine.
Editor's Choice: Febreze Laundry Detergent Additive for Pet Supplies
Are you trying to get rid of those pesky pet hairs, odor, and an assortment of stains? This Febreze laundry detergent is perfect for your needs. Boasting a new formula for improved strength, this detergent additive is certain to get rid of all stains and odors. Designed specifically to battle pet-related smells and messes, it is great to use with your pet's bed, pillows, blankets, carriers, collars, clothes, or anything else related. And best of all, just a single wash is enough to thoroughly clean any of those items. This product is safe to use with bleach, fabric softeners, and other detergents. And, of course, it is safe for all washing machines. Say goodbye to those tough stains and odors with this Febreze detergent.
Pros
Can be used alongside any type of detergent
A powerful and very efficient formula
Great for removing pet odors, stains, and hair
Runner Up: Nature's Miracle Laundry Boost
From Nature's Miracle comes this highly efficient laundry detergent that will finally put an end to all stubborn pet-related odors and stains, as well as pet hair stuck to clothes. With its bio-enzymatic formula, it can penetrate deep into the stain, breaking up the structure and totally dissolving it. And the same goes for the bacteria that are responsible for the odors! It is an efficient and phosphate-free formula that can be used in unison with your usual detergent adding more power to it without compromising the safety of the ingredients. Best of all, it can also help whiten your clothes and pet items. This formula is also efficient in both hot and cold temperatures, which guarantees a thorough clean no matter what.
Pros
Can be used with any other detergents
Powerful bio-enzymatic formula
Great against pet stains
Customer's Choice: Skout's Honor: Professional Strength Laundry Booster
Is your usual detergent just powerless against the pesky pee stains, pet odors, and hair? Well, maybe a helping hand is needed. This laundry detergent is great to boost the effectiveness of your usual detergent, adding more power and totally removing any obstacle you throw against it. Skout's Honor offers a pro's favorite weapon: a powerful formula that is safe for the pets and family, and also environmentally friendly. Although a natural option, this detergent booster is in no way weak or ineffective. Without any harsh chemicals or hydrogen peroxide in the formula, it still manages to tackle any pet-related stain it comes across. With its Biokore Technology, it really is one of the best on the market.
Pros
Natural formula
Keeps pet stains, odors, and hair at bay
Eco-friendly
Up to 32 washes with one bottle
Best Laundry Detergent for Dissolving Pet Hair: Vamoosh Pet Hair Dissolver
Fluffy doggies and kitties are endlessly cute, but there is a catch: their hair gets everywhere. Even if you have lint rollers and powerful vacuums, stubborn hairs can still get stuck in clothes, pillows, and anything in between. This unique pet hair dissolver for boosting your usual detergent will dissolve those hairs and make them a thing of the past. Just put one satchel of dissolving solution along with your usual detergent and let the washing machine do the rest. Thanks to the active oxygen, the hairs will be gone for good – as well as all nasty pet-related odors. And all that without an ounce of chlorine or bleach.
Pros
Easy to use
Completely dissolves all pet hair
Great against odors too
Cleans the washing machine too
Best Multifunctional Laundry Detergent for Pet Hair: KIDS 'N' PETS – 5-In-1 Laundry Stain & Odor Rem
For those families that have a true "full house" – with pets and kids – mountains of laundry are to be expected, and a helping hand is always welcome. This special detergent is great for just such cases. This special 5-in-1 formula is non-toxic and safe for the whole family, but more importantly, it is very potent. Pet stains and odors stand no chance against this powerful product. Powered by natural enzymes, it is a true multifunctional detergent that can deal with all sorts of stains, hairs, odors, and anything in between – no matter the source. And what is more, it can deal with stains on carpets, tiles, leather, or any similar surface. Talk about a jack of all trades!
Pros
Safe for kids and pets
Bio enzymatic formula
5-in-1 formula
Best Scented Detergent for Pet Hair: Persil Pro Clean
This powerful and balanced detergent is the master of dealing with stains and odors – it leaves nothing behind but the lasting freshness and a lovely scent. Dubbed as the "odor fighter", this detergent has a new concentrated formula and an odor-eliminating technology. With these new additions, this detergent will undoubtedly penetrate deep and break up any stains and bacteria. This massive 82 fl. oz. bottle will last you for up to 82 loads! A great investment that can save a few bucks and deal with all your dirty troubles.
Pros
Massive bottle for 82 loads
Deep clean technology
Great against odors
Lovely fragrance
Cons
Scent can be too strong for some people
Best Powder Laundry Detergent for Pet Hair: Pro Enzyme Laundry Detergent Powder
Easy to use and super-efficient, this laundry detergent powder is especially great at breaking up those odor-causing bacteria. And, pet owners know – they can be a big issue. Thanks to the active enzymes in this top-secret formula, the odor and stains that can be seemingly tough to remove will become a thing of the past. Without dyes and phosphates and other harmful toxins, this powder is safe for use and great for all washing machines. One scoop of this powder detergent per load will be just enough to do marvels against stains. Best of all, its light and refreshing scent will make everything smell wonderful.
Pros
Light and pleasant scent
Added scoop for measure
Active enzyme formula
Best Laundry Detergent for Pet Hair and Odors: Funk Away Laundry Detergent Booster
The name of this detergent booster tells you all that you need to know. Have troubles with that funky pet odor? It seems to penetrate into pillows and furniture, and there's no way to get rid of it? Pet hair stuck to everything you own? No worries – the Funk Away booster will make it a thing of the past. It has a special formula that is designed for max strength in odor elimination. The brand's exclusive OM complex literally deals with every type of stink. Perfect for use with your regular laundry detergent, Funk Away will make your life easier, especially if you own several stinky pets.
Pros
Powerful new formula
Great with any ordinary detergent
Made exactly for strong smells
Best Natural Laundry Detergent for Pet Hair: 9 Elements Natural Laundry Detergent
Remember those old-school cleaning remedies that were free of chemicals but worked like a charm? Well, they still exist, packed into this convenient natural formula that will devastate any stain or smell. This 9 element detergent boasts some of the classic cleaning agents that never fail: behind them all is vinegar! Vinegar was always the natural choice to remove stubborn stains and smells, and this detergent knows that secret. Containing no more than 9 ingredients, this laundry detergent removes stains, smells, and dirt without a hitch. Best of all, it contains a nifty eucalyptus scent that will leave your items smelling fresh without it being overpowering. An amazing 50% of the ingredients in this detergent are derived from plants, ensuring one of the most natural choices on the market.
Pros
Plant-based
Vinegar foundation
Refreshing scent
Keeps laundry clean and pet hair-free
Cons
Not as potent as commercial detergents
Best Stain Remover: Grandma's Secret Spot Remover
Grandma knows best! And she certainly knows how to get rid of those pesky stains that are left behind by your messy pets. OK, so it's not a laundry detergent per se, but for spot cleaning, you need a targeted approach and this works wonders. This spot remover boasts a special universal formula with a non-toxic solution, making it environmentally friendly and biodegradable – without bleach, chlorine, or phosphates. And it is easy to use: just apply a bit of grandma's secret stain remover onto the affected surface, wait a few seconds – and toss it into the washer. You will see the results after the first wash: the stains will be gone for good! This stain remover comes in nifty tiny bottles that are easy to carry and store, but might leave you wanting for more.
Pros
Powerful and fast-acting
Non-toxic
Perfect against stubborn stains
What Are the Best Ways to Get Rid of Pet Hair from Laundry?
Loose pet hairs: they are the worst nightmare of every pet owner. Most cats and dogs will shed all year long, and that means only one thing: hairs everywhere. It doesn't matter where your pet spends their time, hairs will find their way to end up all over the place. The carpet, the furniture, or the blankets are the first to be covered. Pet accessories such as beds and covers are a given but can be super difficult to clean. And, of course, your clothes – going out just to realize you have pet hair all over is the worst. But, with a solid strategy and practical accessories you can finally get rid of pet hair for good.
Lint rollers are the staple when it comes to pet hair. Affordable and efficient, they can be found in every home where there are pets. Their design is simple: a special roll of sticky paper is rolled across the hairy furniture, scooping up hairs in the process. A few runs and most of the hair should be gone. But not all of it: lint rollers are the basic accessory, and they can leave a lot behind them. This is the first sign that something potent might be needed. However, a lint roller is great for "preparing" items for washing. With one of these laundry detergents and clothes cleaned with a lint roller, the tiny hairs that were left behind will surely be gone.
To ensure that every little hair is removed during the washing process, you can rely on the special hair and lint catchers, or hair collectors. These are placed in the washing machine – and they do all the work for you. During the washing, a catcher will scoop up all the tidbits that are extra, and you can simply remove them afterward. It is one of the easiest and simplest ways you can rid yourself of the pesky things that don't belong on your clothes.
Of course, there are always pet laundry detergents and detergent boosters that will add that final decisive punch to the washing process, removing everything that shouldn't be on your clothes. As you can see from our list, these detergents vary in type and efficiency. They can be in powder form or sprayed directly on hairs and stains. Others are used as boosters to your regular detergent and penetrate deep into the fabric to break up all stains and tiny hairs. There are also some special detergent packets that will literally dissolve hairs. Either way, you can rely on a variety of products in your fight against odors, stains, and hair.
We are committed to finding, researching, and recommending the best products. We earn commissions from purchases you make using the retail links in our product reviews. Learn more about how this works.

Angela Vuckovic
A proud mama to seven dogs and ten cats, Angela spends her days writing for her fellow pet parents and pampering her furballs, all of whom are rescues. When she's not gushing over her adorable cats or playing with her dogs, she can be found curled up with a good fantasy book.
More by Angela Vuckovic
Published September 28th, 2023 2:22 AM