92 Views
Best Remembrance Products for Grieving Pet Owners
April 28th, 2022 11:56 AM
We're committed to finding, researching, and recommending the best products. We earn commissions from purchases you make using links in our articles. Learn more here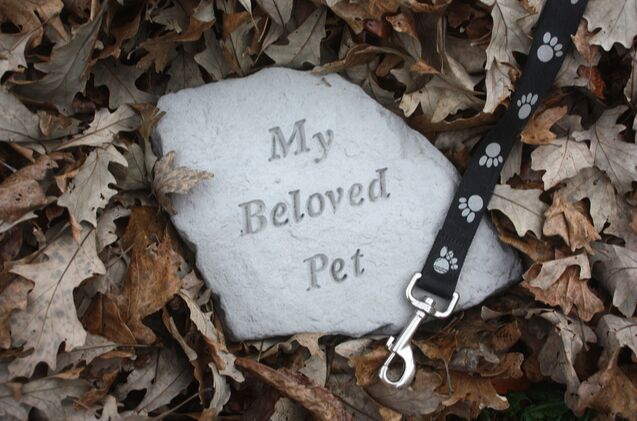 Saying goodbye to your pet is one of the hardest things you'll ever have to do in your life. Losing a cherished friend is devastating, and it can be very difficult to cope with, but memorializing the love and the experiences you had with your pet can bring you some comfort, at least. Many pet owners find that creating a memorial spot in their home or on their property can help with the grieving process – displaying your pet's photographs, their favorite items, paw print, or other meaningful mementos helps you physically preserve memories and keep them in sight, always. There are also other remembrance products that can be used to commemorate your pet, from customized remembrance jewelry to symbolic figurines that remind you of your pet – grief is a very personal thing, and comfort can be found in the littlest of details. We've handpicked the most thoughtful remembrance products you can use to memorialize your pet or gift to a loved one that is grieving for their pet – either way, they are a beautiful way to immortalize the beautiful bond between a pet and their owner(s).
Editor's Choice: KCRasan Pet Picture Frame Memorial
Having one place to hold some small items that remind you of your pet is a lovely way to commemorate them, which is why we love this memorial picture frame. It is designed to display your pet's photograph and collar, but the frame comes with 5 mats for display so you can fully customize the look. There are two ways to display the collar, and two mats that allow you to only display a photograph without the collar, with a touching quote by the photo cut out – "no longer by my side, but forever in my heart". The frame comes in black, mahogany, or brown color.
Pros
5 mats to customize the frame
A beautiful way to display your pet's collar
Frame available in 3 colors
Can be used for cats or dogs
Cons
Large collars might not fit as well
Runner Up: KLAXAVEL Pet Memorial Wind Chimes
With each gust of wind, these rainbow bridge wind chimes will remind you of your four-legged best friend and the good times you shared together. Designed to memorialize a loss of a dog, these wind chimes come with a sentimental poem written from a canine's perspective, ending with the verse "so on the wind, I'll send a kiss …", so that every time you hear the chimes, you can feel like your pooch is sending you love from somewhere over the rainbow bridge. The chimes measure 19" overall, with 6 metal tubes that produce a pleasant sound when clicked together. The tubes are hung on a red dog metal collar, which is connected to a paw print that can hold a customized message if you prefer. Finally, there's also a dangling heart among the tubes saying "always in my heart".
Pros
Touching poem and sentiment behind the design
Beautiful craftsmanship
A lovely gift for grieving dog owners
Customer's Choice: Willow Tree Angel of Friendship
Whether you are looking to give a remembrance gift to a friend that lost their dog recently to show them you are there for them, or you want to commemorate the loss of your own pet, this beautiful figurine is a great choice. Depicting an angel holding a puppy in an embrace, the figurine comes with a card that says "for those who share the spirit of friendship" – a lovely sentiment that highlights the bond between owners and their pets. The figurine is made from resin and then hand-painted, and is 5" tall, so it can be displayed on a bookshelf, end table, or added to the sentimental items that you have of your pet and keep displayed.
Pros
Elegant and simple design
Lovely inspiration for the design
Cast from original carvings
Hand-painted
Best Remembrance Gift for Pet Owners: HOPE LOVE SHINE Rainbow Bridge Pet Memorial Necklace
If someone close to you has lost a pet, being there for them is the only thing you can really do. But if you are thinking about getting them something thoughtful and touching to commemorate the loss and show your sympathies, you really can't go wrong with this meaningful necklace. Featuring two small round pendants, one with a rainbow print and one with a paw print, it symbolizes the passage of a pet over the rainbow bridge – and when you turn over the rainbow pendant, there are words "I was loved" engraved on the back. Beautiful and touching! The necklace is made from precious metals and available in two options – sterling silver or 14K gold vermeil.
Pros
Beautiful craftsmanship – made from precious metals
Emotional symbolism and a touching card that comes with it
Can be gifted after a loss of any pet, cat or dog
Cons
Might not be a good choice for a male pet owner
Best Remembrance Product for Cats: Pawprints Left By You Memorial Frame for Cat
Your kitty might be gone, but they'll never be forgotten, and this sentiment is perfectly captured by this memorial frame design. Featuring a spot for your beloved pet's photograph and another to display a heartwarming poem about the impact of pets on our lives and the love we share ("Pawprints Left By You"), it will make a perfect centerpiece for a memorial spot you are creating for your cat. The frame can be adorned either with a pet tag (which can be custom engraved or replaced by your pet's own tag) or with an ash vial (in which you can keep ashes, or even your cat's whiskers and hair) – the choice is entirely up to you.
Pros
An ideal centerpiece for a memorial spot
Two ornament options to choose from – ash vial or pet tag
Sentimental poem
Cons
The frame could be better quality
Best Remembrance Product for Dogs: Pet Memorial Shadow Box
If you are looking for a meaningful centerpiece for your dog's memorial spot, this shadow box might just be it. Requiring a bit of creativity from your side – which allows for complete customization, making it unique to your pet – the kit includes a wood frame, hair collection vial, hanger kit, letter stencil, ribbon, air-dry clay (for the paw print) as well as the tools needed to shape it (mold, roller, hole puncher). You can memorialize your pet with a truly one-of-a-kind display, featuring their special items, be it a collar, a small toy, clothing, or leash – to name a few – along with their photographs and paw print.
Pros
Fully customizable to reflect your pet's personality or special moments you shared
Sturdy and spacious shadow box
All the supplies in one place
Cons
Plexiglass protection could be better
Best Remembrance Jewelry: Mignon and Mignon Custom Pet Photo Portrait Necklace
Your pet will always be with you in spirit, but if you want to feel like there is a physical memory of them by your side wherever you are, this personalized necklace is an elegant way to accomplish just that. Featuring a 17.5" long chain with a pendant disc (0.7" in diameter) custom engraved to capture your pet's likeness and their name, this piece of remembrance jewelry makes an excellent gift to yourself or to others. You just have to pick out your favorite photo of your pet, send it with the order and you'll get to wear it over your heart for years to come. Made from stainless steel with gold, rose gold, or silver plating, this necklace is tarnish-resistant and durable.
Pros
Engraving is very true to the original picture
Elegant, minimalistic design
3 plating colors available
Cons
Not made from precious metals
Best Remembrance Product for Garden: Evergreen Garden Painted Polystone Stepping Stone
Whether your pet's eternal resting place is located in the garden near the flowers, or if they had a favorite nap spot where the sun hits the grass just right, this memorial stone will help you mark that special place now when they are gone. Engraved with paw prints and the words "If love could have saved you, you would have lived forever", it can be a discreet headstone or a simple memorial garden stone to mark the memory of a beloved pet. Made from polystone and painted with a special finish for protection against the weather elements, it will stand up well to outdoor use and look as beautiful for years to come.
Pros
Durable and weather-resistant
Can be used as a headstone of sorts or a memorial garden ornament
Touching sentiment carved on the surface
Heavy and sturdy
Cons
Not personalized/customizable
Best Remembrance Picture Frame: Pet Memorial Ceramic Picture Frame
If you want to add more photos to your pet's memorial spot in the house or need a beautiful frame to be the centerpiece of it, consider this beautifully made ceramic picture frame. Well-made, durable, and thoughtfully designed to be a remembrance item, it features the words "no longer by my side, forever in my heart" above the photograph slot and hearts and paws all around it. It can be a good choice whether you've lost a cat, dog, or any other pet you held dear to your heart and want to memorialize after their passing.
Pros
Well-made and beautiful design
Versatile – can be used for a picture of any pet with paws
Sturdy ceramic material
Cons
Ceramic can crack or break if you knock down the frame
Best Remembrance Product for Ashes: Pearhead Pet Photo Memory Box and Impression Kit
Many pet owners decide on cremating their pet's remains – after that, some scatter the ashes someplace special to their dog, and some hold on to the ashes to feel closer to their pet. This memory box is a beautiful way to house the ashes and create a memorial spot for your dog in one go. The wooden box doubles as the urn, and on the front of it, you can display your pet's photograph and paw print. It comes with pet-safe clay, a roller, a ruler for cutting, double-sided tape, and a gray background mat, so you'll have everything ready prior to your pet's peaceful passing to create one last memory together.
Pros
Doubles as an urn or a box to store mementos
All-in-one memorial centerpiece
Included supplies for creating a paw print
Box available in black, white, or espresso finish
Cons
Wood could be of better quality
What Do You Get Someone After Their Dog Dies?
There's nothing that can fill the void that our pets leave when they go over the rainbow bridge, but pet loss sympathy gifts can be a great way to show a grieving owner that you care and that you are there for them. You can always send flowers, but a more personal, thoughtful bereavement gift is much better if someone you are close to has lost their pet. Personalized, sentimental gifts might bring tears to the owner's eye, but they'll be cherished nonetheless: a framed photograph of their pet or a commissioned pet portrait is always a lovely idea, as well as personalized remembrance products, such as jewelry with their pet's name or face engraved.
Another great idea is to donate to a shelter in their pet's name – especially if their own pet was adopted from one. You'll honor their memory by helping other unfortunate souls get a second chance at their own happy ending – it's difficult not to be moved by that.
Whichever route you go, remember that this is a sensitive time for a person that lost their pet. Everyone grieves differently, but it's undeniable that the loss of a beloved pet leaves a mark, and it can take a while to move on and accept that they are really gone. The best thing you can do for a friend coping with pet loss is to show support and understanding – and be there for them in their time of need.
We are committed to finding, researching, and recommending the best products. We earn commissions from purchases you make using the retail links in our product reviews. Learn more about how this works.

Angela Vuckovic
A proud mama to seven dogs and ten cats, Angela spends her days writing for her fellow pet parents and pampering her furballs, all of whom are rescues. When she's not gushing over her adorable cats or playing with her dogs, she can be found curled up with a good fantasy book.
More by Angela Vuckovic
Published December 1st, 2023 2:10 AM