3.7K Views
10 Best Low Fat Dog Treats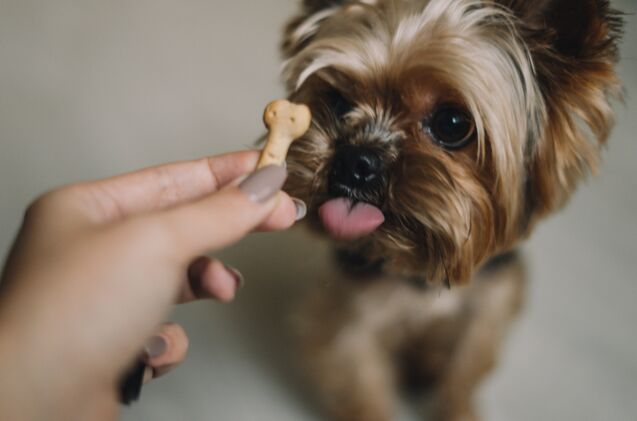 Navigating the vast sea of dog food isn't easy – so many labels to go through, so many claims to double-check if you want to make sure your pet is eating only the best. When it comes to treats, the matters complicate further, especially if you are mindful of the fat content (and many treats are notorious for being fatty and full of dubious ingredients). Luckily, there are plenty of manufacturers that place a priority on your dog's wellbeing and ensure that their treats are low-fat, yet retain all the important nutrients in the formula.
Low-fat dog treats are a great choice for any dog, but especially those that are overweight, suffer from pancreatitis or IBD and other digestive issues, as well as canines with generally sensitive stomachs. Fat is highly caloric, difficult to digest, and can contribute to inflammation, so in these cases, it's essential to make sure that the fat content in any food your pet consumes is minimal. To help you make the best choice for your pet, we've rounded up the 10 best low-fat dog treats that any pooch will love!
Editor's Choice: NUTRO Mini Bites Natural Dog Treats
Healthy, low-calorie, and low-fat, these treats will have your dog's tail wagging! Made with natural ingredients, with real high-quality chicken as the first one on the list, these bite-sized treats are also enriched with minerals and trace nutrients. All of the ingredients are non-GMO and sourced from trusted suppliers, and they contain no corn, wheat, or soy, either. With a crude fat content of 5.5%, they are definitely on the list of low-fat dog treats that your pooch will absolutely love. The roasted chicken flavor has the lowest fat percentage, but at 6% crude fat, beef and hickory smoke, berry and yogurt, and peanut flavors are all viable options, as well.
Pros
Varied choice of flavors
Natural, non-GMO ingredients
Bite-sized which makes them perfect for training, small dogs, and puppies
Cons
Too small for medium or large breed dogs
Runner Up: Hill's Dog Treats Baked Light Dog Biscuits
The only thing that makes crunchy, savory biscuits better is if they are low calorie and low in fat content! These light and yummy dog biscuits are made with real chicken, without any artificial flavors or preservatives in the mix. Enriched with vitamins, minerals, and essential amino acids, they are both delicious and nutritious – can't go wrong with that! With only 3.5% crude fat content, you can rest assured that they are truly "light, just as advertised. These dog low-fat biscuits also come in two sizes, to meet the needs of small breed dogs as well as medium-sized breeds.
Pros
Only 8 kcal per treat
Made with real chicken
A crunchy texture that dogs love
Very low-fat content
Cons
Not really for picky eaters
Customer's Choice: Blue Buffalo Wilderness Snake River Stix
Packed with real meat and rich flavor, these dog stick treats will hit all the spots for your pooch, without being high in fat content. With a crude fat content of 6%, they are not the least fatty treat on our list, but are well within the guidelines for healthy, low-calorie treats that any dog can enjoy! Soft, moist, and chewy, they have an irresistible texture and come in 3 flavors, all of which are a mix of different protein sources – trout, venison, and rabbit, salmon, venison, and halibut, as well as turkey, quail, and duck for dogs that prefer the taste of poultry of fish and game meats. They are great for dogs of all sizes – give them as they are to big dogs, and break in smaller pieces for petite pooches.
Pros
3 rich flavors to choose from
Good for dogs of all sizes
High-protein content
Cons
Not the best for dogs with sensitive tummies
Best for Training: Cloud Star Tricky Trainers
Do you want your dog to learn all of the tricks? Then you have to pay up. Using treats as a training aid is a must if you really want to motivate your pet to learn, but not all dog training treats are up to par. However, this formula is low on calories and fat but packed with wholesome ingredients and flavor. Available in 3 flavors – chicken liver (3% crude fat), cheddar (5% crude fat), and salmon (6% crude fat) – these treats are non-greasy and easy to break apart for portion control. They are free of wheat, corn, artificial preservatives, and colors and have only 3 kcal per treat. And since the bag is packed with circa 130 treats each, you won't be running out of your training rewards anytime soon!
Pros
Low-fat, low-calorie formula
Wholesome ingredients
Generously sized package
Cons
Not for dogs with poultry allergies
Best for Kongs: Rachael Ray Nutrish Soup Bones Dog Treats
I've yet to meet a dog that's not a fan of KONG or chewy treats inside them! For many owners, the preferred choice of chew treats for KONG toys are bully sticks, hide, or other (very) fatty chewy sticks their pooch can enjoy for hours on end. Luckily, there's a low-fat alternative for those that would like to fill their pet's toy with something lighter on the fat, but still rich in flavor. Enter the regular-size Soupbones! They come in 3 delectable flavors – turkey and rice, beef and barley, and chicken and veggies – all of which constraint just 3% of crude fat content. These treats are free of corn, soy, meat by-products, and artificial flavors.
Pros
Contain US-raised meat
Fit great in a KONG toy, but can be given on their own
Savory with a meaty center
Cons
Can cause diarrhea in some dogs
Best for Large Dogs: Canine Naturals Chicken Recipe Chew
Big dogs need big treats – not more treats! Make sure your pet has a balanced diet by improving the quality of their treats and not the quantity, and in the case of large breed dogs, make sure that the size is appropriate to their own. These 7" or 9" chicken rolls fit perfectly, as they are nutritious, big, and can give your pet hours of chewing fun on end! Made from USA-sourced chicken, with no artificial flavors, colors, or gluten (so no corn, wheat, or soy at all), they are wholesome and nutritious. To boot, they have a fantastic crude fat content of only 1% which is as low as it gets. A great way for your pet to enjoy guilt-free chews!
Pros
A healthy alternative to rawhide
7" size for dogs 50-75lbs, 9" size for dogs that weigh more than 75lbs
The lowest fat content in any dog treat
Cons
Dogs go through them much faster than is the case with rawhide
Best for Small Dogs: Fruitables Skinny Mini Dog Treats
You don't have to break or cut regular-sized treats for your petite pooch to enjoy them! With these mini-sized low-fat treats, the reward is always a second away. Made with essential nutrients such as vitamins, minerals, natural antioxidants, and dietary fiber, they will support your pet's overall health while being a yummy snack at the same time. As an added bonus, these tiny treats are baked in a certified organic facility and produced in the USA and contain no wheat, corn, soy, or artificial flavors or colors. There are 7 varied and unusual flavors to choose from, including formulas such as bacon and apple, grilled bison, or pumpkin and berry, all of which have 6% crude fat content.
Pros
Plenty of flavors to choose from
Nutritious and made in the US
A chewy texture that dogs love
Best for Puppies: Get Naked Puppy Health Dental Chew Sticks
Puppyhood is a sensitive stage – puppies have many needs you have to meet, and one of them is different nutrients that boost their development, such as cognitive function and bone development. These low-fat treats incorporate all of these ingredients – DHA3, omega 6, and calcium – to boost your puppy's health during the developmental stage but are still mindful of the fat and caloric value of their treats. They contain only 5.5% crude fat and are free of wheat, corn, and soy. And as they are chewy they will perfectly soothe your puppy's sore gums and help them get through the teething stage!
Pros
Enriched with essential nutrients for puppies
Chewy and great for teething
Chicken flavor puppies adore
Best for Pancreatitis: PureBites Freeze Dried RAW Chicken Breast Treats for Dogs
If your pet has been diagnosed with pancreatitis, that doesn't mean they have to give up on treats for good! It's just that you have to be mindful of the ingredients and nutritional value of the treats you are giving to them, especially fat content. These healthy, wholesome dog treats are made with a single ingredient – 100% real chicken meat from USA-raised, human-grade meat. That's it – no sneaky ingredients or hidden chemicals, just pure freeze-dried meat. With circa 3 kcal per treat and crude fat content of 3%, these healthy, wholesome treats are as light and nutritious as can be! If you're unsure if your pet's medical situation allows even for healthy treats such as these, be sure to consult with your vet before offering it to your pet.
Pros
Made with a single ingredient
USA-raised, human-grade chicken meat
Freeze-dried to preserve nutrients
Low-fat and low-kcal
Cons
Packaging issues – bottom of the bag can be crumbled to dust
Best for Sensitive Stomachs: Benefit Biscuits Digestive Treats
If you have a dog with food sensitivities or a generally delicate tummy that easily gets irritated with new or different foods, these low-fat digestive treats are a great choice. Rich in omegas, antioxidants, and dietary fibers, these digestive treats will promote healthier and easier digestion while being low-fat at the same time. Made only from a few select natural ingredients, these treats are as "clean" as it gets, with no artificial flavors, colors, preservatives, wheat, corn, soy, or by-products. They are vegan and non-GMO, and their secret to a happy tummy is the pumpkin puree, which is well known for its beneficial properties for digestion. These treats have a very low-fat content at just 2% crude fat, and are a perfect guilt-free treat for your pooch!
Pros
All-natural ingredients
Limited-ingredient formula with clean foods
Low-kcal and low-fat
Which Dogs Need Low Fat Dog Treats or Diet?
In truth, all dogs would benefit from eating treats that are lower in fat and calories, as pet obesity is becoming more of an epidemic with each year, and can cause serious health issues in the long run. With that being said, there are some categories of dogs for whom a low-fat diet isn't an option but rather a necessity.
Dietary fat is thought to be highly inflammatory for the pancreas, as it stimulates it to produce more digestive enzymes, which will only worsen your pet's pancreatitis. Naturally, that's why most veterinarians recommend dogs go on a low-fat, healthy, wholesome diet to help recover from chronic or acute pancreatitis (of course, in addition to the proper course of treatment from the vet, not as a substitute for it).
Dogs with inflammatory bowel disease
Fat can be very difficult to digest for dogs with this condition. Food with low to moderate fat content can make a big difference in managing diarrhea for dogs with IBD, inflammatory bowel disease, or chronic colitis. It would be even better if the treats were high in dietary fiber, and hydrolyzed protein, or a highly digestible single protein source.
We are committed to finding, researching, and recommending the best products. We earn commissions from purchases you make using the retail links in our product reviews. Learn more about how this works.

Angela Vuckovic
A proud mama to seven dogs and ten cats, Angela spends her days writing for her fellow pet parents and pampering her furballs, all of whom are rescues. When she's not gushing over her adorable cats or playing with her dogs, she can be found curled up with a good fantasy book.
More by Angela Vuckovic
Published September 22nd, 2023 4:28 PM