18 Views
Best Dog Leashes for Dogs of All Sizes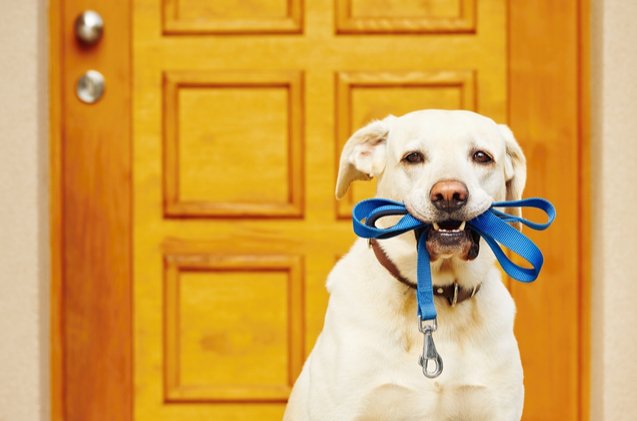 The best dog leashes give you peace of mind while you walk your pooch–they are safe, reliable, and comfortable to use. Find out which dog leashes fit your budget and preferences and give your dog a sense of freedom while you're out and about.
When you're a dog parent, you know that, somehow, at all times, half of your shopping cart is filled with pet stuff. OK, maybe more than half, sue me. But there are so many goodies to choose from that could be a perfect gift for your precious fur baby; from yummy treats to new toys that would make a perfect stocking stuffer. Naturally, that's all owing to our need to pamper our pets, but not all pet-related purchases are a way to splurge on our beloved companions. Some pet products truly are a necessity you can't do without- such as dog leashes.
A leash is one of the first things every dog pawrent buys when they welcome a four-legged friend into their family, and with good reason. In most cases, without a leash, you can't safely walk your pooch, and in some places, owing to certain regulations- you can't walk them at all unless they are on the other end of a lead! Whether you're getting a puppy or already have an adult dog, a leash will be a must in your arsenal of pet-related goodies (one among many!). Needless to say, it's important to make sure that the leash you choose is a good fit, both for your pet and you. In addition to the usual factors you'd look for, such as good value for money, high-quality materials, and safety features, you should make sure it is comfy for you to hold- you'll be at the other end of it, after all.
Putting in an effort to choose the right type of leash for your dog will pay off in the long run, as the right, high-quality dog leash can last you for years without being worse for the wear. To help you find the best fit for your budget and needs, we've selected the 10 best dog leashes, for big and small dogs both. Just scroll through to see which type of dog leashes is the best for your pet's preferences and pick one that matches your pooch's style!
Editor's Choice: Vivaglory Padded Handle Traffic Leash
Say goodbye to rope burn or uncomfy leash handles that make your hand sore after a long walk- this leash has padded handles for maximum comfort. And yes, there is more than one handle on this leash. Designed to offer additional safety when you walk your dog in traffic, this dog leash has an extra handle situation lower down the tether, which can enable you to get a firmer grip on your pooch in seconds–and pull them back if they're in a sticky spot. Made out of durable double webbing with reflective threading, Vivaglory traffic leash will give you a bang for your buck. It's available in lengths of 3, 4, 5 or 6 feet.
Runner Up: Signature K9 Standard Leather Leash
If you want something elegant and well-made to flaunt on your daily walks with your pooch, look no further. This dog leash was made out of genuine, high-quality latigo leather with beveled edges, and it looks and feels luxurious. Signature K9 leash is American made by Amish craftsmen, so every leash was created with superb attention to detail and it really shows. The brass bolt snap complements both the burgundy and black leather leash, and allows you to easily attach the leash to either a collar or a harness. This gorgeous leather leash comes in ½ inch and ¾ inch width, and in 4 different lengths–3, 4,5, or 6 feet.
Customer's Choice: BAAPET Reflective Rope Dog Leash
Big dogs need a firmer grip and a sturdier leash, and a simple flat nylon leash probably won't do it when it comes to keeping your Great Dane under control. BAAPET dog leash was specially designed to meet the needs of pet parents who own medium and large breed dogs, as it was made from heavy-duty 1/2 inch diameter rock climbing rope that will keep any doggo safely tethered to you at all times. To boot, the handle is padded with foam, so you'll be comfy during the walk, too! This dog leash is 5 feet long which works great for most large dogs, and comes in 7 different color options–all of them with reflective stitching throughout.
Best for Trained Dogs: Tug 360° Tangle-Free Heavy Duty Retractable Dog Leash
Being in control doesn't have to mean your pet has to be by your leg at all times- a retractable leash is a great compromise between a firm grip and freedom of movement. It gives you plenty of control, it's fully adjustable, and doesn't get tangled up. Tug 360° Tangle-Free Heavy Duty Retractable Dog Leash is an excellent choice if you have a leash trained and obedient pet. It's outer casing is made with super tough ABS material, and features smart-placed anti-slip TPE comfort handles with a great ergonomic design. The interior mechanism is also superb, being made with impact resistant nylon plastic and added fiberglass.
The leash itself is also quite durable and well-made. Manufactured from nylon woven material, it is super strong and so difficult to damage. One of the big secrets of Tug's design success is a specially designed opening that allows for easy leash retraction with no tangles whatsoever. It also rotates 360° degrees around. A large button helps you control the leash with the Quick Lock system, and makes everything so simple and smooth.
Zippy Paws Braided Rope Leash
Looking for a super strong leash that you can take with you outdoors? This braided rope leash from Zippy Paws is made with 2/3 inch thick rope and is perfect for hiking and climbing, especially with larger pups. It was created with mountain climbing in mind and is made from the same materials that mountain climbing rope is manufactured.
The Zippy Paws Braided Rope Leash comes in two sizes- 4 feet and 6 feet. The smaller size is great for training while the longer size is great for when your pup has more autonomy. It also comes in a variety of colors like black, blue, green, pink, purple, teal, and yellow. The strong grip will keep your pup from pulling and tugging and it is durable enough to use in any weather or climate without breaking down. If you need a strong leash for larger pups, this is for you.
OutdoorMaster Bungee Dog Leash
If you have a dog that tugs and lunges on walks and you're in the process of training them, you're probably stocking up on accessories that will make your life easier. In addition to a no-pull harness, a bungee style dog leash can prove to be a great help for dogs that pull. This high-quality bungee leash will reduce the jolts your energetic pooch makes and ensure that walking your pooch doesn't strain your arm or shoulder. To boot, it also comes with an extra handle for quick connect and release in emergencies, so you don't have to worry about safety when you're teaching your pooch to walk on a leash.
Reflective dog leashes are a must for people who walk their dogs in low-light conditions, be it early in the morning or in the evenings. And Ilumiseen dog leash outshines them all! With its bright LED lights positioned all over the length of the rope, this leash will make your pooch stand out even when it's pitch dark outside. The lights are rechargeable and one charge gives you 5 hours of brightly illuminated walks. llumiseen LED Dog Leash is available in 4 or 6 feet length, and six different colors.
Rachel Pet Products Genuine Leather Rolled Leash
If you have a small dog that's big on fashion, this elegant leather leash will be the perfect match. It's made out of luxurious genuine leather in a rolled design, and it's available in baby pink, rose red, blue, and black to match every canine fashionista's preference. Not only that this leash is beautiful, but it is also well-made and offers great value for money as its price tag is under $10. Rachel Pet Products Genuine Leather Rolled Leash is 4 feet long and it's suited to small breed dogs.
When your dog is bigger than big, it can be hard finding pet products to match the needs their imposing size dictates. This is especially true for leashes that have to be durable and tough enough to keep a giant breed dog safely tethered- as it often means the leash is heavy and uncomfortable to hold on walks. That's why Flexi Giant Tape Leash is a fave with owners of extra large doggos. It's comfortable, practical, and robust enough to keep their dog safe on walks. This retractable leash is suited for dogs that weigh up to 110 pounds and can extend to up to 26 feet.
Aspen Pet by Petmate Take Two
For those pet parents that have more than one dog in their family, a multi-dog leash will be the more convenient option. Aspen Pet by Petmate was designed to keep two well-behaved dogs tethered to one shared leash, and the patented tangle-free swivel helps ensure they don't get all tangled up in the process. The length of this dual leash is 5 to 6 feet, depending on how you adjust it.
Types of Dog Leashes
Every pooch is unique- from their size to their walking style, there are plenty of factors that will influence which type of dog leashes will end up being a good choice for their needs. Luckily, there are plenty to choose from. Whether you need something that will give you more control or give your pooch a bit more freedom or anything else in between, picking the right type of dog leash will make sure that your dog's needs are met- and that your money was well spent.
Standard or flat dog leashes
As the name hints at, these are the most common dog leashes around. They are meant to be used as everyday dog leashes or during basic training, and they have no bells and whistles. The length varies from 4 to 8 feet for the optimal distance between you and your pet, and the price tag is usually very affordable.
The usual combination of design and material is the flat tape leash made out of durable nylon, with a clasp on one end to hook your pet's harness or collar to it. These dog leashes are an inexpensive and good choice for training purposes. Leather is another common choice for standard dog leashes, as it's durable, feels luxurious, and with proper care, it can last you for years without losing shape.
Retractable leashes for dogs
Giving your dog the most freedom out of all dog leashes but still making sure you're the one in control, retractable leashes be up to whopping 30 feet long. The trick is in the mechanism that's hidden inside the plastic handle- it allows you to release and retract the tape or the cord that keeps your pet tethered to you. While it can be undeniably fun for your dog to have so much liberty to sniff around and explore on walks, you should make sure that you don't let them stray too far in areas where it could be dangerous for them, such as crowded streets, places with unfamiliar dogs around, etc. Retractable leashes are recommended for leash trained and well-behaved dogs.
Bungee dog leashes
Bungee jumping is safe and possible only because of the ingenious design of the stretchy rope that holds the jumper tethered to the spot. That design has been the inspiration for bungee dog leashes which are, in part, made from similar shock-absorbing, stretchable rope. These dog leashes are meant for dogs that are heavy pullers, as when they jerk and pull, the impact you feel on the other side of the leash is drastically reduced. Owing to this, bungee dog leashes are often recommended for people that have shoulder or back pain.
Adjustable dog leashes
Also called multi-functional, these dog leashes are not as commonly seen as retractable or standard ones, but they can be particularly handy if you need something versatile for training purposes, as the length can be customized throughout the process. These leashes usually have loops or clasps all along the length of the rope, so you can shorten the distance between you and your pet when you need it (like for training) and increase it in other situations (when you're walking your still-in-training dog in a safe area). To boot, adjustable dog leashes can often easily be transformed into leashes that go around the walker's waist and attach to the dog's collar on the other side, so they are perfect for pet parents that like to jog with their pooch safely in tow.
Chain leashes for dogs
It's no secret that many dogs can be aggressive chewers. They'll gnaw through anything and everything if given a chance, and that includes their leash, as well. If you're tired of tossing out leashes just because your pooch keeps shredding them to pieces, then the only solution is a chain leash. Chain dog leashes have their downsides, though: they can be heavy and uncomfortable for longer walks, they are not as durable as other options since they can rust and deteriorate due to exposure to elements, and they can be detrimental if used during training, as their heaviness and the sounds they links make can influence your dog's focus.
Slip leads
With slip leads, you get two pet accessories for the price of one- a leash and a collar! The way a slip leash works is pretty simple- at the end of it, there is a loop that goes over your pooch's head and adjusts to their size with ease. These dog leashes are usually used for training and everyday walks (if the dog is fully leash trained and doesn't pull or try to wiggle out). A word of caution: even though a slip lead replaces the collar, it still doesn't mean that you shouldn't have a collar on your pet, for identification purposes. A collar with an ID tag attached and your contact info easily visible can end up reuniting you with your pet in case they got lost.
Gentle leader
When it comes to an unusual design, the gentle leader is definitely at the top of the list. Unlike traditional leashes, that attach to a harness or a collar, or slip leads, that create a collar-like loop, these dog leashes are meant to go over your pet's muzzle, somewhat similar to a horse harness. A training tool rather than an everyday leash, the gentle leader is meant for dogs who pull and tug on their leash. The gentle contact with the muzzle of your pet will be all it takes to signal them to keep calm and walk on- rather than jump all over the place.
Multi-dog leash
If you have more than one pet but don't think that should mean you have to get more than one leash, you're in luck, because you're not the only one that thinks so. Leashes for multiple dogs allow you to have one handle that branches out into leashes for two or more pooches. Of course, it goes without saying that this type of dog leashes is meant only for properly trained, laid-back pooches that don't need to be controlled much when you're on walks. In case any of your pets is a puller or tries to bolt when he sees a squirrel, multiple dog leash simply won't work.
What to Look for in Dog Leashes
While it may seem that choosing a dog leash is not a task of great importance, it still doesn't mean that you can grab any old leash you first come across in the pet store. Each dog is different and it really does mean that they have different needs and requirements, so it goes without saying that the way they walk and how much control they require will vary from canine to canine. This is why it is important to consider all of the factors that might influence the quality or the performance of the leash- and make your choice according to your dog's unique needs.
The first and most obvious factor to evaluate is which type of dog leash will work best for your pet. As we've listed above, the options range from basic flat leashes and retractable leashes that are a good choice for basic use and training, all the way to specialized leashes such as bungee leashes or slip leads.
A lot depends on the material: the durability, comfort factor, and style can all be directly related to the type of material used to make the leash. If it's something cheap and versatile you're after, nylon in different colors and patterns is your best bet. For durability and elegance, choose genuine leather or stainless steel.
A leash can be used in combination with a dog collar or a harness, and the choice is entirely up to you. To ensure that the leash is attached securely to either, though, it has to have a sturdy and reliable clip. In addition to the general recommendation that it should be made from high-quality, durable materials such as stainless steel, leash clips also come in different types- carabiner clip, bolt snap, or trigger snap.
The length of the leash is one of its defining characteristics and should be chosen according to your pet's walking style and personality. For dogs that need to be controlled more, such as younger dogs, dogs who pull, or overly energetic dogs, a shorter leash that allows you a firmer grip in case of need is a better choice. If your pet is well-trained and you walk them in areas where they can have greater freedom (e.g. low traffic or no other dogs around) then a longer, retractable leash can be a good solution.
If you walk your pet in the evenings or early in the morning when it's still dark outside, you should make sure that they are on a leash that has reflective properties. Reflective material will make them easily visible by the drivers or other people walking their dogs and this will greatly improve their safety.
We are committed to finding, researching, and recommending the best products. We earn commissions from purchases you make using the retail links in our product reviews. Learn more about how this works.

Angela Vuckovic
A proud mama to seven dogs and ten cats, Angela spends her days writing for her fellow pet parents and pampering her furballs, all of whom are rescues. When she's not gushing over her adorable cats or playing with her dogs, she can be found curled up with a good fantasy book.
More by Angela Vuckovic
Published April 2nd, 2021 12:00 AM