4.7K Views
How to Clean Your Dog's Toys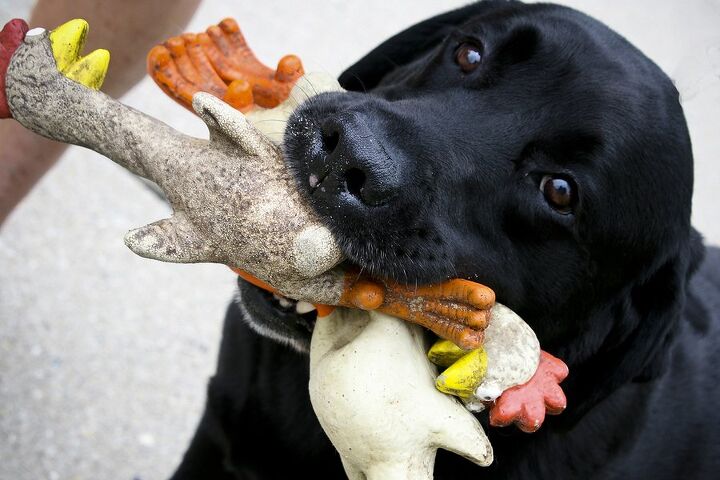 Slobber, dirt and grime build up on your dog's favorite toys – ick! Before you toss them, you may be able to make them squeaky clean again.
Some dogs go through new toys quickly but certain toys are designed to stand up to a lot of chewing and rough handling. The toys that last may be great, but they can harbor bacteria and other pathogens if you fail to clean them regularly. Cleaning your dog's toys is not difficult, but you do need to be careful how you go about it to make sure that you do it safely.
At some point you will have to take stock of your dog's toys and get rid of the ones that are in bad shape. Toys with pieces missing or that have been chewed heavily are best discarded. You should also discard any toys that have pieces hanging off (such as stuffed animal eyes) or other parts which could be a choking hazard for your dog. Finally, get rid of any toys that your dog seems to be eating, rather than just chewing on – this includes toys that are much smaller than they were originally. If the toy is in decent shape and doesn't pose a choking hazard to your dog, you can clean it and give it back.
Cleaning Hard vs. Soft Toys
The cleaning methods you use for hard versus soft dog toys will vary depending on the materials the toy is made from. Hard rubber toys are some of the most durable toys out there and they are also very easy to clean – just soak them in warm soapy water then scrub by hand and rinse clean. Some hard rubber or plastic toys can even be cleaned in the dishwasher, just make sure you run them through the hot cycle without any detergent – the heat of the water should be enough to kill any germs and to clean the toy.
Soft toys like braided ropes and stuffed animals can be a little more difficult to clean. Although these toys are a little harder to clean, it is important that you do so because they can easily become a breeding ground for bacteria or other pathogens. For rope toys, your best bet is to soak the toy in clean water and then microwave it for one minute on high heat – this should be enough to kill any bacteria. A second option is to run the toy through the dishwasher on the hot cycle with no detergent. No matter which option you choose, handle the toy with care because it could be very hot and do not give it back to your dog until it cools down. The best way to clean stuffed animal toys is to toss them in the washing machine. As long as the toy is still in good condition it should hold up just fine.
If you don't want to put your dog's toys in the dishwasher or if you are worried that simple soap and water isn't enough, there are a few cleaning products that are safe for dogs. The safest DIY option may be a vinegar and water solution – just mix one part distilled white vinegar with one part water and soak the toys for 30 minutes. After soaking, scrub the toys and rinse them clean. You may be able to use a weak bleach-and-water solution as an alternative, but be sure to thoroughly rinse the toys before giving them back to your dog.
In some cases, though, homemade solutions won't be efficient enough. Luckily, there are plenty of pet-friendly cleaning products on the market you can use to clean your dog's toys. Depending on the severity of dirt and grime buildup, your methods and supplies will vary: you might just need a dog-safe laundry detergent to take those dirty toys for a spin in the washing machine, or you'll have to boost the effects of machine washing with odor and stain removers. Either way, we've got you covered with our selection of pet-friendly cleaning supplies. These are the best dog-safe washing products you can use to clean their toys – hard and soft both.
1. Editor's Pick: Seventh Generation Concentrated Laundry Detergent
With a great cleaning power thanks to bio-enzymes and yet a mild formula safe enough to wash pet stuff with, this laundry detergent is 96 percent made with plant-based ingredients and hypoallergenic. Use it for washing your pet's blankies, soft and plush toys, and even rope toys that can be washed in the machine. It is EPA Safer Choice certified and USDA-certified Biobased Product.
2. Runner Up: Nature's Miracle Laundry Boost
Designed to be used alongside your regular pet-safe laundry detergent, this laundry booster product is made specifically to treat stains and odors that are common for pet use. Phosphate-free, the formula is powerful enough to completely break down urine, blood, vomit, grease, and oil. So no matter how much your pet wrecked his favorite plushie – this odor and stain remover might just be able to salvage it!
3. Honorable Mention: Tide Free and Gentle Liquid Laundry Detergent
This hypoallergenic laundry detergent is free of dyes, perfumes, and phosphates. However, the gentleness of the formula doesn't impact its effectiveness: it will thoroughly clean laundry while being safe for pets. Great if you want to wash your pet's toys, clothes, bedding – it is formulated to tackle all kinds of grime and dirt.
4. Best All Purpose: PUUR Home Natural All Purpose Cleaner
So what to do with toys that can't be washed in the machine and have a lot of nooks and crannies that could harbor bacteria? If homemade solutions are not working for you, try this all-natural all-purpose cleaner that's designed to remove tough grease and grime buildup with ease. The dog-friendly formula is plant-based and non-toxic and can also be used on all kinds of surfaces. In addition to cleaning plastic or rubber pet toys, this cleaner can be used for washing crate trays, food mats, etc- it really gives great value for money with its multifunctionality.
5. Best All Natural: It's So Pure All Natural Laundry Detergent Powder
If you prefer detergent powder over liquid one for washing laundry, don't worry- there are pet-safe options out there. Non-toxic, this detergent contains no phosphates, sulfates, bleach, chlorine, or fragrances – but the ions and plant enzyme-based formula is tough enough to keep your dog's toys spotless and looking like new.
6. Best Misting Spray: #ToyLife All-Purpose Misting Toy Cleaner
Water-based and made from all-natural ingredients, #ToyLife All-Purpose Misting Toy Cleaner is gentle enough to be used on toys your pet chews but still potent enough to eliminate all of the germs from the toy's surface. It is perfect for rubber toys and will get in all the nooks and crannies to find and expel 99.9% of germs. This misting cleaner is really easy to use, too: just spray generously over your pet's toys, leave the solution to work its magic for about a minute, then rinse under warm water, and pat dry with a towel- the toy will be clean and ready for your pet to enjoy once again! This cleaning mist contains no parabens, sulfates, or alcohol, either- perfect if you are on the lookout for a hypoallergenic toy cleaner.
7. Best Stain Remover: Begley's Best Natural Pet Stain and Odor Remover
Sometimes, your pet's toys get so grimy and nasty that throwing them away seems like the only possible solution. But before you toss out Fido's favorite plushie, try Begley's Best Natural Pet Stain and Odor Remover- its potent but plant-based enzymatic formula is engineered to use the power of nature to dissolve persistent stains and eliminate foul odors. The enzymes in the formula target stains from vomit, blood, urine, and other organic waste and fully break them down until the surface looks good as new. Try spraying on this enzyme cleaner on dirty plushies (or any other dirty dog toy, as this is a multi-surface cleaner), wait a while until the enzymes finish the cleaning process and run them through a gentle cycle- the toys will look almost brand new after!
8. Best Eco-Friendly: Clean Republic All-Purpose Cleaner
Easy to use and effective, Clean Republic All-Purpose Cleaner uses nature-derived ingredients to keep your pet's toys (among many things) sparkly clean. The formula is eco-friendly and completely safe to use around pets- what's more, this spray won't fade or corrode materials and doesn't leave any residue whatsoever. Perfect for a wide variety of toys from plastic to plushies, this spray toy cleaner will easily remove grime and dirt buildup, grease, and disinfect your pet's toys to boot, all thanks to its active ingredient- Hypochlorous Acid (HOCl). Fragrance-free, bleach-free, preservative-free, and alcohol-free, it is the perfect alternative to harsh disinfectants as it gets the job done only without harming your pet or the environment.
9. Best Gentle Cleaner: PUREFY Baby Everything Cleaner
When you're unsure if a cleaning product is safe for pets or not, you usually can't go wrong with baby products- these formulas tend to be the gentles out there! PUREFY Baby Everything Cleaner is made with an award-winning antimicrobial technology by American Hospital Association and is pH neutral, non-irritating, free of alcohol, bleach, synthetic fragrance, and VOC, just to name a few. It is so safe for use that it doesn't have to be rinsed after application, so this one is a great option if you need something to use on the go or in a hurry. This nifty little spray will eradicate germs, allergens, and contaminants from a variety of surfaces- just spray it over the toys and ensure your peace of mind.
10. Best Safe: Dapple Baby Bottle and Dish Soap
Nothing beats a good ol' scrub with a brush or a sponge and some dish soap- that's bound to get all that stubborn grime out from your dog's mangy-looking frisbee, dirty ball or a treat-dispensing toy that's starting to smell kind of funky. Dapple Baby Bottle and Dish Soap is meant for baby bottles and such, but it also happens to be great for all pet-related needs, too, such as washing doggie dishware or toys. This fragrance-free dish soap will remove any residue or odor from toys and boasts a gentle, hypoallergenic and plant-based formula. Formulated without parabens, sulfates, phthalates, synthetic dyes and fragrances, chlorine, formaldehyde, alcohol, SLS, SLES, MEA, DEA, and TEA, this pet-friendly dish soap is as clean as it can be.
Your dog loves his toys and he may form a deep attachment to some of them, even after they have become unrecognizable from chewing and rough play. At a certain point you have to decide whether or not the toy is really safe for your pet. If it is, a simple cleaning can go a long way but, if it is not, your best bet is to throw it out and replace it.
Why is it important to clean dog toys?
Dog toys go through a lot in their lifetime- from constant gnawing to being dragged around the home and outside, to gathering dust in some corner for weeks. Naturally, as a result, dog toys are a breeding ground for all kinds of germs and bacteria, and if you do not clean them regularly, dog toys can actually become dangerous. To prevent any unfortunate scenario from happening, be sure to regularly wash your pet's belongings. Of course, some may be washed in a washing machine or the dishwasher, and others will have to be cleaned by hand- in any case, however, you'll have to use a pet-safe detergent for cleaning.
How to take care of my dog's toys between cleanings?
If there aren't any obvious signs that would indicate that a toy needs cleaning, a good rule of thumb is to wash your pet's toys every two weeks. But what to do in between those cleanings? Generally, it's best to act right away if you notice dirt or any kind of nastiness on the toy. For instance, if your pooch drools all over the toys, before storing them away for the next day, just rinse them under water and let them dry. Wipe away dirt or stains as soon as you notice them and don't let them set and dry as it could be difficult to get out after a while.
We are committed to finding, researching, and recommending the best products. We earn commissions from purchases you make using the retail links in our product reviews. Learn more about how this works.

Kate Barrington
Kate Barrington is the loving owner of two cats (Bagel and Munchkin) and a noisy herd of guinea pigs. Having grown up with golden retrievers, Kate has a great deal of experience with dogs but labels herself a lover of all pets. Having received a Bachelor's degree in English, Kate has combined her love for pets and her passion for writing to create her own freelance writing business, specializing in the pet niche.
More by Kate Barrington
Published July 3rd, 2021 12:00 AM