263 Views
Best Dog Pooper Scoopers for Mess-Free Waste Removal
November 22nd, 2021 12:00 AM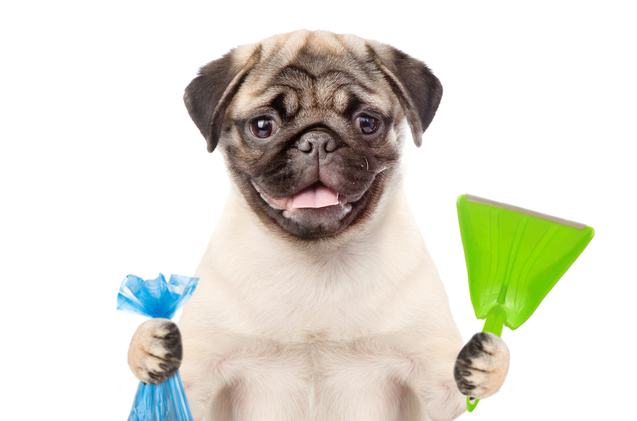 Dog pooper scoopers transform one of the most dread pet parent's tasks into a mess-free experience. No matter how much you love your fur kid, no one likes to pick up dog poop, so check out our guide on best dog pooper scoopers to find a perfect match!
There are many joys of pet parenting, but picking up poop is not one of them. Yuck! Pooper scoopers are a great way to make sure there's no poop left behind your pet without having to actually touch it (even through the baggie, it's still gross). With a pooper scooper, the process is effortless and, more importantly, completely hands-free.
No one can deny that picking up pet poop is a crappy duty, but it's a required one, despite it being so dreaded among pawrents. Whether it's having to grab a steaming piece of number two through a poop bag or scraping it from your backyard, there's no going around it, it is what it is. In your yard it's a matter of hygiene, and in the park or on the street, it's also a matter of civil behavior. But there is one thing you can do and that's to make the process of removing your pet's waste free of mess and minimally disgusting with dog pooper scoopers.
Designed to efficiently remove poop from various surfaces, these handy tools are a must for any dog owner who lets his pet do his business in the backyard. However, pet owners who like their own yard clean are not the only ones who will need a scooper in their arsenal. There are compact, portable versions of pooper scoopers for those that want hands free waste removal on walks instead of opting for poop bags.
Dog pooper scoopers make the yucky task of picking up after your pet quick and painless, but to make sure the tool you bought will do the job, you have to know what to look for. There are different types of dog pooper scoopers to choose from, and not all of them will do the task at hand equally well. In addition to a budget match, you should make sure that the pooper scooper will be suitable for grass, concrete, or both, that the size meets your requirements, and that they're easy to clean. To make sure you won't have any trouble finding dog pooper scoopers that are worth your money, we've rounded up the best options out there–you'll definitely find a perfect match regardless of your budget and preferences. Take a look and pick a scooper that will make pet pawrenting a breeze!
1. Editor's Choice: Nature's Miracle Jumbo Scoop
Lightweight and easy to use, this jaw-style poop scooper is suitable for all surfaces, from grass to concrete. The toothed edges will comb through your lawn with ease but also scrape the poop from the sidewalk in one go. The non-stick, antimicrobial plastic will be easy to clean after use, or you could just put a bag over the jaws for completely mess-free scooping. Well-made and durable, this scooper will last you a long time. Nature's Miracle Jumbo Scoop has a long handle and a capacity that's suited for multi-pet households, but it also comes in a medium for owners of small breed dogs or single dog pawrents.
2. Runner Up: Arm & Hammer Swivel Bin & Rake Pooper Scooper
This rake-and-bin waste disposal system makes cleaning up after your pooch a quick and easy task. Suitable for backyard use, the rakes will comb out poop out of dirt or grass straight to the bin, but concrete might be a bit of a challenge–with traces being left behind. The rotating bin system is especially convenient as it speeds up the poop pickup and allows you to easily transfer waste. Line the bin with a plastic bag, and you won't have to worry about clean up–and the capacity of the bin will be more than enough if you have a large dog or live with a couple of four-legged companions. The rake handle is extendable.
3. Customer's Choice: DogBuddy Portable Pooper Scooper
Don't let the compact size fool you, this small jaw-type poop scooper does the job perfectly! DogBuddy scooper is ideal if you need something light and portable that you can use on your walks to avoid having to touch poop. It hooks on a leash, has an integrated waste bag compartment and can hold waste conveniently tucked away until you're able to dispose of it. The backside of the scooper extends, too, so the capacity is suitable for big and small dogs alike. DogBuddy Portable Pooper Scooper does best on pavements, sidewalks, and flat surfaces in general.
4. Best Handles: Four Paws Spade Set
Sturdy and robust, this spade and shovel set has a stainless steel base to ensure unparalleled durability, resistance to the elements, and prevent rusting. The long handles with rubber grips are comfortable to use and ensure you don't have to bend to do the job, so this set is a great choice for someone with back issues. The combo of a spade and shovel is a great choice for cleaning waste from flat and hard surfaces.
5. Best Set: MOICO 3 Piece Scooper
When it comes to scooping poop it is all about having the right tools for the job. That is why we feel you can't go wrong with the MOICO Scooper. You don't ever have to use the rake when the spade is in order because the MOICO Scooper comes as a set of three so you have every tool you will need when your doggie does his business. The three pack adjustable long handled metal receptacle, along with the rake and spade poop scoop is designed for all sized dogs. Because of the adjustable handle it also works for all sized humans too!
The MOICO dog poop scooper sets are made of sturdy aluminum and stainless steel parts, and are resistant to rust, providing your purchase a longer life than plastic and wooden scoopers. The detachable three-section handle saves space, snaps together and features an integrated hanging hook for convenient storage. Plus your purchase comes with a pair of gloves so your manicured nails stay as nice as your manicured lawn! The company is so certain you will love this three-piece set that they offer a full money back guarantee and you can still keep the scooper. Now that is really standing behind your product!
6. Best Foldable: PPOGOO Non-Breakable Pet Pooper Scooper for Dogs
The one-handed operation makes this scooper extremely convenient to use, as you can be walking your pooch in one hand and picking up after them with the other, without feeling overwhelmed by the multitasking. Just pull the handle to open the jaw-like container and grab the poop before releasing the handle–that's all it takes. You can line the "jaws" with a poop bag, but you can also do without, as the plastic is easy to clean with a simple rinse. The one side is serrated and the other smooth, so PPOGOO poop scooper will do a perfect job on every kind of surface.
7. Best Hands Free: GoGo Stik The Totally Clean Pooper Scooper
If you want something that you can use around the backyard or take with you on walks, the versatile GoGo stick does the trick. This hands-free poop scooper uses bags (both poop bags and grocery bags work) to literally scoop up the poop from a lawn or a sidewalk without you having to bend over or come in contact with the waste to dispose of it. The handle is telescopic so you can make sure that the length fits your needs perfectly!
8. Best for Rough Terrain: So Phresh Easy Pick Up Large Rake & Scoop Set
This robust and large rake and scoop set is a great choice for pet pawrents who do most of their waste cleaning on gravel, grass, and pavement. The curved rake is particularly good from picking our poop from grass blades, as it gives a better grip. If you want to keep your backyard clean and poop-free, this set will do the trick, but you'll need something smaller and more versatile if you want a poop scooper on the go. Both the rake and the scoop have a rust-free finish for added protection from the elements and improved durability.
9. Best Portable: Bodhi Dog Complete Poo Pack
Whether you've just got a puppy or need to upgrade your current waste disposal system, this all-in-one set will give you all the tools you need – on a budget. The Bodhi Dog Complete Poo Pack includes a compact jaw style poop scooper, and a dog waste bag holder with poo bag rolls to get you started. The scooper itself is well made and portable and can be used with a single hand. You can even choose between pink or blue to make sure you can coordinate outfits with your poop scooping gear. Priorities, ya know. Still, this hybrid design is super straightforward and quite reliable.
10. Also Consider: Flexrake 56M Galvanized Steel Scoop and Rake/Spade
If you have a yard that includes a variety of different surfaces, then you need a tool that can handle both hard, flat ground and grassy patches. This simple design from Flexrake eliminates the need to switch between tools by packaging both options in one. With a small spade on one side and a steel rake set on the other, you can use which ever option is needed at the time.
Non-slip vinyl grips can be found at the top of each of the 30-inch steel handles. After you are done cleaning up behind your best friend, the galvanized steel can be hosed off and left out to dry, ready for the next use.
11. Best Large Tray: Pawler Dog Pooper Scooper
This multi-surface and multi-purpose pooper scooper is perfect for cleaning your yard – leaves, debris and poop will be no match for your durable and lightweight 36 inch poles!
This large, heavy duty rake and tray set is a great option for those of you who are tired of bending over to pick up your dog's goodies. This particular pooper scooper can be used on gravel, grass or dirt to pick up leaves, debris or anything else you come across on your lawn. It's long handles can be taken apart for those of you who have limited storage space, or, you can use the included storage clip and attach the rake to the tray and hang it out of sight! Made from durable, stainless steel and aluminium materials, this lightweight set was built to withstand rust and last you for years to come.
Types of Dog Pooper Scoopers: Which Should You Choose?
A thought of a poop scooping tool might sound straightforward enough, but you'd be surprised: there are operational differences in the way the poop is scooped. As a result, there are different types of dog pooper scoopers to choose from, depending on your personal preference. Each has its pros and cons, so it boils down to what's more convenient for you. Also, some designs might be ideal for use around the home and in the yard, while others are super convenient to use on the walks- a very important factor to consider.
Jaw style scoopers
This type of dog pooper scoopers is meant for single hand use – you pull the handle and the "jaws" open for you to grab the poo and the mechanism closes around it so you can transport the waste without having to be in close contact with it. You can use a jaw style poop scooper with a plastic bag or hose it after use. Being operated by a single hand, they can be great when you are walking your dog – holding a leash in one hand, you can still scoop the poop with this unique design.
Rake-and-bin style
Usually meant for use around the backyard, rake and bin poop scoopers are just what their name says they are–a convenient combo of a rake and a bin that holds the waste that you rake inside. They are usually bigger and bulkier and not suitable for taking with you on walks. Additionally, instead of a rake, the combination sometimes includes a spade.
Shovel type scooper
This is a two piece system: the shovel or the pan is used to hold the waste, whereas there is a choice between a spade and a rake to use for scooping the poop in. Not unlike rake-and-bin scoopers, this is also a choice more common for home use, as it is big and bulky. It has a great capacity and is fairly straightforward to use. Great to have lying around the yard.
Tong scooper
A tong or 'clean hands' poop scooper is one of the favorites for use on walks, simply because it doesn't require you to get intimately acquainted with your dog's poop in order to clean it up. Just put the bag over the tongs and just use the mechanism to grab the waste, wrapping it in the bag – without ever having to touch or clean anything. However, it can be just a tiny bit finicky and hard to use for first timers, requiring a trial and error approach.
What to Look for in Dog Pooper Scoopers
Once you figure out the type of dog poop scoopers you like the best, it's time to figure out which of them will give you the best bang for your buck. After all, you want something that will last and do the job properly – the last thing you want is something to make the mess worse and end up wasting your money. Here's what features you should look for in poop scoopers, regardless of their type. Look out for these traits and you will make sure your pick is an ideal one!
Surface compatibility
It's not the same if you plan on using a dog poop scooper to pick up waste from grass or concrete sidewalks. The grass is more compatible with rakes, as they can "comb" through the blades and separate the waste effectively from the surface. On the other hand, to scrape the poop in one, mess-free go from a flat surface such as concrete, a scooper with flat edges is a better choice, such as a spade or a jaw-style scooper. In case you need a versatile dog poop scooper that can be efficiently used on any surface, go for those that have small teeth on the edges for better grip on grass and decent scrape on concrete- or get a dedicated scoop for each area.
Length of the scooper
When picking out a scooper, pay attention to the length of the handle and if it's adjustable or not. You might want a poop scooper simply because you're not able to bend and pick up after your pooch, and having a telescopic handle that extends or a long pole is a better choice for your preferences. Similarly, a telescopic handle or a short handle are a more tailored match when you want something that's portable and good to take on walks with you. In this case, adjustability is key: having the ability to adjust the length for every situation is ideal.
Capacity
Before you get a scooper for your pet, make sure to ask yourself – can I responsibly pick up what my pet leaves behind on the street without touching it through a baggie? Others, though, might live in a multi pet household and want something with a larger capacity when cleaning out their backyard. Either way, capacity is crucial. Don't go for something way too small, no matter what breed your doggo is. Tiny pooper scoopers are an open invitation for a messy, stinky scoop.
Ease of maintenance
OK, even when you use dog poop scoopers to remove your pet's waste from public areas or your own property, it doesn't mean that you're all done with the unpleasant task. If you want the involvement with the poop to be as minimal as possible, pick options that use plastic bags that are disposed of after the pickup. That is the ultimate, cleanest, and hands free design you can find. But in the case that you have to opt for designs without the bags, choose a concept that will be easiest to clean – preferably just by hosing it down.
After Scooping: Where Should You Dispose of the Waste from the Scooper?
Now when you're all set to pick up your pooch's poop without actually having to pick it up, where do you go from there? I mean, where does one dispose of pet's waste safely and conveniently? Well, a lot will depend on your local regulations. Most places have laws that require you to pick up after your pet in public, but there are also regulations for waste management on private properties, as well as general guidelines on what is safe and what's not when it comes to pet fecal matter disposal. Commonly, pet owners simply dispose of the waste in a plastic bag that's sealed and tossed into the garbage. Other options include flushing the poop down the toilet (without the baggie!) or digging a hole in your backyard where you can bury the waste. The choice is yours, really, as it all depends on what's more convenient for you. Most opt for bags, as it is the most practical choice, both in terms of cleanliness and waste management. On the other hand, people who steer clear from single-use plastics will probably go for flushing or burying poop whenever possible.
Regardless of your personal choice of waste disposal, what you should never do is add pet fecal matter to your compost or toss it into a storm drain. Dog poop has bacteria, viruses, and parasites that could harm both humans and pollute the environment and endanger other species, so it's important that it's properly disposed of.
When all things are considered it becomes perfectly clear that dog pooper scoopers are an invaluable tool in the arsenal of every dog owner. Poop scooping is an age-old issue in the pet world: it is a daily occurrence, but no one likes doing it. And just leaving it there is no solution at all. Having a poop minefield in your yard can turn into a nightmare and a health hazard to boot. And leaving a poopy mine in the park or on the sidewalk for some unsuspecting passersby to step in – that's just uncivil and irresponsible. Poop bags are a good interim solution – but they are still somewhat unpleasant to use for some people: using your hand to pick the poop up with a bag is just not ideal for every pet parent.
Pooper scoopers are heaven-sent in this regard. Compact and easy to use, they are the simplest way to dispose of that nasty number two without even getting close to it. Some versions even help you take care of that while out on the walks. And that allows you to be civil and mindful of your surroundings – at all times. The time has come to no longer be wary of the dreaded number two! These accessories make it a breeze to take care of.
Why is it important to use a pooper scooper?
The importance of poop scooping is clear- leaving your dog's waste behind is not just bad manners, but it can be dangerous, because of disease-carrying parasites and bacteria that could be found in dog poop. But why is it important to use a pooper scooper to do it? Not only that a pooper scooper makes the process of picking up after your dog mess-free and effortless, but it also makes your up and close contact with dog poop non-existent- so no risk of coming in contact with any of those harmful stuff. Pooper scoopers come in a range of designs that are suited for all surfaces and all occasions, so you can rest assured that you can safely and easily pick up dog poop wherever you are.
We are committed to finding, researching, and recommending the best products. We earn commissions from purchases you make using the retail links in our product reviews. Learn more about how this works.

Angela Vuckovic
A proud mama to seven dogs and ten cats, Angela spends her days writing for her fellow pet parents and pampering her furballs, all of whom are rescues. When she's not gushing over her adorable cats or playing with her dogs, she can be found curled up with a good fantasy book.
More by Angela Vuckovic
Published November 22nd, 2021 12:00 AM