758 Views
10 Best Bowls For Bernedoodles
We're committed to finding, researching, and recommending the best products. We earn commissions from purchases you make using links in our articles. Learn more here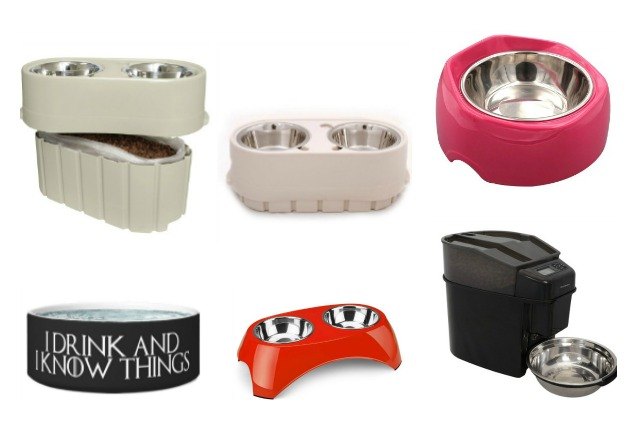 Bernedoodles come in a wide range of sizes. That means food and water bowls need to come in an assortment of sizes, and we've found the 10 best bowls for Bernedoodles, no matter how big or small yours is!
A standard Poodle combined with a standard Bernese Mountain Dog could result in a 70-90 pound dog! By the same token, a teacup poodle mixed with a tiny Bernedoodle could mean your pup is 12-14 pounds. You may need a variety of bowls from which to choose, so here are the best ten bowls for Bernedoodles we've found.
1. Editor's Choice – The Boss Rae Dunn by Magenta Pet Bowl
If your household is anything like mine, your Bernedoodle is likely a little spoiled. In fact, some may even refer to your dog as 'The Boss'. Why not spoil your dog and show them off proudly with this adorable dog dish?
You can be rest assured that you're making your dog's health and safety a priority after learning that this dish is made from 100% food-grade ceramic. The stoneware design is durable and heavy, which not only means it's less likely to be broken, but also that it's spill-resistant – saving you from unnecessary clean-ups. Best suited for medium to large-sized dogs, this dish holds up to 5 cups of food or water.
The neutral colors allow this dish to easily fit into nearly any home décor. It's the perfect blend of function and fun for both you and your pup!
2. Runner Up – Bone Dry Lattice Collection Pet Bowl & Canister
This 2-piece ceramic dog bowl is another customer favorite and has been purchased and reviewed by thousands. It's best suited to medium to larger Bernedoodles, is dishwasher safe and comes in 4 bold colors including aqua, nautical blue, pink and gray (pictured).
3. Best Bowl with Lid – Ohana Dog Travel Bowl
Bernedoodles love to adventure – it's in their mountain spirits! This travel bowl from Ohana Dog is a great way to take plenty of food on day hikes, overnight car rides or even to the dog park to hang out. The screw tight lid keeps all the food in and it's lightweight.
4. Best for Traveling – Pet Travel Water Bowl Bottle
Since they love to explore and travel, we love this pet travel water bottle bowl that allows you to give your Bernedoodle fresh water anywhere and anytime they need it. Crafted with food-grade silicone, it's FDA approved as non-toxic for your pet.
5. Best Feeding Station – Our Pets Store 'n' Feeder
We love this feeding station because if your house is like mine and has multiple pets, it's nice and convenient to have your dog's kibble nearby. The 8″-12″ raised station will help your medium-larger Bernedoodle with digestion and the storage container is airtight.
6. Best No-Mess Bowl – Neater Feeder With Extension
Sometimes size varies in standard and mini-Bernedoodles (a miniature Poodle bred with a Bernese Mountain Dog) and those dogs range in weight between 24 pounds and 90 pounds. That's why we love this feeder station with extensions to grow with your pup, and it will always keep food and water contained neatly.
7. Best for Automatic Feeding – Petsafe Automatic Feeder
Talk about cool. This automatic feeder from Petsafe is awesome. It has a digital timer that allows you to schedule 12 feedings if you chose. It also has a slow-feed monitor that doles food out over a period of time to make sure your Bernedoodle doesn't scarf down too much and feel bloated. It has jam-safe technology and it pours food into the stainless bowl that can also be washed in the dishwasher. In fact, almost all of the parts are easily washable to keep it hygienic.
8. Best for Mini Bernedoodles – Keks Bowl With Skidpad
This stainless steel set comes in a food-grade silicone mat that keeps the bowls from skidding and keeps food spills/dribbles to a minimum. It's specifically designed for smaller dogs, so if you have a tiny Bernedoodle or a mini, this is a great option.
9. Best Elevated Duo – Flexion Double Stainless Set
If you have a tiny or mini Bernedoodle and need a smaller bowl set but still want an elevated setup, this set from Flexion does the job. The base comes in several colors and has non-slip feet to keep the station from moving (and spills from occurring!).
10. Best for Large Bernedoodles – Slanted Dog Bowl with Ceramic High Feet Bowl
For your Bernedoodle or other large dog, this slanted bowl by Gaojain is a great pick. Due to its high footed stand, your dog doesn't have to hang their head to eat but instead stands at a position that aides with digestion. It's made from food grade ceramic and are bright, colorful coming in cherry red, sky blue or classis white. They look attractive to have in your kitchen, are easy to clean and quick to dry. Your dog will be thrilled that they have the best seat in the house at meal time!
Frequently Asked Questions
How often should I clean my bernedoodle's bowl?
The typical rule-of-thumb for dry food is to clean the bowl daily, so this can be done after your pup's evening meal. However, if your bernedoodle requires wet food, you should wash it after each meal just like adults do. You don't want any remains of a previous meal to linger and stick to the bowl while your dog is enjoying their next feast.
What should I consider when selecting bowls for my bernedoodle?
The key things to keep in mind when shopping for the perfect bowl for your bernedoodle is size, material and elevation. If your bernedoodle is a mini, you won't need to get a large bowl on an elevated surface, as they won't be able to reach their food easily. For your medium to larger sized pups, a bigger bowl will be far more comfortable and accessible, so they don't have to strain their necks for each meal. You'll also want a bowl that's easy to clean – particularly if your dog enjoys wet food – so looking for products that are dishwasher-safe is also a plus.
Recent Updates
July 14, 2021: The Sacrons Ceramic Prince Bowl has been replaced by the Bone Dry Lattice Collection Pet Bowl & Canister due to product unavailability. Additional Resources and FAQ sections have also been included to refer readers to related content and address common customer queries.
Additional Resources

Published May 14th, 2021 12:00 AM