98 Views
Best Bowls For Your Pomsky
February 1st, 2022 12:00 AM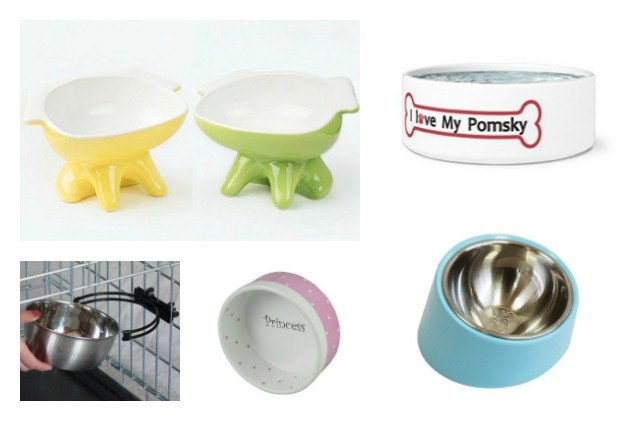 A Pomsky can range in size from 18 pounds to 38 pounds. It's important to make sure their dog food and water is in appropriate containers, so we have the Best Bowls For Your Pomsky list as reference!
Food and water are key to your Pomsky's survival, so make sure she can get to both with ease, comfort and for you–cleanliness! Check some of these out.
1. Editor's Pick: Bone & Bark Stainless food set
This no-spill mat keeps spilled food or water on the mat and not on the floor. The bowls are heavy-duty stainless and non-skid. The mat is 100% FDA approved and kitchen-grade and it's an adorable shaped. We love that at least 10% of all profits from Bone & Bark go to dog shelters and dog resources that help dogs in need.
2. Runner Up: Neater Feeder Express Pet Bowls
There's a slow feed bowl to slow fast eaters down and it's mess proof–spilled food is separated at the top and spilled water conveniently drains down into the catch basin. The mess stays in the feeding area, and not on your floor and all the parts are dishwasher safe.
3. Best Collapsible: Dexas Popware for Pets Double Elevated Pet Feeder
We love this elevated food bowl set that collapses for travel! Pomskies are lap-dogs, true, but they still love adventure and this is perfect for on the road, open trails or even camping out under the stars. The Silicone is food grade and helps make taking food on the road a breeze.
4. Best Adjustable: Messy Mutt Adjustable Feeder
This is the perfect feeder set to grow with your Pomsky from puppyhood to adulthood because it will grow with her. BPA and PVC free, and made with FDA approved materials, it's ergonomic design will make it a one-stop shop for your growing pup. It retails for $45.49.
5. Best Slanted Design: Super Design Mess Free 15° Slanted Bowl
These bowls don't only look cool, they act cooler, keeping bowls in place with their anti-skid action and slant that helps with dog ingestion and digestion. They're easy to clean and keep the food easy to eat and won't budge for even the most enthusiastic eaters.
6. Best for Crates: kathson Crate Dog Bowl
If you're crating your Pomsky (not a terrible idea since they're brilliant and get bored easily if not enough exercise) and want to keep all his things together, these bowls snap right on the crate and make the crate area a one-stop-shop for your pup.
7. Best Slow Feeder: Outward Hound Fun Feeder
Pomskies are smart little cookies, and playful too. That's why the Outward Hound Fun Feeder is a great way to keep them food motivated (for training) and engaged (for brain activity) while promoting slower eating (for better digestion). Get all that? Bottom line, a fun way to feed your pup and keep them safer from bloat.
8. Best Engraved: My Personal Memory Store Engraved Small Dog Non Slip Metal Bowl
Your Pomsky is unique in all the world! So why get them a bowl that some other dog has? Instead, purchase a personalized engraved bowl from My Personal Memory store. This bowl is a perfect size for small dogs, is powder coated and has a nonslip rubber bottom for easier feeding and to protect your floors. You can choose from five designs, pick from 6 different colors and tell them exactly what you want engraved on your one-of-a-kind bowl – to match your one-of-a-kind pup!
9. Best Elevated: Vivi Pet Elevated Ceramic Bowls
Open up and say, "Ahhhhh." That's what these elevated and adorable ceramic bowls will have you do. Shaped in the cutest little doggo shape, they're elevated for better digestion for your dog, and perfect for smaller to medium-sized pomskies. They come in great colors.
10. Best Basic: iHoming Princess Bowl
Why fight it? Your Pomsky has the princess pomeranian in her, and she deserves a diva dish! Ceramic and perfectly purposed for a princess.
What to consider when choosing bowls for my Pomsky?
As a designer dog, Pomsky can vary in size – these pooches can be anywhere between 18 and 38 pounds so the first thing to pay attention to is the size of the bowls and that they are adequate for your pet's needs. The next important factor is the material of the bowl- steer clear from plastic that is not labeled as BPA-free or food grade as it can leech harmful substances to your dog's food and water. Some good alternatives are ceramic or stainless steel. Of course, you should also consider any special features the bowls might have that could benefit your pet- for instance, if your Pomsky is a greedy eater, a slow feeding bowl will be a good choice, and so on.
How often and how should I clean bowls for my Pomsky?
Dog water bowls should be rinsed out each day to prevent buildup of all kinds of gunk, and a weekly scrubbing is recommended to keep plaque, algae, as well as various nasty germs at bay. When it comes to food bowls, they should be thoroughly cleaned each day, preferably after mealtime, as leftover bits of food could be a breeding ground for dangerous bacteria and mold, and coming in contact with these could seriously endanger your pet. Use pet-safe detergents or natural products such as diluted vinegar to clean and disinfect your Pomsky' bowls. You can either wash their bowls by hand with a scrubbing sponge or run them through the dishwasher if the material of the bowl allows it.
Additional resources:
We are committed to finding, researching, and recommending the best products. We earn commissions from purchases you make using the retail links in our product reviews. Learn more about how this works.

Published February 1st, 2022 12:00 AM