527 Views
Best Harnesses For Shorkies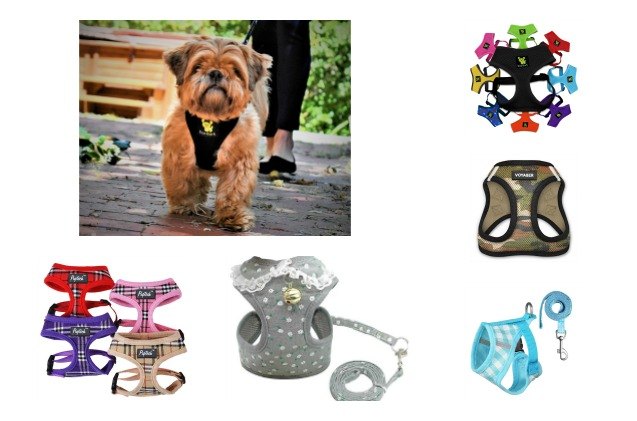 Your Shorkie has a delicate neck and windpipe and you want to make sure you protect her. That's why we've compiled a list of the best harnesses for Shorkies.
Shorkies are a mix of a Shih Tzu and Yorkie, and not prone to be big pullers because they are so small. That said, because they are so small and fragile, any pull on their neck could potentially cause a problem and so many Shorkie owners choose to go with harnesses for their dog. Here are the best ten harnesses for Shorkies we've found.
1. Editor's Pick: Metric USA Comfort Fit Step in Dog Harness
If you want a no-pull harness that your Shorkie will be comfy in, you can't go wrong with this lightweight padded design. Metric USA Comfort Fit Step-In Dog Harness is made from breathable, moulded polyester with padded pillow pockets on the inside to ensure a snug fit and cushion your petite pet's body, even if they pull on the leash. A good choice for everyday walks or training, this extra small harness for Shorkies has two D-links, one on the back and one on the side of the body, so you can double the leash if they are still learning not to tug. To boot, this step-in harness is super easy to put on and off as it only has one quick-release clip. Metric USA Comfort Fit Step-In Dog Harness comes in 10 vibrant colors, so it won't be a problem finding a perfect style for your precious Shorkie!
2. Runner Up: Voyager Padded Step-In
Your Shorkie may be tiny but don't tell him he's not tough. Let him roar in this camo patterned mesh step-in from Voyager. It's lined for comfort and has protection in velcro closure and d-rings for leashing.
3. Best Set: SMALLLEE Lucky Store New Small Soft Mesh Vest
The Smalllee Lucky Store New Soft Mesh Nylon Leash and Harness set is not only strong, it is simply adorable with thoughtful design touches that we fell in love with. This is perfect for your Shorkie who wants to investigate on their walk since the no pull harness will put no strain on their delicate necks. The lining is made of a mesh fabric so it is full breathable making it great for a hot summer walk. They use high quality buckles made of alloy that will not easily break or snap so you can feel secure that your Shorkie is safe. Check out their size chart so you can purchase the proper size for your pup. Now that all the specs are clear lets gush over the cuteness of this 2 pieces harness and leash set! Designed in classic polka dots with three colors to choose from, but what really sent us over the edge is the leather paw print patch detailing on the harness. It is special touches likes these that will make your pooch a stand out in the park.
4. Best Pattern: DiDog Adjustable Harness
We love this little diddy from DiDog–an adjustable vest with padding for comfort for your Shorkie. The sweet cotton pattern is soft and we love the little bell attached so your Shorkie will make an entrance wherever he/she goes!
5. Best Accessorized: Selmai No Pull Harness
This adorable padded polka dot harness oozes charm and fashion and also keeps your Shorkie's delicate neck protected with the double-o ring for the leash in the back. This one is for the tiniest of the tiny–one to two pounds, and hard to find for those little bitties.
6. Best Active: Expawlorer Checkered Frills Harness
This padded vest harness is an easy in and out and the cute checkered pattern is sure to make your Shorkie a show stopper wherever she goes. It's adjustable, so small enough for the smallest to large of the Shorkies.
7. Best Eco-Friendly: Ecobark Small Harness
We love that these harnesses for all sizes are made from recycled water bottles and that they come in all kinds of beautiful colors. They make the extra small specifically for dogs in the four-pound range and they're an easy wrap with tons of padding for your pooch.
8. Best Basic: Pawtitas Teacup Harness
This basic nylon step in harness is perfect for a teacup breed like Shorkie, and does a great job of keeping your pup safe and protecting her neck while allowing you to walk about and train. It comes in several sizes and colors and is easy to care for in the wash.
9. Best Plaid: Puptech Plaid Harness
Your Shorkie will be painting the town plaid in this fun plaid, padded harness vest from Puptech. It's a step in, and easy double harness strap in the back but provides plenty of comfort wherever you're going.
10. Best Bowtie: AlfiePet Houndstooth Tux Harness
We love this houndstooth (get it?) harness from AlfiePet! It's adorable, padded for protection and comfort and step-in for easy on and off. The tux bow kills us and will make sure that your Shorkie is best dressed on the block!
How to put a harness on a Shorkie?
There are two types of harnesses most pet owners choose for their Shorkies: step-in harness and the overhead harness. The step-in design clasps only on the back and there are two leg openings: unbuckle the harness, place it on the floor in front of your pet and place their legs in the openings. Then, just slide the harness up their legs and clasp it- it's a great hassle-free option. The overhead is a bit different, as it requires you to put your pet's head through the smallest opening, and then separately pull through both front legs. While fussier, it has more room for adjustment as there are multiple straps that can be shortened or lengthened to ensure a snug fit.
How to measure a Shorkie for a harness?
Shorkies are tiny doggos, but that doesn't mean that any extra small or small dog harness will fit them by default. To ensure that the harness will properly fit your pet's body type, measure their chest and neck. Use a tape measure to get the dimensions of the widest part of their chest and the part of the neck just below where the collar would usually sit and above their shoulder blades. If you're buying a step-in harness, usually only chest width is enough, but it's best if you measure both neck and chest if you're getting an overhead harness.

Published July 14th, 2021 12:00 AM