361 Views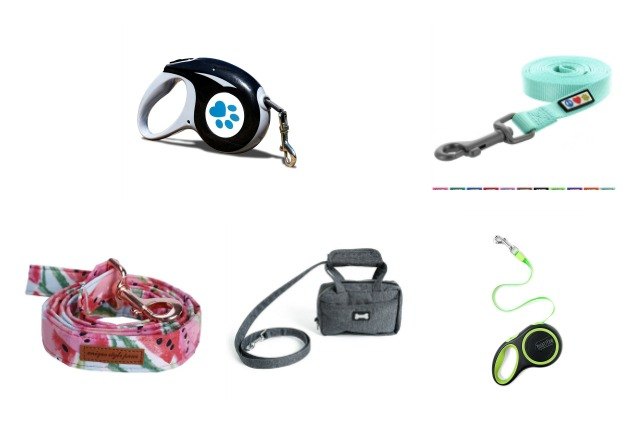 Your Morkie is the cutest little mix of a Yorkshire Terrier and a Maltese! Finding a leash that isn't overpowering may be difficult so we've compiled a list of the best leashes for Morkies.
It's hard to find a leash designed for your little Morkie–like Goldilocks, too many are too long or too thick or too heavy. That's why we've put together a list of the best ten leashes for Morkies. Take your pick!
1. Editor's Pick: Yellow Dog Design Rope Dog Leash.
Designed for active and everyday use, this simple but durable dog leash will be a great choice for anyone who wants a leash that really lasts. Made in the USA from machine washable and weather-resistant polyester rope, Yellow Dog Design Rope Dog Leash will be a must-have accessory for any adventure you have with your Morkie. Thanks to the weather nickel plated alloy swivel snap, it's easy to attach the leash and you can rest assured that it will stay firmly in place. The leash itself is very well-made, with reinforced double stitching at crucial points to prevent any mishaps, and comes in over 10 fade-resistant, vibrant colors to match your Morkie's style. You also get to choose between different diameters of the rope (⅜" is better fit for Morkies) and 3 lengths: 4, 5, or 6 feet.
2. Runner Up: Leather Leash
If you want a lightweight leather, though, this is a great choice for your Morkie as it's simple, classic and most importantly, lightweight. It's 100% leather, and easy to care for.
3. Best Retractable: Mighty Paw Retractable
It's durable–stainless internal coil with tight-stitched threading, but it's lightweight and will give your Morkie a little walking freedom. It is in a reflective case and the threading is reflective as well to help keep you and your pup safe.
4. Best Floral: PETFAVORITES Floral Dog Leash
Flower power! Nothing cuter than a Morkie strutting her stuff on a pretty floral leash such as this one. PETFAVORITES Floral Dog Leash is made from high-quality, durable polyester webbing with nickel plated hardware buckle and will be a great choice for everyday walks around the block or to the doggy park. The width of the leash is half an inch and it's 4 feet long so it is just right for a tiny pupper like a Morkie. To boot, this adorable floral leash can be paired with a matching floral cloral with crystals- if you want to complete your little lady's look.
5. Best Eco-Friendly: EcoBark Comfort Padded Dog Leash
A leash should be comfortable for the pet owner as much as it is for the pet- chaffing is the last thing you want and it will happen on long walks and hikes if the leash isn't well made. EcoBark Comfort Padded Dog Leash boasts a padded handle to make sure that when you're out and about with your little Morkie, you have a comfortable grip on the leash at all times. Made from eco-friendly material that's manufactured from recycled plastic bottles, this leash is durable and fade resistant- there are 9 colors to choose from that won't lose its vibrancy over time. The leash is an inch wide and 5 feet long, which is a good length if you want your pet close by. In case you want to pair the leash with a collar or a harness- you can, as there are matching ones available.
6. Best Accessorized: EXPAWLORER Bow Tie, Bandana and Leash Set
It's hard to pass up anything that comes with added accessories when it comes to your Morkie. That's why we love this leash set that comes with an adorable polka dot bandana with button details and a matching polka dot bow tie. Of course, the accessories match the 59-inch light weight leash made from high quality leather that won't irritate you pet's skin. At the end of the leash there is a 360-degree clasp that rotates you and keeps you in control of your walks. Although we don't know how far you will get before someone stops you to tell you how adorable your Morkie is in this getup.
7. Best Fun Pattern: USP Cotton Vitality Leash
These pure cotton leashes by USP come in adorable patterns and are easy to care for because they're all cotton. They're soft and durable and comfy for you too.
8. Best Reflective: Fida Retractable Leash for X-Small Dogs
It can be difficult to find a retractable leash that doesn't overpower your little Morkie. We think the Fida Retractable Leash for Small Dogs will provide you will the stability and durability you need on a walk with out being to heavy for your pocket pup! It gives you 10 feet of retractable leash line and 7 great colors to pick from. The leash is embedded with a white highly reflective material so that your dog is properly seen at night. For your comfort you have an Ergonomic Anti-slip Handle to make sure you are always in charge. And as a bonus they have included a clip-on poop bag dispenser because no one wants to be that person!
9. Best Set: Aurkoala Dog Vest and Leash Set
Resist the urge to put your Morkie in your purse and make sure they get some exercise! You can still show off how adorable your little pup is by walking them in this leash and vest set by Aurkoala. You can use from five different color vests to order or at this affordable price you might want to purchase an assortment. No one likes being caught wearing the same thing twice! The harness is easy to put on an off and has no pull D-ring clips and a powerful buckle.
10. Best Extra Small: Pawtitas Extra Small Leash
This leash from Pawtitas is a great basic nylon leash that comes in tons of fun colors and is designed for extra small pups like Morkies. The single-piece of nylon is rip-stop and we love the funky 'Peace, Love, Paw' logo for just a tad of fashion style.
Where should I attach a leash to a choke chain style collar?
Choke chain style collars have two rings, one on each side of the collar. To close the collar, you should put one ring through the other. The leash should be attached to the outermost ring which controls the tightness of the collar, just make sure that the tension is right when you're walking your pet.
How to leash train a dog?
The key to any success with training is to rely on positive reinforcement and it's no different for leash training. Start by introducing your puppy to the accessories you will be using such as their harness and leash, so they won't get afraid when you start taking them on walks. Use praise and treats to cheer on your puppy after they sit still for you to attach the leash, and then step by step, for every little success- first walk in the yard, good behavior on the street, responding to commands.
Additional resources:

Published July 14th, 2021 12:00 AM