135 Views
January 9th, 2022 12:00 AM
We're committed to finding, researching, and recommending the best products. We earn commissions from purchases you make using links in our articles. Learn more here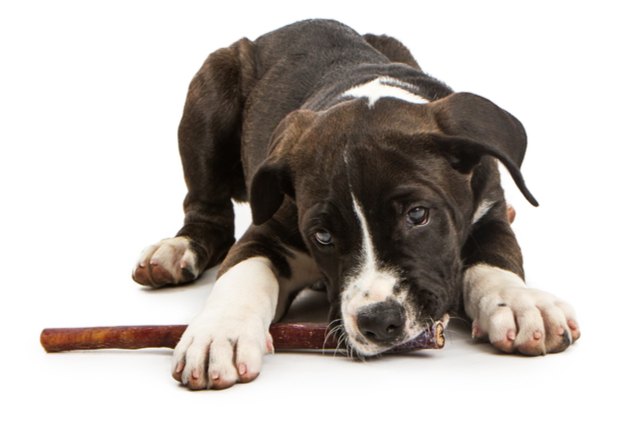 Bully sticks are natural, single-ingredient, protein-rich treats that keep your pet engaged and promote better dental health. This is our selection of the best bully treats for pooches of all shapes and sizes!
Keeping those chompers sparkly clean and your pooch entertained is not an easy feat – especially if you thrive to give your pet only natural, good stuff. Bully sticks help you achieve all of the above: made from beef muscle, they are single-ingredient, protein-packed chews that prevent the buildup of plaque and tartar while providing your doggo a tasty, fun challenge.
However, not all bully sticks are made alike – while many boast plenty of benefits, there are simply some that don't cut it. To help you make the right choice and pick only the safest, highest-quality treats for your pet, we've rounded up the best bully sticks on the market today.
1. Editor's Choice: Jack&Pup Premium Grade Bully Sticks
Your pooch deserves only the best, and these bully sticks are definitely top shelf. Made from grass-fed, free-range cattle that's been raised without any added hormones or antibiotics, these bully sticks are processed in a USDA human-grade certified and inspected facility, to ensure only the safest and highest quality chews are served to your pet. The multi-step processing includes boiling, roasting, smoking, and then drying in a slow process to create a naturally low-odor treat with a unique flavor. Suited for medium-strength chewers and 6" long, these bully sticks make an excellent treat for small and medium breed dogs.
Pros
Naturally low-odor
High-quality ingredients
Natural and healthy for your pet
2. Runner Up: Pawstruck Bully Sticks for Dogs
Consistent in size, packed with protein, and made from premium-quality materials, these bully sticks will give your pooch hours and hours of enjoyment. The sticks are sourced from free-range, grass-fed cattle, without any artificial ingredients, hormones, or chemicals in the mix. To boot, the bully sticks are made in a processing plant that adheres to the strictest of quality assurance standards and is inspected by a 3rd party body. There are even two size options available, 5" to 7" and 8" to 12" so there's a match for any pooch. Long-lasting and low-odor, these make an all-around great choice.
Pros
Uniform size and thickness
High-quality, safe ingredients
Two size options available
Cons
Not really as low-odor as expected
3. Customer's Choice: Best Bully Sticks Premium Thick Bully Sticks
Thick, challenging, and completely natural, these premium bully sticks will meet any dog's standards. Made from free-range, grass-fed beef, these bully sticks are extra thick and suited even for the more enthusiastic chewers as they can really take a pounding. There are also two different sizes to choose from to make sure you get the right match for your pet – 6" or 12". Free of any additives, hormones, or unhealthy chemicals, these tough chew treats will make a perfect reward for your pet.
Pros
Suited for all types of dogs
Natural and protein-packed
Two size options available
Cons
Quality control could be better
4. Best for Aggressive Chewers: Devil Dog Pet Co Premium Bully Sticks for Dogs
When you have a destructive chewer, it can be difficult to find a chew treat that really lasts – more than mere minutes. These premium bully sticks are super thick and tough and will give your pupper a challenge, even if they are used to powering through treats. The pizzle is ethically sourced from free-range, grass-fed cattle and contains no harmful ingredients. Only the best for your pooch! You can also choose between 6" and 12" long treats to accommodate small and big breeds both.
Pros
Thick and tough
Suited for small and big breeds
High-quality ingredients
Cons
Could be too tough for some dogs
5. Best for Puppies: Nature Gnaws Super Skinny Bully Sticks
Teething puppies can be a nightmare, and finding chew toys and treats durable enough to keep their teething pains at bay isn't always easy. These bully sticks, however, are specially made for puppies and toy breeds, to make sure that even the most petite of pooches can get to enjoy some long-lasting, tasty gnawing sessions. They are super skinny and 6" long so they are just big enough but not too challenging for the young doggos. The single ingredient treats go through a 5-step safety process including fresh raw material sourcing, irradiation, food-grade lab testing, hand packaging in the USA, and UV disinfection.
Pros
Extra slim and appropriate length
Finest quality and processing
Suited for puppies and toy breeds
6. Best for Small Dogs: Cadet Bully Sticks Dog Treats
Just because your dog is small doesn't have to mean that they don't get to enjoy the challenging chewiness of bully sticks. Sourced from the finest quality cattle and slow roasted to enhance the flavor and the aroma, these bully sticks will perfectly satiate the chewing needs of petite pooches. The bully sticks are between 4" and 7" long and come in 2 thickness options – regular and extra thick, to make sure that even the more enthusiastic tiny chewers can get a bite. Inspected and tested in the USA, these bully sticks contain no artificial colors, flavors, or fillers
Pros
Ideally suited for the needs of small to medium breed dogs
Different thicknesses available
Flavorful and healthy
Cons
Could be more long-lasting
7. Best for Large Dogs: Sancho & Lola's Bully Sticks for Dogs
Big doggos have big chompers, and that means that you'll need to choose their bully sticks accordingly – only extra large, jumbo sizes will match the needs of your pet. The pizzle has been harvested from beef farmed strictly in North and South American regions known for quality, free-range grass-fed cattle, and processed in the USA, without any fillers or artificial dyes and flavors. These bully sticks are 12" long and thick, so they will last a long time, even for a big pupper. And as there are multiple thickness options to choose from, you can even find a match for a big dog with destructive chewing tendencies!
Pros
Different thicknesses available
12" long and suited for big dogs
Premium quality
What Are Bully Sticks Made Of?
Bully sticks are a completely natural treat for your pet, made from bull's pizzle – or, in other words, penis. Yup, doesn't sound too appetizing, at least not to you, but to your pet, it's a delicacy. Bull pizzle is a high-protein muscle that is thoroughly cleaned, stretched, and twisted before final preparation, which can be drying, roasting, smoking, and so on. This single-protein treat is a rich source of essential amino acids which support your pet's overall health. You might cringe at the thought of your pooch nibbling on a penis muscle, but hey – it really is good for them!
Are Bully Sticks Bad for Dogs?
Because of the fact that bully sticks are so chewy, many people put them in the same category as rawhide and mistakenly think that bully sticks are bad for dogs, but the truth couldn't be further than that. Unlike rawhide, bully sticks are almost 100% digestible and good for your pet. They are natural, high in protein, and contain many essential nutrients your pooch will benefit from while they gnaw on their new treat. Of course, this is only true for bully sticks that have been made up to the high standards the US pet industry has: they have to be properly handled and processed to avoid the appearance of harmful bacteria, so it is important to go for trusted brands only. Don't get your pet bully sticks from dubious or unknown sources, and stick to locally made treats that have passed all the necessary inspections with flying colors.
Benefits of Bully Sticks for Dogs
Bully sticks make great natural treats for dogs, but what makes them so good? Here are the main benefits of bully sticks for dogs – and why so many pet parents opt for these treats.
An outlet for chewing instincts
Dogs like to chew. There's no wisdom to it – it's in their instincts and will keep them mentally engaged and occupied, providing a healthy outlet for their gnawing habits. Bully sticks have a unique texture that's hard and chewy, making them challenging enough even for the more enthusiastic chewers, and can give your pet hours of fun (and peace to you). Even teething puppies can enjoy bully sticks as long as they are over 6 months of age!
A single-ingredient protein source
Bully sticks are natural and packed with protein – the only thing that should be in a bully stick is beef muscle tissue. And beef muscle isn't just full of protein, but it also contains other essential nutrients, such as magnesium, calcium, essential amino acids, and vitamins that nurture and support your pet's overall health.
Maintain oral health
Bully sticks are natural chews that help keep tartar and plaque at bay, by mechanically scraping away the buildup from the teeth's surface. While your pet chews at these tough treats, they are making sure that there are no food leftovers that could lead to bacterial buildup. This is really important for maintaining dental health – and it doesn't take much effort, either.
Fully digestible and long-lasting
Unlike rawhide which can be dangerous if ingested, bully sticks are digestible and won't cause harm to your pet if they swallow small bits of it. To boot, they are much longer-lasting than some other chew treats for dogs, as the tough bull pizzle muscle is not easy to power chew through, no matter how much your pupper tries.
Cons of Bully Sticks
Even though there are many advantages to bully sticks, these chew treats are not for everybody. In some cases, it's best to skip over these meaty chews and opt for something more appropriate for your pet's size, age, or health status.
Rich in calories
If your pet is on a strict diet and has some extra fluff to shed, overindulging them with bully sticks can become an issue. Bully sticks are rich in calories, and overdoing it can cause weight gain and contribute to your dog's obesity issues.
Unpleasant odor
As is usually the case with natural treats, bully sticks can also have a bit of an odor to them, especially those that are minimally processed. The smell is not particularly pungent but it can be unpleasant, so make sure to be ready for some nose pinching, at least until you get used to it. Either way, your pooch won't be bothered by it – au contraire, the smell will only entice them!
Potential bacterial contamination
A big issue with bully sticks, one that often led to recall, is the potential for bacterial contamination. Bully sticks have to be cleaned, prepared, and processed properly to avoid contamination, and unfortunately, that's not always the case. To prevent this, buy only from trusted brands that uphold high standards of production and place a premium on hygiene and safety.
Choking hazard
Once a bully stick gets too small from nibbling and chewing – or if it's too small to begin with, it can become a choking hazard. A big dog or a greedy eater could snarf up the small bits and pieces and choke on them – so be sure to monitor them while they eat and take away the treat when it gets too small. Of course, it also goes without saying that you should always choose bully treats appropriate in size for your pet's breed and age.
We are committed to finding, researching, and recommending the best products. We earn commissions from purchases you make using the retail links in our product reviews. Learn more about how this work

Angela Vuckovic
A proud mama to seven dogs and ten cats, Angela spends her days writing for her fellow pet parents and pampering her furballs, all of whom are rescues. When she's not gushing over her adorable cats or playing with her dogs, she can be found curled up with a good fantasy book.
More by Angela Vuckovic
Published January 9th, 2022 12:00 AM