593 Views
August 27th, 2021 12:00 AM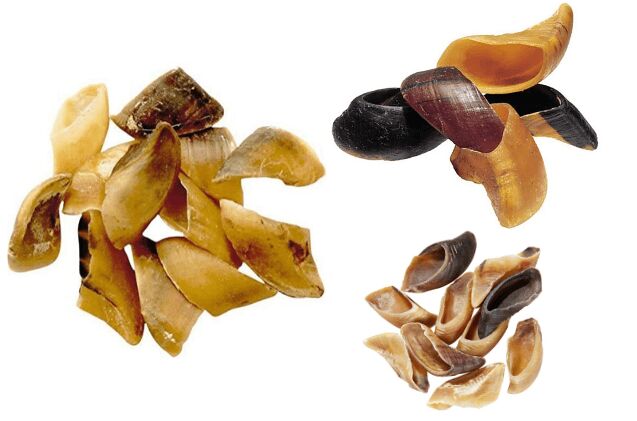 Cow hooves for dogs are a fantastic natural chew treat that protects your pet's oral health and gives them tons of fun. Here are some of the best cow hooves for dogs on the market – make your pick and make your pet's tail wag!
Those canines won't stay sparkly white on their own – dog's teeth need to be cleaned to remove plaque and bacteria build-up. That means you need to pay special attention to their dental hygiene if you want to prevent oral disease and a myriad of other issues that come with it. It's true that dogs have durable and healthy jaws for the most part, but if you neglect their health, the situation can become quite serious in no time. For many pet owners, dental treats and chew toys are the way to go when it comes to maintaining proper hygiene, as chewing can help clean tarter from their teeth. Additionally, chewing is something that dogs naturally enjoy doing, starting from their puppyhood.
Puppies with developing teeth have a need to chew on things in order to massage their gums and to relieve some of the pain that comes from developing teeth. As time progresses, this habit can remain even after the teeth fully emerge. Chewing is a way for a dog to combat boredom and anxiety, as well as relieve any accumulated stress. More often than not, though, the puppy chewing phase is a stressful time for the owner as your sofas, pillows, carpets and anything similar can get destroyed in no time if you fail to provide a proper outlet for them. Puppies (and some dogs) don't discriminate with what they chew on, so having proper toys and treats to occupy them is essential.
Today we're going in-depth about the popular dog treat that has a much more important role than a fun pastime – cow hooves! These natural treats are a great way to offer your puppy or adult dog something new and different to standard chewables, and something naturally attractive to them. By doing so, you can save your furniture from getting chewed up all the time, and not to mention your precious shoes. If your pet isn't too big on the whole natural treat thing, no worries. Cow hooves also come in some unique variants with flavored fillings – bacon, kibble, peanut butter, chicken, beef and so on. These make hooves tasty treats that will also benefit the dental hygiene of your dog, strengthening their gums and teeth – the yummy filling will entice your pet even more in case they're reluctant to chew on the hoof straight away. Either way, these treats are a great option to satisfy your pet's need for chewing and to protect both their jaw and your furniture. Take a look at the best cow hooves for dogs on the market today and pick something nice for your four-legged bestie.
1. Editor's Choice – Good Lovin' Cow Hoof Dog Chew
The Good Lovin' brand offers one of the best and least processed cow hooves on the market. Sourced from the farmlands of the USA, this hoof is thoroughly cleaned, non-greasy and offers a lasting chew with a flavor that has great longevity. Your pet can strengthen their jaw muscles and clean their gums and teeth at the same time with this healthy chew. These hooves are from an artisanal production, are minimally processed and contain no added substances whatsoever. Luckily, the price is also great for these chewies – these are a cheap and safe way to keep your pet's oral hygiene at an optimal level.
2. Runner Up – Barkworthies Cow Hooves Dog Chews
Barkworthies is a brand with a great motto: Naturally healthy, naturally happy. This is a fantastic way to describe just what cow hooves are all about, and this pack of 12 hooves proudly follows the company's motto. No additions, no excessive treating and no chemicals – these hooves are a straightforward and completely natural treat that promote great dental health and can entertain a chewy pup for hours at a time! Save some money and time with this bulk package of 12 hooves, which ensures you always have a chewy treat on hand when your doggo gets antsy and bored.
3. Best Bulk Buy – Amazing Dog Treats Cow Hooves
These dental treats are a surefire way to help keep your pet's gums and teeth in the best of conditions. Alapaste is one of the foremost brands in this area and boasts great attention to quality. Their hooves are USA made and sourced from free-range and grass-fed cattle. Another great thing that Alapaste offers is the choice of bulk packaging. If you're looking to buy for a longer period of time and save money in the process, you can find bulk offers in 10, 25, 50, 100, 250 and up. A great choice for all dog lovers, especially those with more than one pet in their family who love to nibble.
4. Best Smoked – Pet Center, Inc. Hickory Smoked Cow Hooves
These prime-cut hooves are a fantastic choice as they offer a twist to traditional cow hooves – they're all natural and smoked as well. The smoking process is safe and gives the hooves an irresistible scent that dogs will simply love. This pack of 10 can last you a while and is great for dogs of most sizes. The hooves boast up to 88% of protein in each, making them a great source of important nutrients for your dog.
5. Best Peanut Butter Flavor – Redbarn Peanut Butter Filled Cow Hoof
What better way to make a tasty, chewy hoof even more alluring? Well, with a tasty filling! Redbarn offers these peanut butter filled hooves, and they're bound to captivate your pet in a second. These are not only tasty, but also chock full of protein! Redbarn filled hooves has from 35 to 50% protein in it, which is fantastic for your pup. They'll be occupied for hours on end with this tasty treat, and continue to chew on the hoof long after the irresistible filling is gone. A great and affordable version that's hard to resist.
6. Best Cheese and Bacon Flavor – Redbarn Cheese n' Bacon Filled Cow Hooves
Here is another great offer from Redbarn – one of the best brands in the business. This big pack of 25 filled cow hooves is great to last you for a long time, and save you some money as well. These all natural, protein-rich hooves are filled with an irresistible filling that tastes of cheese and bacon. There's no way your pupper won't go crazy when they smell this tasty treat. And when the filling is gone – the hoof remains for prolonged fun. As always, Redbarn offers only the natural, USA sourced hooves with no additional treating and chemicals.
7. Best Unique Design – Top Paw Cow Rope + Chew Hooves Dog Toy
How about something unique? What happens when you skillfully combine a tough and entertaining rope toy with chewy, healthy cow hooves? Well, Top Paw found the answer and offers this unique accessory which is both a treat and a toy. This cute plush toy has added ropes with hooves attached. Your pet can enjoy hours of endless entertainment, while also keeping their jaws strong and healthy. The added ropes are great for tugging and chewing, while the cow hooves will make for an irresistible target. An affordable choice that can solve your search for both a toy and a cow hoof treat!
8. Best Durable – Ranch Rewards CHEW Hooves for Dogs
Ranch Rewards offers this quality pack of 10 cow hooves which are noted for their great durability. This brand boasts exceptional longevity that gives you the best bang for your buck. These are all natural, untreated cow hooves, and are a completely safe source of protein. The hooves have their natural texture and form, and each one is unique. Made in the USA and sourced from American farmlands, this 10 pack is both an affordable and high-quality product.
9. Best Traditional Flavor – Good Lovin' Traditional Beef Hoof Dog Chews
If you want to stock up for a longer period or have more than one avid chewer in your home, this 10 count, 14 ounce (400 grams) package of cow hooves of the best quality is just the thing you need. Made by Good Lovin' from cows of the American farmlands, these hooves are 100% sourced and made in the USA. The non-greasy hooves have a long-lasting flavor and are made for aggressive chewers – they'll be sure to withstand even the strongest of bites.
10. Best High-Protein- USA Bones & Chews Cow Hooves Dog Treat
Buying cow hooves for dogs in bulk packaging is a smart investment and can save some money in the long run. Luckily the brand USA Bones & Chews – one of the foremost in the production of these treats – offers a bulk of 10 cow hooves in this packaging. They're sourced in the USA and baked to create a delicious, long-lasting treat. Without any added chemicals, they're a high protein treat that helps remove the buildup of plaque and occupy your pet's attention for hours on end. Their high durability will withstand hours of even the most eager chewers out there.
Are cow hooves safe for dogs?
Cow hooves are among the most natural treats you can get for your dog. As they're a natural part of a cow, they have no toxic materials as is – and that alone makes them as safe as can be. Cow hooves are a natural, safe part of the animal, and have certain properties that make them tough, chewy and attractive to dogs. It's worth noting that there are no chemicals in a cow hoof even when processed (if it's from a trusted source). They're a standard by-product of the meat industry and are carefully cleaned and baked before being placed on the market. On the other hand, the cow hooves with a tasty filling are safe as well, but you should still check the ingredients of the filling just to make sure they're okay for your dog – it might be too many calories for your chubby doggo or something they're allergic to.
When is it time to take the hoof away from my dog?
With that said, a cow hoof can be considered unsafe when it reaches the end of its use. This happens when it becomes so chewed up that it splinters and simply turns into a big old mess. These splintered parts can potentially become an issue for your pet, and be uncomfortable on the jaws or the gums in the best case scenario. When this happens, you should simply throw away the hoof and replace it with a new one. Never let your dog play with it when it becomes too splintered – it could lead to all kinds of trouble.
Dog dental hygiene and benefits of cow hooves for dogs
Cow hooves, pig ears and similar natural chewy treats can greatly help keep your pet's oral health in optimal condition. Chewing on these natural tough treats prevents the accumulation of nasty bacteria, the buildup of plaque and keeps bad breath at bay.
But how do you recognize that your pet's dental hygiene is not up to par and that you need to make some changes to put things back on track? Well, while these things tend to occur late in their life, they can also affect middle-aged dogs, if you neglect their needs. One of the simplest indications that you can make some changes in your pet's diet and oral hygiene is bad breath. Some dogs have a barely noticeable mouth odor, but those with bad hygiene will have a very strong and unpleasant smell. Bad diet and lack of stimulation of the teeth can be the first cause of this.
The next clear sign is reduced appetite or a straight out refusal to eat. While the loss of appetite has other indications as well, it can also mean that your pooch's teeth or gums hurt, and something needs to be done. Of course, in these situations it's imperative to consult your vet to eliminate other issues that could be affecting your pet's appetite. The other signs of poor oral health can be a bit more obvious – a clear indication that your pup needs a visit to the dog dentist. Excessive drooling is also a clear sign something is off, as are bleeding gums, loose teeth, swelling on the gums around the teeth, as well as discoloration of the gums. Noticing any of these signs warrants a trip to the vet.
You can help prevent these issues with some smart steps that will benefit your pet's oral hygiene and overall health. Some things you can do are similar to your own hygiene as well! Brushing your furry friend's teeth can help greatly and it's the foundation for great oral health. Plaque is accumulated on their teeth and it only takes around 48 hours for it to turn solid – so don't forget to brush regularly. You can find great offers for toothbrushes and toothpastes designed specifically for dogs. The best option, of course, is to brush their teeth every day. But even if you can't manage that, a few times a week will be good as well. They might not like it at first, but in time they'll simply get used to it.
There are also unique oral cleaning wipes that you can purchase. These hygienic wipes have beneficial ingredients and are perfectly safe to use. Daily wipes will remove the accumulated bacteria and any food remnants, preventing further nastiness from developing.
Another very important aspect – one that goes beyond dental hygiene – is good food. If you can, avoid giving low-quality food to your pet, or anything they really should not be eating. Low quality, dirt-cheap treats can also be bad, the same as sugar is for us. And last but not least, you can help by offering chewing toys and treats. Rubber, rope or natural toughness – like cow hooves – will withstand the pressure of your pooch's jaws, and keep those gums and teeth stimulated, active and healthy.
While the benefits for your dog's dental health are the main advantage of cow hooves, it's not all they're good for. Cow hooves with treats can also be a great source of proteins and vitamins and can be a pretty good distraction for bored pets. Giving them one of these tasty treats can keep them happily chewing for hours on end, giving you time to focus on your daily tasks. And of course, a cow hoof comes in handy if your pooch enjoys nibbling on furniture and anything similar. Replacing that tasty chair leg with an even tastier cow hoof can be a good way to train your pooch not to nibble on things not made for nibbling. With a bit of patience and some tasty treats, you can quickly train your pup to chew only on the things you provide.
Additional Resources
We are committed to finding, researching, and recommending the best products. We earn commissions from purchases you make using the retail links in our product reviews. Learn more about how this work s.

Angela Vuckovic
A proud mama to seven dogs and ten cats, Angela spends her days writing for her fellow pet parents and pampering her furballs, all of whom are rescues. When she's not gushing over her adorable cats or playing with her dogs, she can be found curled up with a good fantasy book.
More by Angela Vuckovic
Published August 27th, 2021 12:00 AM