687 Views
Best Dental Sticks for Dogs
February 25th, 2022 12:00 AM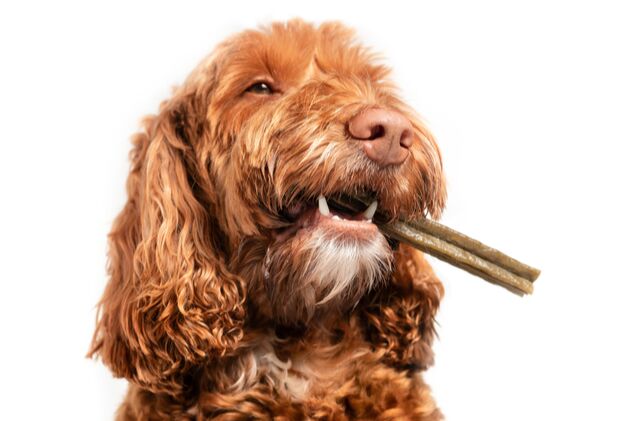 Dental sticks for dogs help your pet maintain oral hygiene while enjoying a yummy treat at the same time. Tasty, nutritious, and super fun, dental sticks for dogs come in all kinds of flavors and textures – here are some of our favorites!
Keeping your pet's teeth clean and healthy should be your priority – those sparkly canines won't stay sparkly on their own! Poor oral hygiene and inadequate diet can lead to many dental problems, and plaque, bacteria, tartar, and sore gums can seriously threaten your dog's wellbeing. While teeth brushing is the primary way to keep your pet's teeth clean, it's not the only one – dental sticks for dogs can greatly help with this. Ideally textured for removing plaque, and with all the added benefits to boost oral health such as breath-freshening ingredients, these sticks will be a true lifesaver for any dog owner. And if you're interested in the very best dental sticks for dogs on the market, read on!
1. Editor's Choice: iHeartDogs Brushy Sticks – Dental Treats for Dogs
One of the best ways to keep a dog's teeth healthy and to remove all that plaque and tartar is with dental sticks for dogs. iHeartDogs is a brand that aims to provide your pet with the best dental treatment – besides brushing. These daily doggo treats are made with tasty chicken and are completely free from grains and artificial ingredients. Delicious and efficient, these dental snacks are ideal for reducing the buildup of tartar, plaque, and bacteria, and they also freshen your pet's breath and make those chompers sparkly and white. It is a fantastic way to boost your pet's oral hygiene, and utilize healthy treats as rewards. Moreover, each purchase of iHeartDogs products helps donate meals for sheltered doggos across America.
Pros
Improves oral hygiene
Supports sheltered dogs
Easy to use
2. Runner Up: Pedigree DENTASTIX Treats for Large Dogs
Designed specifically for improving your pet's oral hygiene, these dental sticks have what it takes to make bad breath and plaque a thing of the past. This original recipe comes in a combination of three irresistible flavors: lean and yummy chicken, irresistible beef for a protein boost, and fresh mint whose scent will neutralize bad doggo breath. X-shaped and perfectly chewy, these sticks will be ideal for large dogs and will help keep their teeth sharp and shiny. Needless to say, DENTASTIX is ideal for removing that stubborn buildup of tartar, which can be a potential threat for so many pets.
Pros
Unique X-shape
Varied flavors
Freshens breath
Cons
Only suited for large dog breeds
3. Customer's Choice: Blue Buffalo Dental Bones Natural Adult Dental Chew Dog Treats
The saying "you're like a dog with a bone" didn't appear out of the blue – pooches really love gnawing on bones. Blue Buffalo kept that in mind and designed their dental sticks in the shape of tiny bones. Interestingly, this shape, combined with the unique texture of these treats, proved to be a fantastic benefit for oral hygiene. These chews help keep your pet's breath fresh and also clean the teeth, giving them their old shine back. This recipe is free from wheat and other grains and contains no by-product meats. Also included is parsley, which helps freshen the breath, as well as peas and blueberries, which can help with digestion. Bulky and chewy, these dental sticks are ideal for massaging the gums and stimulating healthy teeth development. Not to mention the removal of plaque and tartar! What is more, you can choose from several sizes from mini to large so you can find the perfect match for your pet.
Pros
Several size choices
Great for gum health
Added parsley for naturally fresh breath
4. Best Vet Developed: The Missing Link Smartmouth Vet Developed Dental Chew Treats
If your vet recommends it, it's bound to be good, but what is even better is when a vet develops it! These unique dental sticks boast many benefits – their formula helps with overall dental hygiene, freshens the breath, but it also helps with joints, heart, skin, and digestion. This is all thanks to the blend of vitamins that are included. This means that your pet won't just have great dental hygiene, but will also get an overall health boost. The unique ridged design is ideal for massaging gums, while the crunchy texture is great for removing the tartar. Needless to say, these sticks contain no GMO, no grains, no artificial colors or flavors, and are completely gluten-free. Full of the good stuff, these are more than dental sticks – these are healthy, nutritious treats that will benefit your pet in the long run. Those vets sure know what they're doing!
Pros
7-in-1 benefits
Unique ridged shape
Helps digestion
Good for the skin
Cons
Just for small breed dogs
5. Best Tartar Control: C.E.T. VEGGIEDENT Flex Tartar Control Chews for Dogs
Tartar is a real menace! If you neglect your dog's dental hygiene, plaque, tartar, and bacteria can quickly get a foothold in their mouth. And with that, the teeth will rot in no time. That's no good for a dog! These unique Veggiedent dental sticks are great for keeping tartar away and build-up under control. The special formula helps clean teeth, freshen breath, remove tartar, and also helps with proper digestion. These sticks are plant-based, which is a rarity and makes them super healthy and nutritious. One of the special ingredients is the Biovaflex eggshell membrane, a novelty substance that really helps improve joint health. Furthermore, these sticks contain probiotics, helping with digestion. But, of course, their main benefit is centered on oral hygiene. Regular use of these treats will ensure that your dog has shiny teeth, a fresh breath, and no plaque of tartar at all!
Pros
Contains unique biovaflex eggshell membrane
Contains probiotics
Great for oral hygiene
Comes in various sizes
Cons
Not ideal for dogs with sensitive tummies
6. Best Daily Dental Sticks for Dogs: Purina DentaLife Daily Oral Care
While your doggo munches on these treats with absolute joy, they in turn will do wonders for the teeth! This special design has a unique ridged shape and a crunchy porous texture that helps grind away that stubborn plaque and tartar, and also reach deep into the crevices and clean them. In fact, these dental sticks for dogs are scientifically proven to have a 57% average reduction in tartar buildup. And thanks to their unique density and texture, they are great for stimulating the gums and keeping oral hygiene at the top. You can choose from several package options, ranging from 18 to 60 treats, which allow you to adapt to your needs and keep these dental treats always close at hand.
Pros
A great choice of package sizes
Unique texture helps clean teeth
Great for the gums
Cons
Might be too big for small dogs
7. Best Grain Free: WHIMZEES Natural Grain Free Daily Dental Dog Treats
These unique "brushzees" from Whimzees are some of the best and most unique dental sticks out there! The first thing you can notice is the shape. It's full of twists and little ridges, which is crucial for cleaning your pet's teeth from plaque and tartar. Besides, the shape ensures a playful but effective way for your pet to clean their teeth – they certainly won't resist the curious shape of these brushzees! These dental sticks last 3 times longer than some of the classic ones and can clean the teeth up to two times better. All of this is thanks to a unique formula that keeps things natural, without any artificial ingredients. One per day keeps the doggy dentist away! A great way to keep your pet's breath fresh, and the teeth clean and strong.
Pros
Unique ridged shape
Lasts 3 times longer
Four different sizes to choose from
Cons
Can upset a more sensitive stomach
8. Best for Picky Dogs: Arm & Hammer Fruit Twisters Dental Treats for Dogs
Who said that dental sticks have to be bland, minty, or unappetizing? Arm & Hammer endeavors to change this for good with these unique fruity dental treats. This unique formula, infused with baking soda, is a superb way to keep teeth healthy while catering to the pooches with more "refined" tastes. These sticks come in several delicious flavors: banana, mint, blueberry, green apple, and strawberry. Each one will keep your pet's breath smelling fresh and dainty, but will also help remove the buildup of tartar and plaque, and stimulate the gums to keep the oral hygiene at its prime. Infused with baking soda, these sticks are 100% safe for dogs, and made with natural ingredients to ensure the optimal benefits for your four-legged friend.
Pros
Unique fruity flavors
Baking soda infused
Great twisted shape
Cons
Might be too soft for aggressive chewers
9. Best Breath-Freshening: GREENIES Fresh Natural Dental Dog Treats
For ages, mint has been the number one choice of flavor for keeping breath fresh and hygienic! And if it works – why change it? These unique Greenies natural dental sticks for dogs are proudly sticking to the minty tradition. Unlike some other treats that are crunchy and break apart, these greenies are chewy and gummy, allowing for a thorough clean of the teeth and longer massaging of the gums. Even so, they are very easy to digest thanks to highly soluble ingredients. Of course, natural spearmint is the chief ingredient here and helps kill bacteria and freshen breath. Greenies are natural, safe, delicious, and highly effective – and that is all that matters!
Pros
Chewy
Refreshing spearmint flavor
Easily digestible
Cons
Might be too chewy for senior dogs
10. Best for Puppies: Get Naked Grain Free Puppy Health Dental Chew Sticks
Sometimes, dental chews can help with more than just teeth. In fact, with added vitamins and nutrients, dental sticks for dogs can benefit everything from brain development to coat. These unique chewy sticks are ideal exactly due to this! Free from lactose, gluten, or grain, and made with chicken meat, these chews are some of the healthiest out there. But it gets even better: they contain calcium, Omega 3 and 6 fatty acids, as well as DHA. All of these are crucial for the healthy development of dogs, especially puppies. Add to that a bunch of protein that these chews have, and you'll ensure that your puppy grows up smart and strong. Of course, oral hygiene will be kept at the maximum: these chews help soothe sore gums and that nasty teething pain.
Pros
Full of vitamins and acids
Rich in protein
Great for oral hygiene
Cons
Not a hit with picky eaters
What are the Benefits of Dental Sticks for Dogs?
A dental stick is much more than just a tasty treat. Sure, it can be used as a daily reward or a snack, but it carries so many benefits besides this. Here are just a few main reasons why you should utilize dental sticks in your dog's daily routine.
Reduces plaque and tartar
Plaque, tartar, and bacteria can be such a nuisance – for both dogs and their owners. Without proper care, they can build up on your dog's teeth, rotting away the roots and causing a lot of pain and trouble. But dental sticks can help, thanks to their porous texture and special ingredients. In just a few weeks of use, you can see a significant improvement in levels of tartar.
Keeps breath fresh
Let's face it: doggo breath is not the best one out there. Doggos don't mind a smelly breath, but you certainly will. Thankfully, a lot of dental sticks can help with this. Most of them utilize minty flavors that are strong and long-lasting. That way, you can smooch your four-legged friend as much as you want – without inhaling that nauseating stinky breath.
Soothes sore gums
Both puppies and senior dogs can suffer from sensitive teeth, sore gums, and teething problems. If left unchecked, these issues can really affect your pet. Thankfully, many of these dental sticks will ensure that blood flow is returned to the gums, improving their regeneration and overall health. Try it and see! Your dog will definitely be grateful.
We are committed to finding, researching, and recommending the best products. We earn commissions from purchases you make using the retail links in our product reviews. Learn more about how this works.

Angela Vuckovic
A proud mama to seven dogs and ten cats, Angela spends her days writing for her fellow pet parents and pampering her furballs, all of whom are rescues. When she's not gushing over her adorable cats or playing with her dogs, she can be found curled up with a good fantasy book.
More by Angela Vuckovic
Published February 25th, 2022 12:00 AM