43 Views
November 13th, 2021 12:00 AM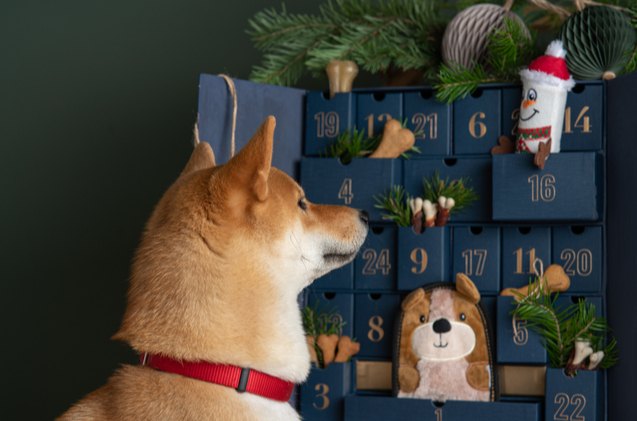 A dog advent calendar includes your pet in the holiday fun – filled with treats or tiny rewards, they give your pooch something to look forward to all throughout the month of December. Here is our choice of the best dog advent calendars to make your pooch jolly this Christmas!
The holiday season is fast approaching, and pet owners are always looking for fun ways to include their four-legged friends in the festivities. The feeling of anticipation and the joyous opening of advent calendar boxes or pouches each day in December brings a smile to your face, so why wouldn't it make your pet's tail wag, too? A dog advent calendar is a great way to share the holiday spirit with your pet, and to indulge them with a few unexpected treats – and we all know how dogs like those.
A dog advent calendar can either be pet-themed and customizable, so you can pick and choose what rewards to put in. Those can be small treats, toys, or maybe even cars with fun activities your pet likes – get creative! Alternatively, there are also dog advent calendars pre-filled with yummy treats and biscuits to get your pooch in the holiday mood without much hassle required. The choice is yours – and to help you make it, we've handpicked the best dog advent calendar options on the market. Enjoy and be merry!
1. Editor's Choice: DreamBone Holiday Rawhide-Free Collection
You just can't go wrong with yummy treats. Ever. All dogs love treats, and a dog advent calendar filled with yumminess is definitely something every pet can get excited about! DreamBone Holiday Rawhide-Free Collection dog advent calendar is a great choice for puppies that are teething or dogs that prefer chew treats over "regular" ones, as it is filled with only the best rawhide-free treats to get that gnawing going. There are 24 treats in the calendar (obviously), divided into 3 different types (8 of each). There are mini canes, mini bones with sweet potatoes, and mini chicken-wrapped sticks. Full of flavor, these treats are a healthy alternative to rawhide – they are enriched with vitamins and minerals, and help keep your dog's teeth clean and their breath fresh. And if that's not a reason to be merry, I don't know what is!
Pros
Includes treats that maintain good oral health
A tasty and yummy reward for a pet
3 variations to keep your pooch excited
2. Runner Up: Best Friend's Advent Calendar
So your pooch is a picky eater. A dog advent calendar filled with the same treat for each of the 24 days definitely wouldn't work for them – even if it was their favorite treat, chances are they'd get bored of it after a few days. Try offering variety instead – all yummy, all different. Best Friend's Advent Calendar features the classic advent calendar form, with 24 carton flaps to peek under and get your reward, but with a twist: not only are there dogs pictured on it, but the treats inside are made specifically for our canine friends. There are over 10 different flavors your dog will get to experience, including bacon, cheese, peanut butter, chicken, banana, apple, and the different combinations of these ingredients. In addition to the variety of flavors, the shapes and textures also differ from day to day, from crunchy cookies to soft chews. Everything your dog could want and more!
Pros
Many different shapes, textures, and flavors
Natural ingredients
Suited for dogs of all ages and sizes
Cons
Can be a bit chunky – you might need to break it into smaller pieces for a petite dog
3. Customer's Choice: Purina Beggin' and Busy Dog Advent Calendar Dog Treats Variety Pack
Let the countdown begin – some drooling and a lot of tail wags are all but guaranteed! Purina Beggin' and Busy Dog Advent Calendar Dog Treats Variety Pack includes a variety of rawhide-free treats that dogs find simply yummy: Beggin' Fun Size With Bacon and Cheese, Beggin' Fun Size Original With Bacon, and Busy Bone Minis. And it's easy to see why dogs go bananas for these, as there is real bacon and real pork in these tantalizing treats! For each of the 24 days, you get treats packed in convenient on-the-go packs so you can bring them with you on your walk – and not worry about them getting stale while you're counting down the days to Christmas. These treats are long-lasting and chewy, so they can be given even to the more enthusiastic chewer – as long as they are petite.
Pros
Packed in on-the-go bags
Three delicious types of treats
Rawhide-free treats
Cons
Contain artificial preservatives and ingredients
4. Best Customizable: S-DEAL Burlap Christmas Advent Calendar
In case your picky pooch doesn't like the treats usually available in dog advent calendars, or you want to personalize their holiday gifts as much as possible, you'll love this customizable dog advent calendar. It is just the calendar – no rewards in it – so you can go wild coming up with the best advent countdown rewards for your dog. S-DEAL Burlap Christmas Advent Calendar is made from burlap and will perfectly fit in with your traditional Christmas decor: the design features a black dog in a Santa hat, accented with snow, Christmas trees, and embroidered "Merry Christmas" around the scene. There are 24 spacious pouches sewn on, in your typical festive green, red, and white color combinations, in which you can place your treats of choice or any small goodies you like. This dog advent calendar measures 36" in height (an additional 9.5" if you count the string it hangs on) and 16" in width. The best part is that it is durable and timeless, so you can reuse it over and over in the following years!
Pros
A beautiful timeless design inspired by pets and Christmas
Spacious pouches can hold anything you want
Can be reused over and over again
Cons
Pockets will hold treats but are too small for toys or anything bulkier
5. Best Classic: Vermont Christmas Company Puppies Advent Calendar
Not all dog advent calendars are made for dogs per se – some of them are inspired by our four-legged best friends. If you are a fan of classic Christmas traditions and love doing things old-school but still want a way to show off how much you cherish your pet, Vermont Christmas Company Puppies Advent Calendar is the dog advent calendar for you. The classic approach to design means that there are no treats or gifts behind the flaps, but rather pictures and verses. Both the main calendar picture and the tiny pictures behind the flaps are retro dog illustrations that reminisce of times past, and the verses tell a story of a doggie Christmas – each verse is from A Puppies Christmas poem. Talk about nostalgia and holiday spirit! Made from sturdy cardboard, this dog advent calendar measures 11 ¾ " by 8 ¼ ".
Pros
Vintage-inspired classic design
Perfect gift for dog-lovers
Glitter accents
6. Best Wooden: Byers' Choice Dogs Christmas Advent Calendar
Sturdy, classy, and with a timeless dog-inspired design, this advent calendar is made to become a quintessential part of your future holiday celebrations. It is ideal if you want something that will last and will become a recognizable part of your family's Christmas tradition for years to come! Made from wood, this dog advent calendar features 24 beautifully painted dogs in a Christmas scene, with hand-sculpted and painted faces to bring out the expression in those adorable doggie characters. The festive scene hides 24 numbered doors that lead to small compartments in which you can hide rewards and treats for the Christmas countdown. Perfect for any dog-loving family! This dog advent calendar measures 15" by 18".
Pros
Sturdy and made to last
Beautiful holiday scene with hand-sculpted and painted accents
Reusable – can become a part of your Christmas tradition
Boxes are spacious enough for all kinds of treats
What's a Dog Advent Calendar?
An advent calendar is a part of cherished Christmas tradition – it is a preparation for the celebration of Christmas and lasts for the first 24 days of December. There are various types of advent calendars out there, but the gist is the same – each day, you open a flap, a box, or a pouch that contains a treat or a verse, or a small gift. Many families have upheld this tradition for generations back, so it's only natural that many pet parents want to do the same with their dogs. It's fun and gets you in the holiday mood – who wouldn't want their pet to be a part of something like that?
That's where dog advent calendars step in. In recent years, more and more people are looking for customized Christmas products that they can gift to their pets, and it's the same case with advent calendars. As a result, we now have various pet-friendly advent calendar options to choose from, the most common being a dog advent calendar filled with dog treats. Treats are small and all dogs adore them, so they make the perfect little reward in an advent calendar! There are different options to choose from, of course, from chew treats to handmade dog biscuits, all to make sure you find the right match for your pet's preferences. Of course, there are other kinds of dog advent calendars, as well, such as those that are refillable and made to allow you to fully customize the rewards that go inside of it. Lastly, there are also dog advent calendars that are designed for pet parents rather than their furbabies: these feature cute pooch photos or fun facts about dogs behind every flap. Nothing better than to start your day with a bit of puppy cuteness, am I right?
Can I Make a Dog Advent Calendar Myself?
Even though dog advent calendars have become increasingly popular in the last few years, the selection is still scarce, and many pet parents decide to go the DIY route to really make something tailored to their pet's needs and their own budget. Making a dog advent calendar is easy, fun, and gives you greater freedom to really choose each of the 24 rewards – after all, who knows better what gets your pet's tail wagging than you do?
The first step is to get the calendar itself. You can buy premade fabric, cardboard, or wooden advent calendars with empty slots you can personalize with pet treats or toys. But if you want to make one from scratch, you can always sew one – it takes basic skills and scrap fabric, so it will be inexpensive and beginner-friendly. Alternatively, if you are not sewing-savvy, opt for a more creative approach, such as our DIY advent calendar for pets made with just a few pieces of string, some cardboard, clothespins, and ziplock bags. It's quick, it's cheap, and it looks great – and you don't need any skills whatsoever to make one in under an hour.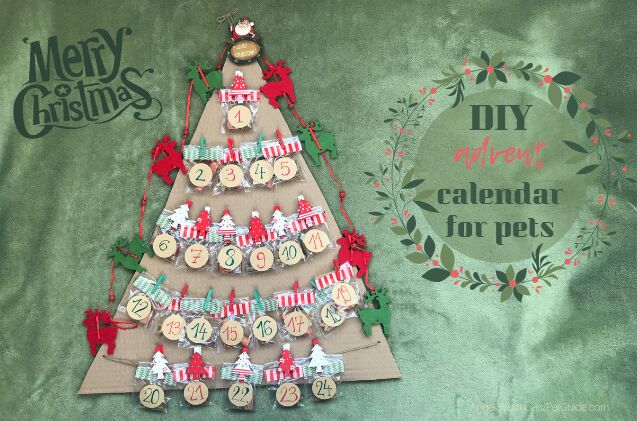 Once you figure out what will serve as your pet's advent calendar, it remains to decide what to stuff it with. The go-to choice for most is dog treats. Not only do dogs adore them, but they are usually small and can be easily stored in an advent calendar. Whether it's tough chew treats, crunchy biscuits, or bite-sized training treats, the choice is yours! An alternative approach is opting for small toys, but that can be pricey and impractical, so advent calendars with dog toys are rarely seen. You can also be creative and write fun activities your pet loves on pieces of paper and hide them under the flap – e.g. an hour of playing fetch, a hike in the woods, or cuddling on the sofa. The goal is to reward your pooch and the way you choose to do it is entirely up to you!
We are committed to finding, researching, and recommending the best products. We earn commissions from purchases you make using the retail links in our product reviews. Learn more about how this works.

Angela Vuckovic
A proud mama to seven dogs and ten cats, Angela spends her days writing for her fellow pet parents and pampering her furballs, all of whom are rescues. When she's not gushing over her adorable cats or playing with her dogs, she can be found curled up with a good fantasy book.
More by Angela Vuckovic
Published November 13th, 2021 12:00 AM