113 Views
August 10th, 2021 12:00 AM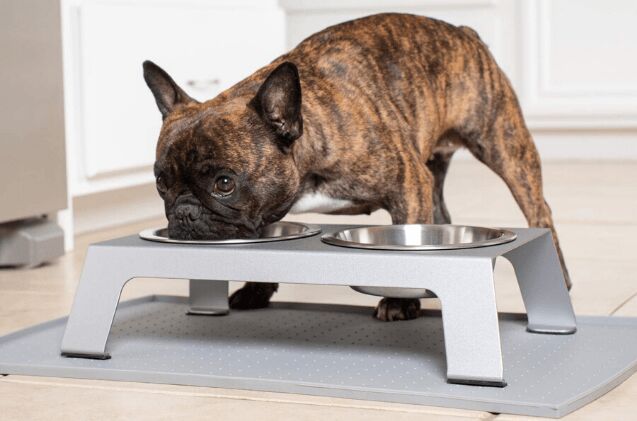 Dog bowl stands make sure your pooch is comfortable while he eats–and that your floors remain spotless at the same time. Take a look at the best dog bowl stands on the market and find out what are the benefits to raised dog bowls in the first place.
When we feed our pup, we don't really take into account the way in which they eat–we are just glad that they are fed and happy. But once you stop and think about it, you can understand that common bowls could certainly do with a bit of imaginative re-designing. There are a lot of important aspects that are related to the position from which your dog is eating his food. This is especially true for the large and tall breeds, who must lower their heads quite a lot when they eat–and that can hardly be natural or comfortable.
But elevated feeders are not for every dog. All breeds are different, and eating from a lower point is simply natural for some of them. Still, some things are certain. Elevated food bowls are a great aid for elderly dogs and those that suffer from arthritis and neck pain. Not having to stoop down will give them great relief and increase their appetite. It is also said that bowl stands help minimize gas and bloating in dogs, and can even be prescribed by a vet in such cases. And, as an added bonus, they can help minimize the mess and keeping the feeding area a tad bit cleaner.
Benefits of Dog Bowl Stands
While it is clear that dog bowl stands are not necessary per se, or good for several select breeds, there are still some obvious benefits that need to be considered. This particular feeding position does great things in promoting natural and relaxed digestion, and easing the tension in the neck and shoulders area–a thing which tall dogs are certain to experience. But on the other hand, if you have a teeny tiny pupper who's hardly tall at all, a raised bowl will simply not be needed.
On the other hand, some dog bowl stands are designed in a unique way that will help with the mess–in case your furry friend is a really sloppy eater. And we all know that there is always bound to be crumbles everywhere and ecstatic munching. That's where these nifty bowls come in handy. Most of them have ergonomic, elevated designs with special raised flaps that will contain the mess within the bowl and far from the floor. This ensures a hygienic and clean environment that, we can all agree, most owners have troubles with.
But choosing a proper dog bowl stand can be tricky. Your vet might have given you the green light to acquire one, but you can't really decide on the model. That's where we step in. Our list of top 10 best dog bowl stands will help you familiarize with all the different designs and choose the one that best fits your needs and more importantly – the needs of your pupper. Because nothing is more important than the comfort and health of your furry companion!
1. Editor's Pick: BestVida Sparks Pet Feeder
No one said that dog bowl stands can't be efficient and look stylish at the same time! This fantastic elevated stand from Best Vida is the perfect example. With an elegant, wrought iron base with a beautiful curving design, it can easily fit inside of every home as a tasteful addition to the environment. It has two microwave-safe large bowls which come in a lovely deep red color. The Sparks feeder comes in two versions–small and large. And best of all–the bowls are dishwasher safe! This design perfectly combines modern and efficient, but it does come with a slightly heftier price tag. But even so, it stands out from the crowd as a fantastic bowl stand.
2. Runner Up: Y YHY Ceramic Bowl Stand
This pair of ceramic bowls is another excellent example that raised bowls can be practical and cute as well. This elevated stand features a unique curved design of the sturdy iron frame, in which are set two ceramic bowls with a pretty paw print on the bottom. This is a perfect choice for puppies, small dogs, or even cats. It also includes four non-slip rubber feet which will minimize the chance of slipping along smooth surfaces. The bowls are made from FDA approved ceramic, which is microwave and dishwasher safe. An affordable and truly excellent choice!
3. Best Modern: PetFusion Elevated Dog Bowl
PetFusion offers a truly modern and inventive design that looks minimalistic–but it is far from that. This elevated dog bowl stand is made entirely out of anodized aluminum, with a durable, stout base and two sanitary aluminum bowls. It also features four non-slip rubber pads on the legs. This aluminum stand boasts several key advantages – it is lightweight but still durable, very easy to clean, resistance to corrosion, and has a sleek, modern look. It comes in two sizes and its price range is somewhere in the middle.
4. Best Adjustable: Pet Zone Designer Diner
Adjustability plays a big role in pawrents' choice of elevated bowl stands, as it can really give you an upper hand when you need to conform to the specific needs of your pet. The Designer Diner offers three adjustable positions – for small, medium, and large dogs. This option makes it great for starting out early–as your puppy grows, you can adjust as well, keeping true to the dog's size. It is made out of thick, durable plastic, and comes with two stainless steel bowls. One nifty feature is the option to tuck away the legs of the stand, which allows you to hide it out of sight when it is not in use. And best of all? It's cheap.
5. Best Simple Design: OurPets Comfort Diner
The Comfort Diner features a simple and straightforward design and has a great balance between quality and price. It has a lot of modern features and a robust base that is not easy to flip over. The base is made out of thick plastic and features two recessed stainless steel bowls. You have the option of placing a bottle in one of them, which is an auto-fill water bowl. Great for when you're going out or working long hours! It is surprisingly easy to clean and comes in 3 different sizes. But the most surprising feature is its feather-light price tag.
6. Best Elegant: Loving Pets Black Label Collection Layton Diner for Dogs
This stylish stand is another proof that you can have a lovely design that is practical as a feeding bowl but fits in with the furniture with ease. The first thing to notice is the cast iron stylish base with a curved design. It contains two stainless steel bowls, and that's about it–this is a straightforward and simple feeder, but quite efficient at that. One thing it lacks is rubber feet to prevent slipping, but this is easily remedied. Also, it is easily one of the cheapest stands on the market, so if you are on a tight budget, this is the one to go for.
7. Best Wood: FOREYY Raised Pet Bowls
If you are into unique and quirky designs, this stylish bamboo stand might be for you. It features a simple but efficient design, with complete water resistance and anti-slip feet. It is reinforced and quite durable, with two recessed stainless steel bowls. Although it is made from bamboo, it is surprisingly easy to clean, and also sturdy and stable. It comes in three separate sizes, and its all-natural wood look can really look fabulous in certain interiors.
8. Best Basic: IRIS Pet Elevated Feeder with Stainless Steel Bowls
This modern-looking raised stand is one of those partially adjustable feeders and features a straightforward design. The base is quite tall, and made of durable plastic. The unique feature here is the really high legs, which can be detached to make the feeder easy to store but also suitable for small dogs or cats. One thing that might be an issue with this tall design is that larger breeds could flip it over with ease. But even so, it is a quality design worth a try.
9. Best Neat Design: Neater Feeder Express
This remarkable feeder is one of those dog bowl stands that are made to minimize the mess your dog makes, and keep your home clean and spotless. This high-quality design really has a lot of elements that stand out. The base is made from two levels–the upper has high walls that contain the spilled food, while the spilled water drains into the lower part. It is made from durable plastic and it is very convenient to use. While it might not be suited for large and tall dogs, it is great for all the smaller ones.
10. Best Storage: IRIS Small Elevated Feeder with Airtight Storage
If space is tight and you need to save every inch of storage in your tiny house, then this unique feeder from IRIS is a godsend. It is a two-in-one design, featuring two stainless steel bowl at the top, while the rest is an airtight, high-quality storage box. The bowls are contained in the lid. This allows you to store your pet food or something similar inside this spacious airtight box, and use it as an elevated feeder at the same time. Its design is also impossible to flip or move around, so it caters to the large dogs easily. With a light price tag and a space-saving design, it's easy to see why pawrents are going bananas for this raised bowl stand.
Features to look for in dog bowl stands
The fact that the bowl is elevated shouldn't be the only thing of interest in dog bowl stands. There are several key features to look out for–we are going into all the bits and pieces and the important details that can really define a good design and make a bowl stand out among the competitors.
Double Bowls
Depending on your feeding setup, you might want to look up elevated bowls that have either a single bowl or a pair. All the things that we said about feeding, naturally go for drinking too. That's why your best bet is two have both food and water on a raised stand. And as water drinking is equally as messy as eating, you can opt for a stand that minimizes mess and solve several issues with a single purchase!
Adjustable Height
As we said, the raised bowl stand needs to perfectly relate to your dog's height. Too low or too high, and it just won't have the proper effects it should. To solve this issue, some brands are offering stands with adjustable height, so you don't have to worry about finding the perfect fit. Simply adjust the legs to an optimal height for your dog, and you're all set.
Mess Protection
If you are tired of scrupulously cleaning after your dog every day, after they are done making a mess all around their feeding bowl, you can easily solve your troubles by purchasing a raised stand with the special protective covers. These have a specific design that limits head movement and raised walls that will contain the spills to the bowl and nowhere else. These are a godsend when it comes to keeping your home clean and healthy. And the limited movement of the head slowly trains your dog to focus on the food and not on the things around him.
Anti Slip Mat
Most of us feed our dogs in rooms that have flat and slippery surfaces–tiles, hardwood floors, laminate, or vinyl. This can be a tricky thing when using a standard raised bowl, as they will have the tendency to slip and move around – especially if the dog is a ravenous eater. If this happens, it really defeats the whole purpose of a bowl stand. That's why it is a good choice to invest in an anti-slip mat–a rubber or foam addition that will keep the bowl secure and in place.
Non-Flip Design
Our four-legged friends are inquisitive by nature, and they simply love to explore things with their long snouts. And it can happen that they will become a bit too excited about their raised bowl stand, and in their investigation, they will flip it over. To avoid this, opt for a stand that has that specific design without legs. This single-piece design cannot be flipped, and with the added rubber stands, it will remain at the spot.
Material
Having clean bowls is a must for all responsible owners. But sometimes, having to clean a raised stand with too many grooves, patterns, nooks, and crannies can be challenging. That is why you should pay attention to the design when making your choice. Plastic can be okay, as long as there are no excessive features that will make cleaning difficult. If budget is not an issue, you can go the extra mile and invest in an all-aluminum stand which is hygienic, minimal, and extremely easy to clean. Keeping the bowls and the feeding area clean is a big part of having a healthy pet.
Are dog bowl stands really needed?
This question has been asked many times, and the answers tend to be quite simple and to the point–generally no, they are not. But that is only if we are looking at the bigger picture. In natural conditions, a dog won't really care whether he is eating from the floor or from a table–it's food that is important. But that does not mean that comfort and well being are guaranteed.
So this means that a dog bowl stand can be a specialized item that is designed to help your pupper with certain health problems. It can either help minimize the issues or even prevent them if the problems are spotted on time. Your best source of advice here would be your vet.
Dogs with existing conditions such as arthritis, stiff neck, and in general old age, will certainly benefit from a raised food source, and your vet is sure to recommend it. Furthermore, you can take a preventative step and use a raised stand from an early age, especially if your dog is tall. You can secure a healthier old age for your pet by limiting the exertion and the pressure on the neck and shoulders, which is certainly present when eating from the standard floor bowl.
Another question that frequently pops up in regard to raised stands is bloat. While some say a stand will help curb this gastric issue, others say that it can cause it. The truth is that bloat is usually caused by a different thing–overeating and fast eating. You'd do well to try and train your pup to eat slowly. But some say that if they are eating from an easier position – such as a raised stand – dogs will tend to eat much faster, which can lead to bloat. The general rule is that those dogs which have large and deep chests are not going to benefit from a raised stand. You can also make sure to give your pet smaller portions and to ensure proper digestion, as giving them too much will lead to overeating and bloat. Luckily, bloat is treated easily if it is spotted on time, so don't forget those regular vet check-ups!
Can I make a dog bowl stand by myself?
If you are handy with tools and willing to put in some work, you can make a dog bowl stand by yourself fairly easily. Making a DIY dog bowl stand allows you to fully customize it to suit your pet's needs as well as your style preferences and budget. To make one, you will need the right tools, wood, and pet-safe paint if you want a specific finish to match your interior or to protect the wood from the inevitable wear and tear. There are plenty of tutorials on YouTube that could help you figure out the specifics of the process even if you're a novice.
We are committed to finding, researching, and recommending the best products. We earn commissions from purchases you make using the retail links in our product reviews. Learn more about how this works.

Angela Vuckovic
A proud mama to seven dogs and ten cats, Angela spends her days writing for her fellow pet parents and pampering her furballs, all of whom are rescues. When she's not gushing over her adorable cats or playing with her dogs, she can be found curled up with a good fantasy book.
More by Angela Vuckovic
Published August 10th, 2021 12:00 AM