333 Views
January 23rd, 2022 12:00 AM
We're committed to finding, researching, and recommending the best products. We earn commissions from purchases you make using links in our articles. Learn more here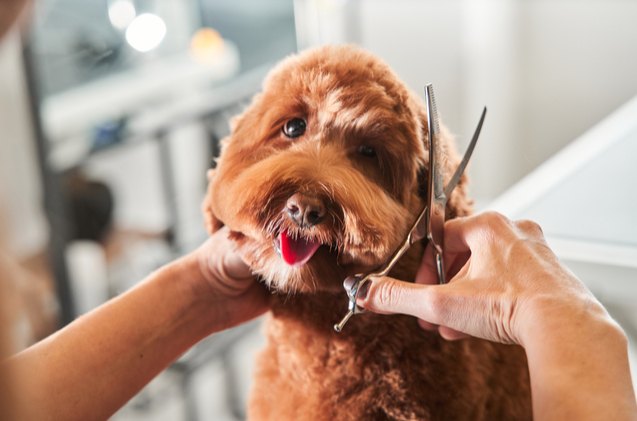 A dog grooming kit can help you get professional salon-quality results without having to go to the groomers. These are our favorite dog grooming kits on the market – read on and make your pick!
Your pet's coat needs to be kept tidy and good-looking – no matter what breed they are. Short or long hair, every dog needs grooming from time to time. It is great for maintaining good looks but is also paramount for proper hygiene and healthy skin and coat. However, going to a professional grooming salon a few times per year (or even more often) can make quite a dent in your budget, not to mention it can be a big hassle. That's why many owners try their hand at grooming at home.
For quality home grooming without any trouble or mishaps, every owner needs a proper dog grooming kit. These kits have everything you need to transform your dog from a furry ball of hair into a dashing and elegant pet. With just a little bit of practice and the right tools, it's possible to get professional grooming results from the comfort of your home. However, not all dog grooming kits are the same. There are different designs and different tool combinations, so it can be difficult finding one that suits your pet's exact needs. To make your search for the perfect dog grooming kit easier, we've rounded up the 10 best dog grooming kits on the market – for pets of all shapes and coat types.
1. Editor's Choice: SMINIKER Professional Rechargeable Dog Grooming Kit
Sminiker's dog grooming kit is designed to bring a professional quality grooming experience into your home. With all these goodies included, you can transform your pet into the charmer that lies beneath all that messy coat. The kit's central piece is a heavy-duty professional cordless clipper with a titanium acute-angle blade. With this gadget, you can realize any grooming idea that you come up with. Even the most matted fur won't stand a chance against this superb clipper. Additionally, included in this kit are four guiding combs for different trim levels, scissors, combs, and a nifty nail clipper. This basic grooming kit offers everything you might require to keep your pet pretty and tidy at all times.
Pros
Good battery life
Heavy-duty gear
Professional quality
Cons
A limited number of clip guards
2. Runner Up: ElectriBrite Clippers and Grooming Kit
When you really want to step up your grooming game, look for a grooming kit that puts the concept to a whole new level. ElectriBrite's offer is nothing short of spectacular. These professional clippers are full of great features, such as the self-sharpening ceramic blade, and an adjustable cutting level. To make the grooming experience fully covered, this kit includes a number of added tidbits. A hairbrush can help prepare the coat for trimming, while the double-headed comb and scissors will help with the fine detailing. Of course, four guide combs are included as well, and you also get high-quality nail clippers to keep those claws in check. With all of these goodies at your disposal, you keep your pooch in top shape – from paw to tail.
Pros
Sleek clipper design
Double-headed comb
Self-sharpening blade
3. Customer's Choice: WAHL Lithium Ion Pro Series
Nothing says "professional grooming" better than WAHL. This high-quality brand is reliable and offers this all-in-one dog grooming kit. Their pro clipper is powered by a heavy-duty lithium motor, which can cut through the toughest fur. It also boasts self-sharpening lithium blades that ensure superb precision during grooming, leaving almost no margin for error. And as this is a cordless design, it makes snagged cables a thing of the past. The kit also includes four professional, different-colored guide combs, a two-level comb, professional scissors, and a nifty carrying case to keep everything in place. The battery has a 2-hour run time, but if you run out of power before you're done, you can opt for a 15-minute quick charge to get you back on track quickly.
Pros
Professional grooming experience
Rechargeable
Low noise
Cons
Battery run time could be better
4. Best on a Budget: DIFUNINA Dog Grooming Kit
If you are getting ready to start your groomer's journey, it's best to start out with the basics. This reliable dog grooming kit keeps it simple and offers you everything you might need to start practicing without breaking the bank. Four different guide combs, nail clippers, file, scissors, and combs – everything is there! Of course, included is a powerful clipper with a rechargeable battery. It has a precision, high-quality blade, and five blade adjustment options. This, in combination with the guide combs, can help you trim the fur to whatever level you want. The clippers also boast a low noise output so they won't scare off skittish pets. A true all-in-one pack that covers the essentials while being affordable to boot!
Pros
Low noise
Adjustable blade distance
High power motor
5. Best Scissors Kit: Useeland 8-piece Stainless Steel Grooming Kit
Traditional grooming is all about scissors. Where powerful clippers are great for quickly eliminating swaths of fur, scissors are instead great for precision work and greater control. Professional groomers who want a great scissor grooming kit need not look any further. This kit has 8 unique pieces that cover every possible grooming scenario. These scissors are made from high-quality stainless steel and are extremely sharp. They also boast great durability and will keep their edge over time. For various grooming tasks, you have various scissor types: scissors with a thinning blade, curved scissors, and classic big and small grooming scissors. Also included are additional goodies to complete this kit, such as a carrying case, comb, and a cute paw-shaped charm. All scissors are fitted with soft plastic inner rings to keep your fingers comfortable, and they also have a rubber stopper that will prevent that annoying click-clack sound. Every aspiring groomer needs to have this kit close at hand.
Pros
Well made
8 piece kit
Covers the basics
6. Best for Nails: Primens Dog Nails Grooming Kit
A lot of groomers focus only on the coat. But what about the nails? Nail trimming is a crucial part of professional dog grooming, and this nail grooming kit is a must-have if you want to make an easy task out of nail trimming. Using the traditional nail clippers can be tricky, and this trimmer makes everything dead easy and quick. It boasts a rechargeable Lithium 1500mAh battery, and three different power levels to boot. A circular nail grinding head makes trimming a breeze. One great design feature here is a protective cap that collects nail dust – it won't fly about the place anymore. At the tip is a special LED light, which helps you get a better view while you work and prevents you from removing too much nail matter. This grinder is great for pets of all sizes and is an essential part of every dog grooming kit.
Pros
Easy to use
USB-charged
Ergonomic handle
7. Best for Thinning Hair: GLADOG Professional Grooming Scissors Kit
Every groomer needs to have a variety of scissors at their disposal. You can't rely entirely on grooming clippers – some fine detailing requires a traditional touch. These professional scissors are made from high-quality stainless steel – each pair of scissors has an adjustable screw that helps with tension adjustment, and all tips are rounded. This helps prevent accidental poking of your pet. All scissors also have a finger rest, rubber linings, and a rubber bumper. This grooming kit includes several unique scissor designs, including the curved blade, a thinning shear, and a classic design. All that you need for those finishing touches to be absolutely perfect!
Pros
Great ergonomic design
Nifty carrying case
Adjustable screws
Cons
Curved scissors could be sharper
8. Best Cordless: YABIFE Dog Clippers
Having a cordless, rechargeable pair of clippers in your dog grooming kit can make everything so much simpler. No more tangled cables and limited reach. This Yabife grooming kit covers all the essentials and boasts great clippers with superb battery life. The clipper has an extra sharp quality blade with 5 levels of adjustable blade distance. The grooming kit contains an amazing 10 guiding combs, which allows you to really explore the limits of dog grooming. Also included are quality steel comb and scissors, and everything is packed into a fantastic carrying bag. This allows you to keep everything neat and close at hand. This grooming kit is great for both beginners and pros, and thanks to the great clippers and a variety of guide combs, grooming becomes a child's play.
Pros
Good battery life
Waterproof
Handy carrying bag
9. Best for Complete Care: AngFan 16 piece Dog Grooming Kit
This incredible 16-piece dog grooming kit is a one-way ticket to transform you into a pro pet groomer. Great for regular home use, AngFan's grooming kit covers all the essentials – and then some! With sixteen pieces in this kit, it really leaves little to be desired. Of course, the main tool is the great cordless rechargeable trimmer. It has a superb quality blade and five unique adjustment levels. The kit contains eight guiding combs for various trim lengths, and also includes regular additions such as scissors, combs, brushes, and nail clippers. With all of these at your disposal, you will have no issue keeping your dog looking their best, both when it comes to their coat and their nails.
Pros
Extensive grooming kit for coat and nails
Cordless and rechargeable
Great for basic use
Cons
Can struggle with long hair
10. Best for Long Hair: PetLab Dog Clippers Professional Dog Grooming Kit
Old-school corded clippers are quickly getting out of fashion. Cordless is the new trend, and it really makes grooming that much easier. Without a cord, you can reach all those tricky places and have an easier time around your pet. This premium dog grooming kit boasts a fantastic clipper with a powerful rechargeable battery and the ultimate cordless design. Titanium and ceramic dual blade ensures smooth cutting – no matter the fur thickness or length. Of course, this grooming kit would not be complete without all the assorted goodies that come with it. To make the grooming even better, you can use two unique pairs of scissors – one classic, and another with thinning shears. Four guide combs help with the trimming levels, while a pair of nifty nail clippers and a nail file ensures that your pet's paws are also kept tidy.
Pros
All-in-one kit
Great battery life
Professional blade
Cons
Could use more guiding combs
What are the Advantages of a Dog Grooming Kit?
Every dog owner knows the issues of rapidly growing dog coats. This is especially noticeable with furry breeds such as poodles and huskies. Hair springs up in no time! And if you come to depend on professional dog grooming services, keeping things trim and tidy can become quite a burden and a big cost. But there's an alternative.
With a good dog grooming kit, you can reap a lot of benefits. The first is the money-saving aspect. By taking things into your own hands – figuratively and literally – you can ease the load on your wallet. Some dogs require grooming every few weeks and it can take a toll on the budget. By using your kit for a regular trim, you can make this a thing of the past. Or at least stretch the time in between the visits to the salon.
Another advantage is the versatility. Dog grooming kits pack a variety of useful tools and accessories. With all of them at your disposal, you can take your grooming skills to a whole new level. This goes for both home use and salon use. Professional dog groomers with salons can also benefit from these kits. Having the proper tools in your arsenal is a true game-changer.
Of course, one of the main advantages of these kits is their emphasis on a cordless design. This means that the clippers included in the kit rely on a rechargeable battery. This innovation dispenses with the cords. And in turn, this means that you won't be limited by the length of the cord. Now you can approach grooming from any angle you want – with zero worries.
Professional dog groomers can rely on commercial dog grooming kits to replenish their arsenal and explore new tools. And regular dog owners will benefit from having one of these kits in their house. You never know when your pupper might require a bit of a touch-up!
We are committed to finding, researching, and recommending the best products. We earn commissions from purchases you make using the retail links in our product reviews. Learn more about how this works.

Angela Vuckovic
A proud mama to seven dogs and ten cats, Angela spends her days writing for her fellow pet parents and pampering her furballs, all of whom are rescues. When she's not gushing over her adorable cats or playing with her dogs, she can be found curled up with a good fantasy book.
More by Angela Vuckovic
Published January 23rd, 2022 12:00 AM