607 Views
Best Dog Steps and Stairs for Pets With Mobility Issues
We're committed to finding, researching, and recommending the best products. We earn commissions from purchases you make using links in our articles. Learn more here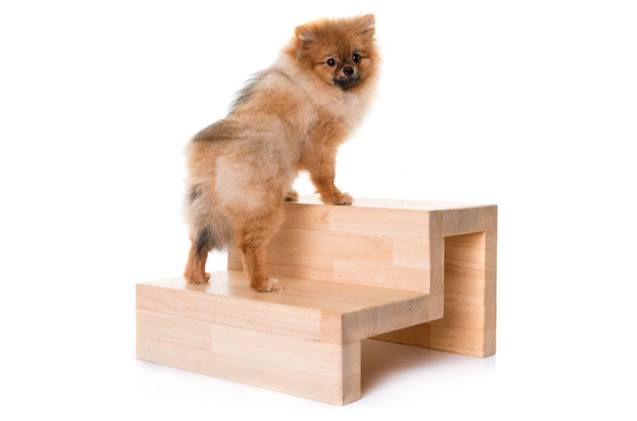 Dog steps and stairs can be an invaluable tool to help a senior dog get around the home with less difficulty, but they can also be a necessity for pooches in their prime–especially if they happen to be pint-sized.
Senior dogs often suffer from arthritis, joint, or back issues that prevent them from jumping and running with the same ease they used to, which directly influences which spaces are accessible to them. Your aging best friend might have loved to snuggle with you on the sofa as you watch TV, but his aching bones might make this impossible or very painful now. Small breed dogs might as well climb a mountain if you expect them to sleep with you in a bed- and when you don't help them up, they'll whine and protest being left out from sofa snuggles or spooning while you sleep. As a result, they do need a bit of help from you to make your shared home more welcoming–and those coveted spots easily accessible to your furry companion. That's where mobility aids come in handy. Dog steps and stairs can be an invaluable tool to help a senior dog get around the home with less difficulty, but they can also be a necessity for pooches in their prime–especially if they happen to be pint-sized. After all, getting up and down from furniture can be a challenging task for any dog, let alone one that has mobility issues.
Even when it doesn't seem like your pampered pooch has any trouble getting his furry but up on the bed, the process of constant jumping can put an unnecessary strain on their joints and put them at risk for a back injury. So to prevent a myriad of health issues down the way, or at least slow them down, it doesn't hurt to minimize the movements that can be the cause of them with dog steps and stairs, where applicable.
Dog steps and stairs come in different designs, sizes, and with different price tags attached to them. This can make the choosing process feel overwhelming, so to make it easier for you, we've put together a list of ten best dog steps and stairs, in all types and for all budgets. Just scroll on and take your pick!
1. Editor's Pick: Pet Studio Pine Frame Dog RampSteps
Beautifully designed, sturdy, and versatile, these pet stairs will suit dogs that weigh up to 130 pounds. With a mahogany-finished pine frame and 3 non-slip carpeted steps, Pet Studio RampSteps are not just stylish but very stable and robust, too. An added benefit is that these stairs can be easily converted to a ramp- so, essentially, you'll get both a dog ramp and dog stairs for the price of one. They are easy to store away when not in use and can be moved around the house with ease. Pet Studio RampSteps are 19 inches high and are a match for small and medium dog breeds.
2. Runner Up: PetSafe Solvit PupSTEP Plus Pet Stairs
Affordable yet reliable, these plastic foldable pet stairs offer stability and security to aging or pint-sized pets. There are 4 narrow steps on these lightweight stairs, with side rails and step padding to prevent slipping and accidents. The construction of PetSafe Solvit PupSTEP Plus Pet Stairs ensures that they can withstand up to 150 pounds of weight, but still, their overall design makes them a better match for small to medium size breeds.
3. Best Value: PETMAKER Pet Stairs
You don't have to go over your budget to make sure that your pet is safe and comfortable after a surgery or in their senior years. These affordable pet stairs are sturdy and convenient to use- both outdoors and indoors. PETMAKER Pet Stairs are made of tough and durable plastic and a good fit for smaller dog breeds as they support up to 40 lbs of weight. To protect your pooch from accidents while using the stairs, this design goes all out: the bottom of the stairs has non-slip foam pads, there are adhesive back felt step covers to prevent slipping as well as built-in side rails. These 3-step stairs are foldable and collapsible, and are easy to store or take with you on travels- a surprisingly multifunctional and durable design for such inexpensive pet stairs.
4. Best for Seniors: Pet Gear Easy Step II Pet Stairs
In case you need something cheap but functional for your senior pooch or small breed dog, you're in luck. These robust plastic pet stairs with carpeted steps are stable, sturdy, and have wide enough stepping area to accommodate dogs of almost all shapes and sizes. The carpeting on the steps is removable and washable, and the 2-step stairs are available in chocolate, tan, and sage green to match different home decor. Pet Gear Easy Step II Pet Stairs will support pets that weigh up to 150 pounds. These stairs are 16 inches high.
5. Best Machine-Washable: Dog Steps by Cozy Pet
The fuzzy, non-slippery, machine-washable cover makes these pet stairs quite popular with pawrents as it makes the stairs easy to clean. The plush style looks great in any living space and it also makes sure your arthritic pet or clumsy youngster won't be slipping around the stairs when trying to climb to your bed. The stairs are made from special kind of durable cardboard that is very lightweight (makes it easy for the stairs to be moved around) but still can withstand up to 150 pounds of weight. Dog Steps by Cozy Pet come in 3 and 4 step version (15 and 20 inches high) and two colors: gray and brown/tan.
6. Best Wood: Solvit PupSTEP Wood Pet Stairs
When you're not using these stairs, just fold them flat–they are easy to store and transport, despite their wooden construction. Made out of wood with a nice walnut finish, these pet stairs have wide non-slip stairs for a comfy climb to the bed. The safety rails are a great touch, too, as they add another layer of safety. Sturdy and versatile, these elegant pet stairs can support up to a whopping 200 pounds of weight. Solvit PupSTEP Wood Pet Stairs are available in medium, large, and X-large size.
7. Best for Joints: Pet Gear Stramp Stair
The incline of this step eliminates the need for climbing altogether, making it a perfect choice for most dogs, especially those that have joint issues or can't seem to see the appeal of using the stairs. This extra wide step with a carpeted non-slip surface is suitable for pets of all sizes. The height of Pet Gear Stramp Stair is just 10 inches, though, so have in mind that it will be a better match for living room furniture rather than your bed.
8. Best Foldable: maxpama Folding Dog Car Steps
If you need something portable and easy to store, these folding dog steps are the way to go. The steps weigh only 10 lbs and can support dogs up to 200 lbs of weight, so these pet steps are a good match for any size dog. Not only that they are fairly lightweight and don't take up much space when folded (making it super easy to keep them in your trunk for unexpected vet visits or road trips), but they are also fully adjustable. You can adjust the height from 23.5″ to 26″ and tweak the angle so it suits your trunk, or side door- whatever your pet needs, these stairs deliver. Sturdy and durable, these pet steps are made from high-quality steel, with double non-slip rubbers on the steps to prevent accidents, and boast various nifty design features such as carrying handle, EVA handles to increase the friction between the ramps and your car, and a tether clip.
9. Best Foam: Zinus Step Comfort Pet Stairs
Made from high density CertiPUR US-certified foam on the inside and soft, velvety cover on the outside, these inexpensive dog stairs are durable, comfy to use, and can be used for dogs of all shapes and sizes. The removable cover is machine washable, so you can count on these stairs to look as good as new for years to come. Zinus Step Comfort Pet Stairs are available in 5 different sizes, ranging from 2 to 4 steps.
10. Best 2-in-1: MEWANG Wood Pet Stairs
Versatile, practical, and stylish, these 2-in-1 pet stairs have an impressingly clever design. With just one movement, MEWANG Wood Pet Stairs turn from a 6-step construction to a pet ramp, making it suited for different size pets and different mobility assistance needs. The ramp is a steeper climb, so it is best used in this mode for larger dogs, whereas the steps provide much-needed stability for smaller breeds and dogs with arthritis and more limited mobility. The steps fold to create the ramp surface and are covered with carpet material, so both the stairs and the ramp are non-slip and provide good traction for your dog's paws. The maximum weight these stairs can support is 110 pounds.
Does My Pet Need Dog Steps and Stairs?
You don't have to wait for your pet to be injured or ill before giving them a hand when getting on and off a high surface. Unless you have a young, large breed dog that can get in bed with ease, without the need to jump and strain to climb it, it's likely that getting pet stairs is a necessary investment.
Small breed dogs
In some cases, a pint-sized pooch won't need to use the stairs just to prevent injury- but also because they can't reach higher surfaces without assistance. Your Maltese puppy might try his best to climb on your lap, but unless you pick 'em up and put them there, it's not going to happen. So, one of the most common reasons why small breed dogs of all ages require dog steps and stairs is because they need them in order to be able to get on the furniture in the first place. For those that are slightly bigger than the smallest breeds of the bunch, reaching furniture can be possible- but with a cost, as jumping increases their risk of a back injury, puts stress on joints and spine, and makes accident all too probable. This is particularly true for breeds such as the Dachshund, Basset Hound, or Shih Tzu, which are prone to back problems more than most due to their build.
Seniors
A dog is a best friend for life–and this will mean having to make many lifestyle adjustments as time passes. From puppy-proofing your living space when you first bring your furball home to easing their aches when their old bones make most movements painful, it's your duty to be there for them. When your pet gets old enough that trying to prop himself on his hind legs or climb onto a high sofa or a bed, it's time to get him stairs that will make this process pain-free, rather than just ignore their wish to join you for a nap or a snuggle. Whether it's arthritis, hip pain, back injury or any kind of bone disorder that ails your old dog, steps and stairs will be a must-have accessory around the home.
Dogs with injuries
Sometimes, a pooch is neither petite or elderly, and they still can't manage safely getting up and down from furniture. Dogs who have been injured or are recovering after a surgical procedure can be unsteady on their legs or forbidden from making sudden movements such as jumping, so they'll need to use dog steps and stairs to avoid making their health issues worse than they already are. Luckily, there are plenty of cheap but decent stairs available for when you need something temporary, so making sure your pet is safe during his recovery won't mean you have to break the bank.
How to Teach a Dog to Use Pet Stairs
Even when it's absolutely mandatory for your four-legged companion to use the stairs, it doesn't mean that they'll automatically make the switch and forego their usual methods overnight. As it is usually the case with anything new you try and introduce to your dog's usual routine, using stairs as a way of accessing furniture will probably mean some trial and error before it becomes normal.
If you're wondering how to train a dog to use pet stairs, the trick is the same as with anything else, really: use treats. Start by leaving them a treat at the base of the stairs and slowly moving the next up on the steps, until your pet starts climbing them to get to the yummy reward above. As your dog uses the stairs (even if it's just because there's food on them), be sure to praise and encourage them. Of course, this will take time, especially if your dog is timid and vary. Go slow and be patient- after a few sessions, your pet will associate the stairs with something positive and use them gladly even when there's nothing to chow on on the steps.
The process should be the same when teaching the dog to come down from the bed using the steps. Use a favorite treat to motivate them to step down back to the floor, and you'll quickly see the results.
What to Look for in Dog Steps and Stairs
Now when you know if your canine companion needs pet stairs and how to teach them to use this mobility aid, the question remains: what are the best dog steps and stairs? As there are many different categories of dogs that rely on this helpful tool, there are also many types to accommodate everyone's unique needs. From size to various materials, there are many factors to consider if you want to make sure you're choosing the right type of dog steps or stairs for your pet.
Step Count
Dog stairs can have as little as one step and as much as four or five, all depending on their intended use. Sometimes, the individual steps can be taller is there's fewer of them, and lower (and easier to use for small breed dogs) when their count is higher. When deciding on the number of steps, always consider which option will be safer and more comfortable for your pet to use.
Height
If the height of the pet stairs is not enough to reach your bed or sofa, they'll be completely useless. Make sure to compare the measurements of the furniture with those of dog stairs to see if they are a match before you whip out your credit card.
Width of Steps
It might seem inconsequential but the width of the individual steps is very important, especially for medium and large breed dogs who need more stepping surface. If the steps are to narrow or small, it will be difficult for your pet to use them and even increase the risk of slipping and falling, all of which completely defeats the purpose of dog steps and stairs.
Stability
Another thing to ensure is that the pet stairs are sturdy and stable enough for your pet. Flimsy and lightweight stairs won't hold a big pooch safely, so choose heavier materials and quality construction. Similarly, steps without any grip to them can be too slippery for seniors or small dogs, so give advantage to dog stairs that have coating or fabric on the steps for improved grip.
Style
While your pet's safety and comfort should be your primary concern, it doesn't have to mean you have to compromise on the aesthetics aspect. Dog steps and stairs don't have to stick out like a sore thumb in your bedroom or living room space: the different materials and colors available make sure that there's a match for everyone's interior and furniture style.
Additional Features
Depending on your personal preferences or your dog's needs, you might want to opt for dog steps and stairs that offer a bit extra. This could be hidden storage space, mobility (great if you need to use the stairs in more than one place in the house), or ease of assembly- all those little things can end up making a big difference.
Can I make DIY dog steps?
Dog steps are usually used because a pet has issues with mobility or to prevent them, so it's imperative that the dog stairs are sturdy and well-built. The last thing you want is your pet slipping or the stairs collapsing under them! With that being said, if you have carpentry skills, tools and the materials to do it, you could build DIY dog steps for your pet. There are plenty of tutorials online on how to make DIY dog steps, just make sure that you're paying special attention to sturdiness and stability, for your pet's safety sakes.
We are committed to finding, researching, and recommending the best products. We earn commissions from purchases you make using the retail links in our product reviews. Learn more about how this works.

Angela Vuckovic
A proud mama to seven dogs and ten cats, Angela spends her days writing for her fellow pet parents and pampering her furballs, all of whom are rescues. When she's not gushing over her adorable cats or playing with her dogs, she can be found curled up with a good fantasy book.
More by Angela Vuckovic
Published July 14th, 2021 12:00 AM