152 Views
August 25th, 2021 12:00 AM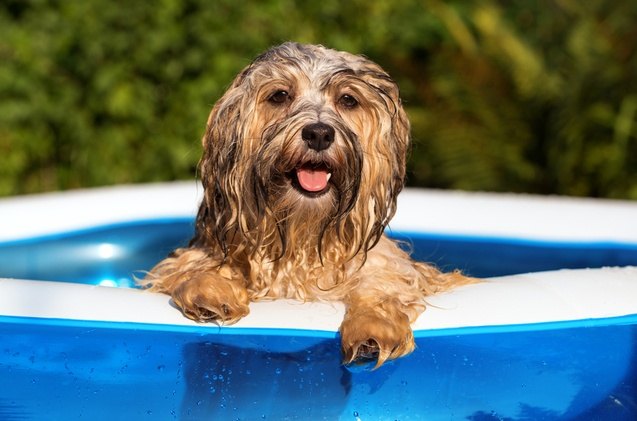 Dog swimming pools give your dog a much-needed refreshment in the summer heat, and a fun way to spend the afternoon. They are the ideal purchase for all pawrents that don't live near a beach where Fido could dip his paw in when the temperatures become unbearable!
It's the dog days of summer- it's only natural that your pooch will need a way to cool himself down. The AC is all fine and dandy, but where's the fun in that? A lot of dogs love swimming and splashing around in the water in general, especially as a way to keep the unbearable heat at bay. A day at the beach could be just what your doggo needs to feel comfy and lovely during a hot spell, but what if you don't live near one–or can't find the time to visit one with your pet in tow? For dogs that like cool off by being in the water, a pool is a perfect solution: not only that a dip in the pool will keep them refreshed, but it can also provide exercise–if there's enough room for a swim and not just for dipping their furry butts in.
However, not just any pool will do if you want to make sure that your pooch is safe and enjoys the experience. Letting Fido swim in a pool designed for human use without supervision can be really unsafe and have tragic consequences- even when they are large enough that it seems safe enough to let them take a dip. On the other hand, dog swimming pools are specially designed to give your pet all the comfort, safety, and fun he needs–not to mention that it will be more convenient to store and set up than a hooman-sized one. Available in a range of sizes, types, and materials, dog swimming pools are the ideal option for doggos who have a backyard, garage, or a spacious deck where they could lounge and splash around, and pet pawrents who want to make sure their pooch feels cool and entertained during those long summer days.
Why do I need a swimming pool for my dog?
Needless to say, though, not all dog swimming pools will be a good match for your dog's needs. Not only that the quality can drastically differ, but the design can vary a lot, too. To help you find what your dog needs without having to waste hours doing research on your own, we've put together a list of the best dog swimming pools: all of the choices from our list have been backed by plenty of pet pawrents and offer the best value for money. To boot, if you're unsure what kind of dog swimming pools are a good choice for your dog in the first place, just check out our buying guide below and clear up any confusion you might have.
1. Editor's Choice: Fuloon PVC Pet Swimming Pool
Easy to store, easy to set up, and durable enough to ensure you get great value for money, Fuloon PVC Pet Swimming Pool will give your pet many hours of fun in the water. Made out of extra-tough PVC material with a thick, non-slip bottom, it will withstand heavy-duty use with no problem. For an easier dismantling, this pool has a side drain to let out the water, after which you can just fold it for convenient storage until next use. The set up is basically non-existent, too, as all you have to do is pour water in it. Fuloon PVC Pet Swimming Pool comes in 3 different sizes to meet the needs of small, medium, and large breed dogs.
2. Runner Up: Jasonwell Foldable Dog Pool
With thick, high-density fiberboard hidden in its PVC sides, this foldable dog pool will not lose its shape under the pressure of the water inside it. Made to last, Jasonwell Foldable Dog Pool has a non-slip bottom for added safety and convenience and wrapped edges to make sure its sides are durable and puncture-resistant. Easy to set up and store when not needed, this pool is ideal for travel as you won't even notice it in the car when it's all folded up. Jasonwell Foldable Dog Pool is available in 5 different sizes: small, medium, large, extra large, and extra extra large. Any size pooch can dip his butt in this pool and enjoy it.
3. Customer's Choice: Intex Crystal Blue Inflatable Pool
While not marketed as a dog swimming pool per se, this inflatable swimming pool has the dimensions that make him ideal for most canines to splash around in. Measuring 45 inches by 10 inches when inflated, Intex Crystal Blue Inflatable Pool is safe for dogs as it is not too deep or too large for them to use, and the budget-friendly price makes it a favorite with the pet parents, too. If you have a rambunctious dog that's prone to pawing or nibbling on stuff, though, you might want to skip on this inflatable pool that can get punctured if you're not careful.
4. Best Hard-Sided Pool: YAHEETECH Foldable Hard Plastic Extra Large Dog Pet Swimming Pool
Big doggos make a big splash when they go for a dip – but that doesn't mean that they shouldn't join in on the summer pool fun! To accommodate larger breeds, this dog swimming pool comes in two extra large sizes: one has a diameter of 55 inches (81-gallon capacity) and the other 63 inches (106 gallon capacity). That's more than enough for those chunky pooches to enjoy splashing around in the water on scorching hot days- big dogs such as Huskies, Pitbulls, Labradors or Golden Retrievers, German Shepherds, etc., will all find the largest sizes of this pool more than spacious.
YAHEETECH pet swimming pool is made from durable PVC with UV-resistant coating, so it will stand up to the wear and tear- it also comes with a patching kit in case something goes awry. It is foldable and easy to store when not in use and set up when it's season for dipping paws in- just unfold the pool and get the hose running and your pooch will get to enjoy some much-needed refreshment in no time.
5. Best for Bathing: PETMAKER Pet Pool and Bathing Tub
All the fun, none of the hassle- who wouldn't sign right up for it? Not only that this collapsible dog swimming pool folds to make sure you can store it anywhere you want, but it also comes with its own carrying case to make it even more portable and travel-friendly! Made from durable, pet-safe PVC, it will withstand both your pet's claws and the weather elements. It is available in two sizes, medium (30 inches by 12 inches) and large (47 inches by 12 inches), so it will suit dogs that weigh up to 40 pounds or 80 pounds, respectively.
Effortless to set up in mere seconds, PETMAKER Pet Pool and Bathing Tub requires you to simply turn on the tap and pour the water before it's ready for your pet to use. Your pupper can enjoy summer fun times and get some coolness on scorching hot days in no time! And once it's time to put away the summer gear, just open the side drain and let the water out before tucking this pool away in its pouch. Cleaning is also a breeze, as all it takes to get out the dirt and the grime is wiping it down with a soft cloth and soapy water before rinsing it all away.
6. Best for Multi-Pets: All for Paws Extra Large Dog Swimming Pool
In case you have a giant breed dog or share your home with more than one four-legged companion, All for Paws Extra Large Dog Swimming Pool will transform your backyard into a safe haven from the summer heat. With a 63-inch diameter, this super big dog pool will have no trouble giving your large dog plenty of space to splash around or accommodate your smaller doggies for some group fun activities in the water. Foldable, portable, and easy to drain, All for Paws Extra Large Dog Swimming Pool is convenient to use and a great solution if your pet(s) need more swimming space.
7. Best with Sprinklers: Raxurt Dog Pool
If you want a swimming pool that will provide hours of endless fun in the dog days of summer as well as some much-needed refreshment for your pooch, this dog pool will make it happen. The key is in the fact that it is not only a swimming pool, but it also features built-in sprinklers with customizable water spray height: your dog can catch water sprays, get a cool shower, and enjoy unparalleled entertainment to boot. Made from durable, non-slip, BPA-free PVC material, this dog pool is made to last and thanks to its generous size (67" diameter) it will suit dogs of all sizes. What's more, since there are no tall sides (the pool has raised sides instead) it is suited for short-legged breeds such as Dachshund as they'll have no problem entering the pool on their own.
8. Best for Large Breeds: GoStock Dog Pool for Large Dogs
Spacious, durable, and fully foldable, this dog swimming pool can be used by large dog breeds (it suits dogs up to 256 lbs of weight), multiple dogs, or even better- your kids can share the fun with their four-legged bestie. Made of extra-tough and anti-scratch PVC material with an extra thick ⅕" no-slip fiberboard, this durable dog swimming pool isn't easy to pierce so you don't have to worry about your pooch ruining the pool with their claws. Easy to drain, this pool has a plastic drainage valve at the bottom- just open it and let the water flow out when you want to store the pool away for the season. To make sure that there's an option for any pet parent's needs, there are five sizes of the pool available: small, medium, large, extra large, or extra-extra large.
9. Honorable Mention: Petsfit Portable Outdoor Pool
Made out of heavy oxford and waterproof nylon cloth that's been strung over a coated wire frame, Petsfit Portable Outdoor Pool is both durable and lightweight. Even if your pet's claws come in contact with the sides or bottom of the pool (diggers, we're looking at you!) they won't be able to puncture this rugged swimming pool. The only potential downside for some pet owners is that there is no drain to let out the water, you'll have to pour it out manually–which can be a bit messy. With 12-inch high sides and a diameter of 41 inches, this swimming pool is a fit for small to medium-size dogs.
10. Also Consider: Zacro Foldable Large Dog Pool
With a reinforced bottom and sides made out of scratch-resistant PVC material, Zacro Foldable Large Dog Pool will have no problem withstanding your big dog's claws- without showing signs of wear. Collapsible and convenient to store, this dog swimming pool is a popular choice for pet parents looking for a travel-friendly pool or one that won't need much space when it's not being used. This foldable pool comes in 3 sizes: small, large, and extra large. Small has a diameter of 31.5" and 7.9" tall sides so it is best suited for puppies and small dog breeds, large measures 47" by 11.8" and suits medium and large dogs and the extra large is 63" in diameter with sides 11.8" high for big pooches or multiple dogs.
Dog swimming pools: do you really need one?
If we're being honest, dog swimming pools are far from being a necessity for every single canine. Heck, there are even dogs that can't swim! But, if you have a pooch that enjoys spending time in the water and you live in an area where summers get really hot, it's undeniable that having a swimming pool for your pet is a smart decision. However, you can't just put out a kiddie pool in your backyard and call it a day: there are reasons why dog swimming pools exist in the first place. Your pet needs a pool designed for him if you want to leave them splashing around without you around!
You might think that your pet will love paddling around in a big pool designed for humans, and while that could be very well true, it doesn't mean that it's a smart thing to do, especially if you want to be able to let your dog enjoy pool time without you having to supervise them the whole time. First, there's the issue of chlorinated water. While technically safe for dogs, it's implied that your dog won't drink it, which, let's be honest, it's a hard thing to guarantee: dogs like doing weird stuff like that. Chlorine in the water might irritate your pet's eyes or skin, too. Then, there's the issue of the size of the pool and drowning risks for your dog. If left unattended for too long, they could easily get too tired of swimming and drown in a pool that's too deep for them to use. Even large breed dogs are at risk- there are too many things that could go wrong regardless of your pet's size. Last, there's the issue of sharing a pool with your pooch. Some pawrents don't mind it, but others might be put off by the idea of what their pet could leave behind in the water they'll be dipping their toes in: everything from fecal matter to plain ole dirt is fair game once your doggo soaks a bit in the pool water.
Pools for kids are a safer option, as they are small and there is no danger of drowning, but while your fur baby might fit in a kiddie pool, it's highly likely that they'll ruin it in no time. After all, no one was accounting for claws and sharp canines when they were designing them!
In conclusion, if you think your dog would love having a pool to swim around at home, go for one that's designed for canine use: they will last you longer and make sure your pooch is safe while in it.
Types of dog swimming pools
If you thought that all dog swimming pools are basically the same with minor variations such as color or dimensions, you're sorely mistaken. Not only that there are different styles and sizes of dog swimming pools, but there are also different types to choose from. Based on the design and the materials, there are the 3 most popular dog swimming pool designs to choose from:
Inflatable dog pools
Are you worried about where you'll store your pet's pool once it's not in use? After all, it will only be set up for a few weeks out of the entire year so it should be convenient to put aside without taking up too much space. Inflatable dog pools are a great solution if you want something portable and compact for storing purposes- you could literally fit this type of pool into a baggie, so storage is definitely not going to be the issue. It's also great if you want to take your dog's pool with you when you travel. Made out of lightweight materials, these portable dog pools usually work with air pumps so they will be easy to set up, too. And having in mind their budget-friendly price, it's clear why inflatable pools for dogs are so popular.
On the other hand, the biggest downside of inflatable dog pools is that they might not always be as durable and tough as their pricier counterparts. The soft, air-filled sides can be easy to puncture and you can only patch up a pool so many times- if you have the will and the skill to do it in the first place.
Rigid dog pools
As the complete opposite of inflatable dog pools, rigid pools are built to withstand heavy-duty use without leaking. Tough and durable, rigid pools are usually made out of solid plastic and won't be bothered by your dog's claws or gnawing tendencies. The set up is easy, as it involves simply pouring water in and watching your pooch go bananas, and most have a drain to let the water out when it's time to pack the pool up or replace the water. However, rigid dog pools are also difficult to store as they can't be folded or deflated to save space, and they are not as portable- so if these are priorities for you, a rigid dog pool won't be a good match.
Foldable dog pools
When compared to rigid and inflatable pools, foldable dog swimming pools are somewhere in the middle. Their sides are neither hard nor soft, but rather semi-rigid. When filled, the sides keep their shape and stand up well to your pet's claws: there's nothing to puncture, after all. However, unlike rigid pools, once the water is let out, this type of pool can be folded and stored away wherever you want- until next summer is here.
What should I consider when choosing dog swimming pools?
The first thing to have in mind is the size of the pool- you want your pooch to have plenty of space to paddle around, so it's always a good idea to go a size up if the space allows it. Next, be sure to pay attention to the materials the pool is made of, as they have to be durable and resistant to claw scratching or even chew-proof as pooches can be naughty: this is why many people go for rigid swimming pools instead of inflatable options. Finally, details matter, so go for dog swimming pools with smart design which incorporate convenient features such as drainage valves, foldable sides, etc.
How to clean dog swimming pools?
Pools need to be cleaned regularly to keep algae, debris, dirt and grime away, and that's even more true for dog swimming pools as pets come with their fair share of loose hair and muddy paws. The main thing to keep in mind is that dog swimming pools should be cleaned daily to prevent build up of dirt and microbial growth as dangerous bacteria can thrive in such an environment and harm your pet's health. Drain the water after your pet has finished swimming, rinse out, apply a pet-safe disinfectant before replacing water for another day of splashing and summer fun.
We are committed to finding, researching, and recommending the best products. We earn commissions from purchases you make using the retail links in our product reviews. Learn more about how this works.

Angela Vuckovic
A proud mama to seven dogs and ten cats, Angela spends her days writing for her fellow pet parents and pampering her furballs, all of whom are rescues. When she's not gushing over her adorable cats or playing with her dogs, she can be found curled up with a good fantasy book.
More by Angela Vuckovic
Published August 25th, 2021 12:00 AM