151 Views
Best Flea Treatment for Dogs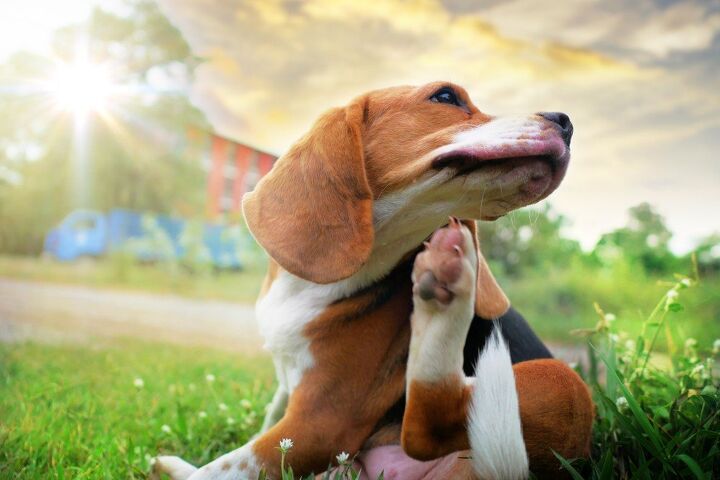 Available in different forms and formulas, flea treatments for dogs help keep your pet safe from these blood-sucking parasites. We've rounded up the best flea treatment for dogs on the market- with a match for any doggo's need.
One of the major issues for dogs and dog owners across the world is fleas. Pesky and annoying, they can be especially tough to get rid of. Affecting doggos of all shapes and sizes – with both smooth or shaggy coats – these tiny critters are a nightmare to endure. If you notice excessive scratching, rolling in the dirt or in ponds, biting, licking, scabs and red patches, or abnormal bumps around your pet's skin – it is likely that fleas have made themselves at home on your dog's body. But not to worry: although they are a nuisance, fleas can be taken care of. With a range of various flea treatments on the market, you can keep fleas at bay indefinitely – with little effort.
That's not to say that dealing with fleas is not a challenge. Did you know that there are more than 2,500 recorded flea species out there? But don't worry – just two of them can bother your pet, the Ctenocephalides felis (cat flea) and Ctenocephalides canis (dog flea). Interestingly enough, in most cases, it's the cat flea that's bothering dogs. Sometimes, the infestation is very mild – and a warm, soapy bath can soothe your dog's skin and act as a solution that kills off the fleas. But when the infestation is more serious, you might need a more potent "weapon" in your fight against fleas.
Whether you go for an anti-flea collar, a topical treatment, a spray, tablets, or chewables, you can rest assured that the meds contained in these will keep the fleas dead and gone. Of course, there are no reasons to worry – all these solutions rely on FDA-approved, non-toxic ingredients that are totally safe for pets. We've rounded up the best flea treatment for dogs there is- all you have to do is pick one that suits your pet's needs and your budget.
It is only natural to want the very best for your pupper. With TevraPet Activate II Flea Killer you are guaranteed a swift and sure remedy for those nasty bloodsuckers. This vet quality remedy boasts a combination of provenly effective active ingredients such as imidacloprid, permethrin, and pyriproxyfen – all of which are a sure end to fleas, ticks, mosquitoes, and biting flies in one swift go. Designed for dogs over 55 lbs and older than 7 weeks (and available for small and medium breeds too), this 4 month supply of flea treatment will put an end to all the problems your doggo has. Easy to apply, waterproof, and fast-acting, this flea killer is an affordable and efficient solution.
2. Runner Up: Vet's Best Flea and Tick Home Spray
With natural, plant-based formula, this flea eliminating spray will give you a safe and non-toxic way to treat fleas on your pet. Designed for both home and dogs, Vet's Best Flea and Tick Home Spray prides itself on a quick-acting formula that kills fleas on contact without having to rely on harsh chemicals. And not only that it eliminates adult fleas, but it also kills flea eggs, flea larvae, and ticks, and also repels mosquitoes. This spray uses certified peppermint oil and eugenol to eradicate parasites, and these natural ingredients won't irritate your pets. It comes in a nifty spray bottle and is easy to apply anywhere, whether on your pet's body directly or around the house where they spend the most time. Leaving no traces or nasty odors, it is great for active combat against fleas – use it whenever and wherever there's a need.
3. Customer's Choice: PetArmor Plus for Dogs
If you need visible results – and you need them fast – PetArmor Plus for Dogs offers you a solution. This fast-acting and carefully created flea treatment for dogs is perfect for breaking up the life cycle of the fleas and eliminating them completely in all for starting from their eggs, through larvae, and all the way to adult fleas. Once applied, this topical flea killer will start acting within 24 hours, and continue to work against fleas for 30 days, which is the ideal time to completely remove the threat of fleas returning regardless of their initial life stage. What's better is the fact that this pack contains three separate doses, allowing you to keep the fleas at bay for three months! With patience and a remedy as potent as PetArmor's Plus, these critters stand no chance.
Best tablets: CapAction Oral Flea Treatment for Dogs
Tablets are sometimes the easiest way to treat a doggo, especially those that are squirmy and energetic. Always ready to munch on something, our pets usually won't notice a tablet concealed in a treat and will gladly accept anything they consider yummy. Convenient to use and highly effective, CapAction Oral Flea Treatment for Dogs starts eliminating fleas just 30 minutes after ingestion. Easy to use and totally safe, these tablets are a great, mess-free way to treat flea infestations. And if the critters happen to come back, just repeat the process – as often as once a day, until the buggers are banished once and for all. The main ingredient in use here is nitenpyram, a potent and quick remedy against fleas that is completely safe for dogs to use but deadly for fleas.
5. Best collar: Seresto Flea and Tick Collar for Dogs
For continuous protection over time, nothing beats a good flea repellent collar. Seresto offers this long-lasting and powerful collar that can keep fleas at bay for as long as 8 months! Working through contact, this collar repels and kills both fleas and ticks, and starts working just 24 hours after it is put on. It has no odors whatsoever, and is also non-greasy, making it just like any other regular collar. Seresto Flea and Tick Collar for Dogs has a simple design that makes it easy to adjust to the needed size, and once it's put on, it won't break off easily during rowdy play or adventurous exploration. Designed for dogs over 18 lbs, it is recommended by veterinarians as one of the leading flea repellent collars on the market.
6. Best for small dogs: K9 Advantix II Flea Prevention
A flea infestation can be particularly bad for all tiny doggos as their small size makes them more susceptible to flea-related issues such as anemia. K9 Advantix II Flea Prevention is designed specifically for small dogs, weighing from 4 to 10 lbs, and can make sure your pet is not at risk of being run over with fleas. Once applied, it keeps these nasties at bay for one month. Conveniently, you can choose from several packs, up to 6 monthly doses, which helps you really treat that infestation thoroughly and throughout the year. This topical repellent is easy to apply and starts working in just 12 hours after application. Being non-toxic or harmful, it is suitable for year-round protection against fleas. The secret of its efficiency is the three main ingredients: Imidacloprid, permethrin, and pyriproxyfen – all of which are a sure stop to ticks, fleas, and lice.
7. Best for extra large dogs: Advecta ULTRA for Dogs
Fleas love large and shaggy puppers- lots to snack on and plenty of room to hide and multiply. If you're struggling to eliminate fleas in your XXL doggo, this Advecta solution will surely come in handy. Designed for dogs over 55 lbs, this topical flea repellent kills these pests on contact and is very easy to apply. Once it's active, the Advecta ULTRA will be efficient for 30 days – breaking the life cycle of the fleas and making sure the larvae and the eggs don't grow up to pester your pet. This medication has a special odorless, waterproof formula that keeps it applied even when your doggo gets wet. Based on the Permethrin medication, this product is a fantastic way to keep fleas at bay for your big doggo.
8. Best for puppies: Hartz UltraGuard Dual Action
Hartz UltraGuard is specifically designed for small dogs and puppies, older than 12 weeks and weighing from 5 to 14 lbs. With a fast-acting and efficient formula, this topical treatment perfectly eliminates fleas, deer ticks, brown dog ticks, and flea eggs – for 30 days. It also prevents re-infestation reliably. Easily applied on your pet's back, this drop-action treatment kills all nasties on contact. With 3 monthly treatments provided, you can really curb the reappearance of fleas, and with a lasting treatment, you can provide yearly protection for your pet. Affordable and efficient, Hartz's unique formula stands out as one of the best on the market.
9. Best flea and tick protection: Frontline Gold for Dogs
Frontline is one of the veteran pet care brands, and their flea treatment for dogs is a true testament to that experience. Frontline developed a unique new triple action formula that utilizes a series of powerful ingredients in order to eliminate fleas, ticks, and flea larvae. Easy to apply thanks to the new applicator design, this remedy starts killing fleas in just 30 minutes – much faster than their older formulas. What is more, it also lasts for a full month – and comes with 6 monthly doses! If you want an effective solution for both fleas and ticks – you'll definitely find it with Frontline Gold for Dogs.
10. Best soft chew: Advantus Soft Chew
Soft chews are often the simplest form of administering flea treatment to your dogs. Usually disguised as enticing treats, soft chews are quickly munched up by your clueless doggo. Advantus Soft Chew oral flea treatment comes in the form of 7 soft chews which are potent and fast-acting: in just 1 hour, the fleas will start dropping! Relying on imidacloprid, these soft chews are savory and enticing – and quite convenient to use. It is also safe to repeat treatment with these chews, up to once per day. That way you can make sure that even the most persistent flea infestations are successfully dealt with.
How to Minimize the Risk of a Flea Infestation?
There are several key steps that you can take in order to make sure that the risk of fleas making a home out of your pet's coat is at an all-time minimum. Of course, even with all the precautions, these nasty critters can still appear – but it is better to be safe than sorry.
Hygiene is, of course, the number one priority. If you keep a tidy house and regularly clean your furry friend, you are already contributing to flea prevention. Always start with vacuuming and make it imperative – the powerful suction of your vacuum can pull out and suck in tiny flea larvae and eggs throughout your home. These are often embedded in the carpet, the couch, or your dog's bed. If you suspect fleas and vacuum, make sure to empty the vacuum container outside of your home.
Another place to keep clean is your dog's bed or any nook that it frequents. This is the foremost place where dirt, hair, and possible fleas will accumulate. If possible, machines wash the bed often and keep your pet's surroundings clean and fresh.
Of course, that's just the beginning- to really make sure there are no lurking parasites, you'll have to rely on some form of flea treatment for dogs, whether natural or commercial.
Benefits of Flea Treatment for Dogs
Alas, even when you keep meticulously clean surroundings, you can still suffer from a sudden flea infestation – it's just one of those natural things that are hard to avoid. But these can be dealt with swiftly and surely. Flea treatments for dogs can be in various forms: chewable, tablets, sprays, drops, shampoo, powder, and so on. Of course, they all rely on similar ingredients and will deal with fleas without much trouble, but the method varies.
One of the major benefits of flea treatments for dogs is their long-lasting effect. Most of these remedies will stay active for at least a month – keeping fleas, ticks, and their larvae at bay for the duration of this effect. Repeating the process monthly can help control the flea infestations continually – up to a year! With a good balance of price and lasting effects, most flea treatments on the market can offer reliable protection for several months without breaking the bank.
Another great benefit is the fact that most flea treatments are efficient against other pesky critters that are a threat to our dogs. These include ticks and mosquitoes. Ticks especially can be quite dangerous and can transmit the dreaded Lyme disease. Thankfully, most flea treatments on the market will take care of them as well, alongside fleas and their eggs and larvae.
How to choose the best flea treatment for your dog?
There are various types of flea treatments, from shampoos and powders to chewables, topical spot-ons, and collars, and not every type will work for your pet's unique needs. For instance, you'll have to pay attention to your pet's age as not all flea eliminating products are recommended for puppies so be sure to check if there's an age limit and if your pet is too young for that specific treatment. Next, be sure to get the flea treatment that is suitable for your pet's lifestyle- if they have sensitive skin and react to products, you might want to skip on the spot-ons and collars and go for chewables. If they spend a lot of time in the water or tend to lose collars in general, then topical applications and oral flea treatments are a much wiser choice. All in all, the key is considering your pet's unique needs and matching them to one of many flea treatments out there!
How can I tell if my dog has fleas?
The tell-tale sign of fleas in dogs is incessant scratching due to the flea bite which leaves the skin feeling itchy. But sometimes, dogs can be itchy for another reason, so look for joined symptoms in addition to scratching, such as red bumps on the skin (reaction to bites), black flecks in fur (flea poop), or just try to catch the parasite in the act by thoroughly looking through your pet's fur for small, brownish bugs. Sometimes, if the infestation is severe, you might notice hair loss and hotspots as well.
What to look for in a flea and tick prevention product?
First, make sure that the flea treatment that you picked is suited for your pet's age and weight, as there can be adverse effects if you treat a puppy that's too young or use a big dog treatment on a small pooch. Next, make sure that the type of flea treatment works for your pet's lifestyle and needs: shampoos, soaps, and powders usually give an instant effect but don't last, whereas spot-on treatments and chewables can offer a month or two of effect. Dog flea collars usually keep fleas at bay the longest, some of them offering protection that lasts up to a couple of months. There are both natural and classic flea treatments that rely on insecticides on the market, so it's up to you to decide which option is better for your pet's health and needs.
We are committed to finding, researching, and recommending the best products. We earn commissions from purchases you make using the retail links in our product reviews. Learn more about how this works.

Angela Vuckovic
A proud mama to seven dogs and ten cats, Angela spends her days writing for her fellow pet parents and pampering her furballs, all of whom are rescues. When she's not gushing over her adorable cats or playing with her dogs, she can be found curled up with a good fantasy book.
More by Angela Vuckovic
Published June 22nd, 2021 12:00 AM