1.5K Views
Best Inflatable Dog Collars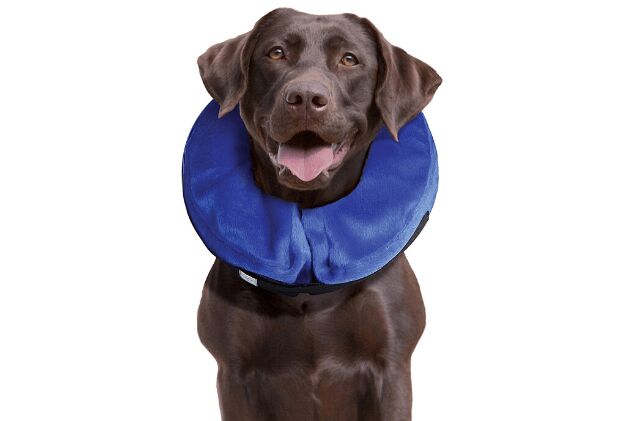 Inflatable dog collars are an equally safe but a much more comfortable alternative to rigid elizabethan collars. Take a look at which inflatable e-collars made our list of the best choices on the market!
When your dog is recovering from a surgery or has an injury he's not supposed to lick or chew, the safest and most convenient option is an elizabethan collar. Elizabethan collar, or as it is more commonly known, e-collar or pet cone, are protective accessories for dogs and cats who have an injury, wound, incision site, rash, hot spot, e.g. They are shaped like a truncated cone and are fitted like a collar (usually attached to the existing collar with tabs) and they are meant to prevent your pet from licking and chewing spots on his body, as well as scratch his face. Most cheap e-collars are rigid and made from plastic, but nowadays, soft alternatives to traditional pet cones are becoming more and more popular. The reason for this is that they still offer the kind of protection your pet needs but are much more comfortable to wear. Pets tend to dislike e-collars and can often make a big fuss when they have to wear one, and the chances for this happening are much lower when the elizabethan collar is made from soft materials. The most popular choice for soft cones, and with good reason, is inflatable dog collars.
There are different types of elizabethan collars, all with different advantages and disadvantages to them, and inflatable dog collars are loved for their unobtrusiveness and convenience. Like the classic rigid e-collar, inflatable dog collars also keep your pet from reaching the injured spot but do so without restricting his view or making him feel claustrophobic. While they're not the same thing as travel pillows they do resemble them – they go around the neck (with secure fastenings) and are filled with air to create a barrier that doesn't feel heavy on your pet. The innovative design of inflatable dog collars allows them to be lightweight and comfy while still being functional. Dogs can sleep while wearing inflatable collars, eat their meals, go on walks – there are no restrictions whatsoever, which is one of the main things that draws pet parents to these cones. No fuss, no hassle, and your pet will feel much more comfortable.
Of course, in some cases, inflatable dog collars might not be the most practical solution, despite their benefits. To learn which type of dog e-collars is the best for your dog's needs, check out our comprehensive guide – and the list of best inflatable dog collars that will give you the scoop on which inflatable cones are the most popular on the market. Take your pick and make sure your pet recuperates in comfort and peace!
1. Editor's Pick: GoodBoy Comfortable Recovery E-Collar for Dogs
This soft protective e-collar is comfort personified- but it doesn't mean it compromises on safety. The donut-shaped protective device is thicker than most inflatable dog collars, making it secure enough for mischievous pooches, too, as reaching forbidden spots will be nearly impossible with this around their neck. At the same time, the softness and the lightweightness of the plush e-collar will make your pooch forget he's wearing one- they can sleep, eat, and drink without the need to remove the collar. This inflatable elizabethan collar comes in four sizes that fit most dogs- and can be further modified to fit with an adjustable strap with a buckle.
2. Runner Up: Total Pet Health Inflatable Dog Collar
Easy to put on and difficult for your pet to take off, this sturdy yet comfy inflatable collar is an all-around good choice for most dogs. Your pet will be prevented from picking on his stitches but this e-collar won't restrict their vision or movement. The removable cover is bite and scratch-resistant, as well as fully washable. Secured and adjusted with a Velcro strap, it comes in sizes that fit small through to extra large pooches.
3. Best Value: BENCMATE Protective Inflatable Collar for Dogs
Budget-friendly price tag and high level of comfort are what makes this one of the most popular inflatable dog collars on the market. This e-collar has a soft, plush outer cover that will feel pleasant against your dog's coat and won't pull or cause hair static like plastic and rubber can. To boot, the cover makes this e-collar easy to clean as you can just wipe down any mess your pet makes. The collar comes in extra small, small, medium, large, and extra large size and can be tweaked to fit with the adjustable Velcro strap that's used to secure the collar.
4. Best for all Sizes: Well & Good Inflatable Collar for Dogs
With a great size-inclusive range, this inflatable dog collar is a great choice for pooches of all shapes. The smallest size will fit dogs with necks that measure a maximum of six inches and the largest is suited for giant breeds with necks that are up to 36 inches. With a cover made from scratch-resistant, durable canvas, this inflatable dog collar fastens with a hook and a loop for a secure fit. Just loop your dog's collar through it as you would with a traditional plastic cone of shame, and you're all ready!
5. Best Washable: WONDAY Pet Recovery Inflatable Collar
Comfy to wear but snug enough to prevent your pooch from having access to their wound site, this inflatable collar is a great option for dogs of all sizes. WONDAY Pet Recovery Inflatable Collar has a removable, washable cover made from breathable material that pet hair doesn't stick to- so you don't have to worry about odor, grime, or tufts of hair hanging from the collar during your pet's recovery period. Easy to inflate, this e-collar can be pumped with air by using a pump or your mouth- it's quick either way. Inside the collar, there are loops through which you can pull your pet's regular collar through for a snug fit, and you can further adjust the tightness with the velcro straps at the opening of the e-collar. WONDAY Pet Recovery Inflatable Collar comes in grey and blue and is available in 5 sizes from extra small to extra large.
6. Best Jersey: MIDOG Pet Inflatable Collar
With a cover made from soft, breathable jersey, this inflatable dog collar is both comfy and easy to clean. The dead hair won't stick like crazy to it (which can happen with some fabrics and materials) and you can easily wash it if your dog stains it. For a secure fit, this e-collar has a sturdy metal buckle connection which is easy to set up but your pet won't be able to fiddle with it. MIDOG inflatable collar is available in small, medium, large, and extra large.
7. Best Comfort: KONG Cloud E-Collar for Dogs
KONG pet products are known for their quality and clever design, and this inflatable elizabethan collar is no different. It is easy to put on and fit as it attaches to your dog's existing collar directly – just thread it through the loops and close. The soft and fluffy cover feels super snug against your dog's neck, completely justifying the name Cloud. It's also machine washable and quite durable and resistant to the usual wear and tear. KONG Cloud e-collar is available in five sizes.
8. Best Plush: Rucal Pets Inflatable Dog Collar
Fluffy and cozy, this air-filled elizabethan collar will keep your pet comfy while they recuperate from surgery or an injury. Rucal Pets Inflatable Dog Collar comes in pretty bright pink color and the outer material is plush and soft to touch, and will feel particularly great in the colder months of the year. This inflatable collar is easy to adjust for a tailored fit as it has both inside loops you can use to thread your pet's collar through, as well as a velcro strap at the opening of the collar. The inflatable collar should be snugly against the neck so your pooch couldn't slide it over their head! Rucal Pets Inflatable Dog Collar comes in small, medium, large, or extra large size.
9. Best Durable: ProCollar Protective Inflatable Recovery Collar
In case your dog is one of those pooches that are not shy about using their claws to try to get their collar off- or just like to scratch themselves behind the ears, you'll want an inflatable collar that has a tough, durable cover just like ProCollar. Made from a durable fabric blend that's also water-resistant and repellent, the cover is quite resistant to scratches and staining. Another thing that makes it suited for scratchers is that it is secured with a Velcro strap and looped through the collar – two safety layers. ProCollar comes in 6 sizes and will fit most dogs.
10. Best Value: SCENEREAL Inflatable Recovery Collar for Dogs
Affordable but well-made, this inflatable recovery collar doesn't offer any bells and whistles but will do a decent job when it comes to preventing your pet from making a mess from his incision site. It is lightweight but fits snuggly, thanks to loops for your pet's collar and velcro straps that help adjust the fit. The soft and smooth flannel cover feels lovely against the skin and can be fully removed for washing which helps keep hygiene up to standards. SCENEREAL e-collar comes in medium, large, and extra large size.
Why does my dog need an elizabethan collar?
To the misfortune of our dogs, e-collars are not optional when they are recovering from a spay or neuter surgery, have a hot spot they can't stop picking, a wound or an incision site, etc. The reason for this is that dogs have a natural instinct to lick their wounds. A dog's saliva is packed with healing enzymes and actually decently clean when compared to that of other animals (e.g. humans), so licking minor wounds could promote faster healing: it cleans the wound from dirt and debris and coats it with saliva that contains antibacterial compounds. However, this can work to a degree- you can let your pet lick a small scratch or a superficial wound that doesn't require stitches. In all other cases, licking (and chewing that often follows it) could only worsen your pet's conditions.
When your pet has an incision spot with sutures, his licking and chewing behavior could lead to him ripping out his stitches, leading to a repeat trip to the vet and possible complications such as an infection. In the case of a hot spot, further licking can only exacerbate the symptoms, and even introduce new problems such as severe damage to the skin. Needless to say, for the majority of problems, an e-collar will be a must-have. These protective accessories will restrict your dog's access to the injured spot on their body or face and let it heal on its own (and with the help of creams, if applicable).
Types of e-collars for dogs: pros and cons
Even though all elizabethan collars have the same function, their design differs. After all, there are various ways to restrict a pet from reaching different areas of his body- even though if not all of them will be equally effective or equally comfortable. The main differences between types of e-collars are in the material used to make them, as well as the shape (not all of them look like cones). Here are the most popular elizabethan collar options for dogs:
Classic rigid cone
By far the most common option, these cheap, readily available e-collars are often dubbed 'the cone of shame' as they make your pooch look like a lampshade- albeit, an adorable one. They are made from plastic, either translucent or colored, and extend over your pet's head. Not too surprisingly, dogs are not the biggest fans of plastic e-collars. These pet cones can completely obstruct your dog's vision and make them feel claustrophobic, scared, and irritated, which in turn can lead to a whole other world of trouble. If possible, skip on the outdated classics in favor of less constraining (but still effective) options.
Soft elizabethan collars
As the name suggests, these e-collars are made from softer, more flexible materials than plastic. If the problem with the plastic elizabethan collar was that it chafes your pet's neck, soft cones are a good alternative. They are still quite similar to the classic pet cone, though, and some of the issues will remain the same with these, too. Unless you go for the less common design which is the soft circular e-collars, your pet will still have obstructed vision and feel more restricted. Plus, if your pet is persistent to reach the wound, the less rigid form of the collar might be just what they need to break out of it.
Inflatable dog collars
This type of dog collars combines the best of two worlds: functionality and comfort. Designed as an inflatable cushion that fastens securely around your pet's neck, inflatable dog collars are lightweight, comfy, and unobtrusive, as they won't block your pet's line of sight while he wears one. This doesn't mean that these cushioned e-collars are not effective, though. This is basically a donut your pet wears around his neck, so he won't be able to properly bend it to access most areas of his body. There are limitations to inflatable dog collars, of course, and for crafty doggos with wounds on less hard-to-reach spots, they might not be the most efficient solution.
Neck control collars
Resembling a neck brace to a degree, these elizabethan dog collars immobilize your dog's neck, thus preventing them from reaching their incision site or hotspot. Naturally, these won't work if your pet's problem is located on his head, as dogs can still scratch when wearing a neck control collar. On the plus side, your pet will be able to eat, drink, and sleep without a problem. This is a less popular choice as it can still feel constricting but doesn't offer the same level of protection as some other alternatives.
What to look for in inflatable dog collars
While it's likely that your pet will need to wear an elizabethan collar for a short period of time, it doesn't mean that its quality and features aren't important. To make sure your pet stays safe and comfortable while he wears his cone, you'll have to choose with care. Here are some of the most important features you should look for in inflatable dog collars:
Adjustability
It's important to get the size right when you're picking pet accessories, and it's especially true when it comes to elizabethan collars. You want the collar to fit snugly, but not be too tight on your dog's neck as it could cause chaffing, restrict his breathing, and make him irritated. Similarly, an inflatable dog collar that is too loose is not a good idea: your dog will have no problem getting it off which beats its purpose.
Ease of cleaning
Even though your dog probably won't be wearing the e-collar for more than a few days or a few weeks, it doesn't have to mean that you won't have to clean the cone in the meantime. In fact, it's highly likely you'll have to, as your pet will be sleeping, eating, and drinking while having his e-collar on. Inflatable dog collars often have removable covers over the inflatable cushion, but even in cases they don't, you should be sure to check if you can clean it with a damp cloth or rinse to remove stains and dirt that's bound to appear.
How to place a collar on my dog?
To properly place a collar on your dog, unhook or unclasp it, place on the lower part of the dog's neck and adjust the tightness- you should be able to put two fingers in between the collar and the neck, and then secure- either with a buckle or a clasp, depending on the collar design. The process is similar for inflatable dog collars- place around the neck and then inflate it. An even better option is to thread an existing dog collar through the inflatable e-collar for added security.
How tight should a dog collar be?
A dog's collar shouldn't be too tight nor too loose- you don't want it to cause chafing or discomfort, but you don't want your pet to be able to slide it over their head, either. A good rule of thumb is to leave two fingers worth of space between the collar and the neck- you should be able to wiggle your fingers in when the collar is snug on the neck. This will ensure that your pet is comfortable wearing the collar but still unable to get out of it unless you take it off.
For how long should my dog wear a collar?
Dogs shouldn't wear collars all day long- even the comfiest of collars can irritate the skin, cause chaffing, and even hair loss and thinning after prolonged constant wear. General rule is to let your pet wear the collar during the day -at the very most- and take it off before you go to bed. During the night, the skin will be able to breathe and relax from friction, so you can safely put it back in the morning without worrying about discomfort.
Can dogs sleep while wearing an inflatable collar?
One of the main appeals of inflatable collars is that they allow pets to eat and sleep comfortably, which is not the case with a plastic cone. An inflatable collar is very similar to a travel pillow, so it will cushion your pet's head and neck when they lie down. In fact, they might even feel comfier sleeping with an inflatable collar, as it doubles as a pillow!
Additional resources:
We are committed to finding, researching, and recommending the best products. We earn commissions from purchases you make using the retail links in our product reviews. Learn more about how this works.

Angela Vuckovic
A proud mama to seven dogs and ten cats, Angela spends her days writing for her fellow pet parents and pampering her furballs, all of whom are rescues. When she's not gushing over her adorable cats or playing with her dogs, she can be found curled up with a good fantasy book.
More by Angela Vuckovic
Published July 14th, 2021 12:00 AM