90 Views
February 24th, 2022 12:00 AM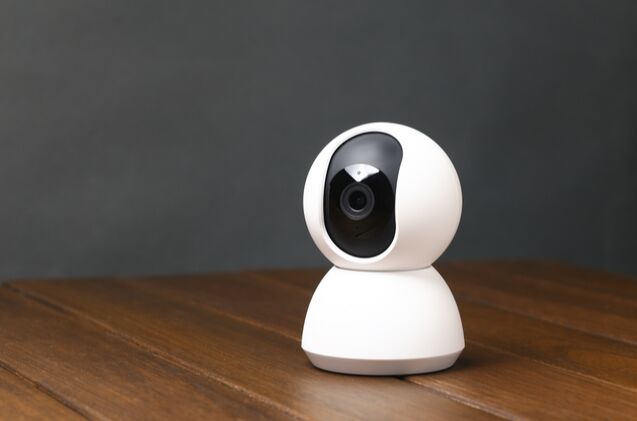 Pet cameras don't just allow you to monitor your pet while you are away – they come with various other perks such as remote treat dispensing, two-way audio for communication, laser toys, and so much more. Learn how to find the best pet camera for your lifestyle and preferences!
If it was up to us – or our pets – we'd never have to leave them alone. But, unfortunately, someone has to go out and earn that $$$ needed for kibble, cute toys, and treats, so it's unavoidable that your dog or cat spends at least a few hours on their own each day. Pet cameras are a great way to be able to keep an eye on your pet when you're not at home, but also a tool to help you make your cat or dog feel more at ease by allowing you to communicate, play, or even feed them remotely.
Naturally, there are many different designs out there, from pet cameras that are meant only for monitoring to those that offer various bells and whistles – treat dispensers, laser toys, playtime activities, two-way communication, barking alerts… The list goes on, which means that every pet parent can find a perfect fit for their preferences – and their budget, too. To help you make that choice quickly and fuss-free, we've rounded up the best pet cameras on the market, so all you have to do is pick the one that suits you and your pet the best.
1. Editor's Choice: Petcube Cam Pet Monitoring Camera
Designed for the pet owner that wants only the best for their four-legged best friend, this pet camera boasts an impressive set of features. The 1080p HD video with 30-feet night vision and a 110 degrees wide-angle view will give you a clear picture of your pet, day and night, with 8x zoom for a closer look at any little detail. With real-time sound and motion alerts, you'll always know if your pet is up to no good, and thanks to the two-way audio option, you can put a stop to any mischief with your voice, even from afar. This is also the first-ever pet camera to offer built-in vet chat within their app – giving you peace of mind in every way possible.
Pros
High-quality video with a wide-angle view
Sound and motion alerts
2-way audio
Built-in vet chat
Works with Alexa
Cons
Setup and connectivity issues
2. Runner Up: WOpet Smart Pet Camera
The only thing better than getting to look at your pet's cute face 24/7 is getting to treat them like the royal they are! This smart pet camera gives you the option to toss out treats to your pet on command, wherever you are and whenever you feel like it. Just fill in the dispenser with treats and use your phone to activate the treat-tossing action! In addition to this great feature, this pet camera boasts all the essential functions – a 1080p HD camera with a 165-degree wide-angle lens, night vision, and 4x digital zoom as well as two-way audio. And, as a cherry on top, you can also capture pics of your pet through the app and share them instantly on social media!
Pros
Treat dispensing
HD wide-angle camera with night vision and picture capturing feature
2-way audio
Works with Alexa
Cons
Doesn't support 4G or 5G network
3. Customer's Choice: Blink Mini
If you're not willing to splurge on a pet camera with all its perks and pet-oriented features but still want to keep an eye on your pet while you're away, this affordable plug-in security camera with motion detection and two-way audio is just the thing. While not designed for monitoring pets per se, it does a decent job of it – for a fraction of the price. During the day, you can get a high-quality live view thanks to the 1080p HD video, and infrared HD offers you visibility during the night. And, thanks to its price and small size, this camera is an excellent choice if you want pet cameras in multiple rooms in your house – you can make sure every area is monitored with Blink Mini.
Pros
Affordable and compact
1080p HD video and night vision
2-way audio
Works with Alexa
Cons
No bonus features that could be important to pet owners (motion detection, bark alert, treat dispensing, etc)
4. Best for Cats: VStarcam Cat Camera with Laser
Want to know what your mischievous kitty is up to while you're away earning money for kibble? This cat camera will help you monitor your pet from away but also provide your cat with some much-needed mental stimulation and entertainment when you're working long hours. In addition to a 360-degree full view 1080p camera with night vision, this kitty cam boasts one distinct feature – a remotely controllable laser! And all cat owners know how their pets love chasing that elusive red dot. With this camera, you can play with your pet wherever you are and make sure they don't get bored (and destructive) while you're away. To boot, there's also a 2-way audio feature as well as motion and sound detection.
Pros
Remotely controlled laser toy built-in
HD camera with night vision and a 360-degree view
2-way audio
Motion and sound detection
5. Best for Dogs: Furbo Dog Camera
The way to a dog's heart is paved with treats, so it's no wonder that dog owners absolutely love this pet camera! The 1080p HD camera with night vision and a 160-degree wide-angle view day and night is a good start, but what makes this pet camera so popular with doggos is the fact it can toss out treats on command! A great way to keep your puppy happy while you're at work – just open the app and toss out a treat. You can use the two-way audio feature to call your pet in for a reward, too. Additionally, this pet camera also boasts some nifty features such as bark detection and the option to record videos.
HD camera with night vision
2-way audio
Treat dispenser
Bark detection
6. Best with Treats: Owlet Home Pet Camera with Treat Dispenser
It didn't take much for pet camera manufacturers to realize that one of the biggest selling points is a camera that shoots out treats – I mean, what dog wouldn't love it? If you are in the market specifically for a treat-dispensing pet camera, this is a great design. It allows you to dispense treats to your pet through an app and record their hungry, cute little faces in the process if you want. The camera is 1080p HD with night vision and a 165-degree wide-angle view, which will provide a clear picture of your pet as well as your home 24/7. Additionally, there's a 2-way audio function but if you can't use it when you're at work, don't worry – you can also pre-record a message to be played to your pet when the treat is about to be tossed out.
Pros
Wide-angle 1080p camera
2-way audio with a pre-recording option
Easy to mount on the wall if preferred
Treat dispenser
Cons
Motion detection could be better
7. Best Mobile: SKYMEE Owl Robot
If your pet is not spending most of their time in one room, and you are not too keen on splurging on multiple pet cameras to cover every area of your home, this mobile pet camera robot might be the perfect compromise! You can remotely control this camera robot and cruise around the house via a smartphone app – but a better and wider view is not the only advantage of this camera's mobility. This pet camera robot was designed to engage dogs into being more active when their owner is not around, by dispensing treats and moving in a way that entices a pooch into play. There are multiple action modes (rollovers, rotations, etc) that are triggered by your pet's specific behavior detected through infrared sensing – impressive technology at the service of dogs. Of course, in addition to these unique and clever features, this robot camera still offers all the other perks such as a 1080p HD quality camera with 4x zoom and 130° wide-angle view, night vision, video recording, and two-way audio.
Pros
Interactive and mobile
Dispenses treats
HD video that can be zoomed in or recorded
Gets your pet moving
What to Look for in Pet Cameras?
Not all pet cameras boast the same features – some focus on the video alone, and others combine camera function with other perks, from food dispensing options to remote control, and more. This is why it's important to carefully consider all of the factors before buying and decide which features are worth paying for and which just won't be necessary for your lifestyle. When it comes to buying pet cameras, these are some of the most important things to check for.
Video quality
Pet cameras have different resolution and video options, such as live feed, screen capture, night vision, and so on. If you want a crisp and clear view of your pooch or kitty throughout the day, 1080p HD is the recommended video quality – or more, if available. Also, it is worth considering if additional features such as zoom-in, motion detection, or night vision are something that could be important to you, as not all pet cameras boast these features by default.
Connectivity
Most, if not all, pet cameras connect to a smartphone app through which you can watch your pet remotely, but not all of them use the same method of connection. Some need WiFi to operate, others use Bluetooth, and some are compatible with Alexa, Google Assistant, or Siri. Pick what works best for you – luckily, there are options to meet everyone's needs.
Two-way audio
Another nifty feature you might want your new pet camera to have is two-way communication. This allows you to hear your pet but for them to hear you, too, even when you're miles away. This can be particularly handy if your pet is anxious when you're not around: hearing your voice might soothe them and help them be at ease when they are home alone. Similarly, if the camera comes in with built-in features such as treats or food dispensers, two-way audio would enable you to call your pet to get their nom-noms.
Alerts
Some pet cameras come with motion detection features, which can be quite handy if you want your pet camera to double as a security one. These cameras send out an alert to your phone when they detect something moving in their scope, letting you know if there's someone in your home who shouldn't be there. It can also be handy to know if your pooch or kitty is up to no good when you're not around and try to go into areas restricted to them. Additionally, some pet cameras have the ability to detect barking and alert you when your pet is being too vocal so you can use two-way audio to calm them – great if you have close neighbors that don't appreciate the noise.
Treat dispensing
One of the most popular pet camera designs features a treat-dispensing option – the camera can dole out treats to your four-legged best friend on demand. Needless to say, the feature is popular both with pet owners and their pets. You can dispense treats remotely through the camera to reward good behavior, soothe an anxious dog, or just because you feel like treating your pooch while you're away at work. Additionally, some pet cameras can also dispense whole meals – these designs are hybrids between pet cameras and automatic food dispensers.
We are committed to finding, researching, and recommending the best products. We earn commissions from purchases you make using the retail links in our product reviews. Learn more about how this works.

Angela Vuckovic
A proud mama to seven dogs and ten cats, Angela spends her days writing for her fellow pet parents and pampering her furballs, all of whom are rescues. When she's not gushing over her adorable cats or playing with her dogs, she can be found curled up with a good fantasy book.
More by Angela Vuckovic
Published February 24th, 2022 12:00 AM