2.4K Views
Best Rawhide Chews for Dogs With Sensitive Stomachs
December 29th, 2020 12:00 AM
We're committed to finding, researching, and recommending the best products. We earn commissions from purchases you make using links in our articles. Learn more here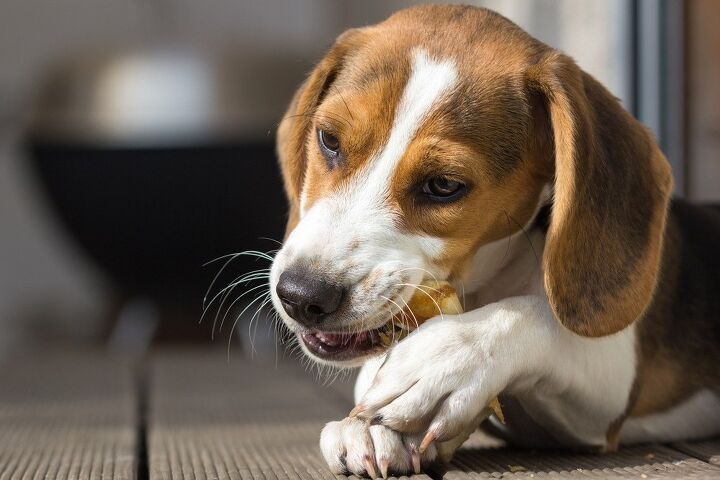 Dogs love chewing on rawhide, but sometimes it can upset their tummies. Here are the best rawhide chews for dogs with sensitive stomachs.
How rewarding is it to throw your dog a special treat and then stand back and watch him just devour it? Especially if it's something you know he loves and can enjoy for hours, like a rawhide bone or strip. Well, my poochie gals are no different and as per that proverbial saying about "a dog with a bone", once they latch onto it, they're not letting it go.
The problem with this is that they both come from breeds with sensitive digestive tracts. If I don't take their treats away long before they've finished, it all ends badly with upset stomachs and diarrhea, which can last for days afterward.
Because I know that chewing and gnawing is inherent in all dogs – it helps to keep their teeth clean and occupies them for hours – I was determined to find something similar for them to enjoy. I tried rubber bones and stuffed Kongs, but nothing quite measured up to the chewy goodness of a rawhide. In consulting with my vet, he said the actual rawhide wasn't the problem (though you should always look for single strip versus smaller, entwined pieces), it's the chemicals used to treat it. He also recommended that I should stay away from the cheap volume packs you find at your local grocery stores. Okay, busted.
What type of chewing treats are good for dogs with digestive challenges? We've short-listed 5 for you to consider. But we also want to share some tips on what to look for when buying your dog any type of rawhide (or other dried parts of an animal) treat.
While most rawhide manufacturers use similar treatment processes, some cut corners and use chemicals (including formaldehyde) that can impact your dog's health. Always note where the product was manufactured and if it isn't North America or Western Europe, give it a pass.
Avoid rawhide bones that are "too white". Odds are they've been treated with a chemical called titanium dioxide, and while certain versions are approved by the FDA for human consumption, that same agency doesn't oversee rawhide production – so you can't be sure of what your pet is consuming.
Some pet parents opt to let their pooch gnaw on dried hooves, which are long-lasting but can eventually break into sharp pieces and cut tender gums. If your dog loves these, just monitor the process and take them away when they begin to fragment.
Look for trusted brands. The pet food industry is highly competitive, and if a manufacturer has earned a reputation for quality products, they'll want to protect that. You may pay a bit more, but as treats that are given sporadically versus daily, they'll be much better for your pup in the long run.
Best Rawhide Chews
1. Editor's Choice: Barkworthies Bully Sticks
Sometimes the best treats are the simple ones that stick to just one ingredient. These durable chew sticks are made from 100% free-range, grass-fed beef with no preservatives, coloring, hormones or other chemicals. That's what makes them a great pick for dogs with dicky tummies. They're tasty, strong enough to give your dog's teeth and jaws a good work-out and are fully digestible, making them safe for young pups.
2. Runner Up: Heartland Antlers
It doesn't get more basic than a piece of Elk antler, right? Rest assured, these natural chew sticks come from shed antlers (versus hunted animals) and while they may cost a bit more than your usual treat, they're also going to last much longer. They're clean, a natural source of calcium, and because they're free from preservatives, additives and hormones, there's nothing to upset your pooch's tummy. They're also deal for large to extra-large breeds.
3. Customer's Choice: Benebone Maplestick
Every dog loves a stick, and this particular "stick" is not only made in the USA from nylon and real wood fibers, which make it naturally taste like a stick. Even its patented design – with ridges and grooves to help your dog get a good, firm grip on it – emulates something he's found in the forest. Because its tougher and longer-lasting than real sticks, it won't splinter or leave a mess on your carpets, and its designed to give your dog a good oral workout.
4. Best Long-Lasting Chews: Nylabone Power Chew Ring
If you have a dog with a sensitive stomach, a pup that's teething or even a larger dog that needs a durable chew to help with dental health, this heavily textured, all-nylon product is a great choice. It's made in the USA, so you know it contains only quality ingredients, and while it references "flavor throughout" it doesn't list any chemicals or preservatives that might set off a sensitive tummy. For serious chewers, the continuous band of ridges and nubs not only remove tartar, but help satisfy your pooch's need to gnaw.
5. Best Gluten-Free: Better Belly Rawhide
If you need a little more reassurance that your rawhide alternative is one that will be loved by your pet – while protecting him from gastrointestinal issues – this edible alternative is a perfect option. It's 100% gluten-free, and for many dogs, gluten can be a trigger that results in an upset stomach and diarrhea. It's also manufactured using all-natural flavors and without the use of artificial colors, fillers or binders. Even the rawhide itself has been made highly digestible, so there's no danger of blockage or digestive issues.
Frequently Asked Questions
How often should I replace rawhide chews for my dog?
It's best to throw out rawhide chews after 3 or 4 days or sooner if your dog likes to chew them frequently, e.g. multiple times for long periods in a day.
What are the causes and symptoms of stomach sensitivity in dogs?
Just like adults, your pup can have a sensitive stomach and a bad reaction to certain food you might give them, resulting in an upset stomach. You might test out some new kibble for them which may result in vomiting, flatulence, constipation or even diarrhoea. Other causes may be overeating, ingesting something from their outdoor environment, or more serious issues such as intestinal blockages or kidney problems. If any symptoms persist and you still can't put your figure on it, it's best to consult your vet to better diagnose your pup's tummy issue.

Mary Simpson
Sharing space with three seriously judgy Schnoodles and two felines who prefer to be left alone. #LivingMyBestLife
More by Mary Simpson
Published December 29th, 2020 12:00 AM