33 Views
Best Retractable Dog Leashes
We're committed to finding, researching, and recommending the best products. We earn commissions from purchases you make using links in our articles. Learn more here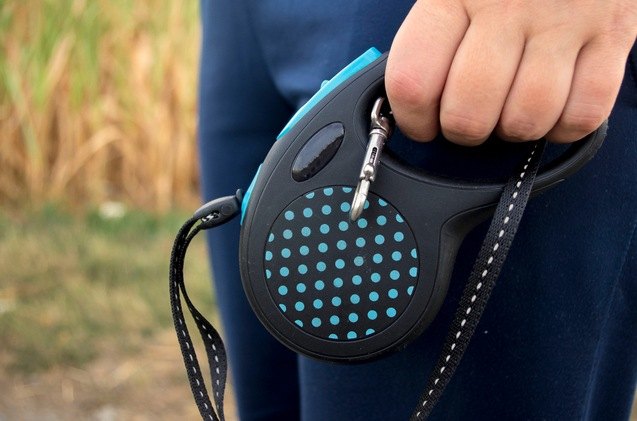 Retractable dog leashes are popular with good reason–they combine flexibility and safety into one. Take a look to find out which of them offer the best value for your money!
Exercise is important for your four-legged friend–and no one can deny that walks are one of the favorite activities for all dogs. Just the mention of the word walk is bound to get that tail wagging! Of course, once you're out and about with your canine companion, safety should be one of your main concerns. Dogs are curious by nature, and will often want to explore places that they really should not. That is why control in these situations is very important. But then again, you don't want to confine your pet and limit the enjoyment of the surroundings and all the fun that a sunny summer's day can bring. So how do you find a middle ground? Is there a way to ensure both safety and freedom for your dog? Yes, there is.
Retractable dog leashes are designed with exactly this combination in mind. You can remain in full control over your pet's movement, while still allowing him the freedom to explore. And at all times, you have the option to retract or extend the leash – as the situation dictates.
So how exactly do they work? The main feature of retractable leashes is the large plastic handle, designed in an ergonomic way that fits perfectly into your hand. Inside, the leash is coiled around an easy release spring mechanism which is controlled by you – via the button on the handle. So when you wish to give your pet some more freedom to explore, you can extend the leash a bit, and retract it when you want him protected and beside you.
Most retractable leashes can extend up to 26 feet and that can really make a difference. When using the standard short leash, especially with strong and large breeds, you are really keeping them under your control and limiting their movements. And that can result in too much straining and effort from your dog, especially if they spot something interesting. To prevent this strain and injury, you can choose to extend the leash just far enough to still ensure safety. But you still need to exercise caution and to observe just where and when you allow free movement to your dog. If you don't pay attention, your pet can get into all sorts of trouble – while still being on the leash! They can either get too close to other, potentially unfriendly dogs, or they can get to rummaging in trash or consuming things that they should not. If you know that your pet is prone to this type of curious behavior, it might be a good choice to invest in a quality muzzle that will prevent them from getting into trouble.
Either way, the retractable leash is certainly a popular and very useful tool, but one that needs to be used responsibly and with attention. They are perfect for small and medium dog breeds, but might not be so good for large dogs or those that are not yet leash trained. So choose wisely and choose accordingly. If your pooch is a good candidate for this type of leash, our buying guide on the best retractable dog leashes on the market will help you make the right pick- read on to learn more!
Upsky Retractable Dog Leash with Flashlight
This retractable leash is affordable but high-quality nonetheless. It takes the basic, proven design and takes it to the next level. The first thing that you will notice is the integrated flashlight. A perfect, efficient design feature that allows you to safely walk your dog even in the evenings. If the area lacks street lights, you can still see your pet's movements and the environment around you. The grip has an ergonomic, non-slip design, and the leash itself is made from a durable nylon ribbon. The attachment points are strengthened and made from stainless steel. 17 feet is the length to which you can extend the leash.
Fida Retractable Dog Leash
The design of the Fida leash might be simple, but it's exceptionally well-made. This leash extends to 16 feet and boasts a string of efficient design elements. The first is the reflective stitching. The durable nylon plastic fabric is wide enough to ensure strength and is covered with reflective sides, allowing you to be aware of your pet's movements even in the dark. The grip features a locking button, which means you won't have to keep your finger on it all the time. Another interesting feature is the anti-twist inlet – it ensures smooth retracting and no snags in key moments. This Fida leash fits into the mid-price range and is a solid choice.
TUG 360° Tangle Free Leash
TUG offers one of the most popular choices on the market, and there's a clear reason for its popularity. This high-quality retractable leash has all of the design and safety elements that owners need from a leash. The leash extends to 16 feet and has a unique 360-degree tangle-free inlet, which allows you to control your pet's movements from any angle. The manufacturer goes a step further, boasting a high quality Japanese retracting mechanism which operates quickly and smoothly. The grip has a textured, rubberized anti-slip surface. Even though it is a high quality, popular leash, this TUG is still affordable to most dog owners. A fantastic choice!
TaoTronics Retractable Leash
This leash gives you all you need – and then some! It extends to the standard 16 feet length, and the leash itself is made from durable nylon – albeit a tad too narrow. It has a powerful spring within that ensures a quick retracting. The grip itself is slightly unique, with an angled, ergonomic design that really fits securely into your hand. One nifty addition is what every owner needs on those daily walks – a little bone-shaped plastic container which is filled with disposable bags – for those messy moments when nature calls!
Flexi is the ultimate leash for all the big breeds. Designed specifically to cater to powerful dogs, this leash all about control and heavy-duty durability. It can hold dogs from up to 55 lbs with the medium size up to over 110 lbs with the extra large size. There is no doubt that it will help keep you on your feet even if your pup is still learning how to walk properly on a leash. You can quickly notice that the design is unique and with a good reason.
The Flexi Giant Tape Leash can extend up to 26 feet so you can let your puppy explore as much as you'd like. The yellow material is very easy to spot in all conditions, and it also boasts a patented mechanism that ensures quick and smooth retracting. The grip, although slightly unusual, is perfectly ergonomic and safe. And although it is on the pricier side, this heavy-duty leash is well worth the investment if you have a large dog that you are working on controlling during your daily walks.
ThunderLeash Retractable Dog Leash
This is another high quality, heavy-duty retractable leash that can really allow you to feel secure and in control. ThunderWorks is a fantastic brand and is well known for the quality of its products. The leash is housed in a robust case and it is made from a high-end material. It successfully incorporates a no-pull system that puts gentle pressure on your pet's torso and keeps the aggressive and overly excited pets in check. It is also a fantastic leash for training and is highly recommended by specialists. It extends to a short, medium and long range, with a max of 19 feet. Pricey – but high end.
Peteast Retractable Leash
Another reliable design, the Peteast leash shares a lot of elements with the well-known TUG. It is mainly oriented towards lightweight and small breeds but is nonetheless a durable and quality product. It has a sturdy nylon fabric leash with strengthenings at the connecting points. It extends up to 10 feet and has a 360 degree, no tangle inlet, allowing great control over your pet's actions. And best of all, it too incorporates a reputable high end retracting mechanism.
Dogness Smart Retractable Leash
Dogness leash is one of the more expensive ones on the market, but it is certainly worth every single penny – this ain't no ordinary leash. This 13 feet leash boasts a robust, rubberized build, which incorporates so much more than its competitor designs. You have a choice of attachments on each side of the leash, including a Bluetooth speaker, an LED light, or a convenience box to hold treats or waste bags. It has a durable nylon leash and a rubberized ergonomic grip. Simply put, the Dogness Smart leash is unlike any other on the market. If you are looking for ultimate efficiency and high quality – and you are ready to splurge – then there is no other choice than this!
Another offer from this outstanding German brand, Flexi Neon will satisfy the standards of most pawrents. Even though it has a simple design, this 16 feet leash boasts a lot of neon reflective elements that are great for evening walks. The sides of the grip are covered with neon stickers, and the yellow nylon leash is also reflective. This is a lightweight and compact leash and is really aimed at small breeds. If you want to ensure safety for both you and your pet, you can't go wrong with this one.
Good2Go Retractable Lead With Flashlight
The Good2Go leash has all the elements you'd want to have in a good leash. The durable nylon material has integrated reflective patterns for better visibility, and the grip itself has an incorporated LED flashlight for good awareness in the dark. The grip is rubberized and non-slip and has an added D-ring for attaching your waste disposal bags. This leash easily checks all the boxes on our list of must-haves for reliable, affordable, and efficient retractable dog leashes.
Pros and cons of retractable dog leashes
There are a lot of split opinions about retractable dog leashes among pet owners. Some love the adaptability and the options they have, while others can't fully rely on them due to the lack of control once the leash is fully extended. Both sides have their valid arguments, but in the end, it all comes down to responsible use. Here are the main advantages and disadvantages to show you the real efficiency of retractable dog leashes:
Adaptability
One of the biggest advantages of a retractable leash over the traditional one is the ability to adapt to most situations. If you are in a wide-open safe environment – like a park – and you want to allow your pet to run free and enjoy, but still have him on a leash, you can safely extend the line and to do so. But you will always have the upper hand, and be able to adapt to all situations and all spaces. Something you don't like appears? Simply retract the leash and your pet is back by your side.
Exercise
Short, traditional leashes can be really restricting when used on daily walks, and won't really be of use in regards to necessary exercise. While yes, walking still counts as an exercise, sometimes a bit more freedom is needed. Active dogs are often constrained by short leashes and can't really use their energy effectively. With a retractable leash, you can allow this in appropriate situations. Your pet can run and explore – all under your supervision. And that bottled energy can be spent productively.
Control
Once outside, having control over your pet's movements is imperative for all responsible owners. And these leashes are a perfect balance between allowing freedom and being in control. Short leashes still offer control, yes, but are also too limiting. Some versions, mainly the ones that strap around the chest, can be constricting and potentially cause injuries to overeager dogs. With a retractable leash, these things don't occur, and you maintain all the control by simply controlling the length of the cord.
Responsibility
One of the main cons of retractable leashes is that they require a lot more responsibility than usual. Some owners disregard this and really don't pay attention to their pets when the leash is extended, and this can cause trouble. You need to pay extra attention when walking your pet besides a street with traffic, and you need to keep the leash short. The same goes for places where there is a lot of people or other dogs. A leash can be extended only when you deem it is safe, and that calls for focus and attention on the pet during the walk. With a short leash, things are much safer and you don't have to monitor your pet like a hawk at all times.
Durability
Another thing to keep in mind is the fact that not all retractable leashes are really that durable. And they are especially not well suited for powerful and large breeds. Short traditional leashes can be made from rugged, tough materials and can withstand great force. Retractable leashes can't be that strong due to the mechanism and the way that they operate, so they are often lightweight. This is why we mostly see them used for gentle, small, and well-behaved dogs. Still, advances in manufacturing ensure that the fabrics and materials are evolving steadily, and brands are offering solid guarantees regarding the safety and durability of their leashes.
While you do have a certain amount of control over your pet's actions, you can't always respond as quickly as you might want. And again, this calls for a lot of responsibility and awareness. The retracting system isn't as fast as the extending one. So if you need to pull your pet back to you, it might take up to 30 seconds. And if the situation is risky, 30 seconds might be too long. Another thing where you will lack control and the ability to respond is the leash itself. If your pet is energetic and starts exploring or chasing other dogs, you might quickly experience the ol' snag – your pet will run around you and wrap the leash all about your legs, causing a right mess and preventing you from properly reacting to the situation.
What to look for in a retractable dog leash?
Now that we went over the pros and cons, we can clearly see the key aspects to look for when purchasing a quality retractable dog leash. Purchasing a very cheap, run-of-the-mill leash can be a risky move, as you are putting your dog in jeopardy – especially if you know your pet is energetic. So, quality is of the essence. The durability of the leash material is really important, and you need to be sure that it won't easily snap. Luckily, plenty of brands are using highly durable cords and nylon fabrics which are highly resistant to pulling pressure. The next thing is the retracting mechanism itself. Better known brands boast a better-designed mechanism that can retract much faster than the cheap ones. You want to completely avoid the possibility of snags and slow response. Furthermore, you want to avoid cheap plastic attach points, and instead opt for secure steel clasps that are quite difficult to detach. Another good point to observe is the shape of the grip – you want an ergonomic, comfortable shape that you can hold securely and without an effort. To sum it all up, here's a checklist of features to look for:
High-quality cord
Fast retracting mechanism
Steel clasps
Ergonomic handle
We are committed to finding, researching, and recommending the best products. We earn commissions from purchases you make using the retail links in our product reviews. Learn more about how this works.

Angela Vuckovic
A proud mama to seven dogs and ten cats, Angela spends her days writing for her fellow pet parents and pampering her furballs, all of whom are rescues. When she's not gushing over her adorable cats or playing with her dogs, she can be found curled up with a good fantasy book.
More by Angela Vuckovic
Published March 8th, 2021 12:00 AM