95 Views
April 29th, 2021 12:00 AM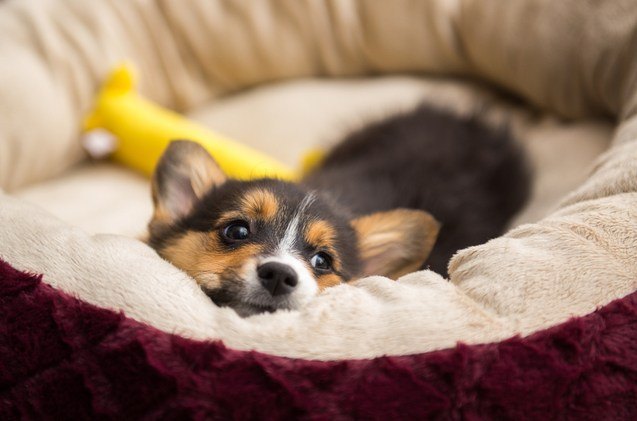 Small dog beds are specially designed to offer superior comfort and support to small breed dogs. Take a look at our selection of the best small dog beds and learn how to choose the best option for your pet's needs.
Small dogs have big needs – and you have to make sure you meet them if you want your petite pooch to lead a happy and healthy life. Every pooch needs a balanced diet, plenty of exercise, medical care, and a lot of love to thrive, but not all dogs are the same – and there are certain factors to consider with each canine. Take small breed dogs for example. They are more susceptible to cold, more likely to lose their teeth, and are known for their proneness to back problems. Luckily, with proper care, a lot of these issues can be avoided or remedied – especially those that involve back and joint pain and issues. For small breed dogs, their petite frames are to blame for their back sensitivity. Slipped discs are a common occurrence, especially for breeds such as Daschunds or Beagles, but you can prevent this by using pet stairs and steps to make space more accessible and minimize the risk of falls and injuries. If your pet has joint pain, you can make them more comfortable with heating pads or cooling mats. And, of course, if you want to ensure that your pet's back and joints have proper support to start with, invest in a high-quality dog bed designed for the needs of small dog breeds. It will pay off in the long run- and can help prevent a myriad of health issues along the way.
Small dog beds are not special just because of their compact size even though the dimensions are an important factor. There are plenty of other specific features that are incorporated in the design that makes these beds particularly suited to the needs of petite pooches. There are various options available to accommodate different body types and sleeping styles to ensure each pooch is getting the support their joints and back need. From orthopedic small dog beds to bolster beds, elevated beds, cuddlers, and so many others, there's no shortage when it comes to designs tailored to your pet's unique needs.
Of course, once you know what to look for in small dog beds to satisfy your compact canine's demands, you'll have to account for your own style preferences- you want your pet's bed to complement your interior and not clash with your own furniture – as well as make sure that the bed you pick fits your budget. It's clear why sometimes looking for small dog beds is more complicated than it seems, especially considering the crazy amount of offers on the market. Luckily, we're here to help. We've handpicked the best small dog beds your money can buy and in various design options and budget ranges, so every pet pawrent can find something suitable for their precious pooch. Read on to learn all about different types of small dog beds and how to choose the right one for your pet's needs!
Harmony Grey Nester Memory Foam Dog Bed
To make sure that the fit is ideal, this bed molds to your pet's body- which ensures ultimate comfort and coziness. The nester shape of the bed makes it ideal for pets that love to curl up when they sleep and prefer to be snug and tucked in for their naps. The generously filled sides can also serve as a place to lean your head on- so that sleeping style is covered, too. Filled with shredded memory foam, this bed offers proper support for your pet's joints and back. The cover is removable and machine washable – and your pet will love the softness and warmth of the textured plush sleep surface.
Top Paw® Faux Fur Donut Pet Bed
Does your pooch like to sleep with his legs sprawled out? Or does their sleeping style depend on the mood? If so, the free-form nesting construction of this small dog bed will make it a perfect choice. The overstuffed fill makes it particularly comfy and the donut shape ensures your pooch can take a nap in any position he prefers and the soft and plushy sleeping surface will make your pet's nap perfectly toasty and cozy. The bed can be washed on a delicate setting and tumble dried on low.
Brindle Waterproof Designer Memory Foam Pet Bed
This high-end small pet bed is proof enough that you don't have to break the bank to get the best quality. With a layer of 2 inches of body-conforming memory foam and 2 inches of high-density support foam, this orthopedic dog bed will give your pet's body optimal support and offer relief for pressure points, so it's a great choice for dogs of all ages, even those that suffer from arthritis. The zippered cover is removable and can be machine washed and dried, and the waterproof layer between the cover and the bed ensures that even if your pet has an "accident" while napping, it won't soak the bed and ruin it for good.
MIXJOY Donut Cuddler Round Dog Bed
Fluffy cuddler beds are popular for a good reason – they're cheap, dogs love napping in them, and they come in a range of cute designs. This donut-shaped has a cover made from luxurious self-warming faux fur that's soft to the touch and reflects your pet's body heat back to them to create a perfectly toasty temperature for long naps. As the rim is slightly raised, this bed shape is suitable for all types of sleeping positions. The bed can be machine washed and tumble dried, too, so the maintenance is effortless as well. Pick between pink, grey, grey-blue, and brown.
Amazon Basics Warming Pet Bed
What could feel better than a cozy nap in a warm, snuggly bed? If you ask your pooch, the answer will be nothing, not even a bacon-flavored crunchy treat. Amazon Basics Warming Pet Bed is designed to provide ultimate snugness and comfiness by utilizing the same technology as self-warming mylar "space blankets" to reflect your pet's body heat back to them. As a result, they'll always be toasty when they nap, no matter the season. What's better, this doesn't require electricity or batteries to run- all it takes is your pet lying down in it- so it's both completely safe and cost effective.
The self-generated warmth is not just pleasant, but it can also be therapeutic: small senior pooches with arthritis and stiff joints will appreciate the heat as it can reduce their pain and improve their mobility. Made from plush and supple corduroy on the outer parts of the bed and lined with the fluffiest faux sherpa, this small dog bed will feel like the softest embrace. It is available in 5 sizes to accommodate all body shapes and sizes, and you get to choose between a round or rectangle shape.
Milliard Premium Orthopedic Memory Foam Dog Bed
By combining a sturdy foam base and a body-hugging premium memory foam top, this orthopedic bed for small dogs manages to combine comfort and therapeutic properties into a single design. Each of the foam layers is 2 inches high and the foam used is certified by CertiPUR to be low VOC and free of heavy metals. The bed features a removable waterproof cover made from a plush material- it can be washed in the machine to make your pet's bed look like new.
The Original Elevated Pet Bed by Coolaroo
In case your pet spends summer days by your side while you're gardening, chilling in the backyard or sipping ice tea on the porch, you have to make sure they have a spot to lie down and relax. The elevated dog bed design is an ideal choice for outdoor use as the fact that the lying surface is above the ground ensures that the bed doesn't get dirty – and that your pet is not lying directly on the cold ground. The breathable HDPE fabric will keep your pooch cool in the heat, and the powder-coated steel frame is resistant to the elements – and will last you for years to come.
Animaze Gray Bolster Dog Bed
Bolster beds are ideal for pets that love to sleep with their head elevated – and this is one of the best bolster beds out there. Budget-friendly yet well made, it features polyfill stuffing and tufted sleep surface for optimal snoozing experience for any canine. The interior is lined with a soft, plush material that will make your pet feel like he's on cloud nine. To boot, the bed is fully machine washable, as well.
Best Friends by Sheri OrthoComfort Deep Dish Cuddler
The deep-dish cuddler is THE choice to make if your petite pooch likes to curl up when he sleeps. Super snug and cozy, this cuddler bed will envelop your pooch in a warm faux sherpa hug that will make them want to sleep in every day. The ultra-high side (12 inches) are generously filled and can be used to lean on, too. Machine washable and dryable, this lovely pet bed comes in 16 different colors – a match for any interior.
FurHaven Two-Tone Deluxe Chaise Memory Top Dog Bed
This orthopedic small dog bed is unique for its L-shaped bolsters that give your pet the option to lean on or sprawl – and one design rarely incorporates both options. Made from medical grade memory foam that will support your pet's spine and soothe pressure points, this bed also has a thin soft memory foam layer at the top that will contour to your pet's body shape for ultimate comfort. The removable cover is machine washable.
How to choose the right size of bed for a small dog
You might think that picking out the bed according to size is a no-brainer: just pick one that ticks all the other important boxes and then go for the small or extra small size label that fits your petite pooch, right? While in some cases this might work (based only on pure luck), that's not the way you should determine the right bed size for your pet. The first mistake that pet owners make is to go by their pet's weight or breed as a determiner, and it usually doesn't ensure that the bed will fit their pet properly. The fit of the bed is extremely important and you should make sure to measure correctly if you want your pet to be comfortable and have the proper joint and back support. Too small or even too big and their bed won't relieve pressure points even if it's comfortable enough, so you need to get one that will be just right – and that golden spot is usually 10 inches more than you think your pet requires. So how to get the right dimensions?
Take a tape measure and measure your pet from the tip of their nose to the tip of their tail – and add circa 6 to 12 inches to the number you get and that's roughly the length of the bed you're looking to get. Of course, you'll have to account for sleeping styles as well. Pets that sprawl their limbs all over the bed while they sleep will need the most space, those that curl up in a ball can manage with a tighter fit, whereas pets that like their head elevated or leaning against something need bolster beds with cushioned sides. And remember, when in doubt- always go a size up.
Types of small dog beds and which to choose
Not all pooches have the same sleeping styles and what's cozy and comfy for some doesn't necessarily have to be for others. There are many different designs out there, but here are a few of the most popular types of small dog beds – it's up to you to figure out which of 'em will be the perfect match for your tiny pupper.
Classic cushion beds
Also known as pillow beds, these are some of the most basic designs on the market: as the name suggests, they're literally a big pillow for your pet to sleep in. While their cheap price and simplicity might look tempting to some pet parents, it's best to splurge a bit more and get your pet a cozy bed that will offer the right support.
Orthopedic dog beds
Ideal for senior dogs or just if you want to think in advance and postpone or prevent health issues, orthopedic small dog beds are designed to offer superior support for aching joints and relieve pressure points. Usually, they are made out of high-quality memory foam or at least contain a layer of it.
Bolster dog beds
For pooches that love leaning their head against a pillow while they sleep, bolster beds with raised sides are a dream come true. With those overfilled pillows on the sides, naps will be extra cozy – but be sure to go a size up when buying bolster beds for dogs.
Donut beds
Somewhat similar to bolster beds, these round dog beds have a cushion in the center and slightly raised sides that are a good compromise between a flat pillow bed and bolster bed. Plus, these beds are often easy to come by and budget-friendly, so that's another plus in our book.
Cuddler beds
As the name suggests, these dog beds will make your pooch like he's sleeping in your warm hug. Designed to envelop your pooch's whole body- like a cozy cave of sorts- they are often made from faux sherpa and faux fur materials that are warm and super soft to touch. Great for pooches that like to sleep curled and snug as a bug.
Heated dog beds
For your cold-sensitive petite pupper, there's nothing better than coming home from a walk in the cold to cozy up in a warm bed. Special heated beds for small dogs make sure that the temperature of your pooch's nap spot is always optimal, even when they weren't around to heat up the bed. To boot, they come in versions that require electricity to work and those that use special heat-reflecting materials instead.
Outdoor dog beds
When you're out in the garden or kicking it back on the porch, why not have your pooch keep you company in style? There are plenty of dog beds that are designed to be used outside that could help your pooch be around you but still be comfy while you're doing your thing. No better way to soak up the sun and get that vitamin D than snoozing away in a comfy outdoor bed!
Travel dog beds
If you often travel with your pooch in tow, you know that organization and useful accessories are the key to a successful pet-friendly trip. To make sure your dog is comfortable on your trip, whether you're staying at a hotel or camping in the forest, travel dog beds are a must-have. These compact and portable versions of standard dog beds ensure your pet always has a cozy place to sleep in- wherever you are.
Crate or kennel dog beds
For dogs that have separation anxiety, crating can be a stress-relief: but only if you do it properly. One of the most important things is furnishing the crate in a way that makes it inviting and cozy, and setting up a comfy bed is the first step in that process. Luckily, for each type of crate, there's a matching bed to be found – with plenty of design variations to choose from.
We are committed to finding, researching, and recommending the best products. We earn commissions from purchases you make using the retail links in our product reviews. Learn more about how this works.

Angela Vuckovic
A proud mama to seven dogs and ten cats, Angela spends her days writing for her fellow pet parents and pampering her furballs, all of whom are rescues. When she's not gushing over her adorable cats or playing with her dogs, she can be found curled up with a good fantasy book.
More by Angela Vuckovic
Published April 29th, 2021 12:00 AM