28 Views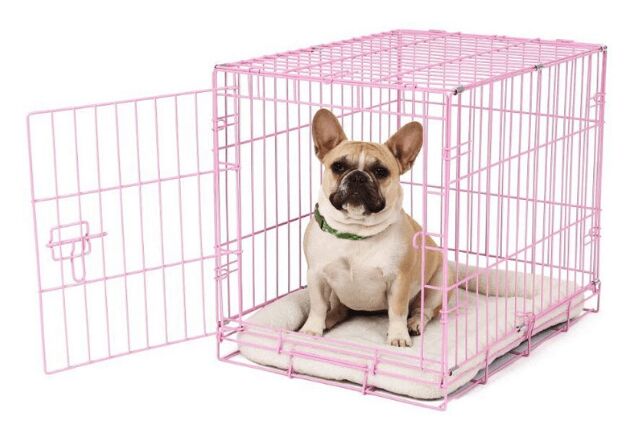 Small dog crates make sure that your petite pooch has a cozy corner of their own when you're not there to keep an eye on them. Here are the best choices on the market–your four-legged companion will love any of these!
It's no secret that many dog owners have a crate in their home, but do you know why? There are various reasons for crating dogs, from potty training to treating separation anxiety. Despite the popular opinion, when used responsibly and properly, dog crates are not a tool for cruel confinement but rather a training aid and a place of solace for dogs. One of the biggest advantages of small dog crates is the fact that they can act as a cozy little nook. Dogs have an instinct to seek out small, concealed spaces – a place that imitates a den. As their ancestors were denning animals, a remnant of that instinct still remains and having a "den" of their own can bring comfort and a sense of safety your pet requires. A nicely outfitted dog crate can be the perfect solution – especially for small breeds. When your pet is stressed out or just wants to relax and unwind on his own, he'll gladly go up to the crate and take a nap. To boot, the so-called denning training method is effective to keep your pet calm and relaxed when you are out of the house. The reassuring feeling of safety greatly reduces stress caused by separation. When you're away, you won't have to worry about your pet making a mess or accidentally hurting himself if you leave them in a crate.
On the other hand, dog crates can be designed for transport purposes. You might think that just because your pet is small enough that you can just carry them around in your arms, but that leaves a lot of space for trouble- there are a lot of risks, as unexpected situations can quickly pop up. That is why dog crates are a responsible, safe, and easy way to transport your pet on short trips. And they are also convenient. If you have to take a train or a bus ride to your destination – you'd surely want your pet to remain calm and not to disturb the other travelers. In a crate, a dog will not see too much of his surroundings and will stay much more relaxed. And we all know that dogs can get extremely anxious and excited when faced with new and overwhelming surroundings.
It's clear how small dog crates can be useful to both the pet and the pawrent, in more ways than one. From helping you deal with your pet's separation anxiety in a safe and convenient way to allowing your pet the option to accompany you on travels, there's no shortage of purposes for small dog crates. However, not all crates will do the job as you expect them to- there are significant differences in design and quality that could influence your decision. To help you navigate through countless choices, we've selected the best small dog crates on the market–there's something to match every pawrent's preferences. Read on to find a perfect match for your four-legged bestie!
Petco Classic 1-Door Dog Crate
Classic designs will never go out of style. Designed with small breed dogs in mind, this wire crate is excellent for den training or as a home crate. Snug and comfy, this one-door wire crate has everything your pupper will need. It comes with a slide-out plastic pan that helps you keep things tidy and hygienic, and has a powder-coated finish for a smooth and safe feeling. And with the addition of a cozy crate cover, you can easily upgrade this simple crate to a complete fancy nook – and ensure your dog has a lovely den to snooze in.
MidWest iCrate for Small Dogs
Big, classic wire crates are not always easy to store. They can sometimes take a lot of space and be very clunky. But this version from MidWest boasts a folding design, so storage is not an issue. In general, it is a well designed, high-quality wire crate that will tick all of your boxes. From a secure locking mechanism to a large front door, all the way to the convenient lower plastic pan, iCrate truly exceeds expectations. The folding design is a great idea as when you're moving, traveling, or simply not using it, this crate can be just tucked away under the bed or behind the wardrobe. Simple, efficient, and very durable – all that you want in a small dog crate!
Suncast Portable Dog Crate with Handle
Brands usually opt for either a full plastic design or a complete wire "cage" design. But Suncast opted for a mix of the two, which resulted in this fantastic small dog crate that gives us the best of both worlds. Made in equal parts from highly durable resin and from wire, it ensures comfort, protection, and durability. It comes with built-in food and water bowls, and it's a great option for traveling. But rest assured, it would be just as good as a comfy house nook for your small pupper. This crate is easily one of the most durable ones on the market, and can really give you peace of mind in all situations.
Birdrock Home Decorative Pet Kennel
Looking for another decorative option for your home instead of a cagey-looking kennel for your small dog? The Birdrock Home Decorative Pet Kennel is a great option. It adds a warm and decorative design to any room and can double as a side table, end table, or even a large nightstand so your pet can sleep comfortably in your bedroom with you. The kennel is made with strong treated wooden and metal wire side panels so they can't escape. It is durable and strong (but not entirely chew proof). It also comes with a padded and removable dog bed so your furry friend can sleep comfortably and cozy.
The espresso stain goes well with most home decor and the brass hardware gives it an upscale and classy look. There are two separate doors, a side door and a front door, for easy access and flexibility in where you would like to put the dog kennel. The kennel is made for small dogs, and is the perfect addition to your home's existing decor and style.
Petnation Port-A-Crate Indoor and Outdoor Home for Pets
Collapsible, soft-sided crates are becoming quite popular and for a good reason! These lightweight, space-saving, durable dog crates are balanced for all uses – and can be easily adapted for home or travel. This crate has a frame with fabric walls, which are made from a tightly woven, highly durable mesh fabric, with key strengthenings throughout. It can be folded and tucked out of sight and is set up in mere seconds. Once set up, it is a comfortable and spacious crate, with top and front entry doors, and stylish side meshed windows for better ventilation. High-quality zippers keep it all nice and tight. If you're tight on free space in your house, this is a great space-saving solution that you can consider.
It is always difficult to match your regular dog crate with the design of your interior. They always stick out like a sore thumb–and constantly storing them away when not in use can be quite tedious. But with this Merry Products crate, you can add a new stylish piece of furniture into your home – and still provide your pet with a cozy home.
The Merry Products wooden dog crate features high-quality wood panels and wire sides and can fulfill a variety of roles. It can be a classic kennel crate that doubles as a functioning end table, side table, or nightstand that blends in easily with your home's decor. However, one unique function of the Merry Products dog kennel is that it can also be transformed into a small fence. This is a perfect combination of pretty, useful, and sturdy, and your dog is bound to enjoy it. Moreover, your home will look more stylish because of it instead.
Petmate Portable Pet Home
This is one of the more unique entries on our list – an innovative design that perfectly balances efficiency, quality, and style. This crate is mostly made out of durable fabric – it can be set up in just seconds and can fold down easily as well. And even though it is fabric, it is very sturdy and highly resistant to the elements. It is designed for small breeds and has two zippered mesh windows for improved ventilation. It comes with a foam pad to provide comfort for your pet, as well as with side pockets where you can store some items. Don't be fooled by the fact that this is a soft-sided crate–this is one of the better choices on the market, and does its job excellently.
Carlson Pet Products Small Pink Single Door Wire Crate
If you want to make your cute pet an even cuter nook where they can relax, this basic wire crate will help you achieve that. It has a highly durable all-steel construction, with all the basic design elements. A large front door, a removable pan, and a secure locking bolt. It can even be folded for easy transport and space-saving. But its unique detail – and the one that will win you over – is the pink color. This crate is certainly ideal for pets with bubbly personalities- not to mention that it will look super cute in your living room.
FEANDREA Wooden Dog Crate
Are you looking for a dog crate for your tiny pooch that can blend in with the rest of your home decor? This wooden dog crate by FEANDREA looks great among your regular furniture and won't distract from your home's aesthetic. It is crafted from particleboard and steel, but looks like a high-quality piece. Your dog will feel safe inside their crate when visitors come or when you're away from home.
The large wooden top also serves as a tabletop for you. You can add to your room's decor by adding personalized touches like a table lamp or other accessories to help it blend in with your home's decor. It can hold over 150 lbs of weight, perfect for anything you might want to add. In addition to the lovely decor aspect, it is also easy to clean in case your pet has an accident. The removable bottom tray is easy to take out and clean quickly. This adorable small dog crate will hardly be noticed by guests and will blend in with your living room or bedroom furniture easily.
IRIS Wire Dog Crate with Mesh Roof
This cleverly designed dog crate features four durable posts, a fabric roof, and four sides of wide-spaced wire bars to offer optimal sturdiness without looking like a cage because of it. It has plenty of space for a petite pooch to relax and unwind, and it's optimally ventilated from all sides. The wide sliding access door with a positive-lock latch makes it easy for your pooch to get in or out, but when the lock is on, he won't be able to wiggle his way out.

Benefits of dog crates and early crate training
Dogs have a natural tendency to form strong bonds with their owners- this is especially true if you are a single person with a pet. But even in a family environment, these bonds tend to grow strong. This tie becomes even stronger with small breeds – their dependence on your help and company makes them highly committed and loving. That's why it is only expected that once you are out of the house – for example at the workplace – your four-legged friend will go crazy while being home alone. They become anxious, energetic, scared, and impulsive. Different dogs will show this anxiety in different ways. Some will tear apart furniture or do their business on the carpet, while some will become restless and bark their heads off. And no caring owner would want this for their pet. But there is an efficient way that you can curb this behavior and offer a calm and peaceful environment for your pet, even when you are away – with the help of a crate.
Denning is a tried and tested way to train your pet to calmly endure separation, and works best for single owners who have to go out for work daily. When you are away, you want to offer your pet a sense of security, and with a cozy, warm, and safe little "den", you can do exactly that. Just as the name suggests, denning is a way to "simulate" a natural den – a warm place that your pet will associate with home and safety. When you are out, they can – and will – choose this place to snooze and sleep until you come home. All you need to do is introduce them to the new crate, nice and slowly, and efficiently use treats as they approach it- take it step by step. In no time your pet will naturally feel drawn to it. You will be able to notice a drastic change when you return from work once your pet is crate trained. No mess and a pooch that's not completely stressed out!
Dog crates, of course, have a variety of other uses – all of them making crates a necessity for most pet-owning households. Traveling with pets, for instance, can be a big hassle if you don't have the right accessories for it, and small dog crates can double as travel crates in some cases. Crates make traveling convenient, safe, and they remove the stress of the journey for both you and your pet. Whether you are traveling by bus or train, car or plane, a crate will keep your pet safe and out of the way. Moreover, journeys to the vet are always a handful for dog owners, as our furry besties seem to always know when they are headed to the place they dread. With a crate, things can be kept in check and you can really avoid some unpleasant situations, both on the road and while you wait for the vet to see you.
Choosing the right dog crate
There are several key features that you need to take into account when choosing a proper dog crate. This should be a one-time investment, and that is why you need to think in advance.With the right approach, you won't have to waste your money on various models until you find what you need. For instance, take your dog's age into account. Puppies grow really fast, and if you get a crate that is too small, your pooch might outgrow it in months.
You should also consider your needs. If you often travel with your pet, you should choose a compact travel crate, which has all the necessary design elements suited for that purpose. But if you know that you won't need a crate for transportation purposes, and you want to focus on denning instead, you can opt for a wire crate. These are generally more spacious and optimized for home use. They can also have an added crate cover, which helps you to create a cozy and warm, darkened little "den" for your pet. Wire crates are also larger and can come in designs that blend in well with your home decor. Then again, if you really want a dog's crate that's beautiful too boot, you can opt for a few designer options – fancy, stylish dog crates that incorporate a lot of wooden elements and imitate furniture. They perfectly blend style and functionality.
Another thing you would want to consider is the general design. While common travel crates can be cheaper than the wire ones, they might not serve as good "dens" – unless your pet is a very small breed. They can be constraining and compact. Make priorities and adapt your purchase to your goals.
Quality, of course, is also of importance. If you are on a tight budget, consider saving up to invest in a crate that is well-made and suits your requirements. Durable, high-quality dog crates can last you for years and will pay off in the long run even if they cost a bit more initially.
We are committed to finding, researching, and recommending the best products. We earn commissions from purchases you make using the retail links in our product reviews. Learn more about how this works.

Angela Vuckovic
A proud mama to seven dogs and ten cats, Angela spends her days writing for her fellow pet parents and pampering her furballs, all of whom are rescues. When she's not gushing over her adorable cats or playing with her dogs, she can be found curled up with a good fantasy book.
More by Angela Vuckovic
Published March 3rd, 2021 12:00 AM