58 Views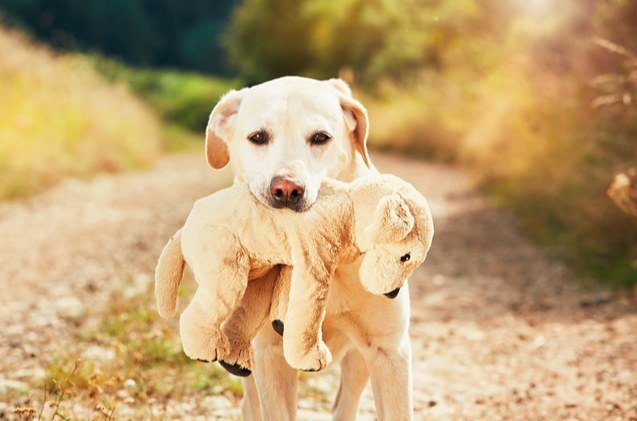 Stuffed dog toys are a great option for big and small, young and old – as long as your pooch is not a destructive chewer, plushies will be a ton of fun. Take a look to find which stuffed dog toys give best bang for the buck!
One of the most important things we have to provide to our four-legged companions is good old quality playtime. Not only that it's the favorite thing for every pupper under the sun, but it is also a very important pastime that has many benefits for your pet's physical and mental health. Whether it is the usual shenanigans in the park, the running about with other dogs, or simply some one on one playtime with their favorite toys – our pets need to play to stay happy and healthy. With regular entertaining activities, we ensure that our pets stay healthy, mentally stimulated, and happy.
Now, it is true that a happy pooch doesn't need a whole lot to get entertained or happily immersed in a playful adventure – literally anything goes. But with some specially designed, super fluffy and interesting toys, things can reach an entirely new level of fun. That is why we are bringing you our specially curated list of the best stuffed dog toys out there! These popular toy options can bring so many new and fun aspects to your pet's play routine – and in the process give you some extra time to relax and rest.

Stuffed dog toys come in all shapes and sizes, with some unique designs out there that truly stand out from the crowd. If you already know what kind of preferences your pupper has – and what shapes and sizes of toys they really like, you can easily find a great new plaything for them. From unique shapes to stuffed animals, these toys will bring a lot of fun into your pet's everyday routine. However, not all dogs should be given stuffed toys – these are usually made from soft materials and while generally durable, they usually don't stand a chance against aggressive chewers. It's important to account for your pet's playing style as well, since it can become a matter of safety – the last thing you want is your pooch ripping the plushie and swallowing bits and pieces.
In case your pooch is not a power chewer with appetite for destruction, though, a stuffed toy will be a great choice. To help you narrow down your choices, we've rounded the best stuffed dog toys the market has to offer, so scroll on to find a perfect match.

Bark-A-Boo Underwater World Plush Octopus
Here is a great way to start our list – a unique and very fun plush toy that is the perfect way for your pet to waste some time and energy. An octopus-shaped soft plush toy, it features a squeaker as well as crinkle – expect a lot of fun sounds during play that will engage your pet even more. The octopus features several protruding tentacles with fuzzy cover, these are a great and safe way to engage in tug of war with your pet and keep them occupied for hours on end. This is an affordable, secure, and durable toy that ticks off all of our boxes!
You'll have no problem getting your pooch to nibble on his veggies this time- 'cause the veggie is plush and cute. This simple but adorable plush toy in the form of a cheeky carrot will entice any pooch into play! Fuzzy, soft, and durable, this toy is just the thing if you are looking for a good affordable solution. And for this small price you get a detail many toys lack – a built-in squeaker that will work wonders to entertain your pet. Top Paw expertly shows us that you don't have to break the mold in order to deliver a satisfying and efficient stuffed plush toy. A great choice for all age groups!
Petlou Colossals Rabbit Plush Dog Toy
Petlou Colossals will bring your pet some truly colossal fun! This rather large plush stuffed rabbit toy is perfect for all those energetic large dog breeds. Plump, soft, and fuzzy, this toy is also surprisingly tough to tear apart. It easily withstands some energetic tug of war or a game of fetch. The toy is made from non-toxic, pet safe materials – both inside and out. It also features a built-in squeaker that makes the whole toy even more entertaining. It's also a great toy for those sleepy snuggles – your pet will love it through and through. And best of all – you don't have to break the bank to make your pooch happy.
This stuffed toy is perfect for games of fetch or some simple shenanigans around the house- this cute little duckie will be a hit with any pooch. Just watch as your pet's natural instincts come to life with this fowl shaped toy. Simple and endlessly fun, Duckworth the Duck is fuzzy, soft, but also very durable. It also has a squeaker that will make your dog go bananas for it. This 15-inch toy is great for large breeds, and especially those dogs with a bit of that hunting spirit left in them.
Outward Hound HedgehogZ Squeaky Plush Dog Toy
Luckily for your pet, this hedgehog is not prickly. That means one thing – a ton of fluffy fun. This hedgehog shaped stuffed toy is one of the funniest on the market, and your pet is bound to love that. The secret lies in some unique squeakers that will produce a lot of silly sounds. As it comes in several sizes, the X-Large and Large versions feature special grunty noisemakers, something to make the playtime so much entertaining. The hedgehog itself is made out of durable materials and faux fur. Pets love faux fur, and it only entices them more.
Fattiez Round Squeaky Plush Toy
You can't have a proper stuffed dog toy list without a little chubby piggy. That's why Outward Hound offers this plump and goofy toy in their Fattiez series. Shaped like a piglet, this is one of the fluffiest plush toys out there. Specifically rounded in that way that dogs adore, the toy features a unique design that boasts minimal seams. This means that there is less chance of tearing and durability is as good as it gets. And don't overlook the squeakers! Funny grunt noises will entice your pet to play. The Fattiez series offers several choices – a piggy, a chicken, a cow, a sheep, or a raccoon!
"Made Stronger to Last Longer" is the motto of the Furball series from goDogs. These funny fluffy toys boast great durability and a round design that is quite tough to destroy. With their Chew Guard Technology, these toys can truly withstand even the most avid chewers out there. With the combination of chew-resistant lining and strengthened double stitching, there really is no better guarantee for the toughness. Of course, none of this takes away from the stuffing and the fluffiness. Combine this with an added squeaker and you get yourself a proper entry into our list – affordable and tough.
Outward Hound Hide-A-Squirrel Puzzle Toy
Outward Hound is the brand that managed to take the classic design of a stuffed toy to an entirely new level. This super intriguing puzzle toy will serve as an endless supply of fun for your pet, and help stimulate those intuitive parts of the brain. It is also a great option if you have several pets. This toy includes a fluffy tree trunk and several little squirrels that can be hidden within it! Your pets are tasked with sniffing out and fetching the squirrels. A challenging puzzle that is great for a single pooch or several pets (if they like to share their toys). A great way to spend an afternoon!
Fluff & Tuff Savannah Baby Gator
This cute & cool baby gator is a perfect little plush buddy for your pet to chew on. Measuring 7 inches in length, this stuffed gator can be fun for big and small dogs alike. It features some unique design elements that contribute to its durability, like the Tuffweb mesh liner and the concealed double-stitched seams. It also features a non-toxic polyfill stuffing that makes it much more comfortable in play and safe to boot. Simply a fantastic choice – whichever way you look at it!
All For Paws Classic Squirrel
All For Paws eco-friendly Squirrel shaped stuffed toy is a perfectly realistic option that will without a doubt get your pet into play mode. Stimulate those inner natural instincts and occupy your pet's attention with this simple and durable toy. Plenty of fluffy and faux fur make for an incredibly enticing toy, and the added squeaker makes it all the more enjoyable. Perfect for hound dogs and larger breeds, and all pets that really like to play fetch or just have an unhealthy obsession with squirrels.

Features to look for in stuffed dog toys
Quality is crucial when it comes to stuffed dog toys. Good quality ensures durability, and in turn, your pet's safety. It is true that a pooch will always do their best to utterly destroy a stuffed toy – but that doesn't mean it can't last them a while. Poorly made toys are not just a waste of money but can pose a danger- if ripped to shreds, it can easily be swallowed and cause an obstruction.
In addition to durability, there are a lot of other features that make a difference between a good and great stuffed toy, and in these cases, a good investment is always worth it. Not only does a stuffed toy need to be well made, but it also needs to be engaging and entertaining. Don't hesitate to choose something new and strangely shaped – it could be that your pupper will like exactly that!
Durability
Needless to say, durability plays a very important role in the overall quality of a stuffed dog toy. Dogs have quite a reputation when it comes to toys – and that means destruction is inevitable! That means a stuffed toy needs to have adequate durability in order to last a while and withstand the nibbles and chews. Choose only tough, thoroughly stitched toys with materials that boast good quality. Some brands offer advanced toys with double stitching or specifically designed toys that are tough to break apart. Dimensions can also play a role in the overall durability – with some small size toys being quite tough to tear apart!
Shape, features, and size
Dogs will have a natural instinct to play with stuffed toys that resemble small critters and animals. This is particularly true for breeds that had their start as hunters- their prey drive is usually quite strong. And that is why the little stuffed rabbits, teddy bears, ducks, and similar toys are quite the popular choice. Another popular addition to many stuffed toys is a squeaker! These add a whole other aspect to the toys and will make your pet go absolutely crazy about it – because everything is more fun with a squeaky sound! It simulates natural sounds and makes playtime even better and much more exciting. Your eardrums might disagree, though.
Stuffing and materials
The materials from which a toy is made must be not only durable – but also safe. Opt for approved and untreated materials, since a toy will mostly be chewed during play. Stuffing is equally important: it is what makes the toy fluffy after all. Hard stuffing defeats the purpose of a stuffed toy and can even be bad for a pooch with sensitive teeth. But, in the case your pup is an avid chewer – which is often the case with young dogs – you can opt for some heavy-duty versions made from rubber materials. These can withstand a lot more and satisfy the chewer – even though they are not as soft or fluffy.
Safety
Always keep in mind your pet's age. Old dogs can often have sensitive teeth – and you don't want to give them a tough toy. In such cases – the fluffier the better. Also, buy according to size. For large dog breeds, avoid small, handheld toys. Avoid complex toys as well. Some stuffed toys can have added odds and ends, like tiny beads and strings. These are a potential hazard and it would be smart to avoid them. The general rule is to keep things soft, smooth, and fluffy! And as always, avoid materials that are potentially toxic – always look for approved options.
Affordability
Even though your pet deserves a splurge from time to time, you want to be smart about your purchase. Stuffed dog toys have a varying price range, and sometimes the best ones are really cheap! That is why it is good to really explore all your options. Also, you should keep in mind that a stuffed dog toy will wear out in time. In such a case you'd want to go as cheap as possible.
The importance of playtime
A healthy routine has to include exercise and engaging playtime if you want your pet to remain healthy and happy. Most dogs are very active and will require some opportunity to spend all that energy in a creative and stimulating way. Without it, there is a lot you risk. Obesity, apathy, lethargy, and anxiety are all big issues with pets across the world and often stem because of a lack of stimulation and exercise. Another issue that occurs from this is anger and mischievous behavior. For some dog breeds, energy is at a much higher level. If you fail to give them a chance to spend it, they might take it upon themselves to do so. And in such cases, it is often the furniture that becomes the toy. So, in order to avoid all these issues and to keep your valuables in pristine condition, think ahead: offer plenty of walks around the yard, the block, or in the park, and give your pet a couple of toys to enjoy while they are inside.
Stuffed dog toys are a great example of how you can promote natural and healthy behavior in your dog. Satisfy their natural instincts by offering a great simulation of prey – that remnant of their old hunting habits, something shared by all dogs today. They'll love to immerse themselves in a proper little simulation, and all that in a safe, simple, and playful way. These instincts need to be taken care of. In that way, you ensure that your pet won't become destructive in order to satisfy them on his own. And surprisingly, stuffed toys can be a great way to teach your young pup some good old fetch! I mean, what better way to encourage your pooch to go after something you threw than to use something they love to carry around in the first place? Just observe how diligently they will retrieve that stuffed animal – it makes them feel accomplished and useful. And what more can a good boy want?
We are committed to finding, researching, and recommending the best products. We earn commissions from purchases you make using the retail links in our product reviews. Learn more about how this works.

Angela Vuckovic
A proud mama to seven dogs and ten cats, Angela spends her days writing for her fellow pet parents and pampering her furballs, all of whom are rescues. When she's not gushing over her adorable cats or playing with her dogs, she can be found curled up with a good fantasy book.
More by Angela Vuckovic
Published July 7th, 2020 12:00 AM