140 Views
Buying Guide: Best Outdoor Dog Kennels
August 31st, 2021 12:00 AM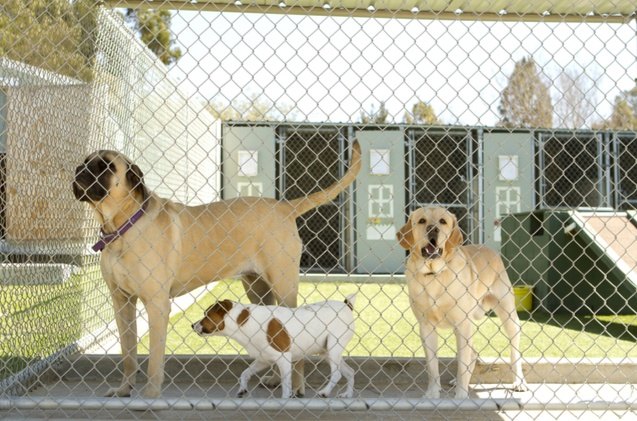 Outdoor dog kennels ensure your pooch is safe outdoors even without supervision, allowing them to play and spend time in fresh air when you're otherwise occupied. To find out which kennel is the best choice for your pet, read on!
Even if your pooch is a typical couch potato that loves nothing more than to snuggle with you on the sofa, it doesn't mean that they don't appreciate their time outside in the fresh air. Of course, your schedule might not always coincide with your dog's–they might want to be out in walks or sniffing around the backyard at times when you're busy with work or otherwise unable to give them the outdoor time they crave, but that doesn't mean that they have to be stuck bored in the living room. Having a securely confined place to spend time in when they are outside the house could be the solution to this conundrum, as you can let them out to enjoy the nice weather and fresh air without having to supervise them the whole time. Each pet parent has a specific situation and needs, naturally. You might have a backyard with an insecure fence, or a big porch that's easy to jump over, or a shared yard. Similarly, you might want your pet to be safely confined when you're away from home, for instance, when you are camping. In all of these cases, outdoor dog kennels are a perfect solution.
What do dog kennels do?
Designed to keep dogs confined and secure in one spot, these weatherproof constructions are ideal for outdoor use and created to make outdoor time safe and comfortable for pets. Unlike crates, which are mainly used indoors, dog kennels are made to withstand the elements and prevent your dog from finding his way out if he's a flight risk, so to speak. As a result, you can leave your pooch outside to enjoy playing without having to worry about them getting into trouble while you're not looking. Naturally, there are still some important considerations to make sure your pet is truly comfortable and safe in his outdoor enclosure. Dogs cannot live outside full time, so don't expect a kennel to replace your dog's home. A dog's time in an outdoor kennel should be limited and pleasant, and not feel like a prison- this should go without saying. So, in addition to choosing an appropriate enclosure for your pet's needs, you should also take care to consider other factors such as time spent in it and accommodations your dog should have while in the kennel.
To help you find the perfect outdoor enclosure for your playful pooch's time outside, we've put together a list of best outdoor dog kennels and a short guide on how to choose the best type of kennel for your dog's unique needs. Read on to find out how to make sure your precious pet is safe and happy when spending time outside without your supervision!
1. Editor's Pick: BestPet Large Dog Wire Kennel
Easy to assemble and large enough for medium size breeds, this handy wire outdoor kennel is made from rust-resistant metal and it's a great choice if you need easily portable temporary confinement for your pooch. You can set it up in minutes and change the spot of the kennel whenever you need it. This dog kennel comes with its own waterproof cover that will keep your pooch dry if rain starts and offer shade and protection from strong UV rays in the summer. In case you need a heavy-duty outdoor kennel that will be staying in one spot, though, this might not be the best choice for you.
2. Runner Up: PetSafe Cottageview Boxed Kennel
This versatile and robust dog kennel can be used both indoors and outdoors. Constructed with metal that has a durable rust-resistant, powder-coated finish, it will stand the test of time whether exposed to the elements or kept on a porch or in a garage. The setup is fuss-free and takes less than an hour- so you can easily store the kennel disassembled if you are not using it regularly. The dimensions of this boxed kennel are a match for small dog breeds, but with the purchase of add-on panels, it can be modified to fit big dogs, too.
3. Best Portable: ESK COLLECTION Portable Puppy Kennel
In cases when you need something portable to keep your pet confined when you travel or maybe just want to have a backyard BBQ in peace without your pooch sniffing around, a soft-sided outdoor dog kennel is a great and inexpensive solution. Made from waterproof and breathable materials, this kennel zips up to ensure your pet stays put and folds flat for easier storage when it's not needed. The dimensions of this versatile kennel are a fit for puppies or small breed dogs.
4. Best for Chewers: Lucky Dog Uptown Welded Wire Kennel
Made from a sturdy wire with a rust-resistant finish, this robust dog kennel is perfect for chewers and jumpers as it is secure and well-built. You can use any basic padlock to lock it and rest assured your furry Houdini won't be getting out unless you give the OK. It also comes with its own roof pitch to keep rain and sun away. Lucky Dog Uptown Welded Wire Kennel is available in 3 different sizes.
5. Best for Smaller Breeds: Neocraft My Pet Companion Dog Kennel with Roof Cover
The frame of this heavy-duty outdoor dog kennel is welded so it doesn't need complicated assembly: just unfold and attach the ends. The strong construction and weatherproof finish of the metal make it ideal for outdoor use but it can be set up wherever you need it. Plus, it has a weather-resistant roof cover to protect your pet from bad weather when they're getting their outside time. Measuring 4′ x 4′ x 4.5′ , this outdoor dog kennel provides 16 square feet of space, so it is suited for small to medium dog breeds.
6. Best for Larger Breeds: JAXPETY Large Dog Welded Wire Kennel
If you want something spacious and robust to set up in your backyard to give your pet a safely confined space for play or time out, this modular dog kennel fits the bill. With welded steel bars and wire mesh, both coated for rust-resistance, this high-quality kennel will withstand the elements without looking worse for the wear for it. The waterproof roof cover provides protection from bad weather. The dimensions are a perfect match for medium and large breed dogs.
7. Best Compact: Zampa Portable Foldable Pet Exercise Kennel
Need a safe space for your puppy to be while you're busy gardening? Foldable pet kennels such as this compact travel pen are just what you need. Made from durable and water-resistant materials, this soft-sided kennel will keep your pooch safely confined while you're otherwise occupied and fold for easier storage (it even comes in its own bag for travel). This portable dog kennel comes in 4 color options, and sizes extra small, small, medium, large, and extra large.
8. Best for Backyards: ALEKO Pet System Box Kennel
Made out of heavy-duty galvanized steel that's been coated with rust-resistant powder, this outdoor dog kennel with a secure latch door is a great choice for a backyard dog enclosure. It is sturdy enough to keep your pooch confined and spacious enough to make their outdoor stay in the kennel cozy and comfortable for dogs of medium and large breeds. There are four sizes to pick from to ensure a spacious enclosure for your pet, and optional roof and rain cover to provide shelter from the elements.
9. Honorable Mention: Yaheetech Heavy Duty Foldable Metal Kennel
If you want something really versatile, that can be used outdoors, indoors, and easily packed for travel by car- and do equally great in any of these situations, this foldable metal kennel is a fantastic choice. Easy to assemble and store when not needed, this outdoor kennel is a good choice for puppies and well-behaved dogs that don't need overhead wire to stay put. You can opt for 8, 16, 24, or 32 panels, and pick between 3 heights of the panels to ensure your dog can't jump over it: 24", 32", and 40".
10. Best Gazebo: Advantek Pet Gazebo
Whoever said that outdoor dog kennels have to be an eyesore? This beautifully designed gazebo gives you a safe confinement place for your pet and looks lovely in your backyard, too. Coated with a weatherproof golden finish and with a protective roof cover, this octagon-shaped gazebo provides 7.1 square feet of space and will suit dogs up to 20 lbs.

When Should You Use an Outdoor Dog Kennel?
More often than not, people think about unhappy dogs spending their lives confined to a small cage when someone mentions outdoor kennels. And it's not surprising, considering that a few decades back, many dogs didn't have the luxury of being indoor-only pets, and instead spent their whole lives living in backyards, kennels, or outdoor dog houses. These days, though, pets that live outdoors only are a rare instance. Pet owners now realize what their dogs need to have a good quality of life, and that includes a safe haven in the home with you and quality time outdoors to satisfy their innate instincts and basic needs. That's why modern outdoor dog kennels stop to be a symbol of neglect of a dog's needs and became something of the opposite- a place that makes sure that all of your pet's needs are met.
Outdoor dog kennels can help you create a safe haven for your pet in your backyard and allow them to spend time on their own outside without you having to worry. This means that you should use an outdoor dog kennel when you want to make sure your pet is safe and confined when outside, and not as a full-time place to live. Outdoor dog kennels can be portable and designed to stay in one place, so there is versatility, too: you can take them with you when you go camping or for safety on outdoor events, move around your property, or simply install in one location for convenience. As long as you follow proper outdoor kennel practices, you'll have no problem to create outdoor space your pet will love to spend time in.
Important Considerations for Outdoor Dog Kennels
While it's undeniable that finding the perfect outdoor enclosure for your dog can be a difficult task, the structure itself is not the only thing you should worry about. To make sure an outdoor kennel is a safe and comfortable place for your pet to spend time in, there are different factors to consider in addition to the quality and design of the kennel.
Shelter
If the sun happens to be too strong or if the rain starts pouring and you're not around to let your pooch back in the house, you have to make sure they have adequate shelter in their outdoor kennel. Some outdoor kennels come with rooftop covers that protect your pet from the elements, others have a built-in roof, and in some cases, you'll have to fit in an outdoor dog house inside. Either way, it's crucial to make sure your pet has somewhere to retreat to if need be.
Access to food and water
Even if your pet is going to be in the kennel for just an hour or two, they should still have fresh, clean water and food (in cases where it's applicable). Make sure that the outdoor kennel you pick out is spacious enough to give your pet enough room to be comfy and for you to have somewhere to put their bowls.
Temperature regulation
Depending on the area you live in and the climate typical for it, you might have to invest in heating or cooling system for your dog's outdoor kennel. No matter how much your pooch likes to spend time outside, if it's too hot or freezing cold, not only that they won't enjoy their time out, but it wouldn't be safe for them to be out in the first place.
Schedule
While it might be convenient for you or seem like something your pet would prefer, you shouldn't leave your pet outside for too long. If their outdoor kennel is spacious enough and has all the accommodation they need, they can be outside for a few hours, but don't leave them out for too long. Your pet might cherish his outdoor time but he should be spending most of his day inside the home with you and your family.
What to Look for In Outdoor Dog Kennels
Needless to say, not all outdoor dog kennels are made alike. From different dimensions to different designs, there are plenty of them to choose from–but the choices get much narrower once you know what features to look for to make sure the kennel is a perfect match for your dog's unique needs.
Size
The dimensions of the kennel are one of its most important features, naturally- what an Alaskan Malamute might find cramped would be a palace for a Chiweenie. When determining the size you'll need, consider that a kennel should be spacious enough for your pet to move around freely and for you to place his food and water bowls, as well as an outdoor house if your specific situation demands it.
Construction
To be able to withstand the elements, an outdoor enclosure has to be well-made, from sturdy and durable materials. As a result, most outdoor dog kennels are made from heavy-duty materials that are resistant to rust, such as stainless steel or galvanized steel. However, there are other materials in play that might be a better match for your needs- metal wire, wood and wire combination, or even soft-sided fabric that is used for collapsible, travel versions of outdoor kennels for dogs.
Type
The most common type of outdoor enclosures for dogs are metal dog kennels. They are robust, weatherproof and usually affordable. There are different designs available, from those with roofs and/or flooring, to those that could also serve as a playpen, but the construction and comfort they offer to dogs. Outdoor kennels for dogs can also be collapsible and lighter than the standard enclosures, as they are designed to be moved around and taken with you when you travel.
Protection from the elements
When choosing an outdoor dog kennel, make sure it is weatherproof and has appropriate protection from the elements. You don't want your pet spending time outside exposed to biting winds, rain, and snow, or scorching heat in an inadequate enclosure. Go for climate-appropriate kennels that will give your pet shelter and comfort in any type of situation or allow you to make the modifications needed to achieve it.
Chew-proofness
In case you have a pooch with destructive habits, you know how important it is to make sure they have a chew-proof enclosure. Not only that a dog can hurt himself trying to chew through a kennel, but they can manage to get out and get themselves into a dangerous situation- the one that you wanted to avoid by confining them to a kennel in the first place.
Safety
Even if your dog isn't a chewer, he could still break out his kennel if it's not secured properly. That's why making sure that there is some kind of locking mechanism in place. Depending on your pet's skill and penchant for trouble-making, you'll have to go for anything from dog-proof latches to a padlock.
How big should a kennel be for a dog?
You want to ensure that your pet is comfortable and happy when spending time in a kennel, and this means that it must be spacious enough for them to freely walk around and play in it. Of course, this means different things to different dogs, so a good rule of thumb to stick to is that the kennel should be at least 1.5 times the length of your dog, without including the tail. It never hurts to go bigger if the space allows it, as a spacious kennel is always a better choice for your pet.
Are outdoor kennels good for dogs?
It all depends on what you use it for: if you are thinking of getting an outdoor kennel for your dog to live in, you should be aware that exposure to weather elements and being excluded from the family life will have a big impact on your dog's health, happiness, wellbeing and socializations. Dog's shouldn't live exclusively outside, but that doesn't mean that most dogs don't appreciate being outdoors in some fresh air. This is where outdoor kennels come in handy- they can provide a safe place for your pet to play or soak up the sun if your yard is not fenced, they can help with training, and if roofed, provide a shelter if your pet is caught in bad weather while playing outside.
What is the difference between a dog crate and a dog kennel?
The two terms are often used interchangeably, but there is actually a difference between a dog crate and a dog kennel. Dog crates are portable enclosures, often used indoors or when traveling, as they can be folded, stored easily, and assembled in minutes to be used when needed. On the other hand, a dog kennel is more of a permanent structure, made from robust, weather-resistant materials as it is meant for outdoor use.
What should I put in my outdoor dog kennel?
You should furnish an outdoor dog kennel with everything your pet needs to be comfortable and happy when spending time in it. This means bowls for fresh water and food, toys, and bed they can take a nap in. Sometimes, if the kennel doesn't have a roof, pet owners opt for adding an outdoor dog house inside the kennel to provide shelter in case of rain, snow, or harsh UV rays.
Additional resources:
We are committed to finding, researching, and recommending the best products. We earn commissions from purchases you make using the retail links in our product reviews. Learn more about how this works.

Angela Vuckovic
A proud mama to seven dogs and ten cats, Angela spends her days writing for her fellow pet parents and pampering her furballs, all of whom are rescues. When she's not gushing over her adorable cats or playing with her dogs, she can be found curled up with a good fantasy book.
More by Angela Vuckovic
Published August 31st, 2021 12:00 AM