4 Views
Top 10 Gifts For Puppies To Make Their Season Merry And Bright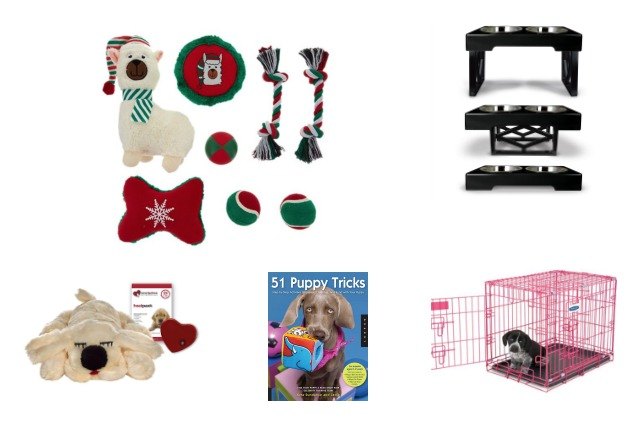 It's puppy's first Christmas and you want to do it right! You know Santa's got a lot of great things on his list for baby pups and we've highlighted the top ten gifts for puppies this holiday season.
We lost our 12-year-old Golden Retriever this summer, and our other 'puppy' Lilly missed her sister–she was so lonely. So, a month ago, we adopted her adorable little sister Lucy, and now find ourselves with a sweet puppy for Christmas. Here's some of the stuff our pups will be getting in their holiday stockings–the top ten gifts for puppies this season.
1. Petmate Puppy 2-Door Training Kennel
One important consideration when bringing a puppy into your home is training, including the process of housebreaking your newest addition. One highly effective way to do this is through crate training. Not only does it help to reduce the number of messes that you have to clean up, but it also provides your new puppy with a 'safe space' that they will learn to call their own.
This crate from Petmate has both front and side door access, making it easier to fit your crate into any room or space as needed. It also includes an adjustable divider, making it easy to limit your puppy's space as needed early and then increase it so that the crate grows with your new best friend. The leak-proof removable pan is essential for cleaning when accidents do occur (as they inevitably will with a new puppy) and carrying handles allow you to easily move the crate when necessary.
Training is a million times easier when you have lots of little treats to keep your newest furbaby motivated to learn the latest and greatest tricks. We like these from Zuke's–they're low in calories and small enough to keep lots in your stash when training your new baby manners!
Sometimes puppies just miss their mamas…and no matter how much their human loves them, they want some soft snuggling. That's why this snuggle puppy will make your sweet new baby feel less anxious. It's got a disposable heat source that makes it feel warm and is battery operated to give a heartbeat and help your new one feel part of the pack again. It's machine washable too and will be your puppy's lovie for years.
4. Banberry Design's Puppy's First Christmas Ornament
What better way to celebrate your puppy's first Christmas with you than a sweet photo ornament? This adorable 2021 Puppy's First Christmas ornament from Banberry Designs allows you to personalize your ornament with your favorite picture of your sweet puppy. Not only does it allow you to make it your own, but it gives you something to look back on each year as your doggo grows with your family — oh, the memories!
This "Puppy's First Christmas" ornament measures about three inches wide with a 2 inch opening for your favorite photograph. It is made with pewter, which is timeless, as well as white jewels and black paw prints. It goes perfectly with any tree decor. It is engraved with the year on a little doggie bone as well as the words "My Fur Baby's First Christmas" so you can always remember this special time in you and your puppy's life.
Nothing says your pup is prepared for the colder winter months like this adorable dog beanie. It makes a great gift for your dog this holiday season. Made with marbled cable knit acrylic fabric, this adorable beanie will keep your pupper's head nice and warm. The tie bottom makes sure that it stays secure during regular activities as well. The design even allows it to cover your dog's ears so they won't get frozen on your daily walks even in frigid temperatures.
The added pom pom top makes the beanie even more adorable (if that's possible). And if the beanie itself isn't a great gift, you can always find yourself a matching one so you can both go out as two peas in a pod during the winter months. Sizes range from small to large so you can get a pom pom beanie for any breed of dog.
Bonding with your puppy is pivotal to the relationship you have with him. This 51 Puppy Tricks: Step By Step Activities To Engage, Challenge And Bond With Your Puppy book by well-known stunt dog show performer Kyra Sundance will give lots of fun things you and your puppy can do together to build trust in your relationship and to bond as pack members. As well, you and your pup will have a ton of fun!
7. 4-in-1 Puppy Training Set
You'll need some accessories to take with you to puppy training classes, and this set has you covered. It has a treat pouch, a collapsible bowl, leashes, leads and poop bags and will be a staple of your puppy's training routine. And yes, you need poop bags for a puppy at puppy class. Trust us.
8. Merry and Bright Holiday Collection
Your puppy is gonna want to play–that's what they do best! And that's why we love this Merry and Bright Holiday collection! It'll have your pup singing "Fa La La Llama" while gleefully rocking around the Christmas tree. Hey, better the toys than the ornaments, right?
You'll need to teach your puppy feeding manners, including not to rush down all the chow. We know, we know…chow hounds are cute and all, but it's not good for their digestion. This pet feeding station from PetZone is adjustable with your puppy's growth and will help aid in digestion and manners when it comes to dinner time.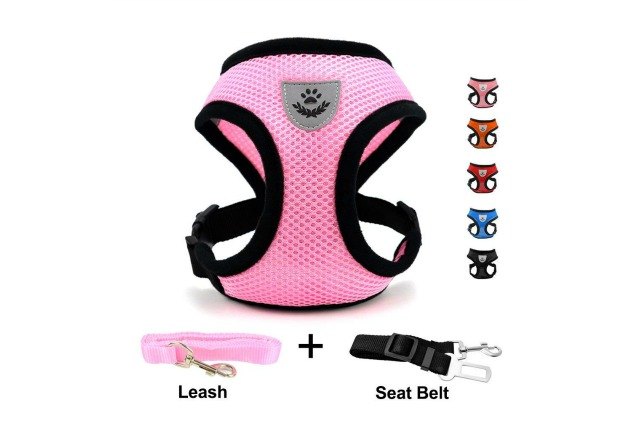 No one wants a pulling puppy, so be sure you have a comfy harness that will help teach them walking manners, and help protect you from exuberant walkers. It comes in several colors of breathable, comfortable mesh and has a seat belt buckle as well for added safety when traveling.

Published April 8th, 2021 12:00 AM