79 Views
Clear Conscience Pet SuperGravy Review
April 24th, 2020 12:00 AM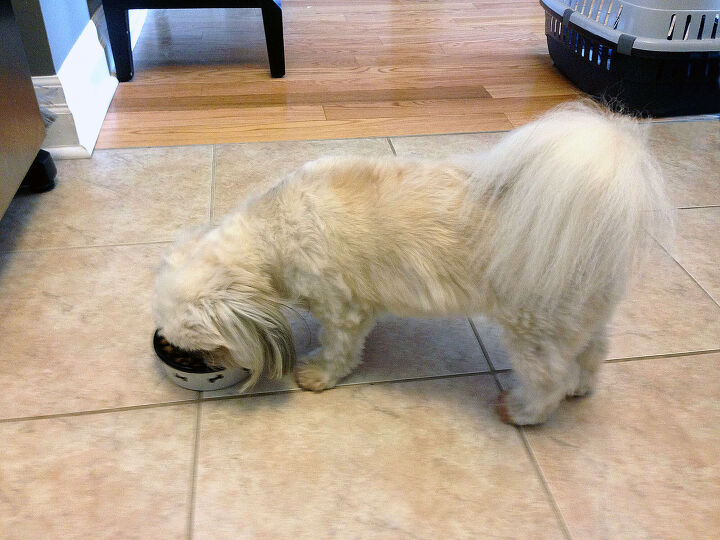 Oscar snubs dry kibble – will Clear Conscience Pet SuperGravy have him chowing down?
It amazes me that Oscar is so picky when it comes to dry kibble. If there's something that resembles or smells like food on the floor, he will hoover it up. But when it comes to his well-balanced meal, he sniffs what's in his bowl and walks away. And it doesn't matter what brand of kibble it is – he'll only eat it as a last resort. That's why I was intrigued when I received Clear Conscience Pet SuperGravy.
A little about Clear Conscience Pet SuperGravy. The company touts this product as the first ever Holistic Instant Gravy Mix and Concentrated SuperFood enhancer for pet food. Formulated for dogs and cats of all ages, breeds, sizes, and lifestyles, this food topper has a multitude of functions. A dry powder, you mix it with ordinary tap water to make gravy. Just mix it with dry kibble. It's great for picky eaters, dogs that have an illness or recovering from surgery, or suffer from emotional distress. The SuperGravy hydrates dry food for better digestion. It's also awesome to use if you're trying to get your dog off of wet food and want to ease him onto dry kibble.
Oscar is getting over a bout of stomach issues, so I recently had to change his food. And typical Oscar, he turned up his nose at his new dry kibble. I didn't want to add anything too rich to his diet or at all processed, as these are the main reason behind his belly troubles. The SuperGravy ingredients appealed to me. It's made with no artificial preservatives, flavors, colors, synthetic supplements or GMO ingredients. It did have lots of good stuff to offer. For protein, SuperGravy has humanely sourced organ meats such as liver and heart from grass fed, free range raised bison and beef, in concentrated form. Veggies are an important part of a balanced meal, so Clear Conscience Pet SuperGravy features spinach, pumpkin, and carrots. To top it all off, the powder also contains Chia seed, an excellent source of Omega-3 fatty acids, and a powerful antioxidant.
Before putting it into his food, I wanted to see what his reaction would be to the SuperGravy. I opened up the bag and let him sniff. To say he went mental is an understatement. He couldn't get his nose into the bag far enough, but his tongue sure did try.
I'm still using Clear Conscience Pet SuperGravy and Oscar is still snarfing it down. He now eats 75 percent of what's in his bowl in the morning and saves the rest until dinner. The gravy gets soaked into the kibble and hardens up again by the time the evening rolls around. With that extra taste, he's happy to munch on the dry kibble again.
Best Dog Food Toppers for Picky Eaters
Curious about other good alternatives for your four-legged food snob? Don't worry, there are plenty of good choices out there, tailored to suit the many finicky tastes of canines. Whichever flavor or texture your pooch prefers, you'll be able to find a match that will get them to eat their meals with gusto.
Made in the USA from cage-free chicken, this freeze-dried kibble topper is 95 percent meat and 5 percent fruits and veggies. Just sprinkle some over your pooch's meal and watch him devour it with pleasure. If your pooch doesn't appreciate liquid additions to his food bowl but still isn't too keen on his kibble, this is the one to try. Grain-free and gluten-free, this food topper comes in two flavors- beef or chicken.
The words 'liver sprinkles' are definitely not something any hooman could relate to the term delicious, but our pooches have a different opinion. The ingredient list of this food topper has only one item- pure Canadian beef liver so it's as clean and natural as they get. The dried sprinkle form of liver acts as a spice to your dog's dull food- the smell and the flavor will have them go crazy for the kibble they previously ignored.
Honest Kitchen The Superfood Pour Overs
Who could say no to tasty stew? If your pooch prefers flavor-rich wet food over his usual chow, this healthy food topper will be just the thing for him. Made to completely meet human-grade standards, this topper contains no by-products, fillers, additives, preservatives, or GMO ingredients. A perfect way to boost the taste of your dog's meals without resorting to canine versions of junk food! This kibble topper is available as lamb and beef stew, chicken stew, and turkey stew.
We all know how good bone broth is for our pets, but it's not always easy finding the time (and the will) to source good bones and then cook them for days to get the broth you can use as a topper. Luckily, Solid Gold bone broth is the next best thing to making your own, as its made with human-grade ingredients and standards and enriched with immune-boosting ingredients, such as turmeric, pumpkin, and ginger, or lavender and chamomile. The bone part of the formula can be sourced from beef, chicken, or turkey – your choice.
Instinct Freeze Dried Raw Boost Mixers
This blend of high-quality, raw freeze-dried ingredients is not just very tasty, but it's also very healthy for your pooch. The formula mixes together beef or chicken with apples, sweet potatoes, blueberries, and peas to create a flavorful kibble topper that can be served dry or wet with water. Minimally processed, GMO-free, grain-free whole foods that taste great- what's not to love?
*Note: PetGuide.com was NOT compensated for this review. We receive a free package of Clear Conscience Pet SuperGravy to review. The opinions expressed in this post are the author's. We provide unbiased feedback of the products and share products we think our readers would enjoy using and learning more about.
We are committed to finding, researching, and recommending the best products. We earn commissions from purchases you make using the retail links in our product reviews. Learn more about how this works.

Amy Tokic
Amy Tokic, Editor of PetGuide.com, is a passionate animal lover and proud pet parent of Oscar, a Shih Tzu/Chihuahua cross, and Zed, a Japanese Chin. Her love of animals began in kindergarten, when she brought her stuffed dog Snoopy into class with her every day. Now, she writes about her adventures in pet ownership and tirelessly researches products, news and health related issues she can share with other animal enthusiasts. In her free time, Amy loves perusing used book and record stores, obsessing over the latest pet products available and chasing squirrels with wild abandon (a habit attributed to spending too much time with her pooches).
More by Amy Tokic
Published April 24th, 2020 12:00 AM