42 Views
Top 10 Toys To Keep Your Dog Mentally Sharp
April 22nd, 2020 12:00 AM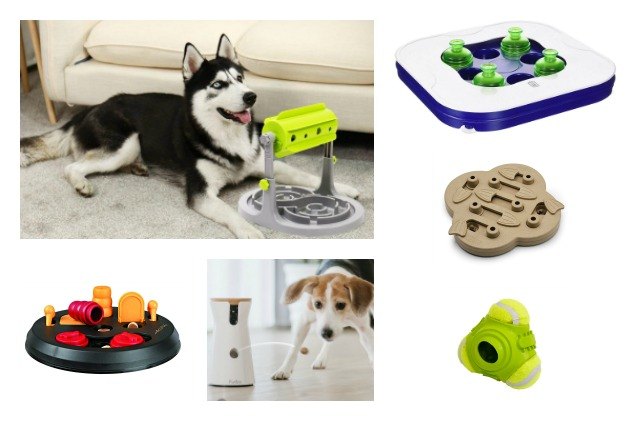 Find yourself wondering how to keep that furry genius stimulated? Check out the top ten toys to keep your dog mentally sharp we've come across.
I've always had dog breeds that are known for being obedient and friendly–retrievers mostly. But when we adopted our Lilly from the Global Pet Expo, we weren't really sure what breed she was. When we did the Wisdom panel, we learned she was 25% Lab, 25% German Shepherd and 25% Boxer, along with a mutt mix that included Chihuahua.
We'd figured whatever she was most definitely was a driven, smart, obedient, eager-to-please breed because that's just how she behaved, but we didn't realize just how smart she was. That put us on the hunt for toys that kept her brain busy because just like humans–dogs are happiest when their brains are positively stimulated. Many pawrents focus on the benefits of physical exercise alone but forget that mental activity is just as important, and with the right gadgets at your disposal, you'll have no problem offering the stimulation your pet needs.
The following list is a result of our extensive research and long-lasting quest to find the kind of toy that will keep our Lilly sharp and occupied. Whether your pooch is motivated by food or prefers a combo of physical activity and mental stimulation such as fetch, we've got you covered- read on to find a perfect match for your four-legged smart cookie.
1. Arf Pets Dog Treat Dispenser
The best way to keep an intelligent dog entertained and happy is to give them a task that would employ their little grey cells- and training definitely falls into that category. This interactive dog treat dispenser combines the best of both worlds with its design as it will offer fun playtime, exercise your pet's brain and memory, and give you a chance to spend some quality time with your pet as well. The goal is to teach your pooch to press the button with his nose or paws in order to get the treats – and once he does, he'll get an encouraging sound effect and a bite of his favorite yummy. Pretty stimulating, right? Suitable for indoor and outdoor use, this smart toy is a great way to keep your clever pooch focused and out of trouble.
If your doggo has been playing games a bit, this level two board is great option for moving up. It's designed for small-medium dogs and involves them flipping lids, using knobs and sliding disks back and forth to get the treats. You can increase levels of difficulty and keep their brains moving at the same time!
The best thing about the Furbo is how much interaction you have control over! You want to keep your dog's brain mentally strong, but you also want to have the fun while you're stimulating it and you can't always do that with real life duties like work/school. That's why we can't say enough about Furbo–you can talk and interact with your dog and stimulate their brains/train/reward remotely. And you can get adorable videos in the process!
We recently adopted a puppy and she'd been a scrounger on the streets. She's a good mix of hound, and wow…is she ever a CHOW-hound. She's a smarty-pants too, which is why the Pupper Pamper IQ feeding game is fantabulous. It's good for small/large dogs depending on size you buy and has varied difficulty levels but it's fantastic for making your pupster work for their food/treats and strengthening those doggy brains at the same time. Plus–it aids in digestion, which is important if you have a dog who wolfs their food down. And honestly? It's some good entertainment for the whole family!
5. Omega Paw Tricky Treat Ball
Who would've thought that combining two simple pleasures- ball chasing and tasty treats- into one toy could be so mentally stimulating for pooches? Well, it certainly is and despite its simple design, this tricky treat ball proves to be an entertaining and challenging toy for the smartest hounds out there. The textured grooves and indentations will distract your pet from the hole that actually dispenses treats and make him work super hard to figure out how this ball works. Tricky treat ball is available in small, medium, and large sizes- although it's not the best choice for destructive chewers.
6. Nina Ottoson Hide 'N Slide
This intermediate level dog puzzle comes from Nina Ottoson–well-known for developing toys and products that keep your dog stimulated, smart and always learning! This has seven treat compartments and fourteen different moving pieces that you can rotate and will teach your pup problem-solving skills while helping to eliminate destruction due to boredom. Easy to clean and a great crate toy for young and old dogs alike.
This is just too much fun for humans. Seriously. If you're looking to challenge your dog and hone their scent skills, this is the pack they need. It's a book with five different challenge games and all the things you need to play with your dog. It's a GREAT way for kids to bond with their new furry family members and it's a great way to keep your senior dog stimulated with low-impact, low-stress activities.
Snuffle mats encourage your dog's natural foraging instincts and keep them mentally sharp because they are grunting and sniffing through a sensory-friendly, machine-washable mat filled with treats. It's a super easy way to give your food-motivated doggos some treats and mental stimulation at the same time, and you're also appealing to their natural hunting instincts too. A win-win!
9. Trixie Level Three Move-to-win Board
If you have a smarty-smart smarty pants, you can give Trixie's Level Three Move-to-Win board a whirl! Your dog will have to learn to move pins in different directions for treats, or to pull loops, and you can rotate the boards to give more challenge. You can also challenge with the cones, and all the pieces of the puzzle are dishwasher safe. Start off with some level one games first, and see if you can build to this!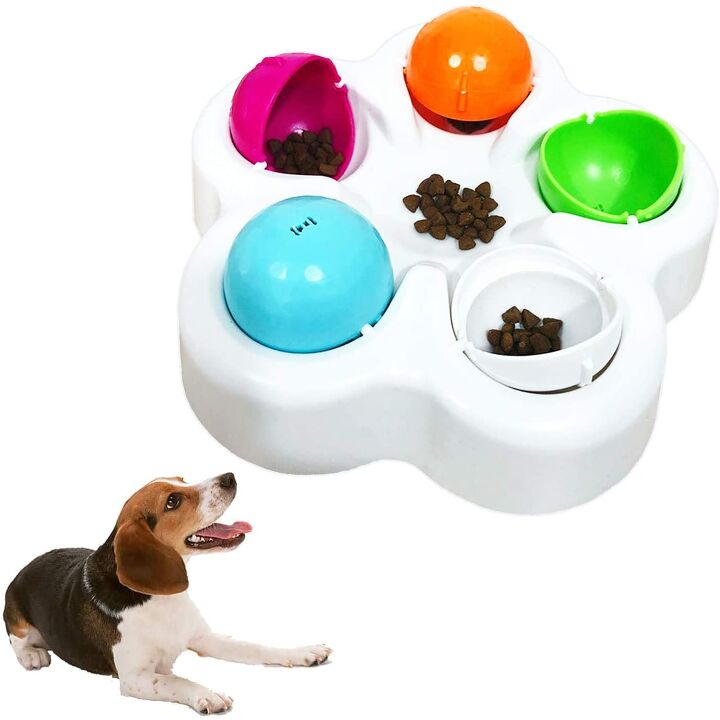 Made from non-toxic, eco-friendly, durable plastic material, this food-hiding dog puzzle is certain to keep your pooch occupied. The balls are in vibrant colors that fall into the spectrum of dog vision so they will pique their interest, but it's what's out of sight that will make your pet go bananas trying to figure this toy out. Put some of their fave treats in the nook under the sliding discs and watch them work for kibble: the goal is to pull the discs to the side with their nose or paws. A great choice for greedy eaters or bored smart cookies that need extra mental stimulation
We are committed to finding, researching, and recommending the best products. We earn commissions from purchases you make using the retail links in our product reviews. Learn more about how this works.

Published April 22nd, 2020 12:00 AM