756 Views
Best Low Calorie Dog Treats
February 24th, 2022 12:00 AM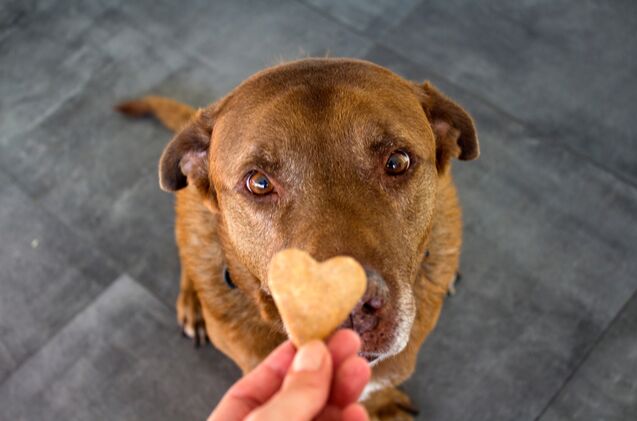 Low calorie dog treats are a great way to reward a dog that's on a weight management diet or needs to maintain a leaner body weight. Take a look at our selection of the very best low calorie dog treats that will have your pooch drooling!
As a responsible dog owner, it is your duty to look after your pet's diet. Neglecting this can cause a slew of health problems, obesity being the main one. In order to keep your pet in prime health and their figure slender, you will need to rely on a healthy, balanced diet. And treats are equally a part of that diet as are the main dishes! Thankfully, treats don't have to be a guilty "cheat meal". These are some of the healthiest treats around: they are low in calories, fats, and cholesterol, and are rich in fibers and proteins! If you are looking to train and treat your four-legged friend – choose one of these low calorie dog treats!
1. Editor's Choice: Pupford Freeze-Dried Training Treats
A chubby doggo is an unhappy doggo – that much is certain! No matter how much your pet loves to munch, sometimes it is in their best interest to go on a low calorie diet. And thanks to these Pupford freeze-dried low calorie treats, they can enjoy the usual training rewards without putting on extra weight. Pupford relies on a special recipe that takes the best and healthiest ingredients from nature and delivers them to your pet in the form of a yummy treat. You can choose from meats such as rabbit, chicken, liver, or salmon, or you can opt for healthy veggies such as sweet potato. Each treat is less than 1 calorie, which is ideal! Of course, there are no added chemicals in this – just plain simple meat or veg, freeze-dried and ready to use. Can't get healthier than that!
Pros
Over 475 treats per bag
No added ingredients
Good flavor selection
Tasty
Cons
Sweet potato can come crushed
2. Runner Up: Fruitables Skinny Mini Dog Treats
Finding the very best low cal treat for your pet is no easy task – especially if you have a finicky dog. Thankfully, these Fruitables are hard to resist, even to picky eaters. Mixing fruits, veggies, and healthy lean meat, these are the ultimate low calorie treats designed for dogs. You can choose from a variety of tastes, including apple bacon, grilled bison, rotisserie chicken, watermelon, pumpkin and mango, and pumpkin and berry – yummy and healthy to boot! These crunchy treats are irresistibly tasty, and each one has less than 3 calories. Just like their name suggests, the Skinny Minnies are ideally bite-sized! That makes them great as a reward for positive reinforcement training. When your pet knows that one of these healthy treats is coming their way, they'll eagerly learn all you want.
Pros
Great for training
Yummy and unusual ingredient combos
No artificial flavors
Cons
Not really suited for large breeds due to the small size
3. Customer's Choice: Buddy Biscuits Training Bites for Dogs
With 500 treats per pack, these Buddy Biscuit snacks are a great choice when you want to stock up on low calorie treats for dogs. Not only are they great for training and positive reinforcement, but are ideal for day-to-day snacking as well. With just 1.5 calories per treat, they make one of the leanest dog foods out there. These treats come in three varieties: bacon, chicken liver, and chicken meat, and can be considered a good choice for all dog breeds. To boot, thanks to their soft and chewy texture, they can be given even to senior dogs that have sensitive gums and teeth. Best of all, these treats contain no soy, grain, or artificial flavors. Just a healthy, delicious, low cal snack for your furbaby to munch on!
Pros
Extra-large pack
Soft texture
Strong taste
4. Best for Weight Maintenance: Purina Pro Plan Veterinary Diets Lite Snackers
Purina has long been a household name for the finest dog foods and treats, and their veterinary diet line is particularly popular with pet owners. If you are looking for moderately low calorie dog treats to help your pet to stay in good shape, consider these crunchy, oven-baked treats – they are low in calories, high in fiber, and low in fats. As such, they are easy to digest without being calorie-dense. The high fiber content will enhance digestion, while the low calories and fats will tone down the figure. These treats are made with quality chicken meat, and are delicious! Still, since each one of these biscuits is quite large, no more than a couple per day will be enough!
Pros
Delicious and crunchy
Cleans teeth and freshens breath
High in fiber
5. Best Grain-Free: Nulo Puppy & Adult Freestyle Trainers Dog Treats
Not all doggos will react the same to grain in their food. What is more, some dogs can't really deal with it at all. And when you are opting for a healthy and low cal diet for your gluten-sensitive dog, grain-free is the best choice. Nulo low cal treats are ideal for both puppies and dogs, and they are a real superfood. That's thanks to the variety of healthy tastes and ingredients. Choose from duck, turkey, and salmon, all boosted with honey, blueberries, and cherries for an added dose of vitamins. Each one of these tasty treats has just 2 calories and a soft chewy texture ideal for all dogs. And, considering that they are free of grains, soy, and any artificial ingredients, these Nulo treats come out as one of the best choices on the market!
Pros
Plenty of flavors to choose from
Boosted with berries and honey
Great for puppies and adult dogs
Cons
Somewhat small, pellet size
6. Best Single-Ingredient: Wholesome Pride All Natural Healthy Dog Treats
It's no secret: doggos adore meaty treats. But that doesn't have to be your only choice. These sweet potato-based veggie treats are a healthy alternative that is equally low in calories. Wholesome Pride made sweet potato their main ingredient here and offers a variety of shapes and textures, such as sweet potato fries, bites, and chews. Sustainably made in the USA, these treats are a healthy alternative for your dog. They are rich in fibers and low in fat, which ensures good digestion and a 100% vegan and natural part of the diet. This is a single ingredient treat – making it a real no-brainer: this is sweet potato and not much else! If you want to discover a new and low cal treat without feeling doubtful about its contents, going for the veggie option is a great shortcut.
Pros
Single ingredient
Sustainably made
Healthy
Cons
Too chewy and bland for some dogs
7. Best Crunchy: Charlee Bear Original Crunch Natural Dog Treats
Doggos can be really picky when it comes to texture and taste. Some like it soft, some like it chewy, while others adore that unmistakable crunchy feel. If your dog is in this last category, then they need to try the Charlee Bear original crunch treats! They have the ideal shape and size, being dubbed "pocket perfect", and they boast an unmistakable satisfying crunch with each bite. Besides this, Charlee Bear prides itself on its unique tastes: choose from cheese and egg, chicken liver, chicken soup & garden veggie, or turkey liver and cranberries. Unusual and super healthy ingredients! Of course, these treats are very low in calories – less than 3 calories in each one. Proudly made in the USA, these treats will put your four-legged bestie in a tail-wagging mood!
Pros
Irresistible crunchy texture
Healthy ingredients
Unusual flavors
Great calorie count
8. Best Dental: Greenies Weight Management Dental Dog Treats
Food and dental health are directly linked – if the food is bad, so will your dog's dental hygiene be! Thankfully, these special Greenies low cal treats are specifically designed to benefit dental health as well as your pet's figure. These treats are tasty and easy to digest, and they have a low calorie and fat count. Each treat has a specific shape optimized to remove plaque and is boosted with various vitamins, minerals, and nutrients. Best of all, its unique taste is designed to freshen your pet's breath – one of these treats and your dog's smooches won't be stinky anymore. One of the best aspects of these Greenies treats for dogs is the fact that they are veterinarian recommended and accepted by the VOHC (Veterinary Oral Health Council)! If you want a low cal and healthy treat to benefit your dog's oral health, this one is a great choice.
Pros
Freshens breath
Variety of sizes and package choices
Good for dental health
Cons
Can be a bit tough for some dogs to chew on
9. Best for Training: IMK9 Organic Peanut Butter Dog Training Treats Biscuits
When it comes to training your pet, there is nothing as effective as positive reinforcement! A good deed needs to be rewarded, and a tasty treat will motivate your pooch like no other. These organic, low calorie treats are great for rewarding your pet without feeling guilty afterward. And best of all, they have a tasty peanut butter taste – no one can resist that! These are completely natural and healthy without any artificial ingredients, and they are made with real chia seeds, peanut butter, and blueberries. As such, they are rich in proteins, antioxidants, and fibers. These treats are yummy and crunchy, and have a smell that's near irresistible for doggos –after all, who doesn't like peanut butter?!
Pros
Natural ingredients
Delicious and crunchy
Rich in antioxidants
10. Best for Picky Eaters: Wild Eats Sweet Potato Dog Treats
Sometimes it's difficult to feed a healthier diet to a picky dog, but where's will, there's a way! Made with sweet potato as the primary ingredient, these treats are rich in proteins and fibers, but also tasty and nutritious. And your doggo will be none the wiser that they're eating healthy now! Wild Eats gives you more choices as well: you can choose plain sweet potato treats, or a mix of sweet potato and chicken, or a combination of apples, sweet potatoes, and chicken. No matter which one you choose, you are guaranteed a healthy treat for your pet. These treats contain no preservatives or artificial ingredients and are ideal for dogs with allergies. Thanks to the ingredients, they are also low in cholesterol, making them perfect for dogs that need to tone down their figure and better their diet. And contrary to some other sweet potato treats, these ones are neither chewy nor bland!
Pros
Healthy ingredients
Low in cholesterol
Good for dogs with allergies
Cons
They can crumble down easily
What are the Main Ingredients of Low Calorie Dog Treats?
The general rule of thumb is that dog treats are based on meat. But if you buy the run-of-the-mill, basic brand treats, you are potentially feeding your pet with commercial treats that are full of additives, preservatives, grains, soy, and artificial flavors. And that's not ideal. Especially if you are looking for a healthier alternative. That is why it is crucial to know exactly what the main ingredients of a treat are.
Luckily, these special low calorie treats are made with only the healthiest ingredients. Of course, one of the main options is still meat. This is most often lean chicken meat. This is a popular choice because it is rich in proteins and is nutritious and healthy but doesn't bulk up the caloric value. Other options include salmon – for the same benefits, and liver. The liver is rich in iron and other minerals and vitamins and is also irresistible to dogs. More rarely, treats can be made with venison, bison meat, or some other wild game. These are very rich in proteins and nutrients, but can also be a bit pricey!
Of course, there are always alternatives to meat. Veggies are popular, tasty, and very healthy. Sweet potato is one of the most common options, being rich in fibers and low in fat and calories. Other options include apples, berries, and fruits. Of course, when choosing any of these ingredients – be it meat or vegetables – you need to ensure that there are no added artificial flavors, preservatives, grains, or chemicals. And that's the ideal way to guarantee that your pet will get only the best ingredients in low calorie treats!
We are committed to finding, researching, and recommending the best products. We earn commissions from purchases you make using the retail links in our product reviews. Learn more about how this works.

Angela Vuckovic
A proud mama to seven dogs and ten cats, Angela spends her days writing for her fellow pet parents and pampering her furballs, all of whom are rescues. When she's not gushing over her adorable cats or playing with her dogs, she can be found curled up with a good fantasy book.
More by Angela Vuckovic
Published February 24th, 2022 12:00 AM