6.9K Views
Wax On or Wax Off – What You Need to Know About Paw Wax
April 23rd, 2020 12:00 AM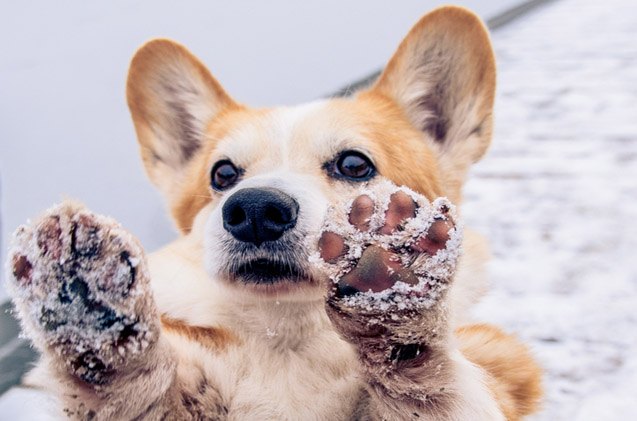 Paw Wax. One of the most intriguing doggy aides of recent times. Sure, it might sound quirky, but what if it actually works? And what exactly have you heard about paw wax? Kevin Roberts clears up a few common myths about paw wax and the right way to use it. Could it be the next best thing for puppers and their owners? Let's find out.
Paw wax is a great thing to use on active dogs, but let's be clear about its use. There are still some rules that need to be followed, and facts taken into account. This isn't some sort of a miracle product that should be used willy-nilly. Like anything that you get for your dog, it's important that you use it properly and as intended. So with that in mind, I would like to clear up some of the myths surrounding the proper use of paw wax. It's time for the truth about paw wax to finally be revealed!
Myth #1: You don't need to use dog boots if you use paw wax. What?! This is such a myth. While it's true that the application of a paw wax in cold temperatures does form a temporary barrier that offers protection from the formation of ice balls and cold, that's not the whole story. Unlike boots, the wax will wear off. And it still won't be as protective against the elements as dog boots are. How fast that wax wears off depends entirely on snow conditions and the ingredients in the wax. Dog booties are far more versatile and durable. They are great for protecting against road salt or abrasive snow conditions. My own dogs are waxed when the temperature dips too low, but I always use booties for running on rougher snow and when it gets really cold out. It is something that just makes sense: wax is great for some general protection, but it is entirely different than dog boots! The latter will be much more protective against the elements and rough terrain as well. So don't make the mistake of neglecting dog boots
Myth #2: Paw wax is harmful/toxic to dogs. Paw wax is harmful or toxic to dogs. This is conspiracy theory at its best. In large quantities, anything is harmful, but there is nothing found in popular commercial paw waxes that will harm your pets. Especially if you find natural wax that simply has no extra ingredients. Does that mean your dog should be eating the stuff? Not at all, but if Rover takes a lick or two of his newly waxed paws, don't freak out. Also, just because someone is advertising their paw wax as "all natural" it doesn't mean that the rest are toxic. When in doubt, read the ingredient list. Paw wax manufacturers are not looking to poison your dog, after all. These are designed to be a helpful option for your pooch's feet. They are tested to ensure they are safe. While some brands are undeniably better than others, doggie parents shouldn't approach this exciting new product with fear. That's just silly. After all, all the wax brands know that a bit might inadvertently end up in your doggo's mouth. Why would they make it toxic then? The same thing goes for a variety of dog related products. Just use common sense.
Myth #3: Wax toughens up the feet. Again, this is absolutely not true. In fact, it's the opposite. Wax conditions the feet, leaving them soft. Supple paws are able to move over a variety of surfaces with less chance of cracking or splitting. Just imagine leather boots or something similar. Without wax they get dry and will quickly crack and deform. But with regular waxing, the leather remains soft, flexible, supple, and shiny. Doggo paws are just the same! Without wax they will dry up and crack, but with wax they are always soft and healthy. That also means that waxed paws are in better shape to tackle the elements. Your dog's feet will ultimately benefit from paw wax. To suggest otherwise is simply ridiculous. Keep in mind that cracked paw pads can be hurtful to doggos, especially when they step on hot tarmac or icy cold floors. Keep them pain-free and comfy with just a bit of paw wax.
Myth #4: Wax offers protection against hot surfaces. This is just silly and suggests a complete incomprehension about how wax works. Let's break this down to a simple equation: Heat + Wax = Runny Wax. It's a fact that wax melts. Anyone who has ever encountered a candle knows that. If the pavement, sand or trail is too hot to walk your dog on, paw wax will not offer any protection. It will just melt and leave your dogs feat a sticky mess. Worse still, it might turn soft, allowing debris to stick to the bottom of your dog's foot. So, please don't use paw wax in warm conditions. This product was designed to help your pup's feet in cold climates. That's it. It's common sense and logic. Just like a wax candle and heat!
Myth #5: Wax will heal cuts. We're five for five! Another big, fat myth. Most paw waxes don't contain any antiseptic or antibacterial properties. It's just wax. While some are marketed as a holistic approach to foot care and offer some healing ingredients, err on the side of caution. If your dog has a cut paw pad, take him to a vet. Never experiment or do guesswork. Untreated paw pad injuries can become infected quickly. This is a serious issue that deserves to be treated seriously. After all, if your child cut their foot, you wouldn't try to dress the wound by melting down a candle. Nope, you would use one of the many products available to help with open wounds. Your pup's feet deserve the same respect. Paw wax isn't some miracle all-powerful product. It has a single use, and that's how you should use it.
Best Commercial Paw Wax
Musher's Secret is the golden standard among paw wax products and there's a good reason for that: the fast-drying natural formula protects your pet's pads from hot concrete, sand, snow, ice, and road salt. The combination of waxes and oils in this paw balm will also simultaneously condition your dog's dry paws and make them soft and supple once again. Made in North America and developed specifically for Canadian sled dogs, this high-quality paw wax offers superior protection.
Paw Nectar Natural Paw Wax
The holistic proprietary balm formulation of this product is labeled as 100 percent organic and natural – the list of ingredients includes certified organic oils such as coconut, avocado, soy, as well as nourishing and softening substances such as shea butter, cocoa butter, plant-based wax, aloe vera, vitamin E, and many others. As a result, this paw wax will completely regenerate your dog's dry and cracked paws. The quickly-absorbing balm is ideal for preventing and curing paw problems.
Natural Dog Company PAWDICURE BUNDLE
This set will both nourish and protect your dog's sensitive paw pads- it includes the company's two best-selling products, Paw Soother and PawTection stick. As the name suggests, Paw Soother is a natural paw balm that is formulated to heal and soften dry and cracked paws, as well as help with hyperkeratosis (or hairy paw). The PawTection, on the other hand, coats your pet's paws with a protective film that will keep the pads safe from hot surfaces, snow, ice, road salt, etc.
The combination of beeswax and paraffin wax in this veterinary-formulated paw wax will seal off the pads and keep them protected from rough surfaces and extreme temperatures both. The coating layer of this wax has been lauded for its anti-slip properties, as well, so some pet parents use it to keep their pooch from slipping around hardwood floors.
4Legger Certified Organic Nose & Paw Pad Healing Balm
If your pooch is struggling with rough and chapped skin on his nose and paws, this healing balm is just the thing for him. Completely natural and enriched with vegan wax, this formula is designed for dry, cracked, irritated, and crusty skin and will help heal it in no time. It's all thanks to the proprietary mix of moisturizing vitamins and emollients like hemp oil, shea butter, calendula, carnauba wax, St. John's wort, and others. To boot- it's unscented so it won't bother your pet even when it's coated all over his sensitive nose!
The thing that makes this paw wax stand out is its consistency – it is smooth but firm, very easy to apply, and quick to absorb. Made with 100 percent organic and natural ingredients, this formula includes ingredients such as avocado oil, mango butter, lavender oil, and many other nourishing and healing substances.
Did You Know You Can Make Your Own Paw Wax at Home?
If you are the type of pet parent who really likes to know exactly what is in the products that you use on your dogs, why not take a DIY approach to paw wax? This way, you will be in total control over the ingredients in the wax, and you can rest assured that it will be safe for your pooch. Plus, you can make it as often as you need to. And you can also make it in large batches so it will last a long time and you will never have to worry about running out of it and having to buy it at the last minute when you need it most. A little DIY spirit can be a real money saver and also provide you with the confidence of knowing exactly what you're rubbing on your pup's paws. Sure, it'll take a little extra effort than buying a package of paw wax, but the peace of mind might be worth it!
If you're interested in making your own paw wax, here is a recipe for an all natural paw wax that was posted on the American Kennel Club website. Consider giving it a try to see how it works compared to other paw waxes that you have purchased in stores. You might even find that, if you want to save some money, this is the more economical approach to staying stocked up on paw wax for your pooch.
To make your paw wax, you will need about 2 tablespoons each of coconut oil and olive oil. You will also need about 1 tablespoon of shea butter, along with 4 teaspoons of beeswax. All of these items are affordable and easy to purchase in stores and online, so you don't have to go crazy trying to find any exotic ingredients to make an effective paw wax. A single trip to just about any grocery store should provide everything that you'll need.
In addition to the ingredients above, you should also compile a few necessary supplies before you get started, including a double boiler or a small pot, and about 24 standard tubes for lip balm (or six 1-ounce tins, if that's what you would prefer).
Put your double boiler or a small pot over a low heat. Then add the shea butter, beeswax, and oils. Let it all start to melt together and be sure to stir this mixture continuously. You want everything to be totally melted through, and you want it to be blended really well. So expect to put your wrists through a bit of a workout.
Once the mixture is blended and melted, simply pour it into your tins or lip balm tubes. Be careful, as the mixture will be hot, and you certainly don't want to hurt yourself. This could burn quite quickly if you aren't careful. Then, simply let your tubes or tins stand in a safe place where they can cool off completely. Once cooled, you will notice that the wax has become hard. At this point, you can put the caps on your tubes or tins, label them so you know what's in them (you don't want to mistake this for lip balm after all), and store them in a convenient location that will not expose the wax to high heat.
You can use this homemade paw wax as you would any other paw wax. Just apply it to your doggy's paws and you're good to go. It is best, however, to use it up within one or two years, which shouldn't be hard to do. There are organic ingredients in this recipe that will spoil over time. So don't push it and stretch your batch of wax out to three years to save money. You might end up covering your pup's paws in useless wax that won't do him any good.
If you're having trouble with your dog fighting against having wax rubbed into their paws, don't worry! There is a way to ease your pupper into this process. For example, you can use paw wax as a "spa day" for your dogs. Get down on the floor, and start to gently massage a tiny bit of paw wax into his pads. Offer plenty of treats for a calm, cool, and collected dog. The heat of the paw pad will allow the wax to soak into the dog's paw pad, leaving no mess on your carpet or furniture. Doing this every couple of days will help condition the dogs pads and ease their mind! In no time at all, your dog will come to love having their feet played with.
Another great way to introduce paw wax slowly is to start in the puppy years. Of course, your pet might be a senior already, and that's still fine – they can also get used to it. But if you have a puppy, now is the best time to introduce paw wax, as puppies are quick to learn and adapt to new things. The same goes for many things.
Of course, this isn't a perfect solution for all pups. Every dog is different. Some dogs will be fine with a weekly application, while others will need it more frequently. It may even be that some of the pickier doggos won't even like wax on their paws and will whine about it. The possibilities are many. In the end, as a responsible owner, you will have to find out what's best for your pup. Be patient. Introduce just a bit at first and let them slowly adjust. Of course, there is always a chance that your pup will never get used to paw wax. Some pups are too fickle and that's ok. But in general, slowly easing them into the process should work rather well. Just stay patient.
Do you have any thoughts on paw wax? We'd love to hear it! Leave a comment below. This conversation about paw wax never has to end! After all, this is not a product for dogs that every single pawrent uses, and a lot about it still remains a mystery to new dog owners. So don't hesitate to learn more about it – whatever it is you need to know, we'll answer!
All in all, we can all agree that paw wax is one of the best doggo items to become popular in recent years. A smart, natural, and logical design, paw wax can change so many things for your pet. Were they unhappy and slow during the walks? The reason might be in the paw pads. Try some wax and you might quickly see a major difference!
We are committed to finding, researching, and recommending the best products. We earn commissions from purchases you make using the retail links in our product reviews. Learn more about how this works.

Kevin Roberts
Kevin Roberts lives for adventure. Together with his pack of rescue dogs and his husband, he spends as much time outdoors as possible. Kevin lives by the motto: "Get outside and play with your dogs!
More by Kevin Roberts
Published April 23rd, 2020 12:00 AM