13 Views
December 18th, 2018 12:00 AM
We're committed to finding, researching, and recommending the best products. We earn commissions from purchases you make using links in our articles. Learn more here
An aquarium can truly be the most majestic centerpiece in your home. Not only that you'll bring interest to your interior by featuring a beautifully decorated fish tank, the diverse and eye-catching fish species you choose for your aquarium are bound to attract attention, too. However, creating a fantastic fish tank and acquiring exotic fish breeds are not the only things that you'll have to worry about.
Aquarium stands are another extremely important part of your whole setup, as they both provide a sturdy support to your tank, and add visual interest to the space with their stylish design. Of course, aquarium stands come in various styles and designs, sizes, and types, and choosing the right one for your fish tank will be vital.
Luckily, you won't have to wonder what kind of a stand is the best fit for your tank, or if there's a style on the market that will match your home's interior design. PetGuide.com has dozens of buying guides and reviews of aquarium stands that will help you make the choice that will complement your preferences, secure your fish tank and fit in your budget. In addition, you might want to find out how to build your own aquarium stands that will do the job as well as store-bought ones: read more about pros and cons of DIY aquarium stands at our blog before you embark on this crafty adventure.
Imagitarium Brooklyn Metal Tank Stand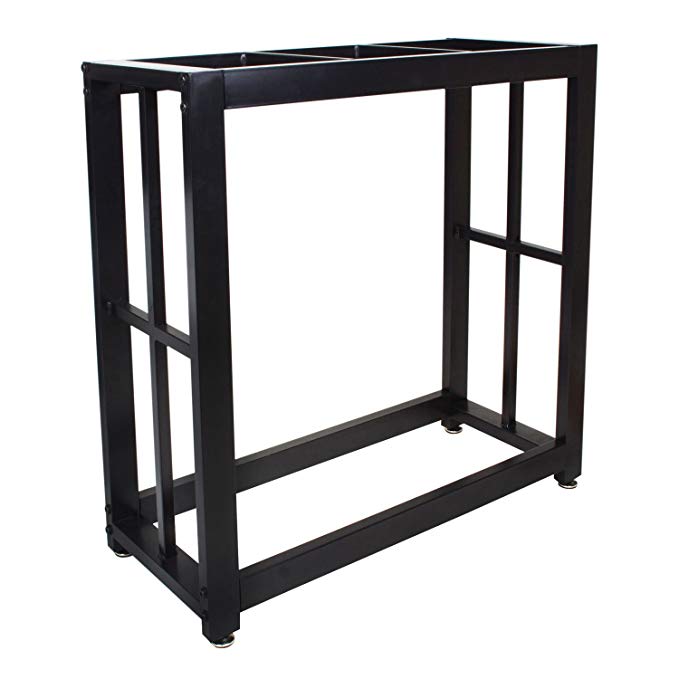 Made with durable solid steel and sturdy construction.
Fish tank stand features adjustable feet for leveling before you add your tank.
The AquaSprouts Garden is a self-sustaining aquarium & aquaponics kit for the home, office or school.
The AquaSprouts Garden is a self-sustaining aquarium & aquaponics kit for the home, office or school.
Fish fertilize the plants. Plants clean the water for the fish. Fits any standard 10-gallon aquarium.
Aquatic Fundamentals 16461
Showcase your bow front aquarium with this durable fish tank stand.
Showcase your bow front aquarium with this durable fish tank stand.
This sturdy state-of-the-art aquarium stand feature a powder finish for added moisture resistance.
Aqueon Forge Aquarium Stand
Reversible wood panels: brown or black.
Reversible wood panels: brown or black.
One or two aquariums per stand.
Made of laminated MDF and particleboard, the white woodgrain finish gives the Stand a classic, clean look.
Made of laminated MDF and particleboard, the white woodgrain finish gives the Stand a classic, clean look.
Unique patent design can support a 10 gallon stand on one end or a 20 gallon stand on the opposite end.
What Should You Look For in Aquarium Stands?
When it comes to aquarium stands, their most important quality and the factor that should concern you the most is their sturdiness. You want to make sure that the type of stand you want to get for your tank will be able to support its weight securely, so you won't have to worry about any mishaps and accidents along the way. As for the weight limit of the stand, you should always add a few gallons more to what you expect your tank will be. For instance, if you have a 25-gallon tank, its weight when empty will be about 32 pounds. Add gravel, water, ornaments, heaters, filters, and the fish itself, and that number rises to a whopping 280 pounds. That's some serious difference! Before you make a final decision, make sure you know how much your tank weighs when full. Granted, once you know that number, you shouldn't have any issue with determining which size of stand you need. Most, if not all, manufacturers will note which volume of fish tanks is compatible with their aquarium stand model, but there are also some rules of thumb you should follow, regardless of what the listing says.
Types of Aquarium Stands
Aquarium stands come in two main types: open aquarium stands and closed aquarium stands. Open types are made from lightweight materials and are not suitable for large, heavy fish tanks: the maximum weight capacity of most open stands is about 40 to 50 gallons. As for closed stands, the situation is much different. These impressive aquarium stands are usually made from wood or steel, and they can support even the largest fish tanks out there. These types of stands are also referred to as fish tank cabinets, as they usually boast a spacious storage space situated above and below the aquarium, where you can put all your fish food and other gear- not only everything will be handily located at one place, but you'll be able to hide tools and equipment away from plain sight, leaving only stylish cabinet fronts that frame a majestic aquarium.
Aquarium Stands Price Points
It should go without saying that the bigger the stand is, the bigger its price tag. The luxurious wood cabinets for fish tanks might not fit in in your budget, but we can help you find a more affordable alternative for your needs. PetGuide.com's reviewers give you the scoop on all the best deals on aquarium stands and ensure that you get the most bang for your back when setting up an aquarium in your home. Hopefully, with our assistance, you will be able to find a style and design of the stand that will match your personal taste in decor, and fit in seamlessly with the furniture you chose for your home.
On the other hand, no matter how sturdy and robust the aquarium stand you choose for your fish tank is, it won't do you any good if it's put in the wrong location. Before you install a stand for your aquarium, make sure that the floors are structurally sound in the room you want to place it. The surface has to be able to support the whole setup without its weight causing any issues.
Other Considerations
Additionally, when choosing a location for your aquarium stand, take into consideration other factors, such as the needs of the fish you'll keep in the tank. This means that, ideally, the location will be in a quieter part of your home, away from direct sunlight, draft or heaters, as temperature fluctuations could potentially endanger your fish. If you're not sure what rules you need to follow when it comes to the location of the aquarium, take a look at advice published at PetGuide.com. You'll find all the resource you need to make sure that the flora and fauna inside your aquarium are healthy and thriving!
From picking out the perfect fish tank for your needs to finding the right stand to go with it, PetGuide.com will help you throughout the process of perfecting your hobby. Whether you're a seasoned aquarist or a beginner at fishkeeping, our invaluable guides and reviews will ensure your tank and its inhabitants are up to standards, Additionally, we offer useful information on other aspects of aquaristics, such as aquarium decor, pumps and filters, hood, lights, cleaners, heaters and everything else in between. PetGuide.com is your go-to place for all information about fish and aquaristics! Published December 18th, 2018 12:00 AM