15 Views
Best Cat Products That'll Keep Your Kitty Occupied For Hours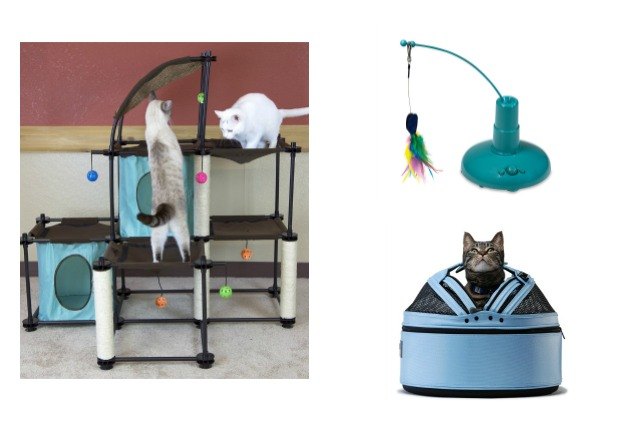 With so many fun products on the market designed to keep your cat happy and entertained, you can rest assured that your feline friend will never get bored, even when you aren't home.
If you want to pamper your pet and treat her like a princess, there is no shortage of products that will do just that as well.
To help you find some of the most awesome cat products around, we searched for items that could delight your pet, as well as make your life easier. Check out a few of our favorites below.
1. LMTIC Cat Self Groomer
Have you ever noticed your cat rubbing its face against furniture or the corners of your house? This is a common action, transferring their scent to mark their territory and make a claim on their property (including you). This self-groomer from LMTIC was made with that in mind, encouraging cats to rub their face against the eco-friendly soft bristles of the comb. The comb can also be removed from the rest of the unit to use as a hand-held groomer.
Not only will this keep your cat busy, offering a comfortable and relaxing massage, but it will also help to remove loose and shed hair. In doing so, it saves you time by cutting back on the amount of loose hair that needs to be cleaned up around your house! Does your cat need a little extra motivation? A small area on each side of the self-groomer is designed to hold catnip, adding to the fun.
The SmartyKat Loco!Motion is an animated toy that you can set up when you can't play with your pet, especially if your cat goes crazy for feather wands. All you have to do is set up the base and the wand. Then the toy will spin the wand around and create the erratic movements that will satisfy your cat's predatory instinct. Features include a timer and speed control, so once the toy is set up, you can step back and let your cat have some fun while you observe in the background.
3. Kitty City Steel Claw Mega Kit
If you have the space in your home for the Kitty City Steel Claw Mega Kit, go for it, as it is a great way to keep the most energetic cats occupied and content. This jungle gym for cats is great for households that have multiple kitties. And with so many engaging levels for your pet to explore, along with a host of fun things to do at every turn, your furry friend will love spending hours on it. The kit includes a sisal ramp, platforms and cube homes, and a variety of toys and scratching posts.
4. Sofa-Scratcher Furniture Protector
If you have tried everything to keep your kitty from using your furniture as a scratching post but everything has failed, the Sofa-Scratcher might be a great choice. Its sleek design will fit in with most home décor, but its sisal-covered panel will satisfy your cat's need to scratch. All you have to do is place it in front of the piece of furniture, such as the corner of your sofa, that your cat usually scratches. It anchors into place, it's contoured, and it comes in a few different colors too.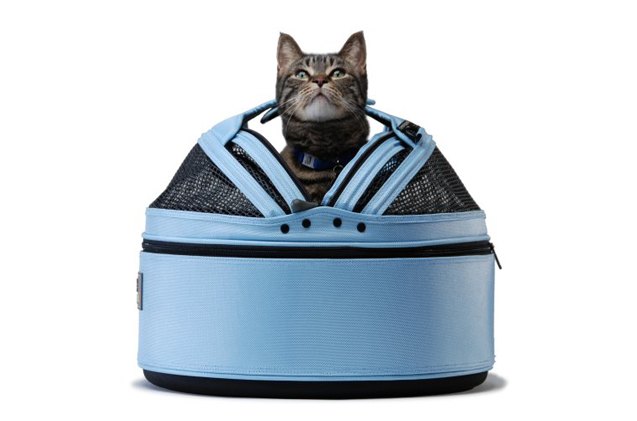 The SleepyPod is a great alternative to traditional cat carriers that can terrify pets. When at home, you can use the base as a plush round bed for your kitty to sleep in comfortably. But when you need to take your cat on a trip, you can simply attach the mesh dome to the top of the bed. Then you can place the SleepyPod in the car to ensure a safe ride, or you can use the strap to carry your pet close to you. Plus, thanks to the mesh top, your kitty will have a good view of what's going on around her as you travel.
This is just a small sampling of the many awesome cat products out there that will make both you and your kitty happy. Keep an eye out for new toys and products for your pet, as they are always hitting the market, and you never know what they'll think of next.

Lisa Selvaggio
Lisa Selvaggio is a freelance writer and editor, and our resident cats-pert, with certifications in pet nutrition and pet first aid. An advocate for better treatment of all animals, she enjoys producing content that educates others, helps them understand animals better, and inspires them to help, whether that means volunteering at a shelter, fostering strays, or simply giving their own pets a safe and happy home to live in.
More by Lisa Selvaggio
Published May 17th, 2021 12:00 AM