88 Views
December 21st, 2021 12:00 AM
We're committed to finding, researching, and recommending the best products. We earn commissions from purchases you make using links in our articles. Learn more here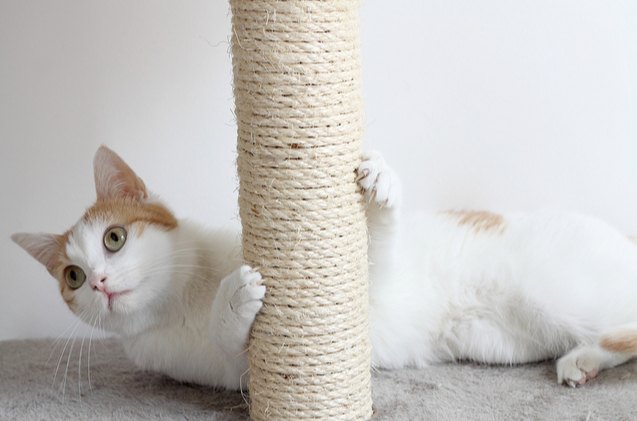 A cat scratching post gives your cat an approved outlet for their desire to sharpen their claws – and keeps them away from your furniture, carpets, and walls. Take a look at our selection of the best scratching posts that the market has to offer!
There isn't a cat in this world that won't take great pride in its sharp claws. From lions to tigers, all the way to your fierce little pet kitten, the claws are the cat's number one prized possession. But those claws need to be worked, kept sharpened and trimmed to the right size. That's why cats have a natural need to scratch certain surfaces. Alas, these surfaces are usually your sofa, table legs, and other prized furniture pieces.

With a quality cat scratching post, you can avoid the certain obliteration of your household items. These nifty accessories are designed for just the purpose to take a pounding, and will quickly entice your cat to give 'em their worst. We are bringing you the 10 best cat scratching posts on the market to help keep your kitty away from the furniture!
1. Editor's Choice: Qucey 32" Cat Scratching Post
When it comes to cat scratching posts, it's best to keep things simple. A tried and true design is usually a safe bet. And this Qucey 32" post is a great example of how a classic design can make everything work out well. The post is sturdy and tall, and is covered with thick sisal rope which will survive extensive assaults from sharp cat claws. The post also has an extra wide square base made from fiberboard and covered with soft plush textile. This helps prevent tipping over. To entice your kitty to use the post, a small fluffy ball dangles from the top. It's position is so as to be just out of reach, making it irresistible to kitties!
Pros
Enticing ball toy
Durable rope cover
Extra wide square base
2. Runner Up: MECOOL Premium Cat Scratching Post
Cat claws can be the demise of a beautifully furnished apartment – your pet has the natural need to sharpen their claws, so why not provide them with a thick and sturdy surface that could substitute your prized possessions? This MECOOL premium post is extra thick and extra durable – perfect for taking the full brunt of your pet's sharpening exercise. The post is 22" tall and covered with quality natural sisal hemp rope. Both the post and the wide square base are weighted and made with quality MDF material. Tipping over is not an option. You will notice that the square base is extra thick, which adds to the stability. To entice your cat to come and use the scratcher, this brand included two dangly balls. One hangs from the top, while the other is on a spring at the bottom. Both are bound to keep them occupied for hours on end!
Pros
Interactive toys added
Thick rope covering
Weighted and extra thick base
3. Customer's Choice: PEEKAB Sisal Tall Scratching Post
Cats, as most other pets, are visually stimulated. This means that flashy, dangly, and moving toys and tidbits are quick to captivate their attention. This is a great way to "lure" your cat into using a scratching post. This concept expands on the classic design. At the base of the post, an interactive trackball toy can occupy your pet's attention for hours on end. And if that is not enough, on the very top is a rotating arm with a dangling feather ball – let the chasing begin. Also added is a wide square post for some extra reach and a cozy snooze perch. The post itself is covered with natural sisal rope and is made from thick cardboard. And, best of all – a super wide rectangular base makes this toy as stable as can be!
Pros
Stable and sturdy
Plenty of captivating toys
Rectangular wide base
4. Best Cardboard: PetFusion 3-sided Vertical Scratching Post
Tall and thin things are quite easy to topple over – no matter how wide the base is. A particularly mischievous and strong cat might tip the scratching post over all the time. This unique design makes this a thing of the past. Called a "vertical scratching post", this three sided concept is shaped as an odd triangle with curved angles. This ensures immense stability, especially in combination with the extra width. The scratcher is made from very dense and sturdy layered cardboard, which covers all the sides of the scratcher. That means that when one side is torn to shreds after repeated use, you can simply rotate the triangle and expose a new, untouched side for your cat to use. Even the interior sides of the triangle can be used by little kittens, so your pet can enjoy this scratcher in all life stages! To boot, it comes in two sizes, regular and oversized.
Pros
Durable and sturdy
Multiple access points
Rotate to prolong usability
Cons
Not for multi-pet households
5. Best for Kittens: Suvuo Mushroom Cat Scratching Post
This unique design is not just cute beyond words – it is perfectly sized and shaped for kittens. These two posts represent forest mushrooms, and are planted on a circular base covered with faux grass. That's one way to tickle the natural instincts of your cat, and add a cute and quirky detail to your home. The posts are covered with thick 100% natural sisal rope that was twined by hand. And, with the mushroom-heads being covered too, the scratching surface is greatly increased. And best of all – you get two posts! One taller, one shorter. Let the scratching commence!
Pros
Durable and tough
Extended scratching surface
Double-posts
Cons
A bit too lightweight for rowdy kittens
6. Best for Multiple Pets: Kazura Double Scratching Post
If you are a proud owner of several mischievous cats, you are well aware of the troubles with scratched furniture. But in such a case, a single scratching post might not be enough. It's best to rely on a double post design such as this one. Kazura takes the classic concept and just doubles it! These posts are not the reinventing of the wheel: 20" tall each, they are straight, slender, and covered with thick fibrous sisal rope. They are planted side-by-side on a wide square base, and are topped off with two fluffy balls perched on tall springs. There's something to reach for while scratching! Fun, simple, and straightforward, these double-posts are ideal to occupy all of your cats at once.
Pros
Fun spring balls
Sturdy
Can be used by two cats at the same time
7. Best Interactive: PAWZ Cat Interactive Toy and Scratching Post
Here is a great example of how a simple design can become so much better with the addition of a few entertaining tidbits. This post will not only save your furniture – but it will also occupy the attention of your cat. At first glance, this is just an usual scratching post. It is 22" tall, and covered with thick sisal rope at the upper half, and sturdy carpet fabric at the bottom. Interestingly, these two halves can be disassembled and used as you wish – separately or combined. This means you can get one spare scratching post to use! But the best feature of this design is the plywood base that has circular channels and marbles within them your pet can play with. Your cat will go nuts chasing them! On the top are classic dangly pom pom balls for some extra fun. Now this is a way to play and scratch at the same time!
Pros
Interchangeable design
Interactive design for bored kitties
Anti-skid pads on the bottom
8. Best Fun Design: Catinsider Cactus Scratching Post
If you are not a fan of classic cat scratching post design and want something fun and cool looking to go with your interior, this is the one to go for. This unique cactus-shaped post is going to add some flair to your living room and entice your pet at the same time! The central part of this post is covered with durable sisal hemp rope, while the top portion is covered with fluffy moppy fabric for some of that kitty back scratching and cheek rubbing. An added dangling ball is great for some playtime, too. What's more, there are two sizes to choose from, medium or large, so you can ensure that it's a perfect fit for your pet's weight.
Pros
Two size options
Quality design
Plenty of scratching surface
Cons
Takes a while to assemble
9. Best Style: AmazonBasics Scratching Posts
AmazonBasics takes simple classic designs and triples it! That's right, with this unique concept, you get three scratching posts in one go. These triple pillars are covered with natural coconut and jute rope which is designed to be tough and to keep your cat's nails healthy. Each rope is of a different hue, which adds to the lovely look of the posts. The base is made of a sturdy wood material, and a dangly rope-covered ball is there to entice your cat to play. These posts are great for extensive use and will last a long time thanks to the multiple surfaces your cat can scratch. And thanks to the neutral earthy colors, the whole shebang won't look out of place in your home. Of course, if you still prefer a more classic form, there's a single post option, as well as combination of a scratching post and self-grooming brush.
Pros
Elegant design
High-quality, durable materials
3 design options to choose from
Cons
Suited only to cats up to 15 lbs
10. Best Budget: Cotching Cat Scratching Board

A scratching post doesn't have to be tall and upright! It can be horizontal too. This unique concept by Cotching ensures that toppling over is a thing of the past. Their scratching board lies on the floor and is equally as effective as a pillar. Thanks to its slightly wavy shape, it sits firmly on the floor and is easy to use. It is made from highly durable and thick layered cardboard, with plenty of usable surfaces. Of course, once the top layer is no longer usable, you can simply turn the thing over and use the other side! And when the scratching is done, your cat can even snooze in the comfy and wave-shaped nook. Simple, affordable, and tons of fun!
Pros
High density cardboard material
Affordable and easily replaced
Double sided
Cons
Can be small for some cats
What to Look for in a Cat Scratching Post
Cats are willful and stubborn pets. There is no use denying that. They usually go about things in their own way, dismissing your repeated efforts at maintaining order and dominance. And, naturally, you are wondering whether a cat will actually use the scratching post as it should. The answer is yes, if you pick the right design. The scratching posts are usually made with materials specifically designed to be the best option for cat scratching, but there's more things to pay attention to if you want to ensure your pet will go bananas for their new scratching post.
The first thing is the shape. Tall pillar-shaped posts are the ideal height and diameter for scratching. Then there is the all-important surface. These posts are covered with natural hemp sisal rope, which offers more resistance and works the claws quickly and efficiently. Your cat will quickly notice this. And then there are the interactive elements. Most brands include dangling balls, springs, and diverse toys in order to entice your cat. Thanks to their inquisitive nature, cats will quickly start playing, and continue on to using the scratching post as it should be used.
Horizontal scratching surfaces will work great as well. They are good to save your carpet from destruction, as cats are also known to scratch that at times. Either way, investing into a scratching post is a sure way to save your furniture and bring some order into your home. And best thing of all, there's no need for extensive training to get your pet to use it. It all comes naturally – or maybe with the help of a bit of catnip if need be.
We are committed to finding, researching, and recommending the best products. We earn commissions from purchases you make using the retail links in our product reviews. Learn more about how this works.

Angela Vuckovic
A proud mama to seven dogs and ten cats, Angela spends her days writing for her fellow pet parents and pampering her furballs, all of whom are rescues. When she's not gushing over her adorable cats or playing with her dogs, she can be found curled up with a good fantasy book.
More by Angela Vuckovic
Published December 21st, 2021 12:00 AM