390 Views
February 24th, 2022 12:00 AM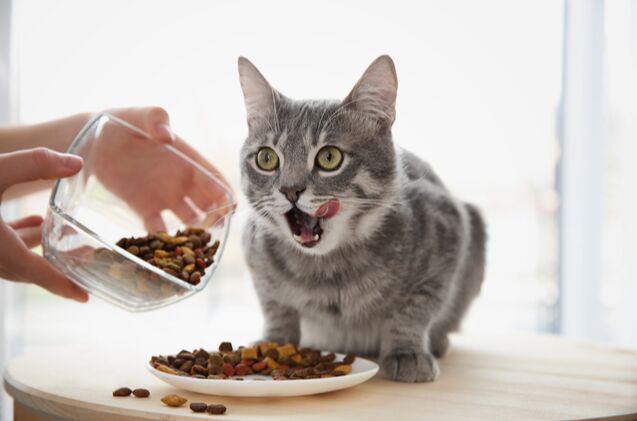 Diabetic cat food is formulated specially to suit the needs of felines with diabetes, which means it's high in protein and low in carbohydrate content.
If your cat has been diagnosed with diabetes – you are not alone. In fact, feline diabetes is becoming somewhat of an epidemic, with a rising number of affected kitties each day. Similar to type 2 diabetes in humans, feline diabetes is majorly influenced by the type of food your cat eats and their weight. Obese cats are much more likely to suffer from diabetes, so a weight-management diet, as well as increased activity, will be a must for diabetic cats, as well as a diabetic diet – which means high protein content and low amounts of carbohydrates.
There are various diabetic cat foods out there – some require vet's prescription, others don't – so it might be overwhelming when you're trying to find the best food for your diabetic cat. We've selected a few of the best diabetic cat foods out there to make your choice easier!
1. Editor's Choice: Hill's Prescription Diet m/d GlucoSupport Cat Food
Specially formulated by nutritionists and veterinarians to support your cat's glucose levels and help maintain a healthy weight, this dry cat food is engineered for diabetic felines and prescribed by vets. This formula is high in protein and low in carbs, enriched with therapeutic L-carnitine levels, arginine, taurine, and antioxidants, all working together to keep your cat's diabetes in check. What's more, this diabetic cat food has been clinically tested to manage blood glucose and weight and clinically proven to reduce body fat, so you can rest assured that you'll see results when you switch to this prescription cat food. In addition to helping manage glucose and weight, this formula supports the immune system and reduces the risk of developing struvite and calcium oxalate crystals by creating an optimal urinary environment.
Pros
Tasty chicken flavor
Controls glucose levels
Helps manage weight
Reduces risks of urinary crystals
2. Runner Up: Wysong Epigen 90 Starch Free Feline Dry Formula
Carefully formulated to suit the needs of cats struggling with blood glucose levels, this cat food isn't just grain-free – it's starch-free. The highly concentrated formula is based on a high protein no carb diet which is optimal for diabetic felines, and consists of 60% of protein derived from real chicken, with added probiotics, prebiotics, enzymes, phytonutrients, nutraceuticals, natural form antioxidants, vitamins, and minerals. Everything your kitty needs to thrive and get healthy! However, as it is very nutrient-dense and rich in protein and essential fatty acids, it's recommended to introduce this kibble slowly to avoid GI upset with a sudden switch. Boasting a natural flavor and taste that pets love, this dry formula can be a good choice for picky eaters.
Pros
Nutrient-dense high protein formula
Starch-free
Optimized for diabetic pets
Can be given to cats and dogs both
Cons
Can cause digestive issues if not introduced gradually
3. Customer's Choice: Solid Gold – Indigo Moon
This holistic grain-free, gluten-free formula boasts a host of natural and wholesome, body-nourishing ingredients. The protein content is 42%, and it is sourced from chicken and eggs, followed by 20 nutrient-rich superfoods like carrots, pumpkin, cranberries, blueberries, broccoli, almond oil, kelp, and lentils. In addition to being protein-rich, this dry cat food is also rich in fiber, promoting better digestion and gut health. To boot, it contains a healthy dose of monosaturated oils such as olive oil and salmon oil to up the omega 3's content and ensures a healthier coat and skin. It contains no meal, by-products, no artificial preservatives, no corn, wheat, or soy.
Pros
Holistic high protein formula
20 superfoods to boost the immune system
Gut-nourishing ingredients
Rich in essential fatty acids
Cons
Not for sensitive stomachs
4. Best Natural: Primal Freeze-Dried Cat Food Nuggets
One of the most important diet rules for diabetic cats is more protein and fewer carbs (ideally, none, as this is the closest to their natural carnivore diet you can get). This freeze-dried cat food is an excellent way to up the protein content in your pet's meals and boosts their flavor as well – and the best part is, it's completely natural and healthy. Made only from natural ingredients such as chicken, chicken liver, salmon, and a host of superfoods such as organic blueberries, organic kale, organic apple cider vinegar, and organic coconut oil, these nuggets It's shelf-stable and ready to serve: all you have to do is portion it out, crumble the nuggets, and rehydrate them with water, bone broth, or raw goat milk. With around 60% protein in the formula and the rest just healthy goodness, this freeze-dried natural cat food is an excellent choice for felines with diabetes.
Pros
90% of ingredients are chicken, salmon, organs, and bone
Packed with certified organic superfoods
No grains, no fillers, no legumes
Easy to serve
Flavorful and tasty
Cons
Not for picky cats accustomed to kibble
5. Best Grain-Free: CRAVE Grain Free High Protein Dry Cat Food
Diabetic cat food should be low in carbs or contain no carbs at all, which means it should be grain-free. In addition to containing no grains such as wheat and corn, this formula is also packed with protein, with 40% protein coming from real chicken, which is the first ingredient. Inspired by the ancestral diet of cats, this high-protein, grain-free food contains all of the essential nutrients for building muscle, promoting better digestion, and supporting healthy immune systems. It contains no by-product meal, corn, wheat, soy protein, artificial flavors, colors, or preservatives.
Pros
High-protein content
No grains or artificial ingredients
Affordable
Very flavorful, good for picky cats
Cons
The formula could be cleaner
6. Best Dry: Royal Canin Veterinary Diet Glycobalance Dry Cat Food
Some cats simply prefer kibble over anything else – and that's fine, as long as it's high-quality dry food tailored to their needs and you offer plenty of water to compensate for the lack of moisture content in kibble. For diabetic cats, though, things are a bit more complex than that as they'll need a specific ratio of nutrients – luckily, this vet-prescribed food is formulated to cater to those needs precisely. Formulated to support healthy post-prandial blood glucose levels and minimize glucose fluctuations, as well as build muscle and reduce the risk of struvite and calcium oxalate crystal formation, it will keep your cat's diabetes under control and make sure they are feeling their best.
Pros
Formulated with a reduced level of starch
Keeps healthy glucose levels and reduces fluctuations
Supports urinary health
44% protein
7. Best Wet: Purina Pro Plan Veterinary Diets DM Dietetic Management Savory Selects Wet Cat Food
This vet-prescribed wet food is perfect for diabetic kitties that favor wet food over dry. Specially formulated with high protein levels and low carbohydrates to meet the needs of diabetic cats, this chicken and liver chunky wet food is both healthy and yummy. You can feed it exclusively to your cat or combine it with dry diabetic cat food, either as a topper or switching between dry and wet meals. Thanks to the high moisture content and the high-protein, low-carb formula, in addition to helping manage diabetes, this wet food is also an excellent choice for promoting better urinary health and preventing the formation of struvite and calcium oxalate crystals.
Pros
Chunks in gravy texture loved by cats
High–protein and low-carb formula
Helps manage diabetes
Reduces the risk of urine crystals formation
8. Best Treats: PureBites Chicken Breast & Catnip Freeze-Dried Cat Treats
Diet is important for treating diabetes in cats and this usually means sticking to a strict regimen – but that doesn't mean your kitty can't have a treat once in a while, as long as it's diabetes-friendly! These natural, freeze-dried cat treats can be doled out as an occasional reward as they are clean and healthy, have circa 2 calories per treat, and contain only two ingredients: 100% pure USA sourced and made human-grade chicken breast and organic catnip. Luckily, it's the two ingredients cats seem to love the most! Easy to digest, rich in protein, and very flavorful, these yummy morsels will be a perfect way to treat your kitty without endangering their diabetic diet regime. Perfect if you are training your cat or just want to spoil them – we all know they deserve it.
Pros
Just two natural ingredients
Easy to digest and healthy for cats
High-protein content
2 calories per treat
Sourced and made in the USA
Cons
Might be too much catnip for some cats
What Is the Best Food for Diabetic Cats?
Diet plays an important role in diabetes management – your pet might or might not need medication, but in either case, you will have to change the type of food they eat. A lot of readily available dry foods for cats on the market are, unfortunately, chock full of fillers – mostly meat industry by-products whose nutritional value is next to none and grains that are the last thing a diabetic cat needs in their diet. Needless to say, you will have to read quite a few labels before you find a formula suited for the very specific needs of diabetic cats.
The first rule of diabetic cat food is that it should be high in protein and low in carbohydrates. Food that is rich in carbs causes sudden spikes in blood sugar (glucose) and requires more insulin from the body, exacerbating your pet's diabetic issues (if not causing them in the first place). On the other hand, protein stabilizes blood sugar and makes your cat feel fuller for a longer period of time. Go for high protein formulas that have 10% or fewer carbs in the mix and at least 40% protein content from quality meat, ideally organic when possible. The higher the protein content, the better – after all, cats are obligate carnivores and meat is the only thing their ancestors ate.
Another important factor is the fat content. While healthy fats won't harm your pet, they do up the caloric value of food, which can be a problem as most diabetic cats need to lose weight or maintain it – and too many fats in their food can cause weight gain. If your pet is struggling with obesity, be sure to choose diabetic cat food with less than 40% fat content.
After you've found the right formula for your diabetic cat's needs, you still need to pay attention to one thing and that's the portion size. Stick to the recommended serving sizes if your cat is maintaining a healthy weight, but if they need to shed a pound or a few, you'll have to consult a veterinarian about adjusting portions in a way that promotes healthy weight loss. Obese cats should lose around 1% of their body mass on a weekly level – weight management will greatly help with the management of the symptoms.
If you are unsure which diabetic cat food will work best for your pet, ask your veterinarian. Some kitties have multiple issues (e.g. diabetes and digestive issues, diabetes and urinary infections, or diabetes and lackluster coat), and finding the perfect formula to meet all of their unique needs isn't always easy. That's why you'll need a help of an expert that knows your cat's medical history – only a veterinarian can ensure your pet is getting the best care they could possibly get.
We are committed to finding, researching, and recommending the best products. We earn commissions from purchases you make using the retail links in our product reviews. Learn more about how this works.

Angela Vuckovic
A proud mama to seven dogs and ten cats, Angela spends her days writing for her fellow pet parents and pampering her furballs, all of whom are rescues. When she's not gushing over her adorable cats or playing with her dogs, she can be found curled up with a good fantasy book.
More by Angela Vuckovic
Published February 24th, 2022 12:00 AM