1.2K Views
Top 8 Squeaky-Clean Cat-Safe Cleaning Products
January 28th, 2021 12:00 AM
We're committed to finding, researching, and recommending the best products. We earn commissions from purchases you make using links in our articles. Learn more here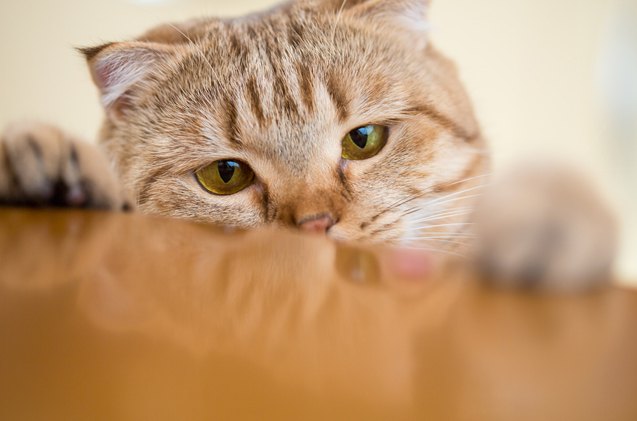 Products that help you keep your home clean can often be dangerous for your pet- take a look at these cat-safe cleaning products that won't harm your kitty but will make everything clean and neat.
As a cat owner, you are already well aware of the challenges of maintaining a clean home, what with all of the fur that accumulates on your furniture and even into the corners of your rooms, and all of the litter that gets tracked around the house. Plus, let's not forget about the occasional hairball or vomit that's filled with food that failed to agree with your kitty's delicate stomach.
Cleaning up after these messes can definitely be a chore. But when it comes to keeping a clean house with cats as part of your family, you have to consider what you are using to disinfect and polish every surface, from your carpets and furniture to your hardwood and tile floors. Many household cleaning products are loaded with toxic chemicals and artificial fragrances that aren't good for you and are even more dangerous to your small cat whose body is even less capable of coping with the toxins. Thankfully, though, there are many new products that are eco-friendly, contain natural ingredients, and are pet-safe too. Not all of them are up to the task of removing the most stubborn stains, odors, and other messes, however, so it's important to know which of these products are worth your money and which disappoint more often than impress.
To help you find the most effective eco-friendly, natural, and cat-safe cleaning products, we've rounded up eight of the top options on the market. Read on to learn more!
TriNova Natural Pet Stain and Odor Remover Eliminator
Whether you want to clean floors, clothes, carpets, furniture, or your pet's bedding or crate, this 100% natural, multi-purpose cleaner will get to work for you. The formula, which boasts a blend of enzymes, contains only natural and organic ingredients. It is safe to use around pets and kids, and you can use it on a variety of surfaces, including wood and carpet.
This cleaning solution is powerful enough to tackle stains and odors wherever your pet spends a lot of time. It will efficiently neutralize offensive odors from pet beds and kennels, so you can refresh those areas quickly and easily. And if you are looking for a product that will help remove stubborn stains due to pet messes, this is worth checking out. Plus, the spray bottle makes it convenient and simple to use!
Eco Me Natural Non-Toxic Multi-Surface Floor Care Cleaner
Keeping your floors sparkling clean is difficult when you have feline companions. Not only do they track litter around the house, and sometimes leave paw prints behind, but when they shed, their fur can also collect on your floor. When you're shopping for a high-quality floor cleaner, sticking with one that's safe for use around pets is a smart way to go, as you don't want your kitty being exposed to any harmful residues.
This plant-based floor cleaner is cruelty free and vegan, and it can be used on a variety of surfaces, such as tile, stone, vinyl, laminate, linoleum, and sealed wood. Featuring plant extracts and botanicals, this eco-friendly formula is tough enough to clean dirt, grime, grease, and food. It won't leave any residue behind, and it doesn't contain unwanted ingredients like artificial fragrances, dyes, ammonia, sulfates, bleach, or preservatives. So, if you're looking for a floor cleaner that's mild and non-toxic enough to be used in cat-friendly households, it's worth considering this one.
Earthworm Carpet and Upholstery Cleaner
For pet messes left behind on your carpets, rugs, and upholstery, you can try Earthworm's Carpet and Upholstery Cleaner, which uses natural enzymes to penetrate the fabric and break down organic material. This product does not emit any strong odors and it is biodegradable, making it safe for the environment and your cats.
This spray is fast acting, and it is safe to use around pets and kids. Its bio-enzymatic formula can work on removing stains without leaving behind any harsh chemical residue. Whether you need to clean up vomit, urine, or other messes caused by your frisky felines, this fragrance free product might be right for you.
Ecover Non-Chlorine Bleach
Even though bleach is a powerful cleaning agent, it is quite toxic, and its harsh fumes can be detrimental to your pet's health. For this reason, many pet parents opt to use non-chlorine bleach in the laundry in place of conventional bleach to disinfect and deodorize pet bedding and any other soiled materials. And that's where the Ecover Non-Chlorine Bleach can come in handy.
In addition to using this non-chlorine bleach to thoroughly clean your laundry, you can also mix it with water to clean surfaces throughout your home as well. This product will work on getting rid of stains, while also deodorizing. It is non-toxic, biodegradable, and fish friendly. Also, it doesn't contain any optical brighteners, dyes, or fragrances. Plus, it's never tested on animals, and it's made with renewable plant-based ingredients. The best part is that it's completely color-safe too, so you can use it without worrying about it ruining colors on clothes, bedding, etc.
Do you hate mopping your floors? Then it might be time to upgrade to an easy-to-use steam mop that uses—you guessed it—the power of steam to naturally clean and disinfect the floors throughout your home. The Shark Steam Pocket Mop is a handy tool for cleaning your floors because it will effectively disinfect surfaces without the need for harsh chemical cleaners. Instead, it uses steam from water to kill germs and ensure your floors will be spotless and safe for your pets. Special accessories even allow you to take your steam mop on carpets so that you can deodorize and disinfect them as well, completely naturally.
You can use this mop on all sealed floors, including laminate, hardwood, stone, tile, and marble. Plus, it's a good choice when you are searching for an environmentally friendly product because the mop microfiber pads can be tossed into your washing machine to clean them and reuse them again and again. No need to buy cleaning pads or separate cleaners!
Better Life Natural Kitchen and Bath Scrubber
If your kitty likes drinking from the sink or walking across the kitchen countertop (even though it's forbidden), it means that you have to clean those areas with cat-safe products. Not many natural, pet-friendly cleaning products can boast being effective enough for the kind of heavy-duty scrubbing that kitchens and bathrooms often need, but this grime-busting cleaner from Better Life is one of the few that are up to the task.
Featuring plant-based cleaning agents, this kitchen and bath scrubber is non-toxic yet powerful. Use it throughout your kitchen and bathroom, such as on your stove top, in your stainless steel sink, in your toilet bowl and tub, on your tiles, and more. You'll be able to clean, polish, and protect hard surfaces, as well as clean away soap scum, water spots, oil, grime, and grease that are otherwise tough to get rid of.
When you share your home with a four-legged roommate, you know things are bound to get messy. From potty accidents to vomiting hairballs, cats can leave a lot of stinky stains behind if you aren't vigilant about eliminating them on time. This plant-powered, hypoallergenic, biodegradable enzymatic cleaner can be used on all surfaces and can clean the most persistent stains and odors, so it can even help ensure your pet won't go back to the scene of the crime to repeat the deed.
How does it work? Well, the enzymes and surfactants in this stain remover work on breaking down and eliminating vomit, dander, blood, feces, urine, and more. It will remove odors and stains completely and safely, so you can use it on just about any surface, such as your floors, carpets, and rugs, as well as towels, beds, and more. Plus, it can work on new accidents, as well as old accidents.
Nature's Miracle Just for Litter Box Scrubbing Wipes
Cleaning your kitty's litter box doesn't have to be a chore, but you need to have the right supplies on hand to keep things simple. These non-toxic, pet-safe scrubbing wipes from Nature's Miracle help make the process effortless. And the best part is that these wipes are designed to be safe for your pet.
Because these quilted wipes are thick and have raised scrubbing dots, you can more easily remove caked on debris in your cat's litter box. In addition to that, this product provides plant-derived enzymatic odor control to help freshen up the box. So, this can be a good choice when you want to thoroughly clean the box every time you replace the litter.
When it comes to choosing non-toxic, all natural, eco-friendly cleaning products for your home, you may have to test out different brands to determine which ones fit your needs best. Rest assured, though, that there is a pet-friendly alternative to every cleaning product in your home, from your glass cleaner to your laundry detergent and everything in between.
We are committed to finding, researching, and recommending the best products. We earn commissions from purchases you make using the retail links in our product reviews. Learn more about how this works.

Lisa Selvaggio
Lisa Selvaggio is a freelance writer and editor, and our resident cats-pert, with certifications in pet nutrition and pet first aid. She enjoys producing content that helps people understand animals better so they can give their pets a safe and happy home.
More by Lisa Selvaggio
Published January 28th, 2021 12:00 AM