468 Views
Our Guide to the Best Outdoor Cat Houses
January 24th, 2022 12:00 AM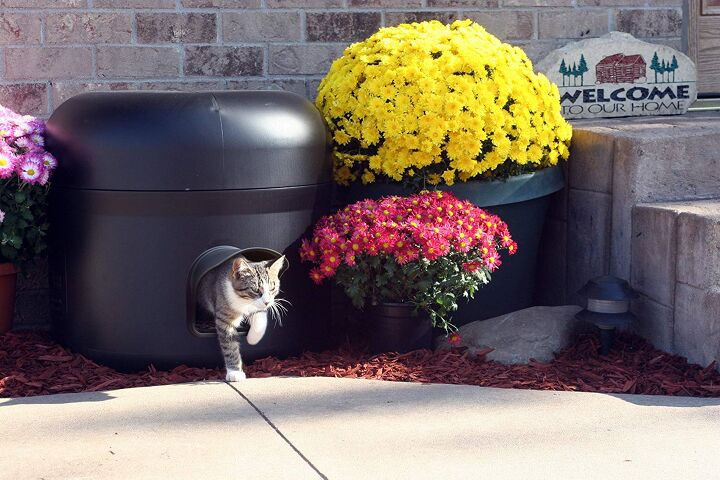 Got a kitty that would rather spend more time outside than in? We've got the solution – check out our list of the best outdoor cat house for adventurous felines.
Have you been seeing stray cats in your yard? Maybe you've even been helping them survive by leaving out some food and water for them, and participating in a trap-neuter-return ( TNR) program. Or, perhaps you live in a safe enough area where you feel comfortable letting your indoor cat go outside for a bit. In all of these scenarios, an outdoor cat house can be really helpful, as it can provide a kitty with shelter whenever she needs it.
There are a number of different outdoor cat houses that you can choose from, and shopping online is an easy and convenient way to get a high-quality product delivered to your home, so you can set it up and have it ready for your kitty right away. Just be sure to take a close look at all of the features and specs, including the size, of a cat house to determine which one would be right for your space and your feline friends. For example, you should think about whether or not it's important to have an outdoor cat house that comes with a heating pad that you plug in, or if you just need something that will provide some insulation.
To help you narrow down your many choices, we've compiled a list of 10 of the best outdoor cat houses, listed below in no particular order.
1. Editor's Choice: K&H Pet Products Outdoor Kitty House
The K&H Pet Products Outdoor Kitty House in Extra Wide comes in two versions: heated and unheated. So if you live in a climate that wouldn't require any heating, you can get the unheated cat house, which is also a bit more affordable.
If you go with the heated one, it will come with a K&H Lectro-Soft Outdoor Heated Bed, which will heat up only a part of the floor of the cat house after you plug it in. Plus, this brand's heated products are low-wattage for low operating costs, and thermostatically controlled, so they turn off and on as needed. And it's also reassuring to know that this product has been certified by MET Laboratories for electrical safety standards in the United States and Canada.
This little outdoor cat house is easy enough to put anywhere in your backyard, and it's a snap to assemble. It features removable see-through door flaps, and two doors that your cat can use to get into and out of the house as she pleases. On top of that, it features water-resistant materials to help keep your kitty dry, and a roof overhang to provide extra protection from the elements. And if you have multiple cats that need shelter, this cat house should be large enough to house more than one kitty. You can choose between red or olive color.
2. Runner Up: Petsfit Weatherproof Outdoor Cat Shelter
Having a weatherproof outdoor cat house is necessary if you want to really protect your feline friend from the elements, and if you want the cat house to be durable enough to withstand the weather as it changes from one season to the next. With the Petsfit Weatherproof Outdoor Cat Shelter, you can rest assured that it won't be susceptible to damage from rain and wind.
The roomy dimensions of this outdoor cat house help ensure that even large kitties can comfortably fit inside. You do need to set it up, but it's ready to go in just a few steps. Plus, it's also portable, so it's easy to move it if you want to change the spot it's in. And you can remove the bottom floor for efficient cleaning.
Also, your kitty can easily go into and out of this cat house, thanks to the two little doorways, one of which is covered by a plastic flap. And what's nice about this product is that it's elevated off of the ground to help keep it cleaner and drier, particularly when it rains. However, the inside is not insulated, so you might need to take additional steps during the cold months of the year to help ensure your cat will remain nice and warm while inside. This outdoor cat house is roomy enough to accommodate 2 to 3 adult cats or 4 to 5 kittens, so it's a great choice if you have multiple felines that need to use outdoor shelter. To match anyone's preference and outdoor decor, this kitty house comes in gray or wine red.
3. Customer Choice: Kitty Tube Outdoor Insulated Cat House with Pet Pillow
The Kitty Tube Outdoor Insulated Cat House with Pet Pillow is a great choice if you are in search of an outdoor cat house that will be insulated and comfortable for your kitty during every season of the year. Plus, it can house up to three cats comfortably.
This particular cat house, which comes with a machine washable pet bed on top of a fully insulated floor, is designed to keep the weather out, so it has a few features that can help keep a cat nice and dry when inside. First off, it has an awning with gasket located over the opening, and it also comes with a removable, clear flap door. There are also awnings over the adjustable ventilation holes, so you can leave those open without having to worry about rain getting in (you can close them to retain warmth in the winter, too). On the lid, you will find a vent cap that helps remove moist air that would otherwise lead to condensation. Plus, the interior of this cat house is moisture resistant, and it is designed to avoid the growth of mildew, mold, and bacteria, while the bottom is slightly elevated and features a drainage system.
Some shoppers are concerned by the fact that this outdoor cat house only has one door, but the manufacturer has designed the door in such a way that predators, such as coyotes and dogs, can't get inside.
4. Best Portable: Love's cabin Outdoor Cat House
This outdoor cat house measures 13" x 17" x 16.25", and can accommodate cats up to 15 lbs. Shaped like a traditional dog house, this is a cute little outdoor pet house that you can add to your backyard space, as well as move around easily if needed. And it is really easy to assemble in mere seconds without any tools necessary, so that's a plus.
What's also really great about this particular cat house is the fact that it is made with high-quality oxford fabric, so it is designed to be waterproof, light, durable, and weatherproof. The entry is large enough so even chubbier cats can access it with ease but not too big as to let cold inside. Also, it boasts a soft and cushioned floor pad for more comfort while your cat is resting inside. Easy to set up and clean, this is a great choice if you want something sturdy but portable and easy to store away when not needed.
5. Best Design: Aivituvin Cat House Outdoor Cat Shelter
If you want to give your kitty (or kitties) more than just your basic outdoor cat house, check out the Aivituvin Cat House Outdoor Cat Shelter. It features a 2-story design that can comfortably fit 3 to 4 cats that weigh under 15 lbs. Although, realistically, if the cats are not that friendly and don't like to snuggle up together, it will be a better match for two cats – each gets its separate "room".
What's nice about this outdoor cat house, which is made of natural fir wood that's been coated with a water-based, water-resistant paint that is appropriate for outdoor use, is its slightly raised base, as it can help protect the structure from moisture. Also, the roof is made out of asphalt which is weatherproof, so there won't be any leaks in bad weather. There are two large doors to make cleanup easier for you and multiple points of entry for the kitties to come and go as they please. The doors have acrylic flaps to keep the warmth in and to allow your kitty to see through them – so do the acrylic windows which provide ventilation and give your pet a clear view of the outdoors.
Overall, despite its size, this outdoor cat house is easy to assemble. It has pre-drilled holes, and comes with an instruction manual you can follow to put it together. Once assembled, it is designed to be durable yet lightweight.
6. Best Water-Resistant: ROCKEVER Cat House
Home sweet home- with the level of coziness and comfort this outdoor cat house offers, your feline guests just might become permanent ones! Whether you care for local stray kitties or want your cat to have a safe place to retreat to when she's out and about and you're not around to let her back in the house, this cute but well-made outdoor cat house is just the thing. Made from UV-resistant and weather-resistant wood, this cat house is also leakproof and can be used year-round. The roof is on hinges so the top of the house opens for easy instant access and the front door can be locked with a heart-shaped latch to preserve warmth inside.
ROCKEVER Cat House fits one chubby cat or two smaller kitties, and comes in 3 lovely colors: neutral grey, pretty pink, and vibrant blue. It will not only be a great choice for the cat's comfort and safety, but it will also look great on your porch or in the backyard. This lovely outdoor cat house is also available in wine red, wood, and autumn blonde finishes.
7. Best Splurge: Petsfit Outdoor Cat House
Another great option, particularly if you are looking for a larger outdoor cat house that can shelter multiple cats at once, is the Petsfit Outdoor Cat House. This is a fun choice if you want to go with something different, as it looks like a miniature house, with more than one platform and indoor area that your cat can choose from. Just bear in mind that this outdoor cat house measures 56" from top to bottom, and its base measures 28" x 27", so that is something to think about if you don't have a lot of room in your yard.
Your kitty can opt to hang out on the bottom, in a covered compartment with three holes to get in and out of it easily, or she can spend time on a little platform or a second enclosed area in the middle of the cat house. Plus, there's a third floor balcony area, just under the roof, that your kitty can access as well. If you want to make the house cozier and warmer for the kitty inhabitants, add a heating pad or a self-warming cat cushion inside when the temperatures drop in the winter.
This outdoor cat house is easy to assemble, and once it's put together, you can also move it and clean it easily as well, especially because you can open the top. Other nice features include the fact that it is constructed of solid wood, so it is sturdy enough to hold up to five kitties, and the weatherproof roof and raised floor help keep your feline friends safe from the elements. Of course, if you want to ensure that this outdoor cat house lasts you for years to come, you might want to consider putting it under a porch or in an enclosed patio if you live in areas that have heavy rains and snowfall.
8. Best for Feral Cats: ecoFLEX Albany Outdoor Feral Cat House
Extremely durable yet affordable, this innovative outdoor cat house is just the thing if you want something well-made without breaking the bank. The "secret" is in the unique ecoFLEX material which is a non-toxic recycled plastic-wood polymer composite material that won't fade, warp, splinter, crack, rot, or succumb to bugs. It is also weatherproof, so it makes a logical choice for outdoor use! The design features two entry points , one in the front and one on the side, to make sure the cat doesn't feel trapped when seeking shelter inside it – on the entrances are flexible clear plastic flaps which keep warmth inside and give you a peek into the house without having to disturb the kitty using it. Easy to set up thanks to no-tool-assembly, this outdoor cat house is also easy to clean – just spray it down with a hose or wipe down with a damp cloth. It measures 21.8" x 19.1" x 20.2" which fits most cats perfectly.
9. Best Heated: K&H Pet Products Outdoor Multi-Kitty A-Frame
The K&H Pet Products Outdoor Multi-Kitty A-Frame cat house comes in a heated version and an unheated version, so you can choose the one that will be most appropriate for your cats and their needs.
This triangular shaped cat house comes with a 40-watt heated bed that can help ensure your kitties will remain nice and warm even when the temperature drops. The heated bed has been tested and certified safe by MET Labs, and it can actually keep up to four cats warm, so this is a good option for anyone looking for an outdoor cat house that will be able to provide shelter to multiple kitties.
Other nice features include the waterproof fabric and the overhang roof. Plus, there are two exits that feature removable clear door flaps that can provide additional protection from the elements. And the best part is that it is easy to assemble this house without needing any tools to get the job done.
10. Honorable Mention: PETYELLA Heated Cat House for Outdoor Cats
This heated outdoor house for cats is both cozy and cute! Measuring 17" x 13" x 17", it will accommodate cats up to 25 pounds, so it's a perfect choice for an adult cat or a couple of kittens in need of extra warmth in the colder months. The house is made from 100% waterproof tarp base that will keep moisture away, with a cozy waterproof heating pad inside for warm snoozing in the chilly weather. The heating pad has a removable, machine washable plush cover to keep everything nice and odor-free and features a timer with max temperature of 122 degrees Fahrenheit. All you need to keep a stray or an outdoor cat warm and toasty in the dead of winter! You also get to choose between 3 fun designs made to mimic real houses: tiles, bricks, or wood. This convenient outdoor house assembles in minutes and it's portable – an all around great choice.
There Are So Many Great Outdoor Cat Houses to Choose From!
Whether you need a small cat house for one kitty or a larger enclosure that can comfortably house more than one furry feline, there are a lot of different outdoor cat houses on the market today, so you can take your pick.
The best ones will be constructed with durable, sturdy materials that are weatherproof and waterproof or water-resistant so that you can rest assured your companions will remain dry and comfortable no matter what the weather is doing. Just keep in mind that, if you are going to be using the pet house during the winter, a product that can safely provide heat and insulation can give your cat even more protection and comfort.
No matter what type of cat house you're looking for, consider reading through customer reviews as you shop so that you can gain even more insight into which products would give you and your kitty exactly what you want and need. Happy shopping!
Where is the best place to put an outdoor cat house?
Ideally, the spot you pick will be sheltered from rain and harsh winds, and somewhere cozy – not in the middle of an open space area. If you are trying to provide shelter for a feral cat that is not socialized, place the house somewhere there's not a lot of foot traffic and where there is enough privacy, otherwise they'll hesitate getting in. In case it's an outdoor house for your own cat or a friendly stray, you can put the house somewhere closer to the home – like the porch or patio.
How big does an outdoor cat house need to be?
The house needs to be big enough to house an adult cat comfortably – which roughly translates to 12″ x 18″ x 12″ as the very minimum. Don't forget you'll have to put some insulation in there, too, such as hay, blankets, or a heated bed, so extra room is never a bad thing. If you have more than one outdoor cat in need of shelter, go for bigger houses or outdoor cat houses with multiple "condos" or stories if you don't have room for storing multiple single cat houses.
Can cats live outside all year round?
Of course they can – but that doesn't mean they should. Weather can be pretty rough, with high temperatures and unrelenting sun in the summer months and freezing cold in the winter, and without proper shelter, a cat is exposed to all the elements. If you have a stray cat or a feral cat that just doesn't want to come inside (or that's not an option in the first place), you should make sure that they have some type of outdoor shelter they can retreat to. An outdoor cat house will provide shade in the summer and insulation in warmth in the winter, so it's a good choice throughout the year.

We are committed to finding, researching, and recommending the best products. We earn commissions from purchases you make using the retail links in our product reviews. Learn more about how this works.

Lisa Selvaggio
Lisa Selvaggio is a freelance writer and editor, and our resident cats-pert, with certifications in pet nutrition and pet first aid. An advocate for better treatment of all animals, she enjoys producing content that educates others, helps them understand animals better, and inspires them to help, whether that means volunteering at a shelter, fostering strays, or simply giving their own pets a safe and happy home to live in.
More by Lisa Selvaggio
Published January 24th, 2022 12:00 AM