2.4K Views
Best Outdoor Cat Enclosures
October 3rd, 2021 12:00 AM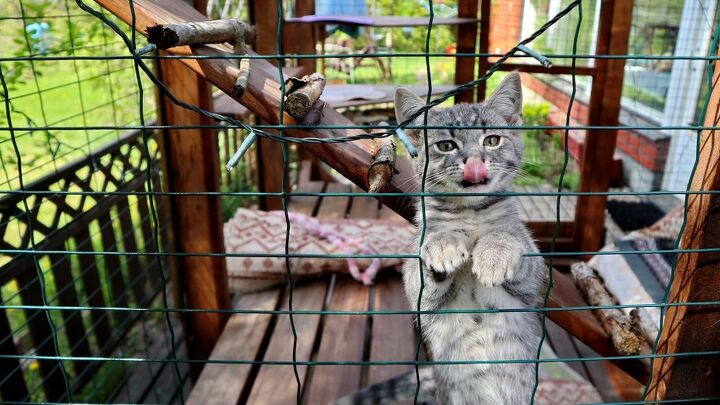 Even if you have an indoor cat, sometimes the outdoors call! Let your cat enjoy nature in the safety of these outdoor cat enclosures.
Do you think your cat would like being in the great outdoors every now and then? Maybe she likes to spend a lot of time looking out the window at the birds outside, or she loves lounging in the sunshine. Well, with the right outdoor cat enclosure, you can let her get fresh air in your own backyard, all while resting assured that she will be safe.
What are some of the best outdoor cat enclosures to consider when you're ready to shop for one that your feline companion can use? We've compiled a list of 9 products, and you can find them below, showcased in no particular order to help you see the various options that are on the market today.
1. Editor's Choice: PawHut Large Wooden Outdoor Catio
If you are looking for a large outdoor cat enclosure, check out the PawHut Large Wooden Outdoor Catio. This is an outdoor pen designed for dogs, cats, and other pets, and it can be placed wherever you want it to be in your backyard. You can set it up to be a freestanding structure, or you can set it up like a catio because it has removable back panels that will allow your kitty access it from a door or window in your home.
This outdoor enclosure for pets measures about 71" tall, 71" long, and 38.5" wide. Therefore, it can comfortably fit more than one kitty, so it might be a perfect option for multi-cat households.
Constructed of wood and metal mesh, this pet enclosure has a flat roof that is covered in durable green asphalt to help protect your kitty from the sun's harsh rays. And it also comes with six platforms that you can put on the sides of the enclosure, at varying levels, so your kitty can opt to lounge on the ground or find a comfy spot to check out the surroundings from a high perch. There are two finishes available – grey and natural.
You will need to put this product together, but the hardware is included, along with assembly instructions. Overall, if you don't mind the assembly, and you are looking for a big enclosure that your kitties can use while remaining safe outside, this might be the one that you need.
2. Runner Up: GUTINNEEN Outdoor Cat Enclosure
For those of you that are all about clever design and ease of access, this innovative cat outdoor enclosure will be a dream come true. Designed to be attached to a window or a cat door, it will allow your pet safe entry into an enclosed outdoor space without requiring any extensive work or remodelling to do so. The 2-story enclosure can be a spacious area for two kitties that get along or one cat that prefers having a lot of room for themselves – there are also platforms on each level, a regular one on the bottom, and an enclosed cave-like one on the top level. Each of the levels has doors and windows for easy access, in case you need to grab your kitty and can't reach them through the attachment point (e.g. pet door).
There are other convenient features, as well, such as 4 removable wheels on the bottom for mobility, and removable PVC floor on the bottom of the enclosure for easier cleaning. This outdoor cat enclosure is made from natural fir wood with a non-toxic, pet-safe finish in a stylish grey color and mesh wire for the sides. The measurements of this practical cat enclosure are 31.5″ in length, 31.5″ in width, and 70.9″ in height.
3. Best Splurge: Aivituvin Outdoor Cat House
If you want to give your cat some outdoor time in her own little kitty condo away from home, this is the outdoor cat house to do it in. It's like her very own time on the Cape, and she'll feel just like a Kennedy in this gorgeous configuration. The asphalt roof is waterproof but your cat will love the roomy balcony too. It will give her opportunity to play, bask in the sun, relax and sleep as she takes in a good dose of fresh air.
This 2-story cat house provides ample space for all your cat's activities, whether it's lounging or running around. The ramp is solid wood and will offer your cat tons of opportunity for sitting and stalking, or just pretending to be a wild cat preying, but you won't have to worry about it getting icky or moldy after rain. The two big front doors offer easy curtain access and even if kitty wants to be out in poor weather (or if you're helping house ferals, this is perfect). And thanks to the raised bottom with plastic feet to keep, the kitty condo will stay safe from the water or dirt.
There's a large space for different activities should your cat have friends to invite over, and you can always mix things up by adding attachments (additionally available) for expansion or just your cat's preference. The paint used is non-toxic and your cat is sure to feel like the fabulous feline she is when she's mistress of this manor. The dimensions of this outdoor cat house are 37.4″ in length, 30.8″ in width, and 33.5″ in height. Thanks to pre-drilled holes, this kitty house is easy to assemble, even if you're not particularly handy with tools.
4. Best for Multiple Cats: COZIWOW Large Wooden Catio Outdoor Cat Enclosure
If you have multiple cats or a rowdy kitty that likes to run around and explore, this large wooden catio is just the thing. Spacious and designed to provide ample room to get some much-needed exercise and fresh air, it is made from a sturdy pinewood frame with a pet-friendly finish (grey or natural color) and rust proof wire walls, so it can easily withstand the elements. The roof is covered in asphalt to provide protection from the weather, both the harsh UV rays and the rain. There are 3 platforms included, so your pet(s) can have a place to perch on and overlook their kingdom. The dimensions of this wooden outdoor cat enclosure are 71" by 32" by 43". It comes with pre-drilled holes and a step-by-step installation manual so it is easy to assemble.
5. Best for Travel: Elite Soft Pet PlayPen
This is a bit of a different direction you can take if you're just looking for something that's quick and easy to give your cat some outdoor hanging time. It's super flexible and easy to assemble, but just as easy to disassemble and bring back in or keep on a porch for temporary ins and outs of your cat.
It's not as wide as some of the other outdoor cat options we're featuring, but if you don't have a ton of space and your cat still wants to be able to get out and about a bit. The ventilation is more than ample, though, and the pen itself is durable despite being so lightweight and temporary.
There are two doors that each have locking zippers (last we checked, they hadn't developed opposable thumbs yet!) and two accessory pockets and a water bottle pocket should you decide to take your kitty to the park and have a picnic or playdate.
The floor mat and top cover are easy to remove and the floor mat is machine washable—making it even more convenient for plopping wherever your cat wants to get out and feel some (cautious) oats.
That it comes in several colors is a bonus, but honestly—you'll love the ease in which you can put it together and take it apart, making it a perfect thing to have to allow your cat outdoor time no matter the season or situation. To boot, the seller offers a 2-year warranty, so you can have a peace of mind that this play pen is built to last. The dimensions of this compact enclosure are 31.5" by 31.5 by 70.9".
6. Best with Wheels: Aivituvin Large Cat House
The Aivituvin Large Cat House is a catio cage that is on four wheels, so it is easy to move around and set it into position when your kitty is ready to spend time outside. This is a large enclosure, so it is a good choice if you have more than one cat. It is made of 100% natural fir wood that is naturally resistant to decay and rot, and it also features eco-friendly paint.
Measuring 35.5" long by 31.5" wide and 70.9" high, this cat house features a waterproof asphalt roof for protection, a little house that your pet can rest in, and three platforms that allow your cat to get a great view of what's going on outside. And the bottom of this enclosure has a removable PVC layer that is easy to clean. Plus, the enclosure has two large front doors, along with two small doors that slide up and down and are just the right size for your kitty to go in and out when it is safe to do so.
To make this already large enclosure even bigger and more spacious for multiple cats, you can purchase two of them, remove the side panel, and set them up together. Whether you purchase one or two of these enclosures, though, you will need to assemble this product. The instructions are included, and there are helpful pre-drilled holes, but it might take around 90 minutes to get the job done.
7. Best Basic: Kittywalk Outdoor Net Cat Enclosure for Lawns
The Kittywalk Lawn Outdoor Cat Enclosure is a little different from the rest. It still lets your kitty enjoy the great outdoors safely, but it is basically a long tunnel that you can set up right on your lawn (it won't harm your lawn). Additionally, this net enclosure can also be used on your deck, patio, or balcony.
Your cat can walk across this enclosure, lie down in it, and check out what's going on around her. But this enclosure doesn't have any platforms of its own. Instead, what you can do is set it up with a variety of other Kittywalk products, such as the Kittywalk Kabana, Kittywalk Curves, and the Kittywalk Deck and Patio, all of which you would need to buy separately.
This product features open net construction, solid steel components, and rip stop netting. Your kitty will be able to enjoy a maximum amount of ventilation and visibility, and all you have to do is stake it firmly into the ground to get it ready for use. In fact, it should only take seconds to set it up because there is no assembly required. And it is totally enclosed for safety, featuring two doors, so once your cat is inside, you can let her have fun while keeping an eye on her.
Another nice thing about this enclosure is that it is weather resistant, so it is designed to withstand the elements of every season. And if you want to take it with you when you travel, there is a storage bag included.
8. Best Adjustable: DAPU 4 in 1 Compound Pet Playpen
The DAPU 4 in 1 Compound Pet Playpen gives your kitties loads of space to lounge and play while in your backyard enjoying the views. It is portable and adjustable, and its popup design makes it simple to set up. All you have to do is attach and detach the separate pieces with the zippers, and you can stake this product into your lawn easily. Plus, when you are done using it, it will fold down neatly, and you can even take it with you when you travel using the carrying case that is included.
This one product comes with the following pieces:
A square tent that measures 31.5" x 31.5" x 31.5"
A hexagon tent that measures 395." x 39.5" x 35.5"
A triangle tent that measures 47" x 28" x 28"
A 3-way tunnel that is 63" x 19.6"
Rather than giving your pet one place to stay in the entire time she is outside, this enclosure lets her decide where she wants to be, and it lets her move around a big space easily so she can get a better view of small wildlife or get some space away from your other cats if she isn't in the mood for snuggling or playing with them. And what's attractive about this product, too, is that it is large enough to put a litter box, food and water bowls, and scratching post inside the tents. The dimensions of this hexagon playpen are 39.5" by 39.5" by 35.5".
9. Best for Jumpers: DAPU 3 in 1 Compound Pet Play House
The DAPU 3 in 1 Compound Pet Play House is another option offered by this brand, and this one gives your kitty more vertical space to relax in. The jumping tower offers three levels, so your cat can decide how high she wants to go.
Large enough for playing, lounging, and running, this is a great option when you want to let your pet spend time outside while remaining safe and entertained. This product comes with the following:
A pet tower that is 21" x 21" x 60"
A hexagon tent that is 39.5" x 39.5" x 35.5"
A running tunnel that measures 63" x 19.6"
Super easy to assemble, to set up this enclosure securely, all you have to do is use the ground stakes that are included in the package. Also, this product is adjustable and portable, so you can take it with you when you travel, and you can choose to use each tent individually or together. Plus, the enclosure is also large enough for things like a small litter box, food bowls, and toys.
When your kitty is done using the enclosure, just fold it down and put it in the carrying case for storage. And, when you are ready to use it again, just set it up by attaching the pieces using the zippers.
Don't Forget to Supervise Your Pets While They're in Their Outdoor Enclosure
Whenever your cat is in her outdoor enclosure, it's best to supervise her by staying nearby. You want her to remain secure at all times, and you want her to have some shade so she can be comfortable even when the sun is shining.
With the right enclosure, you can rest easy, knowing that your cat can't escape and run off. The ultimate goal is to keep her comfortable and safe, while letting her have some fun. The enclosures discussed above are a good place to start, but there are plenty more where those came from.
What to consider when choosing outdoor cat enclosures?
Your cat's outdoor lounging and playing area has to be safe and secured – the whole point of outdoor cat enclosures is to give your pet a safe, enclosed space where they can get some fresh air and soak up the sun without being in danger. This means sturdy materials, locks if applicable, and no wiggle room for little Houdinise to claw or bite their way out of the enclosure. Next, there's size to consider, as you want the enclosure to be spacious enough for your pet(s) to get some exercise (and peace, if you have more than one kitty). Consider vertical space and ground space – a good rule of thumb is that the space should be at least 24" in width, 35" in length, and 24" in height. But if you are able to go for a bigger one, by all means, do it! The more spacious the enclosure is, the more your pet will enjoy it.
How big should an outdoor cat enclosure be?
When it comes to outdoor cat enclosures, there's only one rule – the bigger, the better. The ideal size of an outdoor cat enclosure will depend on two things: how many cats will be using it, and how active is the cat (or cats) that will be spending their time inside the enclosure. The recommended size of a catio is about 2 square metres of floor space per cat, with ample vertical space for exploration and climbing. Adjust as needed – the more energetic kitties will need a bit more room to roam around, and multiple cats need to have enough space for each to call their own to avoid conflicts over territory.
Do cats like outdoor enclosures?
Kitties love being outside, but that's not always a safe option, both for them and the small critters that inhabit the outdoors. Cat outdoor enclosures come as a perfect compromise, as they give your pet a way to spend time in the sun and fresh air, keep a close eye on their environment and explore without being at risk or endangering anyone. It's safe to say that cats love enclosures, especially those that have been indoor-only cats for the better part of their life – it offers them a way to get outside time in a safe, contained way.
How long should I let my cat be in the outdoor enclosure?
There isn't a set rule on how much time your kitty should spend in their outdoor enclosure – it's up to them to decide when they want to go back in. If they feel like spending an hour or two outside, or the whole day, it's all good – after all, the enclosure is there to give them easy and safe access to the outside area of your home so they can satisfy their cravings for the outdoors. Of course, if the weather is bad (harsh winds, snow, rain, or unbearably hot), you should be wise to limit their time outside to avoid any trouble, especially if the outdoor enclosure isn't weather-proofed.
Are outdoor enclosures good for cats?
Outdoor cat enclosures are great for cats, and for many reasons. Not only do they protect your cat from predators, traffic, and any other trouble they can encounter if roaming the outdoors freely, but they also satisfy your cat's innate need to spend time outside. Outdoor enclosures provide exercise and mental enrichment, both making for a happier, healthier cat. Another great thing about outdoor enclosures is that they also prevent your tiny predator from going on the hunt in the neighborhood and help protect all the small creatures that live in your vicinity – mice, lizards, birds, and plethora of other species, and all without compromising on your cat's desire to be outside in the sun and fresh air.
We are committed to finding, researching, and recommending the best products. We earn commissions from purchases you make using the retail links in our product reviews. Learn more about how this works.

Lisa Selvaggio
Lisa Selvaggio is a freelance writer and editor, and our resident cats-pert, with certifications in pet nutrition and pet first aid. An advocate for better treatment of all animals, she enjoys producing content that educates others, helps them understand animals better, and inspires them to help, whether that means volunteering at a shelter, fostering strays, or simply giving their own pets a safe and happy home to live in.
More by Lisa Selvaggio
Published October 3rd, 2021 12:00 AM