195 Views
Best Dog Dental Health Products
January 20th, 2022 12:00 AM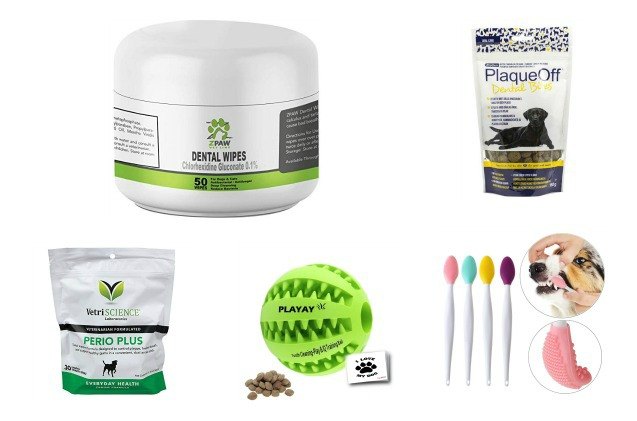 It's important to keep our dog's dental health in tip-top shape, as they're not as able to let us know when they're having issues that can affect their whole bodies. Here are the best dog dental health products that'll keep your pup's mouth its healthiest.
While many joke about 'brushing a dog's teeth' or taking a dog to the dentist, doggy dental hygiene is no joke. Teeth play an important part in one's overall health and that goes for our doggos, too. It's vital to take care of them, and fortunately, there are some great products out there that will help make doggy dentistry just a bit easier. Check out our top 10 dog dental health products.
1. Editor's Choice: VetriScience Perio Plus Chews
These chews from Vetriscience are great ways to end the day for your dogs. They're specifically formulated to use between cleanings, and they're delicious bars that promote cleaning your dog's teeth and controlling the plaque while helping freshen that dog-butt breath. Made with natural ingredients, these dental chews will be your pooch's new favorite treat thanks to the mouth-watering chicken liver flavor that dogs simply can't resist!
2. Runner Up: Nature's Toothbrush Organic
This 100% natural and pure Icelandic Seaweed (Geothermal, Ascophyllum Nodosum) is organic and couldn't be easier to use to help remove plaque from your dog's teeth. Simply pour the granules over their food and they think they're getting a treat. They are the treat of healthy teeth!
3. Customer Choice: ProDen PlaqueOff Treats
Speaking of treats…if you want your dog to go wild for a treat without even knowing it's so good for them too, just toss them one of these ProDen PlaqueOff Treats from Sweden Care. The abrasive sea kelp goes to work on their teeth and gums, stimulating for better dental health and fresher breath! A once daily treat they'll love.
4. Best Toothpaste: Petrodex Advanced Dental Care Enzymatic Dog Toothpaste
The best way to deal with plaque and tartar is to prevent them at the source and that's precisely what this dog toothpaste does. Thanks to its unique enzymatic formula, Petrodex Advanced Dental Care Enzymatic Dog Toothpaste cleans the teeth, prevents bacteria and plaque buildup, and neutralizes your pooch's bad breath. The best part? This is a no-rinse, no-foaming formula, so it means no hassle after brushing- just scrub those teefers and go about your business. The poultry flavor is a nice touch as well, making sure that your pet is open to collaborating, as the taste of chicken is bound to entice even the most stubborn pooches to get their teeth brushed.
For best results, though, you'll have to be consistent – brush those pearlies at least two to three times a week with a soft-bristled brush to keep your doggo's breath fresh and their canines sparkly white.
5. Best Toothbrush: Double-sided Silicone Dog Toothbrushes
Obviously, you'll want a toothbrush for that toothpaste, and not all are created equally. These are made with long handles and silicone that can curve to meet the contours of your dog's gums and tooth line. It also allows you some flexibility and reach for those back teeth when your pup may not be so amenable to your hand being in there.
6. Best Probiotic: Zesty Paws Probiotic OraStix
When it comes to bad doggie breath, you should first treat the cause of it rather than try and mask it with mouthwash or fresh breath sprays for pets. Great dental hygiene doesn't start at the mouth but rather at the gut, which is why Zesty Paws created these probiotic treats that target both the underlying trigger for bad breath and promote better oral hygiene at the same time. Each stick contains 50 million CFU of beneficial probiotic, 280 mg of hemp seed, and natural remedies such as curcumin, taurin, and ginger root, all working to promote optimal gut health and healthy flora to make sure that it's not an imbalanced gut microbiome causing stinky dog breath.
To boot, Zesty Paws Probiotic OraStix also contains rosemary oil, kelp, and peppermint that will keep the gums and the teeth healthy while the ridged texture of the treats helps keep plaque buildup at bay. Made in the USA, these healthy dental sticks don't contain any artificial flavors or synthetic colors and best of all they taste great to pooches!
7. Best Toy: IQ Treat Ball
This treat ball is a perfect disguise for a dental cleaning toy! You can put treats in for your dog to gnaw at and retrieve, and every gnaw helps stimulate and massage his gums, while also cleaning plaque and tartar off his teeth. Meanwhile, his brain is developing and you're raising his IQ and all you have to do is enjoy!
8. Best Finger Toothbrush: H&H Pets Dog Toothbrushes
Your dog may prefer your gentle touch and you may prefer targeted brushing, so these finger brushes are perfect for you both. Soft, gentle and stimulating, they'll gently take plaque and tartar away, but don't forget to brush their tongue, as 80% of mouth bacteria rests there!
Each finger toothbrush has a ¾ inch diameter opening, so they'll comfortably fit on your finger without slipping or squeezing it too much. Unlike most pet toothbrushes that feature a flat bristle profile, the bristles on this innovative finger toothbrush are scientifically designed to have a curved profile. In turn, this allows you to clean those hard-to-reach spots and to adapt to different gum areas. What's more, they are available in two sizes – large or small – to accommodate pets of all breeds and shapes. And in the case this design doesn't work out for your dog, don't worry – the seller offers a 60 days money back guarantee.
9. Honorable Mention: Outback Jack Bully Horns
My dogs love them, and they are amazing for longevity and natural cleaning of plaque and tartar. Their shapes make it easy for the dogs to really sink their teeth into (see what we did there?) and they do a great job of cleaning teeth without leaving a mess behind!
10. Best Dental Wipes: MOKAI Dental Wipes for Dogs and Cats
If your dog just doesn't want to have you do some doggy dental duty with a tooth or finger brush, you can at least do some work with these dental wipes. Made in the USA in a GMP approved facility, they're not toxic, and the Chlorhexidine / Sodium Hexametaphosphate combination helps fight bacteria, plaque, tartar and more.
To boot, they are super easy to use: just wrap the cleansing wipes around your finger and swipe your pet's teeth. Voila – sparkly canines and fresh breath!
Do dogs really need to have their teeth cleaned?
Dogs are no different than us when it comes to dental hygiene – if you don't brush their teeth regularly, plaque and tartar will accumulate, bacteria will develop, and all of that will lead to tartar deposits on the teeth, inflamed gums, and eventually – teeth loss. Dogs have to have their teeth cleaned with dental chews and abrasive treats that naturally scrape off the plaque, and if possible, you should also brush their teeth at least two times a week. If you neglect their oral health, they will have to get their teeth professionally cleaned by a vet to avoid complications and loss of teeth.
How can I get plaque off my dog's teeth at home?
If the plaque buildup is too severe, you can't get it off at home – the only way to remove years worth of tartar and plaque from dog's teeth is with professional teeth cleaning at a veterinarian's office. Not only that this has to be done by a skilled professional to avoid injuries, but it also involves specialized tools for the manual part of the cleaning and an ultrasonic scaler for teeth and gums. If the plaque is only beginning to form on teeth, start brushing your pet's teeth more often and include dental treats and/or water additives into their routine to remove existing plaque and prevent buildup in the future.
How do I take care of my dog's teeth?
The first step of any healthy oral routine is regular brushing: use a pet toothbrush and pet-friendly toothpaste to brush your dog's teeth at least two-three times a week if you can't manage doing it on a daily basis. In between brushings, offer your pet dental treats that are designed to maintain good oral health by scraping away plaque from teeth and gums, as well as freshening your pet breath. Finally, if needed, you can use breath-freshening sprays or water additives to reduce bad breath, which is a common issue with dogs, sometimes even if you brush regularly.
We are committed to finding, researching, and recommending the best products. We earn commissions from purchases you make using the retail links in our product reviews. Learn more about how this works.

Published January 20th, 2022 12:00 AM